Automation and robotics have been something of a gimmick in the hospitality industry, with some operators using mechanical arms and robotic waiters to add a dash of theatre to restaurants. But now the ongoing chronic shortage of employees and impressive advances in technology are driving some serious exploration of this area.
With automation defined as "the automatically controlled operation of an apparatus, process or system by mechanical or electronic devices that take the place of human labour", it is fair to say this encompasses robots, self-service kiosks, smart fridges, vending machines and other labour-saving devices.
For Nick Liddle, commercial director of Vita Mojo, which works with the likes of Honest Burgers, Leon, Yo! and Nando's, the fundamental theory is that any form of automation must add value to the overall customer experience and potentially free up employees to focus on more fulfilling activities.
This is applicable to both the front-of-house, where the likes of self-service kiosks not only empower customers but also make employees available to enhance other aspects of the experience. Back of house robots and smart kitchen management software can help chefs efficiently undertake repetitive cooking tasks.
Vita Mojo has found that its solution, which straddles all parts of a restaurant's infrastructure, has been boosted by the pandemic and the resulting explosion in order and pay at table, click and collect, and home delivery, which effectively added multiple channels to many restaurants' models.
"We aggregate these orders, which is a form of automation, and involves taking orders from various channels and putting them into kitchen management software, where they are passed onto the relevant station. In places like Wagamama the process is even more automated as there are screens all over the kitchen displaying the cooking instructions for each order," says Liddle.
Whereas the interest for automation was initially in quick-service restaurants, it has been broadening out into fast-casual sites, with the likes of Nando's adopting such solutions. Liddle suggests there is also the potential for it to impact even more of the industry since automation is ultimately delivering "better output, efficiency and consistency".
"A commis chef prepping food is involved in a repetitive process where there is a high margin for error. Would they not prefer to be working on things like sauces and learning more complex tasks?" he asks.
Chef's night off
This is very much the thinking of Barney Wragg, chief executive of Karakuri, who acknowledges that although automation is currently used by the more mainstream brands, that this could soon change. Although high-end restaurants rely on the consistency of the dishes crossing the pass, there is also the need to retain creativity, a fact that has been recognised by Heston Blumenthal who is an adviser to Karakuri.
"Heston said that his style of cooking meant the chefs work prescriptively and scientifically, which took away some of the creativity. He has thought about how robots could fill the need for repeatability and accuracy while enabling chefs to do the more human stuff. We'll see this happening in high-end restaurants, and frying [robots] are an obvious area to be automated, along with possibly prepping and plating," says Wragg.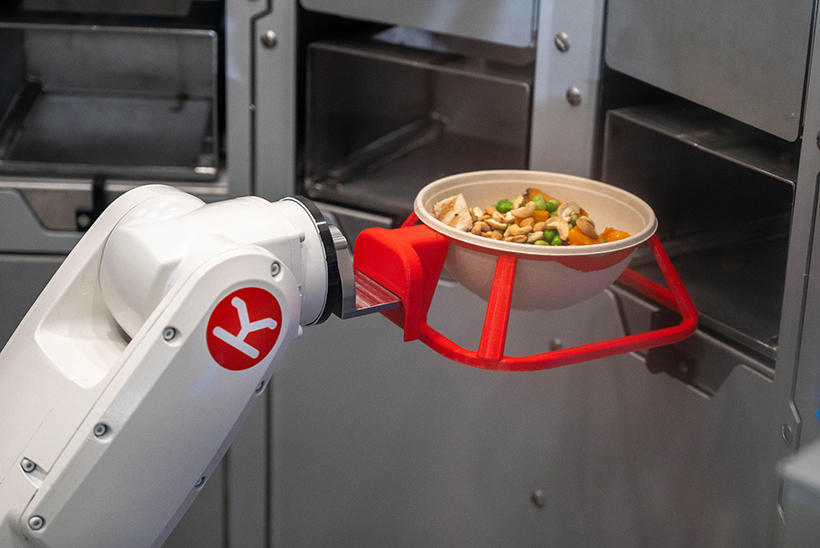 Karakuri has developed a frying robot that will be implemented in its first commercial kitchen in September. It has the capability to cook in a smarter way than has typically been undertaken by many restaurants, as it controls portioning more accurately, based on better forecasting and demand management.
The initial robot developed by Karakuri is Semblr, which assembles dishes from both hot and cold ingredients, and is stationed in the staff canteen of food technology company Ocado. Wragg predicts kitchens of the future will have a variety of robots and automated devices assisting chefs.
Robots cannot work alone though, as they need to be linked to kitchen processes such as stocktaking: "We realised it is complicated, and in order to gain the full benefits we need interoperability, so we designed Karakuri with connectivity into other systems like EPoS. We've made the interface as easy as possible."
This move will aid the roll-out of the company's solutions into large companies with complex incumbent systems and the first provider to have this 'Robot Ready' certification is Vita Mojo. To further drive adoption of the Karakuri technology Wragg says the business charges a monthly fee for each robot depending on usage: "It has to be priced at a level that makes sense. There is no point in replacing employees with something that is even more expensive."
Machine learning
US-based Dexai Robotics has also implemented a pay-as-you-go option (it calls it robotics-as-a-service) as it sets its sights on gaining a foothold in neighbourhood restaurants. Such a model makes it economically viable for independents to introduce such solutions.
The core Dexai product is Alfred the robotic sous chef that comprises an arm that can handle regular kitchen utensils as it assembles meals to specific recipes. These can encompass a wide range of categories, including soups, ramen, pasta and starters.
David Johnson, chief executive of Dexai Robotics, says: "Robots have come a long way from the days of massive, multimillion-dollar machines and complex, purpose-built installations. Not only is Alfred compact and easy to install, but also the cost scales with your business. And, while our operating model makes Alfred more accessible financially, our use of advanced artificial intelligence (AI) and computer vision make the robot highly adaptable. So, Alfred is able to work in practically any commercial kitchen and adapts to your existing menu, even if that changes seasonally."
Mediterranean restaurant Bonapita in Boston has Alfred preparing salads and bowls once the ingredients have been initially entered into the device's console along with the recipe instructions.
"With the AI capability there is a mass of learning. Every time it prepares a dish with a certain ingredient, it learns from that and can adjust processes slightly in the future and will therefore do things a little better," says Johnson, adding that there is also the ability to share the knowledge that each robot learns with other Dexai devices though ongoing system updates.
He believes it is a "wonderful time" for computers and robotics in the kitchen because connected devices will likely proliferate and there is the opportunity for recipes to be encoded into various kitchen equipment. "There will be a big embrace of automation. We're seeing the digitisation of the kitchen," suggests Johnson. Robot waiters
But it is not just the kitchen where the revolution is happening because front of house is also seeing great change. Phil Neale, marketing director at Boparan Restaurant Group, says the company has begun introducing service robots initially in its Slim Chickens brand. The Guildford and Cambridge Circus in London branches are the first to have the robots, from manufacturer Pudu, introduced into their dining rooms.
"The role in Guildford is for the robots to move from the kitchen at the back of the restaurant to the front, carrying packaged meals for pick-up by delivery couriers. It saves colleagues having to run the 20 yards and frees up the team to serve customers in the restaurant. And the robots never drop anything," he says. At Cambridge Circus the focus has been more on delivering dishes to customers' tables, which Neale says, adds to the customer experience as the robots can also do additional things like sing 'Happy Birthday' to celebrating guests. Customers can specifically request to have a robot service them and at busy times they are deployed around the restaurant.
"They also have a digital screen on their fronts so there is an opportunity to use them for marketing. They can take orders but we've not set them up to do that. We could do a lot more with them, but we are seeing how it goes," he says.
There is the potential for the robots to appear at other Boparan brands: "When we open new sites we will consider if the robots can help. If it's a tight space we won't do it and not at Cinnamon [Collection restaurants] but in the Sainsbury's stores [where we have various restaurant brands] it could work." Other operators using robots for service include Gravity Southside at its restaurant within its experiential venue in South London, a number of outlets of the Chinese Buffet in the north of England, and in the Woking branch of tea room the Tea Terrace.
Chris Fung, co-founder of Lunch.Co and investor in hospitality technology, says care has to be taken with any such automation because it can sometimes appear to be the cool thing to do, but the economics might not stack up. He cites the branch of Ping Pong in London's Waterloo, where a robot had been deployed to carry dirty dishes between the kitchen and dining room, but required a person to attend to it, thereby largely negating its value.
In addition, the CafeX robotic coffee bars in the US, where a robotic arm prepares the coffee, appear to be more about theatre than hard finances – again, they still require a person to refill the device with fresh milk.
Talk is cheap
One area where the financial benefits of automation are well proven is chatbots, which have been a feature in the retail sector for some years and increasingly used by a growing number of hotel companies. Tiago Araujo, founder of HiJiffy, which provides chatbot solutions for the Staying Cool, Macdonald Hotels and Lake District Hotels chains, says its AI-powered solution can help automate the process of booking and handling customer queries by delivering immediate responses, thereby avoiding the negative experience of customers having to wait for an answer.
Most of its hotel clients use a hybrid approach to chatbots rather than full automation, whereby more complex queries are passed onto a person. "The AI technology we see more and more in our lives every day is not designed to replace the human role in hospitality, but to allow the human to focus on different skills and different ways to bring value to the guests," says Araujo.
While Liddle very much understands this balance, he believes too many restaurant groups are resistant to embracing any form of automation, which could put them at risk in the future: "There is a head in the sand approach and a wait for the old days to return.
"It's the early days of automation in the hospitality sector and there is some push back from people who have had 20 or 30 years' experience of running things the same way. But it is happening and it will soon be accepted."
Self-service salad and intelligent fridges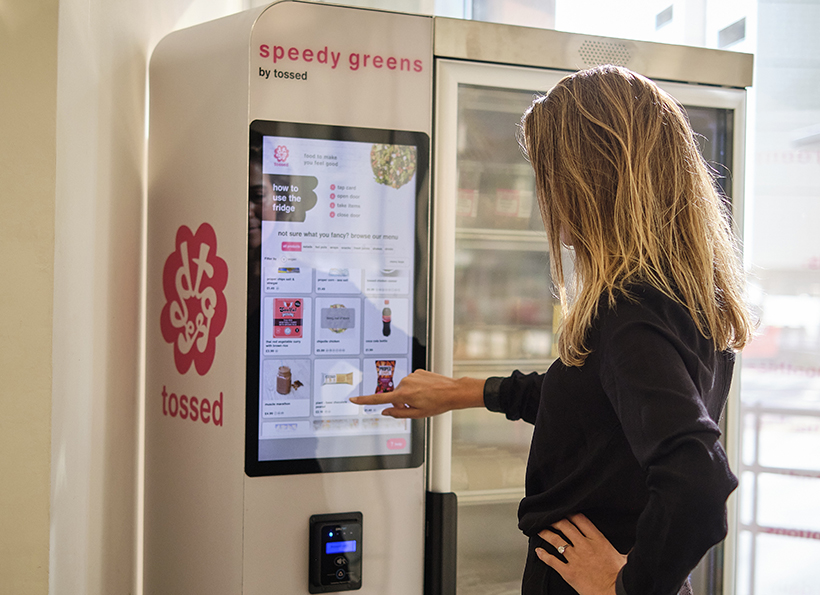 On the edge of automation are smart fridges and vending machines that are finding their place in a growing number of locations as more shared office space appears and customer demand for high-quality fresh foods at all hours increases.
Neil Sebba, managing director of Tossed, introduced both devices into the business' restaurant outlets, which he says has always been technology-led, with 20 self-service kiosks in its Baker Street outlet for instance.
The first vending machines are located in hospitals in West London and enable nursing staff to access fresh, healthy food through the night. "We're looking at opportunities in corporates – with shared offices, travel hubs and leisure venues targeted where there is the desire for healthy food out-of-hours," he explains.
The smart fridges are more suited to private offices and other such controlled environments as they require a contactless pre-authorised card to be used for payment and NFC tags on each food item will determine which products have been removed from the fridge and the bill determined accordingly.
The units are all monitored in real-time thereby enabling better stock control and the introduction of promotions at certain times in order to clear stocks. "The data is fed into the back-end system so we can see all stock levels live, manage the fridge temperatures, receive alerts of any problems with products stuck, and automatically change prices for marketing purposes," says Sebba.
He cites the enormous success of Farmer's Fridge in the US with its smart vending machines and suggests there is big potential for the UK too, provided the historical perceptions of low-quality food dispensed from such devices can be overcome – helped by improvements in the technology.
Fung says the challenge is elevating the offer, with the help of intelligent fridges. "There will be a battle for vending machine space in offices and shopping centres as Covid-19 has meant the economics of offering full-service restaurants has changed," he says.
Continue reading
You need to be a premium member to view this. Subscribe from just 99p per week.