What started as one intimate venue has grown to a veritable chain of Kudus. Emma Lake speaks to co-founders Patrick Williams and Amy Corbin about their solutions for the South African-inspired brand
Kudu Collective, a group of South African-inspired restaurants and bars, has been built up by Patrick Williams and Amy Corbin. The original Kudu restaurant in Queen's Road in Peckham, London, opened in 2018 and has been followed by cocktail and wine bar Smokey Kudu; private dining space Curious Kudu and Kudu Grill, specialising in open fire cooking. Menus are inspired by Williams' South African roots, featuring potjie (stew) cooked over hot coals, braai-cooked meats and their signature kudu bread.
The couple had set out to open a neighbourhood restaurant, with Williams in the kitchen and Corbin overseeing front of house. One venue became two, then three and four as local sites were brought to their attention and new ideas followed. Williams says: "Before we knew it, it turned into something that was bigger and better than what we could have imagined.
"We've kind of just been running with that the whole time. We're not physically going out there every day looking for new sites or saying 'we need to open this many by this year', it's happened quite organically, as we felt ready, or if a building had really good energy to it."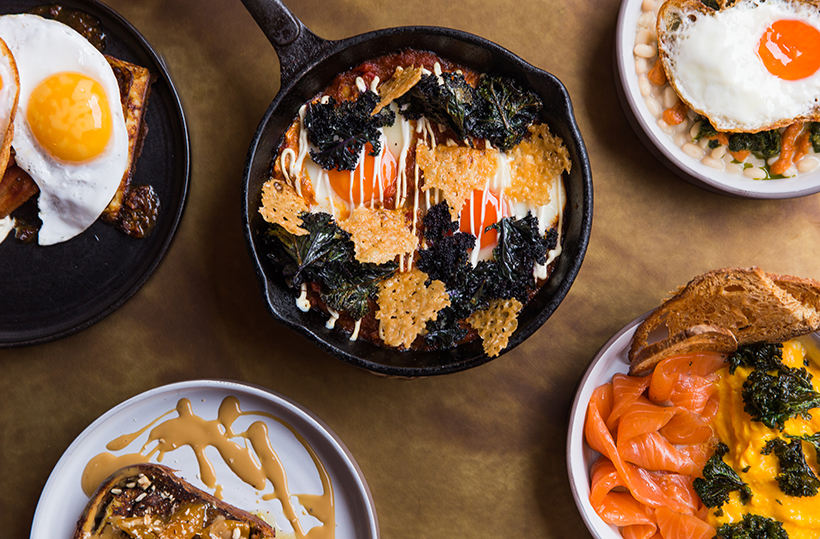 Expansion
When Williams and Corbin opened Kudu, its intimate size (the restaurant has space for 46 covers) proved problematic. The lack of space for those wanting a pre-dinner cocktail, or to stay after their meal meant they were directing potential revenue to neighbours, where the vibe didn't necessarily tally with their own. The couple saw a site under the railway arches of Peckham station had become available and a plan to open their own cocktail bar developed. Similarly, when their neighbour, a Chinese currency exchange, shut up shop the pair saw an opportunity to expand. Covid derailed their original plans but the space has become a private dining room and exhibition space, allowing them to cater for groups of more than six for the first time.
The site that has become Kudu Grill was mentioned to the couple by a babysitter after the pub that had occupied it announced it would not be reopening after Covid. The couple had often thought it was a "really good site" and had been contemplating the potential for a braai restaurant. When they contacted the landlady it turned out she had eaten at Kudu several times and the rest, as they say, is history.
Williams says: "I think the grill is probably a 10-minute walk from the original site. So everything is within a stone's throw of one another, which is fantastic. We've come to the conclusion that being able to have our finger on the pulse is important, because we have such small teams and the restaurants aren't huge, so we want to be there, present, every day. That's how we want the business to be – we want to be as involved as possible."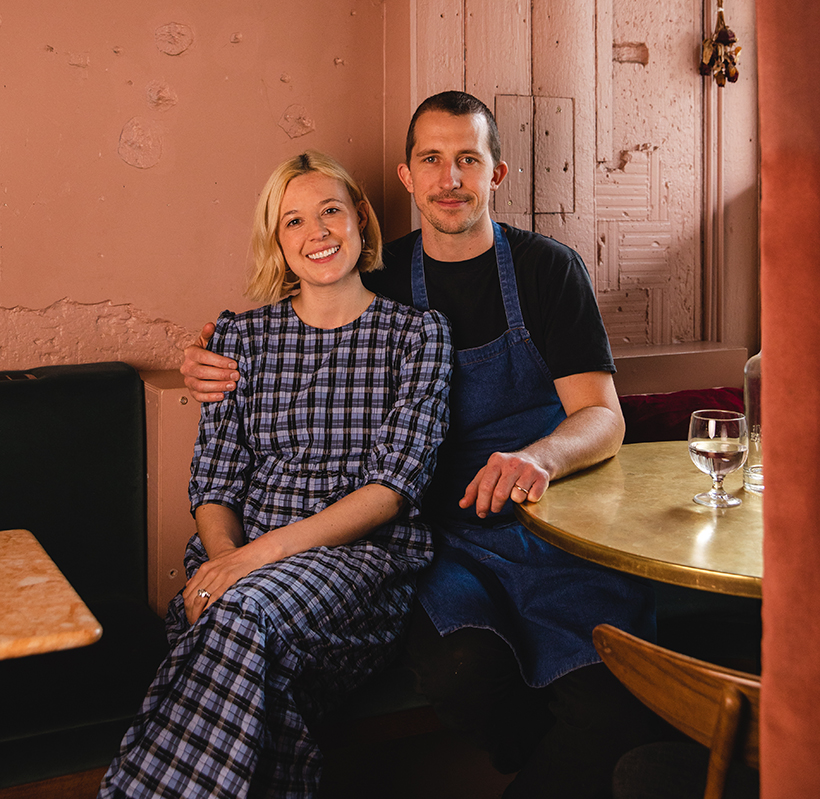 Tackling staffing
Williams and Corbin have been through the arduous process to obtain a sponsorship licence, allowing them to recruit chefs from South Africa to work within the group. They now have 11 chefs from Cape Town lined up to take positions, which will allow them to increase their opening hours, which had been reduced for almost a year.
The pair explain that the process is "pretty intense", not to mention costly, and involves proving to the Home Office that nobody else could do that specific job.
Corbin adds: "For us, being a South African-inspired restaurant, we need people who understand the ingredients that we're using, and so I think that's helped. But yeah, it's definitely a full-time job getting that licence. It's not something that's very affordable or easy, but for a small business like us it could be the lifesaver we've needed in terms of staying afloat, making sure we have the staff in place and ensuring we keep moving forward slowly and steadily, one step at a time."
South African cuisine
South African cuisine remains far from the mainstream of London's dining scene and Williams explains that embracing the flavours of his homeland through the menus has provided a point of differentiation as well as a basis for convivial dining.
He says: "I'm sure there's not many restaurants in the UK using those same words seen on our menus, so that's quite unique. Obviously, cooking as much as we can over the fires is quite nice. Every weekend [in South Africa], we would have a braai and our friends, family, cousins and neighbours would come over, so it's quite communal. It's just the way we approach food and I think it's quite different."
South African cuisine also suits a no-wastage mantra, as Williams explains: "We use a lot of underrated cuts. In South Africa literally everything gets used – the chicken feet, you name it, it will get eaten – so, culturally, that's quite a big thing. We are a small operation, and nothing really goes to waste, everything has reutilisation. In South Africa everything costs so much and commodities are sparse, so we have to be quite resourceful with what we have."
Looking after the team
As a small business, in what we can all agree are increasingly challenging times, remaining a competitive employer can be difficult. Williams and Corbin have been looking at the package they can offer their employees to help with their wellbeing as well as their bottom line.
Corbin says: "We offer perks, we have medical benefit covering mental health, chiropractors, dentistry and doctors, and that's how we're trying to improve. I think everyone's pretty happy with the three days off we now offer. It never used to be like that and I think it's a really good move for the industry. I think it was needed, because it's a really tough industry to work in, and it needs to be attractive to build up that workforce again."
Amy's revelations
What's your favourite hotel?
The Ned, we spent our wedding night there.
What's your favourite restaurant?
Bibi in Mayfair
What's your favourite book or film?
The Wolf of Wall Street
What's your perfect drink?
Kir Royal
Which chef/restaurateur/hotelier has most inspired you?
Chris Corbin, my dad!
What's the most important lesson you have learned in business?
The right people are worth everything
From the menu
Snacks
Kalahari spiced biltong £6.50
Parmesan churros, miso mayo £6.50
Peri peri duck hearts, dukkah £6.50
Small plates
Clam potjie, courgette, basil, sea veg £9.50
Treacle cured salmon, daikon, cucumber £10
"Braai broodjie" agnolotti, smoked tomato, parmesan, nasturtium £11
Medium plates
Charred aubergine, roscoff onions, black garlic, smoked yogurt, baba ghanoush £16.50
Braai lamb saddle, smoked tomato, courgette, rosemary £19.50
Onglet, hispi cabbage, enoki mushrooms, truffled potato mousse (for 2) £25 per person
Desserts
Salted chocolate ganache, sesame ice-cream, chocolate crumble £9
Fig and frangipane tart, bay ice-cream £9
Continue reading
You need to be a premium member to view this. Subscribe from just 99p per week.