It seems the key to offering guests a memorable glamping experience is to give them everything they expect from a luxury hotel, just in the great outdoors. Lottie Goss looks at taking spas, restaurants and even members' clubs outside
The glamping industry is really still in its infancy. The word glamping only came into parlance in the UK in around 2007, and was added to the Oxford English Dictionary in 2016. And yet, in 2020, the global glamping industry was valued at US$1.9b (£1.4b).
From modest beginnings, when it was all shepherd's huts, bell tents and yurts in the middle of a field, glamping has evolved to mean many different things. While those yurts and bell tents are still a hugely popular offering – the fourth most popular option on the Cool Camping 2021 trend report – a host of new outdoor accommodation types have hit the block. You can now sleep in everything from refurbished buses and woodland cabins to safari tents and even towering treehouses.
Treehouse hotel accomodation
One of the first businesses to invest in the concept of treehouses wasn't a purpose-built glampsite but a luxury hotel: Chewton Glen launched its first set of canopy-height rooms out in the wilds of its estate in 2012, and the hotel hasn't looked back. It took years to arrange the planning permission and create the perfect set-up, with wraparound balconies and floor-to-ceiling glazed frontages, where only the owls and woodpeckers would see guests through the windows, but it has been a worthwhile investment.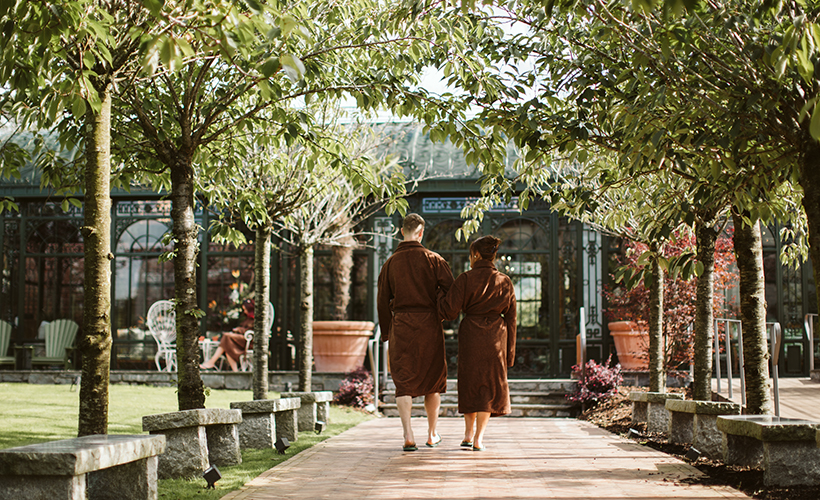 "This was something very new and we just had no idea how successful they were going to be," says Andrew Stembridge, executive director of Iconic Luxury Hotels. "In 2012, we opened them to 95% occupancy in the first month." They originally garnered a lower room rate than the traditional hotel rooms within the main house, but today they're the premium offering: "Now they cost guests significantly more because of demand, but also because we realised that servicing rooms like this takes a lot more effort."
The treehouses have opened up an entirely new market for Chewton Glen. Not only do they attract high-flying clientele, such as celebrities and public figures, thanks to their privacy and in-room check-in option, but they have also brought in families. A decade ago, Chewton Glen would see just a handful of families staying in the hotel each month, but in 2021, 30% of business came from families.
Of course, building something like the Chewton Glen treehouses is an enormous investment of time and money, but taking advantage of your outdoor space – be it a small paddock or an entire country estate – needn't cost the earth, nor take years to come to fruition.
The Pop-Up Hotel concept is the brainchild of Mark Sorrill, an international property developer with roots in Somerset. Having grown up in the region, he was heavily influenced by the Glastonbury festival as a teenager and so married that with his knowledge of design, infrastructure and building to create a private, independent glampsite next door to Worthy Farm.
The Pop-Up Hotel literally pops up during the festival period, offering a more luxurious accommodation option in bell tents and yurts for revellers enjoying the annual celebration of music. There's a pop-up spa, a temporary pool and a bar and restaurant run by Blacks, the Soho private members' club on Dean Street.
This concept has proved so successful, Sorrill is now taking it to existing hotels like Woolley Grange in Bradford-on-Avon. The historic house already has 26 rooms, but in partnership with Sorrill's Hideaway Spaces brand, it has been expanded with eight temporary glamping cabins within the grounds that can be erected and dismantled in a matter of weeks.
"The interesting thing is that they can cross-blend, so the hotel guests can try out the safari-style kitchen experience, while the glamping guests can access all the usual hotel facilities, such as the pool and indoor restaurant," he says. It's been a hit with consumers, so Sorrill is working with Woolley Grange for the next three summer seasons.
Bigger is better
But what does it take to make great outdoor accommodation? "Space is key," says Sorrill. "If you have a fairly cramped property with a small garden, I don't think it would be suitable, though there are instances where it has worked, such as the Pig hotels, which do very well with the Potting Shed-type rooms within the gardens. These can work if they're executed correctly; if you're looking to create a real experience, the more space the better.
"People are looking for something a bit different, and if you can marry that up to good service and good food, it's a real winning combination – especially in this Covid era."
Lorraine Robinson wanted to do exactly that – something a bit different. After a career of running caravan sites and holiday cottages, she launched her glamping offering in the summer of 2020. The Roost is a two-cabin glampsite on the cusp of the Forest of Dean in England, which can be hired out entirely or each cabin individually. Each one has its own firepit, outdoor Japanese bathtub and porch swing, and there's 2.5 acres of meadow to enjoy. "The feedback has been amazing and I get lots of repeat custom," Robinson says.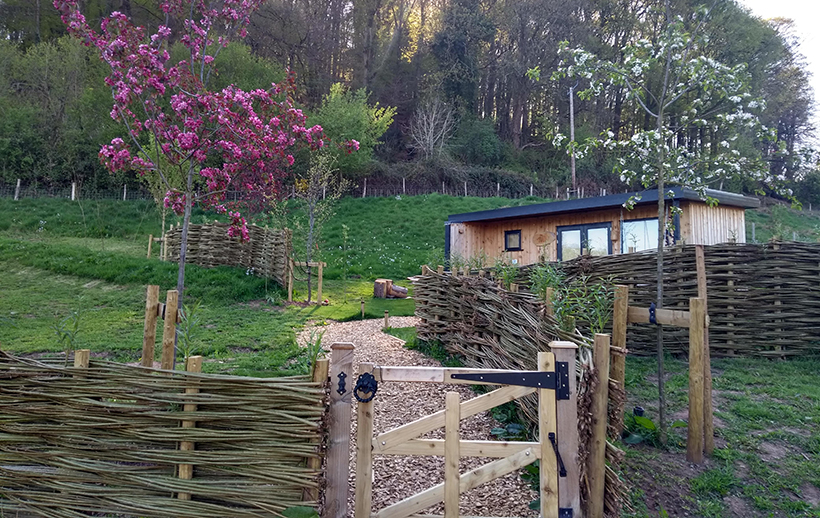 But it was no small thing to set up her modest site, and it's a big commitment of time and money, too. "If you think it's an easy way to make a living, it's not. You've got to go into it with your heart and soul. And you really have to believe in and love what you're doing. You've got to start it up as an eco business, because obviously that's the right thing to do, but it's also what consumers are looking for right now."
Her cabins are powered by fossil fuel-free electricity and lighting levels are kept to a minimum to lower light pollution at night, and recycling, reusing and refilling is at the heart of her ethos. Partnerships are another huge part of her business model, building relationships with local companies and helping the local economy do better. "I have a partnership with a local, high-welfare meat producer just a mile from the cabins. Our guests can order a barbecue kit or a breakfast basket."
Outside hotels, huts and hillside retreats
Also leaning into the "something different" concept is the Tawny in Staffordshire. Instead of blending the traditional hotel concept with an outdoor accommodation option, it has gone full outdoor right from the outset. The property, which opened in summer 2021, has 55 'rooms' spread out across 70 acres. There are shepherd's huts, cabins, boathouses, lodge retreats and hillside treehouses, and a main house with restaurants and leisure facilities, all making up what its general manager, Josh Chadwick, calls a "deconstructed hotel" concept. This is the first time he's managed a non-traditional hotel: "When it's all in one building it's easier, but when it's scattered among a 70-acre estate, it's a lot more complex."
Chadwick says there were little things they didn't foresee until they opened, such as how much longer housekeeping would take – especially in wet weather when staff would inevitably bring some outside mess into the room – and how different maintenance is with what is essentially a group of new-build properties. "So, in one hotel building, if something's wrong, it's in one hotel building. It's not scattered across an entire site where you've got to get to the room fast enough. The staff always laugh because by the time there's a buggy for me, I'm already running.
"On the flipside, though, that's a benefit, as if the heating goes down in one room it's only going to be that room, unlike in a traditional hotel where multiple rooms or floors share the same boiler."
There was plenty they did foresee, though, especially when it comes to room service. "It's limited – you couldn't have the full menu delivered to the room – but we do have homemade pizza, charcuterie boards and sweet boxes, and a lot of people love it. Because of the spa baths in every room, a lot of people don't want to leave their rooms so it's the perfect offering. It's kind of a quirky thing and it's great for families who might want a night in to watch TV."
Since opening, the property has seen great success with an average of 80% occupancy. Chadwick puts this down to the unusual experiential concept, and also the pandemic's influence on guests' appreciation for space and the outdoors.
"For me, the reason I'd say outdoor accommodation is the best market to explore is firstly that it's not really been tapped into, there's not a monopoly there and it's certainly not saturated. But also because people's attitudes have changed. The majority of our guests are from London and they love to get away from the city and the people and have their own space."
This changing attitude to the outdoors, thanks to months of lockdowns and outdoor-only hospitality, means that there are further opportunities to use outdoor space. Galgorm in Northern Ireland, 30 minutes from Belfast, is a spa hotel with a difference. Instead of the usual indoor leisure facilities you'd associate with a spa property, the spa is entirely outdoors.
"We have more than 40 different experiences within our thermal village, such as saunas, steam rooms, salt caves and an outdoor pool," says spa manager Tara Moore. During Covid, they closed just like many other hotels and took the opportunity to expand further. "What we find is a lot of people come back to the resort for the spa, so we figured if we get these guests who keep returning, we need to continually add on new experiences to keep it fresh for them."
While Northern Ireland – or anywhere in Britain – might not be the most obvious space for an outdoor spa due to inclement weather, she says their guests are hardier than you might expect. "When it rains, we don't cover anything. Heavy rain or snow, people love being in the hot water in weather like that."
Be it a bell tent, a treehouse or a spa facility, there has possibly never been a better time to invest in outdoor experiences.
Continue reading
You need to be a premium member to view this. Subscribe from just 99p per week.