Yvonne Thomas, the chief executive of the Clink Charity, is passionate about training prisoners to work in hospitality. We find out how she is helping to fight the industry's skills shortage.
You are eight months into your role as chief executive. Can you tell us how your initial vision and strategy for the charity has progressed?
It was an interesting start because when I took over on the 31 January, all our restaurants were still closed with staff only just coming back from furlough and the plans for the roll-out of our Clink Kitchens (the charity's internal kitchen prison training scheme) were put on hold.
Nevertheless, my first task was to ensure the charity continued to help the maximum number of people that we can into hospitality. My constant undertaking is to ensure that the charity remains financially sustainable. Every charity doubles (their fundraising) to a greater or lesser extent, but we don't have the same reserves as others, and we need to change the balance to make us less reliant on charitable funding. It is my responsibility to lessen our dependence in this way by focusing on our trading activity. Clink Events (as a wholly owned subsidiary) creates surplus profits for the charity, so we need to continue to grow these elements.
Another strand of the strategy is to work with more people who aren't in prison but are at risk. We have started to work with people serving suspended sentences in the community in Cardiff and are just starting in Styal and hope to extend this training into more community-based facilities. It helps to generate a soft landing for graduates coming out of prison too.
There is a limit to what we can do – there are only 65 people across the whole team – but we continue to look at community training opportunities, with the caveat that we will only take them on if we can resource them fully. Our core aim has got to be about rehabilitation and training and our chosen industry is hospitality. Anything we do will be food related.
What is the direction for the Clink Charity over the next couple of years?
We are picking up speed with our Clink Kitchens project. The roll-out has been re-planned and is going well. We have been able to recruit an extra 30 people, 16 of which are chef trainer assessors from the industry, to deliver the City and Guilds curriculum, and the remaining support workers help those who have been trained and graduate to get work in the industry. We've gone from five to 32 prison locations.
When we launched, we had a statement that we were aiming to deliver training to 70 prisons, but we will end up at about 52. I'm more interested in the number of people being trained than the number of prisons. Of the 37 people that have been released from our kitchens and restaurants this year, 76% have gone into employment, which is a very good outcome. If we maintain that level, I will be very happy indeed.
What has been your toughest challenge in taking on this new role?
Reopening the Clink restaurants post-Covid was a lengthy process and High Down in Sutton didn't reopen until June 2022. We were able to carry on with some training at Brixton and we continued to serve staff meals, so there was a level of training, but it was difficult to get students who could attend. We are delighted with where bookings are now, however, with Brixton doing well and Cardiff too [see footnote]. Thank goodness for our funders, who have continued to support us through the closures, as we had no restaurant revenue.
It's all about ramping up student numbers now as our training numbers need to be filled, but it's almost like starting over again.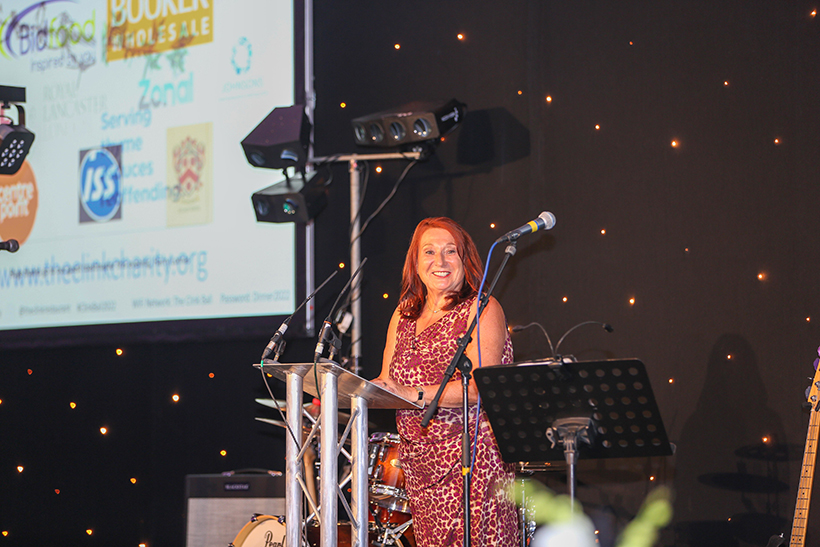 Has the staff shortage in the industry impacted the Clink?
Yes. The Clink needs to employ chefs and general managers who are highly motivated, and a challenge we have is that we can't compete with the industry on salaries, so it's harder for us to recruit in some ways. However, we attract people who are looking for roles that are socially valuable with regular hours. The Clink Kitchens are Monday to Friday, for example.
We've edged salaries up slightly and we offer good professional development and support our chef trainers to do advanced qualifications and become City and Guild assessors themselves. We also offer benefits like the blue light platform [a public sector discount scheme]. The work our team do is mostly independent, too. You have the autonomy to interact with a group of men or women that you are turning into professionals. We have about 60% men to 40% women as chef trainers and our support worker ratio is 70% female to 30% men. Our senior management team is a 50/50 split.
What are the latest figures on how the Clink affects prisoners reoffending?
Our one-year rate is holding steady at 12% of people reoffending on release [based on Ministry of Justice figures]. The national rate is between 24%-31%. Of the people that do reoffend, that have completed our programmes, the number of victims they impact is reduced by half and the term between reoffending is extended.
How can people access the Clink programmes?
The New Futures Network 'Unlocking Hospitality' initiative (see panel), devised by HM Prison and Probation Services, is one way that we intend to engage with new employers. It will take place from 14-28 October and we will get involved by hosting a hotelier networking event at Brixton prison and a pubs and restaurants networking event at High Down. We will be inviting the industry to come and join us.
What else can the hospitality industry do to support ex-offenders?
It helps if businesses have a physical engagement with the people and prisoners in training and they can join our Ambassador's Programme. Chef and restaurateur Cyrus Todiwala is head ambassador, and like Cyrus individuals can get involved and come and talk to our trainees about hospitality and their business. Currently, if we give offenders a choice between construction and hospitality, they'll choose construction as they think it is better paid. We all need to be educating these potential new recruits that the industry is a great place to work, and that it can open up a whole new world. We do need the industry to come in and sell it for us.
Potential new employers can talk to existing ones and get an understanding of how the trainees are qualified on graduation. For instance, it helps to know that the graduates can be flexible and that they are prepared to start in positions such as kitchen porter and work towards a promotion.
How many Clink restaurants are there now, and do you have plans for any more?
We have High Down and Brixton prisons in London and Styal women's prison in Cheshire. We would dearly love to open another restaurant, and I personally would like to go to the north, perhaps somewhere like Newcastle or Leeds, somewhere that needs trained hospitality professionals and where there is a local community that would support them.
City and Guilds trained
A graduate can leave the Clink with all of the following (depending on the restaurant they are trained at): ● Food and Beverage Service levels 1 and 2 ● Food preparation and Cookery levels 1 and 2 ● Food Safety level 2 ● Barista Skills level 2 ● Food Hygiene Certificate level 2 ● Barista Skills Certificate level 2 ● Horticulture Certificate and Diploma
Leading up to a prisoner's release, the Clink team will work with the individual on the practicalities, such as setting up a bank account, writing a CV and creating a disclosure statement (if applicable). It will work directly with employers to arrange an interview, which they will be prepared for. Once they have been offered a job, the Clink follows up with lifestyle change support, typically for about a year after release.
A note about the Clink in Cardiff
The Clink Cardiff restaurant, which is run by prisoners at HMP Cardiff, will close at Christmas 2022 after being open for 10 years. The restaurant's lease is set to expire and is unable to be renewed. The Clink Charity said it had trained more than 400 prisoners and people on probation in the restaurant over the past decade to help them into hospitality careers. The charity will maintain its presence in Wales through its Clink Kitchens scheme, which will expand into HMP Cardiff and HMP Swansea.
Continue reading
You need to be a premium member to view this. Subscribe from just 99p per week.