A five-year renovation has seen this Margate hotel go from battered to boutique. The Caterer takes a peek at the effortless interiors
Gabriel Chipperfield, one of the co-founders of Margate's Fort Road hotel, says it "needed to look like it had always been there". To an extent, it had, even though it only officially opened its doors earlier this month. The original boarding house dates to 1820 and overlooks the sea views that inspired JMW Turner's paintings. It had been abandoned for almost 30 years before it was bought at auction in 2018 in a state of significant disrepair.
The five-year renovation programme was led by Chipperfield, private residential developer and son of architect David Chipperfield; Matthew Slotover, co-founder of Frieze magazine and art fair and Toklas restaurant in London; Tom Gidley, artist, writer and Thanet local; and completed in collaboration with Fleet Architects. The result is an unpretentious 14-bedroom boutique hotel with a roof terrace, bar and female-led kitchen headed by chef Daisy Cecil, an alumna of London's River Café.
Art is a really important part of the hotel because it's an important part of Margate
The 35-cover restaurant's all-day food offering, which is based on seasonal, "Best of British without getting too Brexit-y" produce, includes dishes such as a Montgomery Cheddar soufflé, Dover sole with capers and lemon, and bread with plum and fennel jam, Kent summer honey and cowslip butter. Cecil's cuisine matches the distinctively quiet elegance of the hotel.
Slotover says: "It's been designed in a relatively simple, classic way to be able to show art, but with enough individual touches and character. Obviously, art is a really important part of the hotel because it's an important part of Margate. The background for art is generally something reasonably neutral, so [we used] wood floors, off-white walls, and wood cabinets."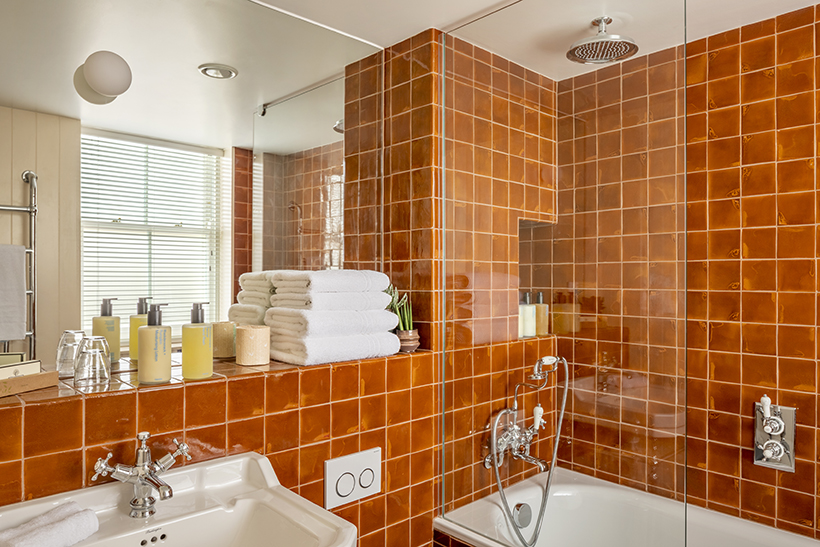 Although the collection of art at Fort Road hotel is global, the paintings, sculptures and murals are by contemporary artists with links to Margate, such as Tracey Emin, Hannah Lees, Sophie von Hellermann and Anne Ryan, whose works have been exhibited at the Turner Contemporary, located opposite. These pieces have been integrated throughout the venue, often uncredited, seamlessly blending into the tapestry of textures – wood, Italian red terracotta tiles, Carrara marble and exposed brick.
Work of art
The bedrooms, too, exhibit oil paintings, watercolours and gouaches, reflecting the aesthetic. But these spaces, suitably so, feel more like the home of an unassuming artist, as they feature handmade linen curtains, mid-century modern furnishings with teak, marble and brass accents, and a selection of succulents and vintage novels. Everything is consciously but subtly done, carefully balancing neutral tones with targets of colour.
Room 9, for example, has a basil corduroy window-sill 'sofa', accentuated with pink and mustard velvet cushions, that looks out onto the road and sea beyond. This contrasts with the more neutral tones of the room, such as the light beige of the bedframe and the cream, old-style radiator.
The bathrooms are a slight exception to the pared-back ethos, embracing bolder expressions of colour, such as ultramarine, turquoise, baby blue and gleaming silver. Slotover reasons: "You're only there for five or 10 minutes, so it's not going to disrupt everything. The problem with a lot of interior design is there's just too much going on."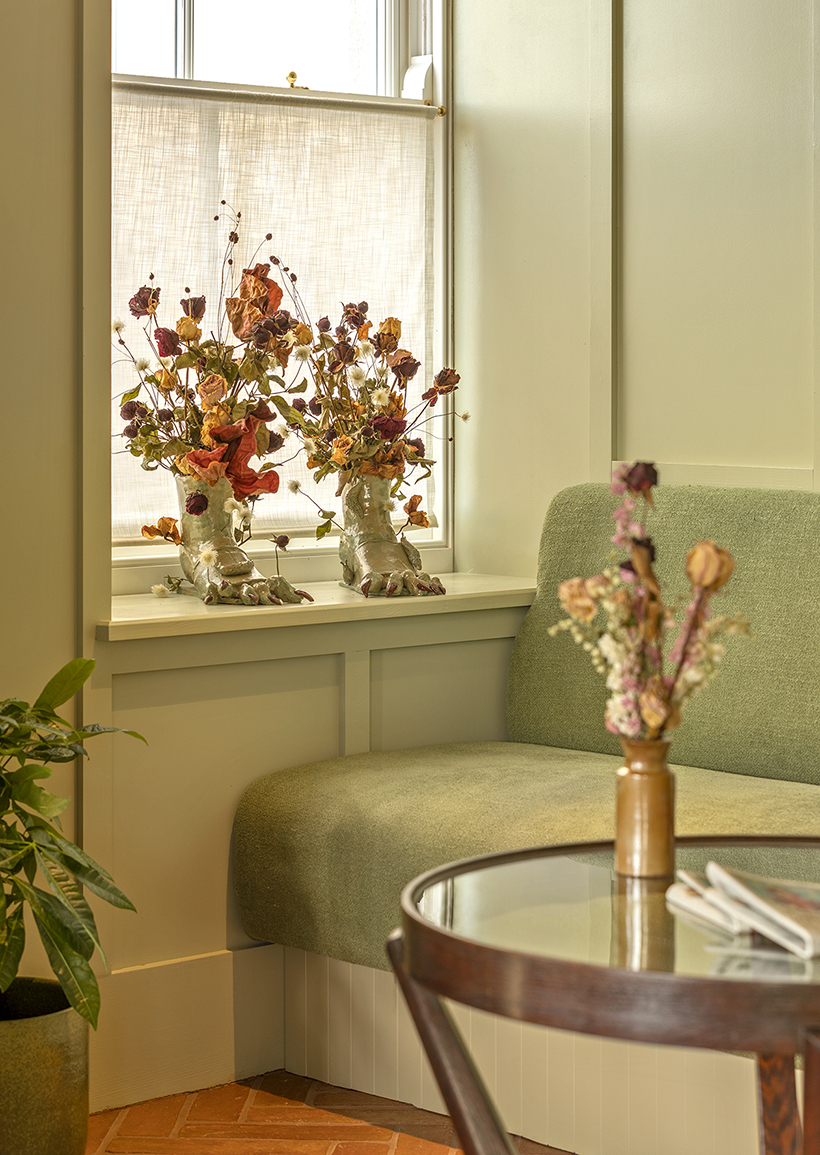 Slotover's minimalist inclinations fit with the fact that many of the rooms have sea views, which are a piece of art in themselves. But for Chipperfield, it's not just about the sea: "Margate gets quite cold and when I say quite I mean extremely. There are days, dare I say it, even when the sea is very beautiful, that you want a degree of protection."
This gentle warmth can be felt in the intimate ground-floor lobby, between the restaurant and the small bar. This quasi-living room is surrounded by large windows, pistachio green walls, an emerald-tiled mantelpiece, faded red brick and a large 1920s table, a favourite of the hotel's general manager, Tom Fogg. These features are a conscious reaction against the formal concierge desk set-up – "there's nothing worse than that", Slotover's adds.
By contrast, the walls leading up to the rooms are what Gidley describes as a "traditional combination of dark red woodwork and gloss-painted Anaglypta ceilings", which culminate in an "intense orange-red colour". In fact, the palette for the hotel – though the co-founders emphasise that there isn't really one – grew out of an organic process. On this occasion, Chipperfield could quite confidently claim that "You can't get colour wrong" and be proven right.
Below deck
The 60-cover bar in the basement is a different kind of venue altogether, featuring bright-white neon signs that read "More Love", red American-diner style seating, galvanised tubing and industrial brickwork.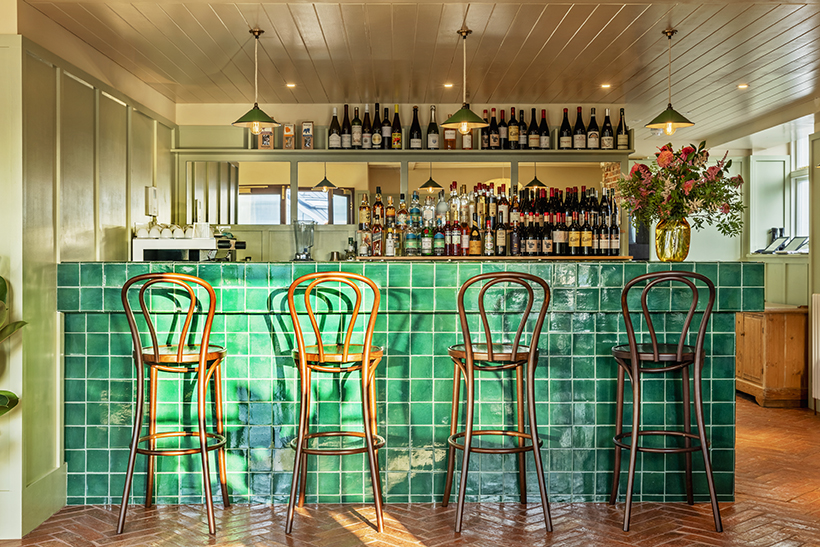 Chipperfield says: "When we bought the building, we bought it unseen. Kent bedrock is chalk, so people would just dig when they were building houses. We got inside and uncovered this enormous basement with vaults, and then one of us pushed the idea of keeping it raw, doing the bare minimum. I don't know whether to use the term speakeasy, but it's contrasting."
He explains that if anyone thinks the ground-floor feels too formal or white-table-cloth brasserie, this is a space that can "alleviate" that, attracting different types of guests. Slotover adds that there was a point when they thought of giving the bar its own name, because it feels strongly separate.
And yet the subterranean bar doesn't feel out of place, partly because so much of the identity of Fort Road stems from this sense of deceptively effortless, coincidental curation – the absence of what Slotover describes as an "overarching palette, scene, or mood". He adds: "We can't tell you if we were trying to do Mexico on the sea or Italian Riviera. It was really intuitive."
Continue reading
You need to be a premium member to view this. Subscribe from just 99p per week.