Interior designer and architect Alex Meitlis has been collaborating with Yotam Ottolenghi since 2002, when the chef launched his first deli in London's Notting Hill. Twenty years on from 'early Ottolenghi', which features crisp white walls and inconspicuous wooden flooring, Meitlis' Ottolenghi Chelsea on Pavilion Road is a burst of colour and a stroke of texture.
The fifth iteration of the deli, which opened in January 2022, boasts a striking exterior. It's not just the delicious display of raspberry dusted meringues and blueberry-topped mascarpone financiers in the giant window that grabs the eye; the juxtaposition between the yellow-brick walls and the red-on-turquoise store-front, a colour scheme suggested by artist Ivo Bisignano, Meitlis' business and life partner, makes the space intriguing and inviting.
Once inside, the array of fresh food and packaged condiments is complemented by the muted coral colour palette that marries the two defining textures of the store: the plaster walls and the Venetian terrazzo floor, where Meitlis confesses "most of our budget went".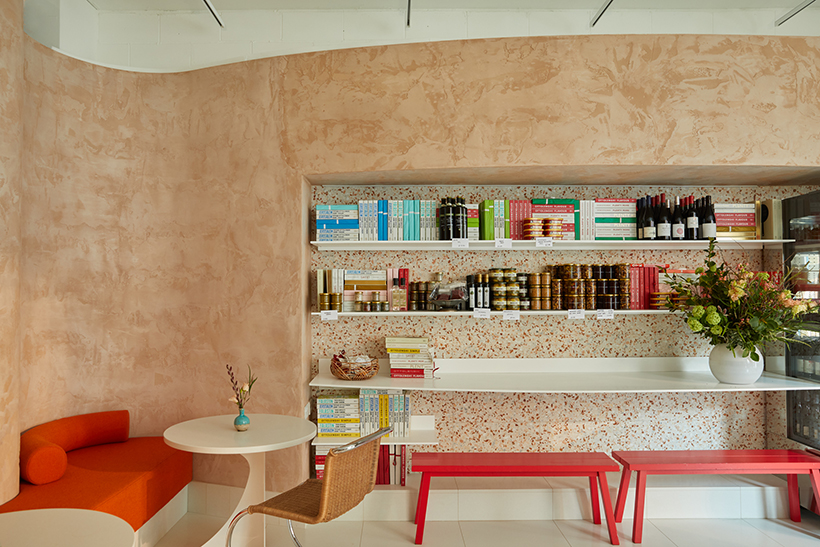 Meitlis says: "The floor is a painting. It's a piece of art as far as I'm concerned, because it's a very specific design. [As for] the plaster, recycled bricks have been crushed. What gives it its effect is that it's curved, so the shape gives it all the different tones rather than the material."
The gentle lighting subtly brings out the contours of the wall's pastel-orange brush-strokes and the floor's tiny specks of white marble, creating what Meitlis describes as a "stage" for Ottolenghi's dishes.
He adds: "Our spaces are background to the food. At the end of the day, there's nothing more irritating than coming to a very designed space when the food is shit. We try to make [the space] as beautiful but as simple as possible, and that's why I keep to very few materials."
Part of the furniture
There is one additional material that Meitlis sees as an Ottolenghi deli tradition: classic designer chairs. Ottolenghi Islington has the colourful plastic Pantons and Ottolenghi Chelsea has Ludwig Mies van der Rohe's Rattan chairs, dating back to 1927. Meitlis describes them as "icons – the one thing we bought for this shop". Despite his enthusiasm for chairs, he swears he would never choose a chair before settling on the overall interior design: "It's always a reaction to the space."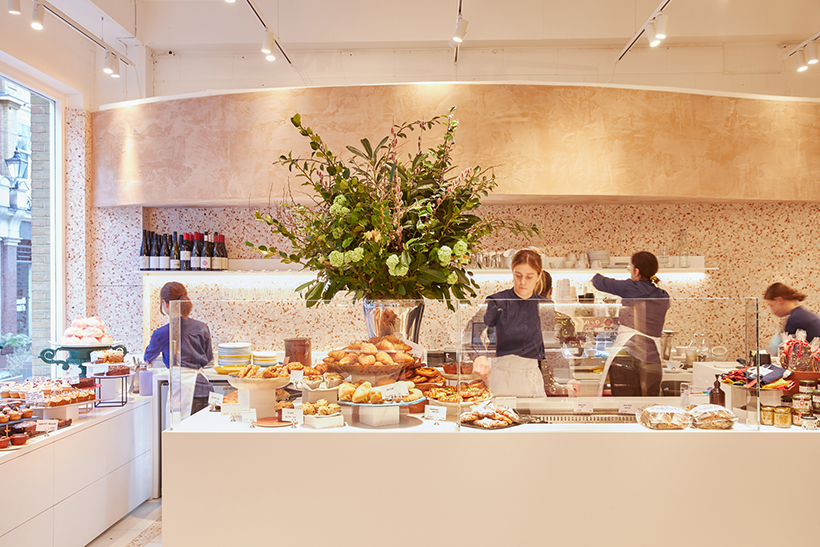 His emphasis on classic furniture also stems from the group's wider interest in designing restaurants that might be maintained, but never fundamentally changed.
Meitlis says: "We really believe that our designs are timeless, because the food is also timeless. A good dish is a good dish forever. That's the same reason that I choose chairs that I know have been around for 90 years and probably will be around for another 100."
Details have been meticulously thought through, from the craftily 'cluttered' pile of recipe books, to the exclusion of all paintings from the walls in order to subconsciously draw people's attention to the floor.
It goes back to the Ottolenghi group's ethos "that we've been using from day one: to be outrageously casual". What does that mean exactly? Meitlis says: "We don't like to show our sweat. Just like Yotam's salads: they are perfection and look like they were whipped up in two minutes, but actually a lot of thought has gone into them. My approach to the architecture, to the design of the space, is exactly like Yotam's approach to his cooking."
Continue reading
You need to be a premium member to view this. Subscribe from just 99p per week.