It's a sports bar like no other, built around football-inspired artworks and murals, Nineties nostalgia and James Cochran's Around the Cluck chicken menu
Valderrama's sports bar has opened on Upper Street in Islington, London, with retro interiors that take their inspiration from Carlos Valderrama, the flamboyant former captain of the Colombian football team.
The bar, which houses co-owner and chef James Cochran's Around the Cluck fried-chicken concept, is not your typical sports bar. There are no scarves, shirts or signed portraits on the wall. Instead, there is a display of football-inspired works by artists and designers, carefully curated by creative director Bryan Mayes.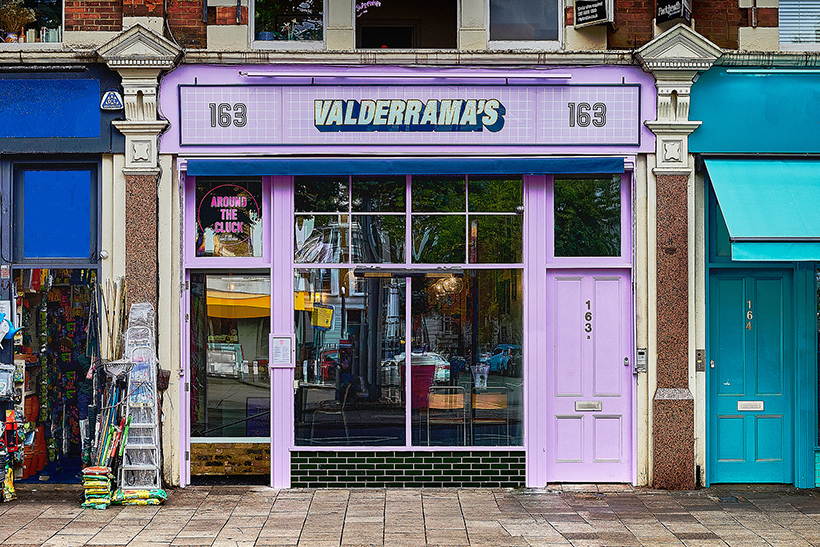 He says: "There's a huge football design and fashion subculture that's been growing and growing over the past few years. The 1990s were a big era in football when things were a bit simpler, but there were a lot of exciting characters. We wanted to draw on that."
The exterior is a striking violet with a retro typographic sign on a grid backdrop designed by Mayes and created by sign maker Alex May Hughes. Mayes says: "The design was a coming together of ideas from everywhere. I saw an old trade shop in Leyton that had a grid behind it, and it just looked super-1990s and reminiscent of sport. It just looked right. It was a bit of a happy accident."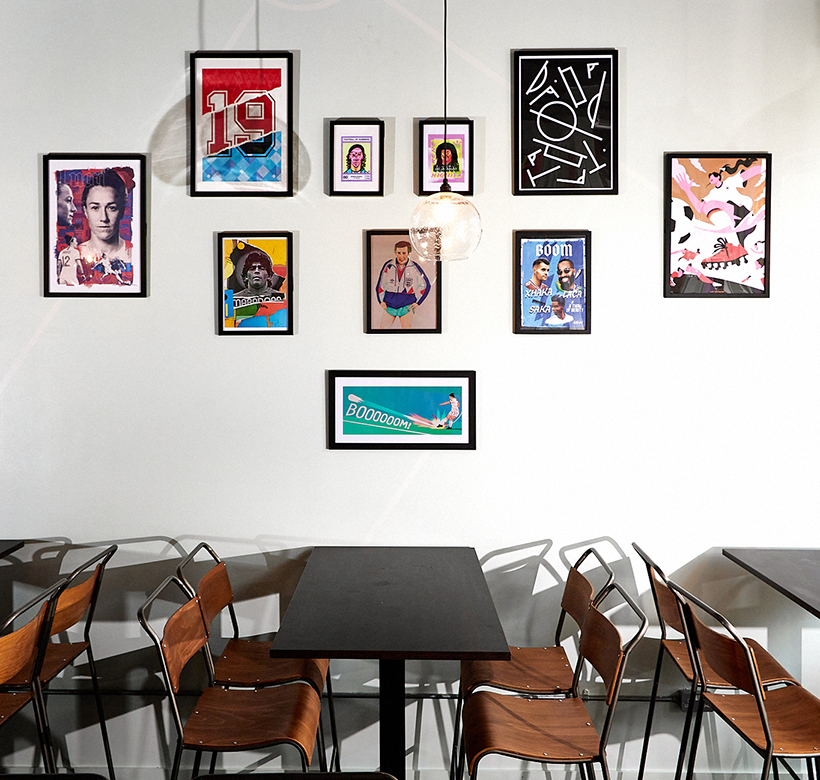 It was important to Mayes that the interior design was inclusive and inviting, sidestepping associations with a line of men sat at a bar shouting at a TV screen.
He commissioned Dave Bain to create murals with motifs of the beautiful game set within a vivid abstract design. Mayes explains: "I didn't want to have photorealism, I wanted something abstract, so if people walk past they won't necessarily look at it and go, 'oh, that's a football pub,' but it will pique their interest." The walls also feature a tapestry created from 1990s goalkeeper strips, made by set and costume designer Rachael Rooney.
Mayes adds: "It's kind of sacrilege [to have cut up the shirts for the tapestry], because goalkeeper shirts from the 1990s are really funky, and they're expensive and rare because no-one wanted to be the goalie growing up. But it worked out really nicely and it's a great conversation piece. The only brief from [co-owner] Dan [Henry] was that he wanted people to feel nostalgic, and you can sit back and look at it and go, 'oh, that's Newcastle '95', or, 'there's the Liverpool one'."
The opposite wall is decorated with a display of framed illustrations, which will expand with time. Mayes describes the display as "a dream team of the best creatives in football".
The toilets have been decorated with a montage of cut-outs from 1990s football magazines such as Match. Mayes says: "The toilets are basically inspired by my bedroom when I was 13 or 14. We just bought a big box of magazines off eBay, and then over a series of weekends me and some friends had crafting days where I was very militant about how people should cut things out. We got a production line and then used PVA and water to paste them up. It was a lot of fun to do."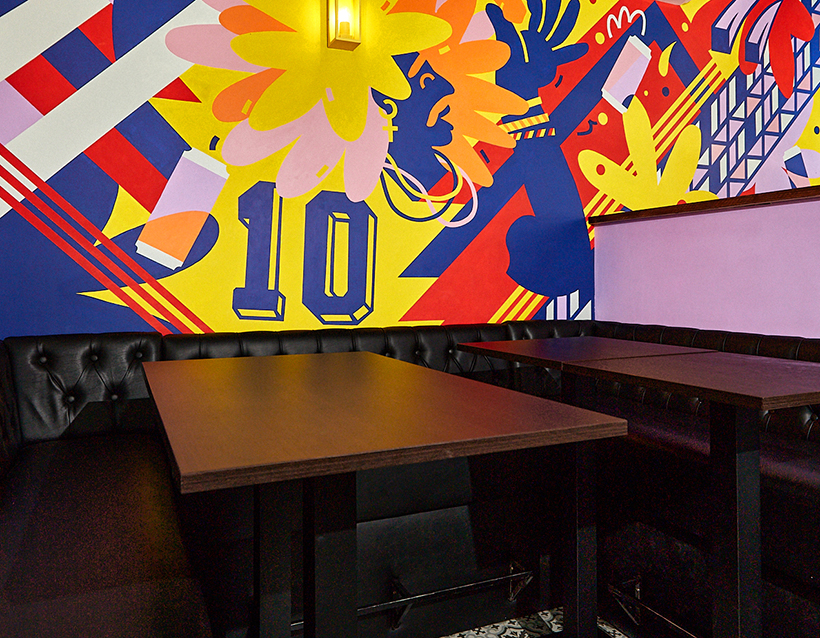 The 1990s nostalgia has sadly not given Mayes a lot of scope for the inclusion of women, but it is something he's hoping to change. The expectation is that the success of the Lionesses in this year's Euros will inspire the creation of more works.
He says: "It's a work in progress. I used to put on exhibitions and it would all be gearing up to opening night, and the next day or after the weekend it would be pulled down. With this we were all gearing up for opening night but then we can keep tweaking, and it will really be finished in six months' time when you've had a chance to look around and see what works and doesn't work."
Photography: Martin Lomas
Continue reading
You need to be a premium member to view this. Subscribe from just 99p per week.