Gary Usher is crowdfunding again, but this time it's with an equity-based venture, offering the chance to invest in his expanding Elite Bistros empire in the north west
Update: Elite Bistros is now launching its equity-based crowdfunding drive on Seedrs at 6pm on 1 August. For more information visit the Seedrs page here.
In the mid-2010s, Gary Usher would regularly tweet about "stock watch". Late at night, after service at his then sole restaurant, Sticky Walnut in Chester, he'd pass the time on social media while waiting for a pot of chicken stock to come to the simmer before leaving it to cook overnight.
Fast-forward to 2022 and Usher is tweeting about a very different type of stock: the chance to invest in his Elite Bistros group and events company through the Crowdcube investment crowdfunding platform. Usher is no stranger to crowdfunding, having raised £744,796 between 2015 and 2021 (exceeding the set target every time) to grow to six bistros and an events company, all offering approachable, affordable, quality modern bistro food. He now employs 150 people and the business has an annual turnover of £6m. But this time, he says, is different.
"We've been so lucky with the crowdfund on the Kickstarter platform. Essentially, we've been selling products in exchange for money, which has helped us open new places. But every time we've done that, we've had to finance equipment and try to make other deals. We couldn't have done it without the crowdfund because that enabled us to secure finance, but obviously opening a restaurant is a lot more expensive than people might think. So, the next natural progression is to get involved with something like Crowdcube, which is equity-based," says Usher.
The chef chose the platform after seeing the success of Wokingham-based Siren Brewery, which supported Usher's most recent Kickstarter for Elite Bistros' event catering business. The brewery smashed its £750,000 target and raised £1.2m with its Crowdcube campaign in 2018.
Usher hopes to raise £2m by offering 10% equity in the business (the percentage is yet to be decided) and the launch date of campaign was being finalised as The Caterer went to press, but is expected to be imminent. The target is 10 times the amount Usher raised in 2018 to open Wreckfish bistro in Liverpool, but his plans more than justify the figure. In addition to acquiring the group's first pub, the White Horse in Churton, Cheshire, which has space for four to five bedrooms, Usher has also announced a new tapas concept, Joya, for which he is looking at two sites. He is also developing the first floor of Deva House, his Elite Bistro Events headquarters in Chester, which will house a development and masterclass kitchen, and where he also plans to film promotional videos to showcase new dishes on social media.
Reward schemes for investing in Elite Bistros
In a similar way to his Kickstarter campaigns, Usher says there will be reward schemes associated with a shareholding in Elite Bistros, such as private dinners and money off in the restaurants, but what he won't be offering is a say in how the business is run, one reason he hasn't pursued offers from venture capitalists in the past.
"I'm not disrespecting Corbin & King, but I read what's happened and it scares the shit out of me. I would never want to be in that situation and that's because they relinquished control when they let that company buy into them. I wouldn't want anyone to come into the business and start changing what we do.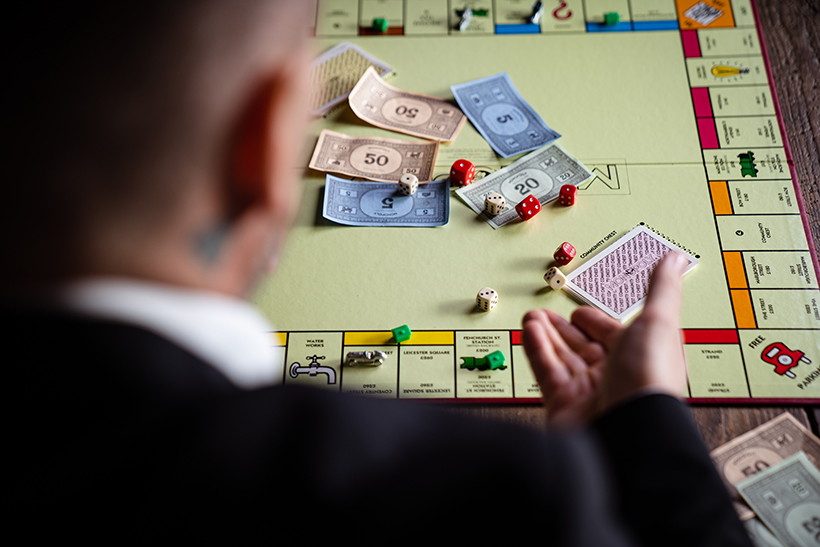 "I don't ever want anybody telling me what supplier to use. I don't ever want anybody telling us what direction we should and shouldn't go. We love what we do, and none of us want to take a step back from the business – we don't want to run it from an office, we want to run it hands-on. We had a client tasting at the events business recently and I was cleaning the toilets at seven in the morning."
Although Usher is bullish about retaining complete control of his business, he is happy to admit he doesn't have all the answers to every question thrown at him, but says that's where his top team come in.
"I'm pretty vocal about the team in Elite Bistros being amazing. Because I've got such confidence in them, it's easy for me to come up with harebrained ideas because I know there's people that can do it behind the scenes. But I don't think that because we run restaurants we know how to run a pub, for example – I'm not arrogant in that sense. I know a pub is a different business to a restaurant and understanding it is something we're all going to have to learn.
"My apprenticeship was in a pub, so I've always loved pubs, but I am not an expert, and I don't claim to think that I'm just going to be able to open and it will be amazing. I'm going to be learning too."
Gary Usher's crowdfunding plan
As well as funding the new business ventures, the Crowdcube campaign will allow Usher to make new operational appointments to facilitate the long-term growth of the business. He has already appointed Matthew Shaw as training and compliance manager and Gabrielle Kirby will start as marketing manager in July.
"Taking people on, particularly in operations roles, is really scary because it's not necessarily taking somebody to have a direct impact on revenue – it's not something you can always quantify and see. There are many more positions we would like to fill and create, but we can't do that without these sorts of investments, because it gives you the confidence and the comfort to be able to make those decisions."
Despite making these forward-looking appointments, Usher claims to still run the business in a spontaneous way and says he doesn't normally have a six-month plan, let alone a five- or 10-year strategy.
I'm scared of failing and by constantly pushing to do the next thing, you'd be surprised how much of an impact that has
"I've never led the business in that way. I've definitely got ambitions; I've definitely got things I'd like to do and there's things we're heading for. Perhaps this Crowdcube will actually make me put a five-year and 10-year plan down on paper, as that will probably be needed for people to want to invest. It could all become apparent in that as I physically write it down."
One place Elite Bistros isn't heading, however, is outside of the north west. "We've looked at London before and it scares the hell out of me. I looked at Leeds pretty seriously, about three or four years ago, but the journey back and forth pissed me off so much. I sat in traffic on the way back and I thought, imagine having to travel to the restaurants, particularly in the first few months when you're there all the time, and the journey just felt unmanageable. It felt that if we can run restaurants within the north west, in the areas that we are more local and we can be successful, it seems stupid not to try and carry that on."
Gary Usher at home
Usher's plans are nevertheless impressively ambitious, and even more so when put into a post-lockdown context. In March 2020 when Covid first hit, Usher believed his business was going to go bust, especially when a takeaway meal initiative failed, but then the Elite Bistros cook-at-home offering took off.
"If you had any kind of brand awareness in the pandemic, when the lockdowns were happening, there was a high chance you were going to be successful at sending your product around the country, and we were. Not only was it our only source of revenue in the pandemic, we were all of a sudden back in the forefront of people's minds as a restaurant business."
The scheme has been so successful that it's remained a permanent part of the Elite Bistros' portfolio and was the driver behind Usher launching his events business in 2021. Realising that using the kitchen at his Burnt Truffle bistro was not sustainable, he decided to look for a standalone site to run the cook-at-home service from.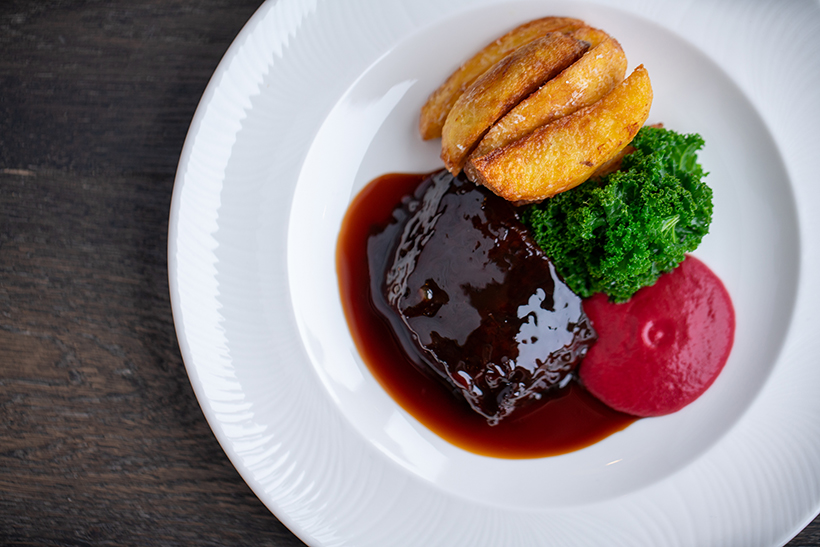 "I can't say that an events business was something I was ever looking to do, but it made so much sense," he says. "If we were going to have a site away from the restaurants doing cook-at-home boxes, then we should double up and do an events business."
Usher says lockdown gave him the chance to take stock, look at how the business was running and how it could be improved, and that the opening of the headquarters in Deva House also gave him a renewed sense of pride and purpose.
"Whereas before, I would travel around the restaurants sporadically, feeling pretty awkward, as each time I'd walk into one of the restaurants I wouldn't really know what to do. Now, we have this headquarters and every single morning I get there early and I have a base. I do whatever I have to do, which is normally on my phone, whether it's emails or social media or whatever, and it gives me a real buzz and a real energy. If I'm honest, the pandemic's been great for the business."
Usher is rightfully proud of having grown a business from a single restaurant that took £3,000 a week when it opened in 2011 to a diverse business turning over millions. Few would blame him for simply consolidating his position, but he has strong reasons for why he wants to keep expanding: "I'm scared of failing and by constantly pushing to do the next thing, you'd be surprised how much of an impact that has in the business. I've done it because it creates a buzz within the business and within the teams, but also it creates a buzz outside the business and that makes you busier. By constantly doing something new, it keeps people's interest.
"If it becomes unmanageable then obviously it will have the opposite effect, but so far it hasn't been, but perhaps we're on the cusp of it being a lot more difficult. For me, if I'm not doing something, I don't feel great about myself. I think doing new things and being busy and being very stressed gives me energy. As much as when I'm under a lot of pressure and in the shit and I probably feel like I just want the world to swallow me up, it's also why I get out of bed."
The history of Elite Bistros
After apprenticing in a local Chester pub, Usher worked at Arkle at the Chester Grosvenor, Chapter One in Locksbottom, Orpington, Chez Bruce in Wandsworth, London, and York & Albany in London with Angela Hartnett.
After a short stint as sous chef in the Cambridge branch of Jamie's Italian, Usher opened the 30-cover Sticky Walnut in the Hoole suburb of Chester in 2011 with a bank loan and help from his family. He had just one other chef and washed his own pots.
In 2014, in what turned out to be a prophetic review, Marina O'Loughlin wrote in The Guardian, "If I could clone Sticky Walnut, I would." That same year, Usher launched his first crowdfund and raised £100,000 to open Burnt Truffle in Heswall in the Wirral.
Between 2016 and 2019, Usher opened a further four bistros, Hispi in Didsbury in 2016, Wreckfish in Liverpool in 2017, Pinion in Prescot, Merseyside, in 2018 (the opening of which was documented by Channel Four in The Rebel Chef broadcast in 2019) and Kala in Manchester in 2019, all crowdfunded. In the process, Usher changed the company name from its original moniker of Elite Bistro's of the World to the more serious Elite Bistros.
In June 2020, Usher launched Elite Bistros at Home, offering nationwide delivery of finish-at-home versions of signature dishes from his restaurants, including braised featherblade of beef with truffle creamed potato, glazed carrots and red wine sauce.
In autumn 2021, following another successful crowdfunding campaign, Usher launched Elite Bistros Events, catering weddings and events. The same year Usher was named Restaurateur of the Year – Independent at the Cateys.
Usher on his top team
Rich Sharples, executive chef
"Rich joined me in 2015. He was Mary-Ellen McTague's sous chef at Aumbry, but when it closed, he took the only position I had to offer at the time, which was chef de partie in Sticky Walnut. Within two weeks I knew we could do something, so I offered him the head chef position at Hispi. He did that for one year. He did an amazing job and in 2017 I asked him if he would take the executive chef role for the group, and he's been doing it since.
"His role's so expansive. He looks after so much more than just the menus. He oversees the whole food operation, the research, the development, the maintenance, the recruitment and the back of house HR. His role is massive."
Gareth Jones, operations manager
"Gareth sent me his CV in 2015. He'd had management positions in Kitchen W8, Arbutus and Wild Honey, among other places, going from one-Michelin-starred place to another. He did a trial with me for the general manager role at Hispi and I liked him immediately. It was hard not to because he was just everything you'd want to have of someone in a manager role. He was professional, happy, smiley, on it, intelligent and smart.
"In 2017, I asked him if he would be operations manager, overseeing everything front of house. Gareth writes all the wine lists, he deals with all the HR front of house and all the recruitment for top-end management. He basically showed us all how to run restaurants."
Claire Wright, managing director
"Claire originally joined me just helping out with my accounts and was just incredible, so I asked her if she wanted to be the financial director of Elite Bistros. She started doing that role and I said, 'Look, you're basically running the whole business, so you are the managing director' and she's been in that role since 2016. Claire oversees everything financially and business-wise she runs a tight ship."
Continue reading
You need to be a premium member to view this. Subscribe from just 99p per week.