Highland Coast Hotels has made the wilderness of the northern coast of Scotland its operating space. Its chief executive shares the challenges and commitments of running a business in the Highlands.
It's a myth that tourists don't want to travel to the North Highlands of Scotland in the winter, according to Roddy Watt, chief executive of Highland Coast Hotels (HCH). He says: "Part of the reason no-one goes to the region between November and March is because every­thing is shut. It's a self-fulfilling prophecy. If you actually stay open, people will come."
The figures speak for themselves. HCH launched in April 2021 with the acquisition of the Kylesku hotel, overlooking Loch Gleann Dubh in Sutherland in the remote West Highlands. By the time that winter arrived in the same year, the company portfolio had expanded to four properties, with average occupancy across the group from October to March, excluding a closure during January for minor repairs, reaching a respectable 49%.
There is still some way to go until that figure moves closer to the 90% room occupancy rate currently being achieved this summer across the group's portfolio of properties, now numbering six. Watt, though, is pleased with the results so far and highlights the many benefits of the business staying open year-round.
"Once you decide to remain open 12 months of the year, you can start to employ people on a permanent rather than a seasonal basis," he says. "That means that staff will be able to stay local and apply for mortgages to buy houses. Communities in the North Highlands are very fragile, with a lot of young people heading off to the bright lights, as they feel there is not a lot to keep them in the area.
"It also enables other businesses to remain open and increase their activity during the traditional low season. By staying open in the winter, HCH is helping in a small way to underpin the economic stability of the region."
North and south
The creation of HCH has resulted in a considerable transformation – both career-wise and geographically for Watt – who has spent most of his hospitality career in the recruitment sector. Born and brought up in Argyll on the west coast of Scotland, he headed south at the age of 17 to the University of Surrey in Guildford to study for a degree in hotel and catering administration. Then, after initially working in food and beverage management with Hyatt and Sheraton hotels, he moved into recruitment while living in Hampshire.
Watt is best known for setting up Berkeley Scott Group in 1984. He grew the firm into a £20m-turnover business specialising in hospitality recruitment, which floated on the London Stock Exchange's AIM market 20 years later. Latterly he was involved in setting up the Hotel Management Company and Buell Group, providing consultancy services to owners and operators in the hospitality sector.
Having always had a hankering to return to Scotland, Watt, now 67, moved to Perthshire in 2018 with a view to launching HCH. So what was it that set him on the path to create a new hotel company at a time when most of his contemporaries are winding down their careers?
"I'm not the stay at home and put your feet up in retirement type," he says. "I've always enjoyed being busy, and when I'm not, I look for things to fill my time. Retirement is not really for me, so the age question doesn't really arise."
Watt explains that what appeared to be an exceptional opportunity overrode the fact that he was in the latter stages of his career. "I had a recruitment client in 2016 who was doing some work for Paul Lister, owner of the Alladale Wilderness Reserve in the Highlands," he says. "She said there was an opportunity to create a collection of hotels offering a consistently high standard in an area that is regarded as one of the last great wildernesses in Europe. When I started to look at the area, it was apparent there was a real opportunity."
Road trip
The timing was particularly good following the 2015 launch of the North Coast 500 (NC500) by the North Highland Initiative, then chaired by David Whiteford, who is now the chairman of HCH. Inspired by Route 66 in the United States, the 516-mile touring route, which broadly follows the north coast of Scotland, starting and ending in Inverness, has been a huge success in raising the profile of the region, attracting significant visitor numbers. In its 2019 report on the economic and tourism impact of the NC500, the Moffat Centre for Travel and Tourism Business Development at Glasgow Caledonian University highlighted an economic benefit to the region of nearly £23m during 2018.
However, the success of the NC500 in raising the profile of the region has been something of a double-edged sword. Some locals feel that the area has become swamped, while the infrastructure has struggled at times to keep up with demand from visitors. Last year was particularly difficult, with many holiday-makers swapping Europe's beaches for the Highlands, resulting in crowded roads, littering and "bad behaviour" from people unused to the slow pace of life in the region. This year has been much quieter so far, with a steadier and more manageable number of tourists.
Watt mapped the region and set about identifying hotels spread along the NC500 route which, although not on the market at the time, would be ideal properties for the core HCH portfolio. Key criteria included properties located close to, but not necessarily on, the NC500 route; a minimum of 20 bedrooms, despite there being few hotels of this size north of Inverness; and the potential to take a tired, legacy building and turn it into a "high-quality, boutique-style operation".
To date, a total of £9m has been invested in HCH. Of that sum, £7.5m has been spent on acquisitions and the rest has gone on refurbishment. Financing has come via Kings Park Capital (a small London-based private equity firm specialising in the leisure and tourism sector), the Scottish National Investment Bank and HCH's directors. According to Eilidh Mactaggart, former chief executive of the Scottish National Investment Bank, the finance "will support a vital industry for the Highlands while securing quality employment, education and training opportunities in rural communities".
Refurb
The bulk of the money spent so far on refurbishments has gone on the 21-bedroom Royal Marine hotel in Brora, which reopened on 25 June following a four-month closure for a total revamp. Located in a Victorian property originally designed by the architect Robert Lorimer as a private residence, the building was "a grand lady that needed a bit of a facelift", Watt says. The new 'Scandi-Scot' look created by Edinburgh-based interior design company ISA includes three food and beverage concepts: the Curing Yard restaurant, the Megan Boyd bar and the James Braid lounge.
Watt explains that the refurbishment of each hotel will not only guarantee that guests will enjoy a comfortable bed, a decent shower and an excellent hot meal, but will also ensure they will be immersed in "a genuinely authentic experience". At the Royal Marine hotel, this means discovering the story of the coastal village of Brora and its surroundings through its artists and artisans. The hotel boasts Highland-inspired landscapes from Sheenagh Harrison, wildlife photography from Glynn Satterley, digital art from Cath Waters and bespoke blankets from the Tartan Blanket Company.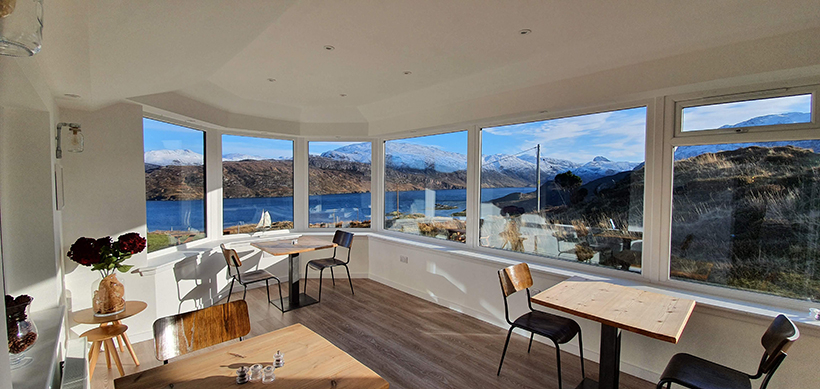 Also on offer is an extensive experiential programme, with guests able to participate in a range of activities from paddle boarding and mountain biking to fly fishing and whisky distillery visits. "When guests leave, we want them to have been wowed and have an understanding of what this part of the North Highlands is all about," says Watt.
Refurbishment work will take place across a further three of the properties during the course of this year. Plockton Inn will be fully renovated; the bedrooms at the Tongue hotel will be redecorated and its front of house areas fully refurbished; and Kylesku will undergo some light renovation, including improvements to the al fresco dining area.
Future plans include extending Newton Lodge from seven to 22 bedrooms and adding six bedrooms at the Royal Golf hotel, which overlooks the first tee of the championship course at the Royal Dornoch golf club. "Our principal focus is to enhance what we have already got; then beyond that, we may also add rooms," Watt says. "However, the remoteness of this part of the world means that we have the significant challenge of getting and accommodating contractors, as well as getting hold of supplies. It can add 25% to 50% to the cost of building works."
Each hotel will retain its own unique identity. "We are building on the existing brand and reputation of each hotel," Watt says. "It is not about the Highland Coast Hotel Kylesku, it is about Kylesku, which is part of the Highland Coast Hotel collection."
Shared commitments
However, all HCH hotels are united by a DNA that revolves around four commitment pillars. First, there is the commitment to guests by providing an authentic experience. Second is the commitment to its people by providing what Watt says is "a fair deal and an opportunity for the team to grow and flourish".
This means paying a minimum of £10 an hour (the Scottish Real Living Wage is £9.90), making sure staff are well accommodated, delivering a fair work-life balance, offering confidential support helplines and providing development opportunities across the six hotels. "We have no zero-hour contracts – they are of no benefit to employees whatsoever."
The nationwide challenge of recruiting staff is probably even more acute in the North Highlands, particularly in the more remote spots, such as where Kylesku and Newton Lodge are located. "The nearest centre of any notable size to these two hotels is Ullapool, but that is too far for people to commute from," Watt says. "So we have to provide accommodation for 95% of the workforce at these hotels, which when you are talking about 30 people at Kylesku – a hotel with just 11 bedrooms – is a considerable investment."
It is hoped that the company will benefit from a new foundation course in hospitality that it has been creating in conjunction with the University of the Highlands and Islands in Inverness and which is expected to launch in spring 2023. "Too many courses are too long and complicated," Watt says. "What the industry needs is a short, sharp introduction to hospitality on a one-year course which people can undertake while working."
The foundation course is aimed at school leavers, but the hope is that parents looking to return to work after raising families or experienced workers looking for change in direction will also consider signing up. HCH's third commitment is to the community in which each hotel is situated. "Our hotels are all integral to their local communities and so we have a community liaison group for each one which meets at least twice a year with a leader from within the community," Watt says. "We discuss our plans with them, and they discuss their plans with us, and, as far as possible, we align the two."
As well as encouraging good relations with the locals, the connection with each community is expected to have a commercial benefit. Launched in February, a community discount card is available to anyone living within 15 miles of any of the hotels; it gives the holder 30% off food and liquor and 50% off accommodation between October and March. The initiative has been well received, with 2,500 cards already issued.
The fourth and final commitment focuses on the environment. With the hotels being in the environmentally sensitive North West Highlands, which is a Unesco global geopark, there is a strong focus on slow and responsible tourism involving the use of green electricity, cutting food miles and the employment of local building contractors and suppliers.
Watt explains that the financial support the company receives from the Scottish National Investment Bank requires it to meet a raft of environmental covenants in addition to the usual financial covenants required by most banks. "We have to report on our greenhouse gas emissions, gender pay gaps, employment practices and much more."
While HCH has plans in hand to make improvements to the half-dozen properties it has already acquired and enhance the experience of guests, Watt is also on the lookout to add another two to four hotels to the collection. "It is getting to a point where it is quite difficult to find more hotels to fit our model, but we certainly hope to acquire a further one or two next year," he says. "A lot, of course, depends on the difficult economic environment."
The HCH collection
Kylesku Hotel
Address: Kylesku, Sutherland IV27 4HW
Accommodation: 11 bedrooms
Web: www.kyleskuhotel.co.uk
Newton Lodge
Address: Kylesku, Sutherland IV27 4HW
Accommodation: Seven bedrooms
Web: www.newtonlodge.co.uk
Plockton Inn
Address: Plockton, Ross-shire IV52 8TW
Accommodation: 14 bedrooms
Web: www.plocktoninn.co.uk
Royal Golf Hotel
Address: Dornoch, Sutherland IV25 3LG
Accommodation: 22 bedrooms, 15 apartments
Web: www.royalgolfhoteldornoch.com
Royal Marine Hotel
Address: Brora, Sutherland KW9 6QS
Accommodation: 21 bedrooms, 12 apartments, two villas
Web: www.royalmarinebrora.com
The Tongue Hotel
Address: Tongue, Sutherland IV27 4XD
Accommodation: 19 bedrooms
Web: www.tonguehotel.co.uk
Continue reading
You need to be a premium member to view this. Subscribe from just 99p per week.