The head of culinary at Wembley Stadium has a lot of football fans to keep happy. But from high-end dining to takeaway chips, he knows how to score a winning meal
Give me an overview of your responsibilities at Club Wembley?
I'm responsible for the whole of hospitality at Wembley. We have about 90,000 in the stadium at any one time. On a sell-out day we do about 10,000 in hospitality – that's plated meals and buffets – and the rest is all concessions, which is curry, burgers, fish and chips, pizza, that kind of thing. We'll sell a good 50,000 of those meals.
The offer goes all the way up to our high-end 120 Restaurant. That's a challenge in itself as there are 400 in there. So you're trying to feed 400 in three hours on a seven-course menu with five choices.
Downstairs we have the Bobby Moore restaurant, where we'll cater for 850-900 on a three- course menu. Then there is Arc and Venue (with about 300-400), which is a blend of brasserie and buffet. Street food is in the centre circle – that'll be 500 in there – along with two pubs with 400 in each. So quite a busy set-up.
With so much to ramp up on match and event days you must have to bring in a large workforce…
I have a team of four head chefs, but on match days we'll have about 250 chefs in. Three days before match day we'll have 30 in, 40 two days out and 50 the day before.
How do you get them all up to speed to deliver in such a short time?
I'm from a military background, so every-thing is in straight lines, laid down and sorted out. I've fed the troops in Afghanistan, so it's just like that. It's down to logistics and planning to make it work well. For instance, the FA is our client and we work well with them. I think we give them what they need, and so if there are any bumps in the road they'll help and make it work.
So whether you're a member of club Wembley or on the concessions as a general admission, we want to look after you. In fact, I'm more worried about general admissions these days than Club Wembley, as I've an experienced brigade of chefs to ensure its smooth running. I live in fear of appearing on the Twitter feed Footy Scran for various reasons. When you're feeding 50,000 people getting everything right is some challenge. But we manage a situation if it's wrong. We resolve any issues.
How do you maintain consistency across such numbers?
Since 90% of my staff are agency and casual, some of the people that turn up on a Saturday morning I've never seen before. Since coming back from the pandemic managing staff is just different. The workforce we'd usually have front of house would be youngsters who have left college and are just going to university. Of course, for 18 months they haven't done anything, so we have a void where some of them joining us after the pandemic haven't worked before, so they don't understand being on their feet for eight hours a day serving.
There is also a shortage of people who want to work. Hospitality has always been a hard gig to fill – we're always looking for chefs – but we have our own apprentices here now so we're working on the next generation.
We now have to be a bit more tolerant. Coming from a military background I like to work to a deadline but I perhaps have to take my foot off the gas a bit sometimes.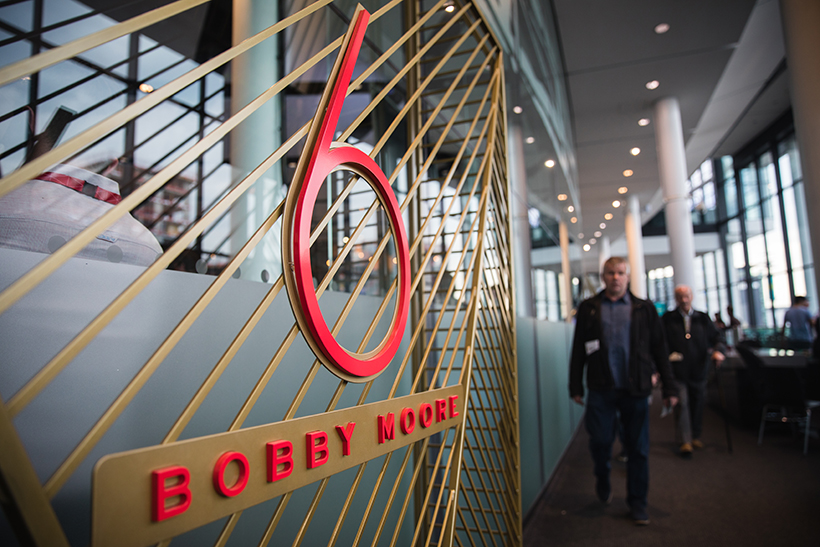 So you've had to change the way you manage your teams?
With this next generation of chefs, porters and logistics people, if they know what's happening, they're on-side. So in my head if I can go two levels down and tell them what's happening by a briefing note or verbal instructions, then it will all work in my favour.
It's when the second level down don't know what to do that you're in trouble. They should all know at particular times what's expected leading up to game day. So on game day I should have 50 leads all singing off the same hymn sheet.
Are you ever cutting it fine on match day?
I'm yet to challenge the referee and ask if he can push kick-off back. I'm risk-averse, so I make sure I have a plan, that I'm ready on time and that we will make it work. Nobody will leave here without being fed. If I can deliver what I set out to, that's a bonus.
What event puts the most pressure on the F&B operation?
We've recently had boxing [Tyson Fury versus Dillian Whyte] and that gave us some pressure. We had 96,000 in the stadium.
At Wembley we're a funny organisation as unlike other stadiums we don't have the same supporters who come every other week, who know where they want to eat and what beer they want to drink. So nothing is routine. We're a stadium for hire and every one of our gigs is completely different. I know nothing about football, which is good as it's one thing I don't have to worry about.
Do you change the menus for each event?
We've had men's and women's cup finals, play-off finals and the like, and every demographic is different so every menu is different.
Having had 45 years in the industry, I have a feel for what will work. I have four remarkable head chefs who are all from different backgrounds to help. We all use our experience to create menus that will work. Whether it's football, boxing, Harry Styles or the Spice Girls, we try and get the food to reflect the event. So for the recent FA Cup they ate between 12am and 3pm, so it was lunch, while the concerts tend to start around 8pm, so we will have kebabs and curry for that time of day.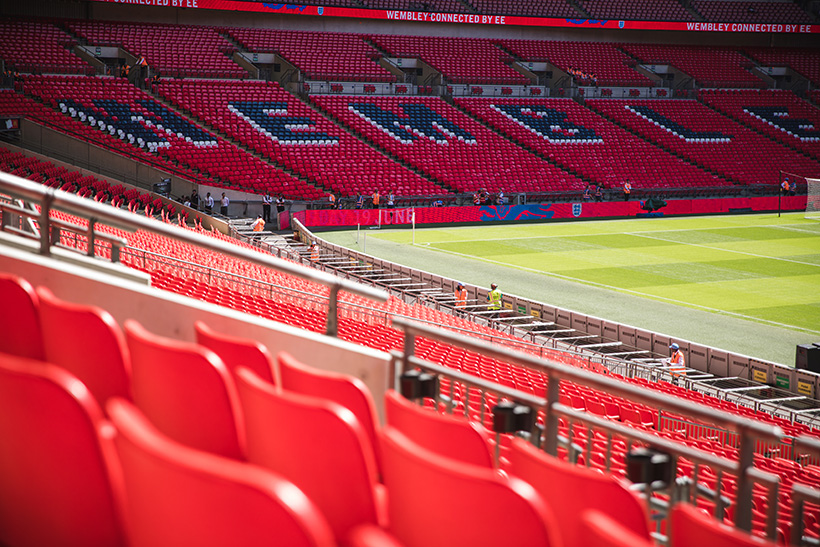 How much feedback do you get from fans on what's popular?
I'm into my sixth year now so I know what the client wants. For instance, I know that in the Wembley Suite we have an older guest who visits regularly and they want meat and two veg followed by a sponge pudding. For every event we do four or five canapés – and never the same selection twice, everything has something different. I also bring in an oyster shucker and a caviar supplier, to add a bit of theatre.
I always get out and talk to guests to take the temperature of the room. I enjoy it and spend at least an hour before kick-off going out and finding out what has worked. The FA want to know and I want to know. If things aren't right I'm happy to front it up and take it on the chin.
What kind of volumes do you get through on a match day?
I'll do around 9,500 steaks on cup final day, 4,000 lamb rumps, 3,000 lamb racks and 2,000 scallops. One of the issues we've been having recently is consistency of supply and there's an excuse for every missed delivery. Around the world there's a bit of a shortage on prepped salmon so we're having to buy day boat salmon, which causes a bit of a problem in terms of sizes. Where I can I'm as local as possible, but it's not so easy with such volumes, so we have lamb and beef coming down from Scotland at the moment.
What is the biggest challenge you have to deliver such numbers?
Again it's supply. For instance, I have pineapples on every fruit plate in every restaurant, so I need 200, but I have just been told by our fruiterer we can only have six. So we have had a conversation about him moving his backside and needless to say he's delivered – he wants to keep my contract.
The job at my level is to make sure people are happy. It's an experience coming to Wembley and I take it personally that people leave with good memories of the food. I can't do anything about the result, but I can make sure they are well fed.
You have worked in Afghanistan for the army but who were the trickiest customers, the military or football fans?
To be honest, they are all very much the same. Along with the team it's my job to give the client what they want and deliver it to the best of our ability. The demands are similar whether I'm feeding soldiers in Afghanistan, refugees in Cyprus, football fans or people at the Olympics – you have to please the customer. My job is to read what guests want. If I have to keep asking, that's not five-star service. If someone has to ask me for it, I've already missed the goal.
About Harry Lomas
Harry Lomas is head of culinary at Wembley stadium, overseeing the chefs who cater for up to 17,000 Club Wembley members and their guests as well as general admission.
A former director of food services for the British Army, Lomas retired from the force after 34 years in 2011 as a major, senior catering officer responsible for operational feeding of troops in Afghanistan and around the world. During his time there he received a British Empire Medal in 1988.
Since then he has worked on the 2012 Olympic Games and as executive chef at the Grove in Hertfordshire before joining Delaware North.
In 2002 Lomas was awarded an MBE and in 2021 Lomas was made Honorary Colonel of 167 Catering Support Regiment RLC, a regiment of nationally recruited army reserve chefs.
Continue reading
You need to be a premium member to view this. Subscribe from just 99p per week.