Twenty years in the business has seen Lexington take huge strides in innovation. Its managing director speaks about how it manages the different routes to market in an ever-changing landscape
You joined Lexington at the beginning of the year, and obviously this year you've seen a lot of change. Has it gone as you've expected?
It's an exciting time to be in the industry. Contract catering has changed; it's evolved. Post-Covid we've seen a move to hybrid working, particularly. We see a slowdown on Fridays, and that's everywhere and I don't see that changing. Meanwhile, Tuesdays to Thursdays are buoyant and growing.
Are clients as keen as ever to outsource catering?
Since joining we have a 100% retention rate, which I'm obviously very pleased with. We retained insurer Lloyd's, which was incredibly positive, and we're winning some great new business as well, both in Lexington's core catering arm but also in the reception space and the independent market. We've won four new schools this year, including a college in Wakefield and a couple of other North London schools. We're really proud that we've got an incredible team that delivers.
What changes have you made to the way Lexington operates?
I think the future is really bright. We've fast-tracked a lot of work in the innovation space. For instance, we embraced the development of a client centric-app, which does an awful lot.
Of course, when it was first launched it was "let's do click and collect to make sure we can get people through social distancing". But what we're seeing now is the evolution of that, and my ambition is to create a digital-first future for food provision. It's not just about click and collect – we can supply our consumers with data. We've got a great menu management system which we feed all our recipes into and that generates calorific and allergen information. Next year we'll also get carbon data on the back of that as well.
Is carbon labelling something your customers are now looking for?
Without a shadow of doubt. We just see it as a bit of an extension of our existing information. Every client has big sustainability targets and is keen for their catering provider to help them. I think carbon-neutral or carbon-counted menus help us to help our clients drive that message.
Lexington celebrates 20 years in business this year. How have you marked the milestone?
It's been a really big year for us and I was mindful of that when I joined. I'm really fortunate that I've still got two of the founding directors that sit within my leadership team – Katherine Lewis and Rachel Linder.
We were keen to mark the milestone with two key events. The first was a casual dining competition that engaged all our sites and highlighted the passion and creativity that exists across our business. The brief was to come up with a forward-thinking, innovative casual dining concept that we could roll out to our client sites. It's wasn't just the food delivery, it's the service, design, marketing and branding – and we were absolutely blown away by the concepts.
The winner created a Nikkei or Japanese-Peruvian concept called Rama Social. They were from Linklaters, a fabulous client of ours that we have just retained. The second thing we did was a family fun day. We've got just shy of 1,000 people in the organisation now and we did this at the sportsground at one of our independent schools in North London. It was just a great way to celebrate our people.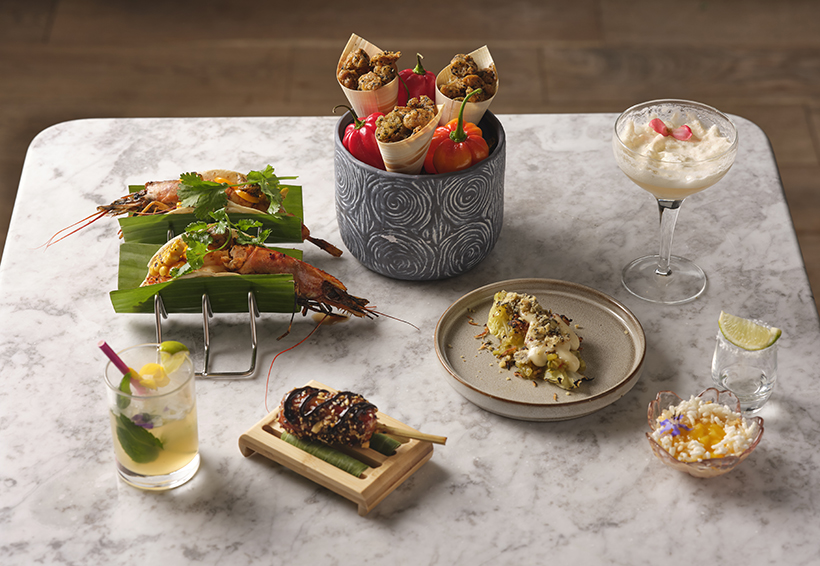 You mentioned retaining Linklaters, but what is the market like for outsourcing catering services at the moment? Are you seeing as much come to tender as you might expect?
It's pretty buoyant at the moment. We've won lots of really interesting pieces of business recently. We're running some residential services in high-end blocks, where they've got in-house catering provision, bistros, restaurants, cafés and bars, and we run those on behalf of the residents. So that's a really interesting new route to market for us.
We've also just started working with concert company Live Nation in Farringdon in London and, in a first for us, we're serving a site that doesn't have an on-site catering provision, so we're delivering it from a cloud kitchen base.
So Lex Unboxed is still operating successfully?
Absolutely. What's interesting is that there are three routes to market: we've got B2B, so you're onto our website, you can find us and order direct, or you can go on to Just Eat for business. But the third route – and the one we're finding really exciting and where we've got lots of traction – is providing catering to clients where we are already either the incumbent caterer or the incumbent provider of guest services.
So for the likes of Live Nation, who don't have a kitchen, this is perfect. The food comes in strong compostable boxes and we don't need service staff to deliver it, and it looks great. So when we look after reception, it gives our teams the ability to book catering provision on behalf of their clients. There are also the clients where we do provide catering, where we do have kitchens on-site, but due to the hybrid working week it becomes efficient on Fridays in particular.
You mention that contracts can be quiet on Fridays and Mondays, so does that mean contracts are now 30%-40% down on where they were pre-Covid?
Absolutely not. We now have parity in a lot of contracts compared to 2019 and are exceeding those figures at some sites, so we're in a better position. What we're finding is as much as the week has condensed, the average transaction value is going up. When I look at sales and transaction volumes on a month-by-month basis, I'm seeing nothing but upward trajectory. I think people have just started working differently. People had a lunch budget for five days that is now spent over three.
Coffee has typically provided a large percentage of turnover as something employees bought daily. Has that suffered with the trend for working at home?
When I talk about positive trajectory and growth, we're seeing that on all areas and that includes coffee. People may be coming in less frequently, but as well as buying coffee in the morning, they might now have another one in the afternoon.
We try to make sure we've got best in class coffee. It's got to be tasty and different to the type of coffee people get at home. We're also keen to make sure that it's got a real social value message behind it as well, which is why we work with Change Please.
It provides training to homeless people and we then provide opportunities to them for work experience and jobs. This year, through the coffee sales alone, we've taken 37 people out of homelessness.
When you consider potential clients and new clients, what are the key qualities they are looking for?
First and foremost they're looking for authentic culinary and service provision. And by authentic, I mean something that is cooked well, ideally has a social message behind it and is sustainable. We generate and build our own brands but also work with some great providers of authentic food.
We've just signed a partnership with Sessions and will train our employees in the provision of the brands that it delivers in Brighton and now in Islington in London, and bring them into our client sites. It might be a great chicken brand – we'll train our chefs in the delivery of that and bring it into client sites, where it really exposes the brand to a much bigger market. And it's a win-win for both partners, really, because it means we can be really quick and nimble by bringing new food innovation to our sites.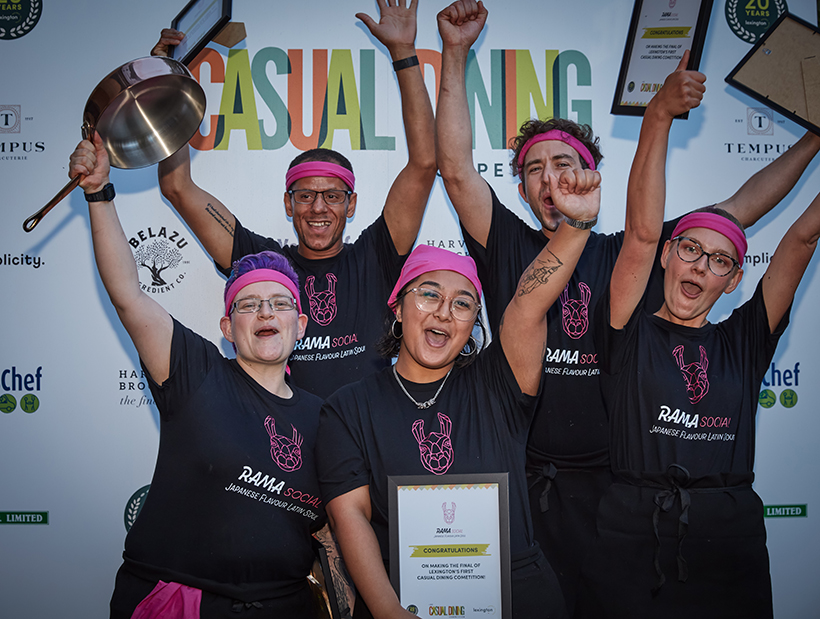 Are clients as eager to offer incentives to staff, such as free food, to encourage them to come into work, or are they seeing costs going up and asking whether they should put budget towards food any longer?
It varies by client. There's still a desire in the City to bring people back into the office and a recognition that food can help entice people back. So the provision of great food and great service has never been more important in the eyes of all of our clients.
We're also doing much more in terms of the guerilla marketing space. By that I mean things such as having ice-cream pop-ups on a Thursday in the middle of the winter, which might seem really odd and out of sorts, but those are the sort of things that get people talking. The best ideas come when people eat together and I think our clients recognise that. If you go to many of our financial services, legal organisations or indeed media spaces, you'll see people sitting around large tables eating bowls of great food.
How are you offsetting food price inflation? Must it be absorbed or can you pass it on?
I think it would be remiss of me to say that inflation isn't a challenge. It is to every industry and to every individual in the UK right now and probably globally.
I have no direct control over inflation, but what I do have some control over is our ability to mitigate that inflation, or that inflationary pressure, where we can. We've got a robust purchasing team, so centrally we look at how we can we drive down costs. Number two would be menu development and the implementation of new ideas around the menu, without undermining the quality or authenticity of the food.
We have a fantastic concept called Trashed, which in essence is repurposing food that would have gone to waste. We have lots of data on what has been discarded and from that we came up with some fabulous recipes, such as carrot top pesto or coffee grounds brownie. We make amazing chickpea water marshmallows too.
Some examples in that space dovetail with the social and sustainability agendas. For example, we're really keen to work on reducing beef. Our target for this year was a 40% reduction and so we've got a fantastic meatball recipe, which is 50% pulses. It suits people's desire to eat less meat and also helps tackle the inflation. And it's delicious. We're not reducing quality, just changing the recipe.
CV
Jan 2022-present Managing director, Lexington Catering
Sep 2018-Jan 2022 Managing director, Health Management
Sep 2017-Sep 2018 Stategic partnership director, Restaurant Associates
Apr 2016-Sep 2017 Head of operations, Restaurant Associates
Sep 2010-Apr 2016 Group account director, Restaurant Associates
Dec 2004-Aug 2010 Director of facilities, Sodexo
Continue reading
You need to be a premium member to view this. Subscribe from just 99p per week.