Foraged and unusual ingredients are favourites of Native founders Imogen Davis and Ivan Tisdall-Downes. They talk eco-meats and sustainable practices
"I think sustainability has become a bit of a buzzword," says Native co-founder Imogen Davis, sat under a canopy of trees in the courtyard of Browns department store in the heart of Mayfair in London.
"I mean, it's great that everyone is using it, but the term then becomes so commonplace that I think it runs the risk of everybody using it without having any understanding of what's behind it and how to put it into practice.
"For us, it's about being conscious about things," she continues. "At the end of every day, on the whole, we need to be happy and content with every choice we've made and where our produce comes from, and that we've treated it with the most respect for the people who have come in to dine."
"While making it accessible," chips in co-founder and chef-patron Ivan Tisdall-Downes. "There's no point in restaurants preaching about sustainability in a way that no one can do it themselves at home – we don't use cling film, we use Tupperware instead, and that's something you can do at home."
Browns has been the home for the climate-conscious Native for the past 18 months, housing a beautiful 28-cover restaurant and a further 40 covers outside, thoughtfully designed using recycled or waste materials. Take the gleaming green outdoor tabletops, which were created from recycled glass bottles.
Davis, who heads front of house, and Tisdall-Downes, who leads the kitchen, met at the University of Brighton in 2006. While Tisdall-Downes was a city boy, Davis grew up in the Northamptonshire countryside and encouraged Tisdall-Downes to start foraging and experimenting with wild food such as rabbit.
"I had no idea I wanted to be a chef," he admits. "I did a business degree and thought I might own a nightclub, but that went out of the window when Imogen showed me this whole wild world that I didn't know was available. The business side of me was thinking, we have all this free produce, let's make something of it. I got addicted to the fact you could make people free food."
Tisdall-Downes says he started to see the world as an edible larder. "Even in Lewisham, you'd walk down the street and see elderflowers and wild garlic – it's a much nicer way to see the world as opposed to a concrete jungle."
The self-taught chef learned how to cook by watching Jamie Oliver on TV, reading books and constantly practicing. In 2014 he spent a month at River Cottage and completed a slightly shorter stint at the Michelin-starred Blue Hill Farm at Stone Barns in New York in 2017, where he continued to fine tune his cooking and further develop his passion for foraged and seasonal produce.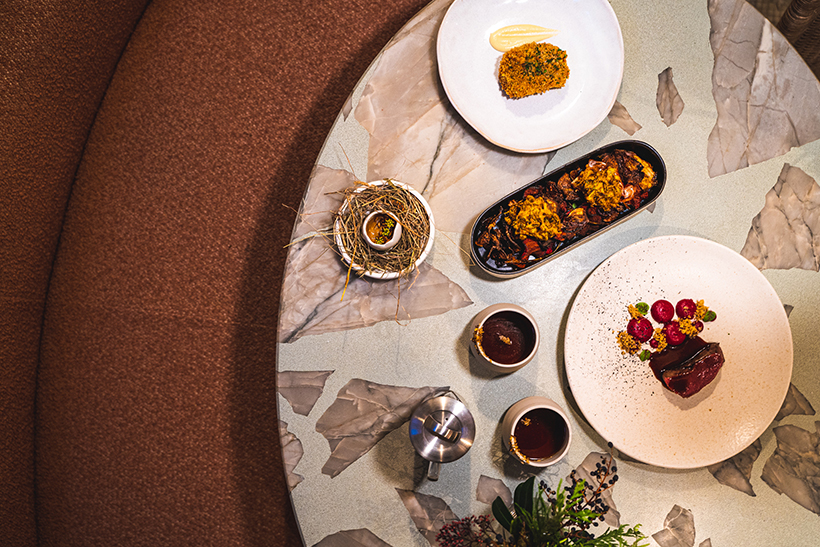 Tisdall-Downes explains how sustainable cooking doesn't have to be bland or boring, pointing to one of the first dishes that made the Native menu – fish toast. "We made it using fish trim, which we blended down and spread on yesterday's bread before deep-frying. It was a bit naughty and reminiscent of prawn toast from a Chinese restaurant. We used leftover bread and fish, but still didn't compromise on flavour."
"It's all down to tasting," says Davis. "And because we weren't taught [in hospitality], we're not pigeon-holed into a classic way of cooking. Instead, we work with the mantra 'what grows together, goes together'. Whatever is in season, we play around with it and try and make it fun and nostalgic."
This commitment to sustainable produce is plain to see throughout the menu, with Davis firmly saying guests will never eat an avocado or almond at Native. "There's just no need," she says. "We'll soak beans and do a bean guac instead. Before you even import avocados, growing them uses so much water. It's the same with quinoa – it's so popular, but we use British quinoa from Suffolk, and Hodmedod's provide us with our beans and grains."
In their efforts to cut food miles, Davis says there are a few ingredients on the menu that may leave guests scratching their heads, including hogseed vadouvan, a wildflower which grows throughout the UK and tastes of orange peel, coriander and cardamom. "We use the seeds to make a spiced butter that we cook our carrots in and people always say they're the tastiest carrots they've ever had."
Educating guests is important to Davis and Tisdall-Downes, who want to make the food as accessible as possible. Davis says: "We show them a photo on our phone of, say pineapple weed, which grows everywhere, even in the cracks of pavements, so then people recognise it. And by being really friendly and making people feel at ease, they can ask any question they like."
She continues: "It's nice to have a story to tell our customers. For instance, our compost cordial is made from bits of fruit we don't use, like strawberry tops, and by putting it on the menu using the word 'compost' or 'waste', you get people asking questions, they go 'oh my god, what do you mean?' And giggle away in their groups, and then you go and give them a bit of chat."
Intriguing ingredients
From clever techniques like letting kombucha over-ferment to be used as a vinegar in a salad to simple switches like replacing olive oil with rapeseed, there are some other ingredients that certainly raise an eyebrow. When available, Tisdall-Downes pairs sea buckthorn with edible ants to remove imported lemons from the menu – the sea buckthorn provides the familiar flavour, while the ants add acidity. Native doesn't avoid meat or dairy on its menu, preferring to educate guests on the power of regenerative farming methods and foraged ingredients, while putting a spotlight on unusual meats. Take the pigeon kebab, which got guests and critics talking in Native's early years.
"Everyone has had a kebab on a drunken night out, and with strips of pigeon meat you wouldn't know the difference from the mystery kebab shop meat!" says Tisdall-Downes. Nostalgia is also used to ease customers into his cooking and to make sustainability more accessible, such his ragu made from squirrel used in a lasagne.
"There's no reason why you can't eat squirrel, it's just that everyone thinks they're fluffy and cute," says Davis. She thinks foraged and wild food may become more commonplace on menus to help ease the supply chain woes and cost of living crisis and says: "I feel like we're all going into proper survival mode, whether that's in the industry or at home. So thank goodness we have this avenue that doesn't feel totally alien to go down."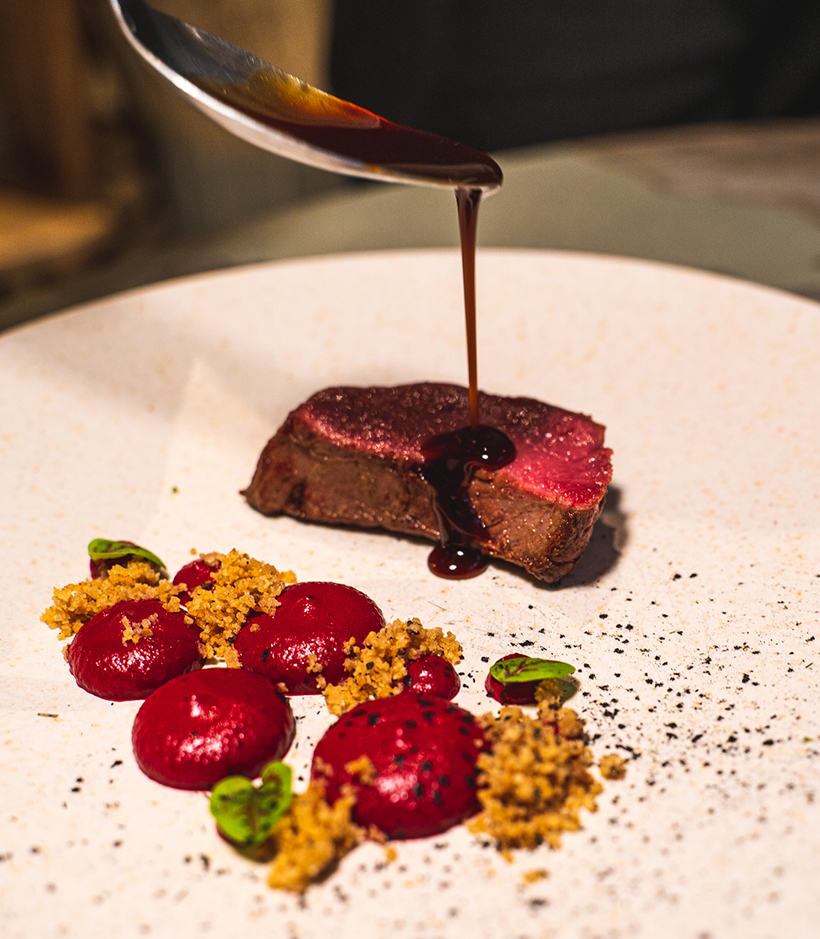 Another comforting classic is Tisdall-Downe's rendition of the McDonald's Filet-O-Fish, which landed Native with a super injunction from the burger chain and was subsequently swiftly changed to the fish filet.
He sustainably recreates the takeaway favourite, using buns made with regeneratively farmed Wildfarmed flour and the fish filet from lesser-known parts like cheeks – "the cheeks of any animal are always the best part in my opinion" – which are set in a terrine, before being breadcrumbed with leftover bread – "none of our bread ever goes in the bin". The filet is then topped with a cheese made from brown crab meat to give it that fake orange colour and a tartare made from pickles and seaweed. "It's a dish everyone is comfortable eating without having to serve a whole rabbit with its head on a plate," he says.
Journey to the sea
Before the pigeon kebab and squirrel ragu, the pair started by selling jams and chutneys at food markets, moving on to trial menus at pop-ups and eventually securing a site at Neal's Yard in London. This one-year pop-up turned into a three-year residency, running from 2015 to 2018. From there they raised £50,000 in two weeks via a Kickstarter programme, which gave them the confidence they were doing something right. "We couldn't believe that these people we didn't necessarily know were donating £1,000 or £50. It gave us the pat on the back to keep going," says Davis.
From their 28-cover Neal's Yard site they moved to a 60-cover restaurant in Borough Market, where guests enjoyed both an à la carte and full tasting menu and Davis and Tisdall-Downes gained more confidence. Native left the Southwark Street site in Borough Market when Covid hit, and while conversations to open a second site at Browns had been under way for several months, the pandemic put a pause on the plans and they were left wondering what to do until they were able to open.
Then, one day in the spring of 2020, they were given a once in a lifetime opportunity. "We were asked 'do you want to open a restaurant on a pretty much uninhabited island off the coast of Essex?' To which we replied 'Of course we do! That's the absolute dream!'," says Davis.
In the midst of the pandemic, when outdoor dining was deemed the only safe way to trade, launching a restaurant on an island seemed a sensible solution to social distancing and an adventure at the same time. In August Davis and Tisdall-Downes relocated Native to Osea Island off the Essex coast, trading with local fishermen and foraging for sea vegetables to create a tasting menu, as well as serving freshly shucked oysters and Champagne from a seafood shack nearby.
"It was extreme restauranting," describes Davis. "The menu was dictated by what was around us and fishermen would pull up and hand over the biggest turbot you'd ever seen, which we would never have managed to get hold of with our minimal buying power back in London."
But the site came with serious challenges, namely the sea – Osea Island is around 380 acres and connected to the mainland by a causeway, which is covered at high tide.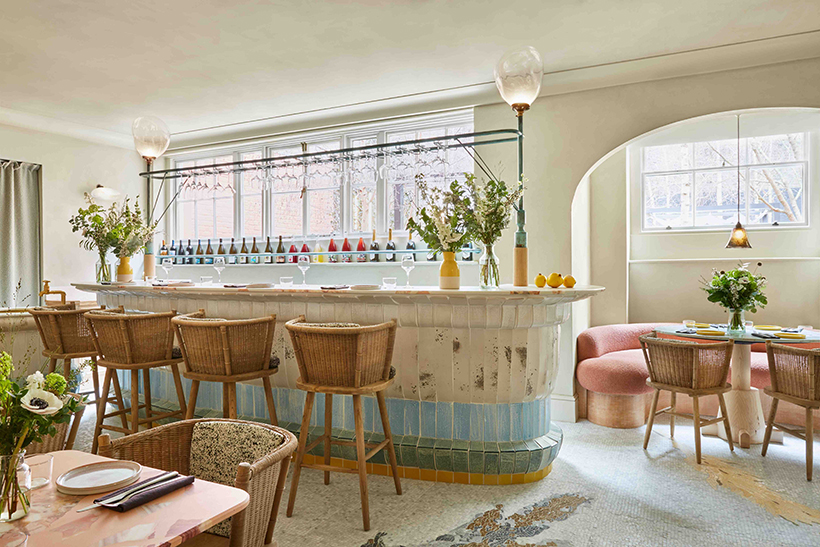 "We were dictated by the tide," explains Tisdall-Downes. "We needed to wait for the tide timetables to be published and we'd sit there with a massive Excel spreadsheet and work out the earliest time you could pick up guests and get them to the island." He explains there would be a four-hour period when cars could get on and off the island, and only another four hours by boat as you would have to wait for the tide to reach the right level in order to make the crossing by sea.
Davis adds: "Sometimes that window could be an hour shorter. At times it was hairy. You couldn't have dinner pretty much ever at 7pm – guests would go online to book in advance and some days it would be a 3pm, 4pm or 5pm sitting. Sometimes we could only do lunch."
Sadly, due to a combination of the tides and the Covid winter lockdown, Native only managed 16 days trading with a full tasting menu. It wasn't until April 2021 when they returned to the capital to finally launch at Browns, where Native now calls home. "Little luxuries like power and an ice machine were welcomed after Osea," laughs Davis.
Since then, Native at Browns has gone from strength to strength, and the partnership with the luxury department store has given them the opportunity to serve their food to big-name celebrities including Kris Jenner and Tommy Hilfiger. The pair are also advising Browns on its own sustainability journey, such as how the building should handle its waste and cleaning products.
But it's clear the pair are ready for that next adventure: a small tasting menu restaurant. "We're looking outside of London for our next immersive dining experience," says Davis, with a twinkle in her eye. "But it's hard to find something that's better than an island."
After all, there's a limit to the amount of foraging you can do in between the pavement cracks.
From the menu
Native Wildfarmed focaccia with confit garlic oil £4.50
Myatt's Farm apricot, Native curds and Cobble Lane coppa £10
Nutbourne tomatoes, yesterday's bread, Graceburn cheese, smoked salsa verde £14
Allwood Farm courgette, Lincolnshire Poacher and English quinoa £12
Stonelynk fennel, smoked eel and kombucha dressing £11
Rope-grown mussels, lapsang dashi, sea purslane and smoked pork belly £15
Chalkstream trout, woodruff beurre blanc £15
Beef onglet, bone marrow crumb, confit garlic and compost jus £21
Aubergine, harissa yogurt and parsley honey £16
Quick sustainability wins
Get rid of cling film and get some boxes with lids. You won't even miss it.
Replace blue roll with microfibre cloths or rags.
Preserve for the months ahead. If you have a bumper crop of something, preserving it into jams and chutneys will make it last throughout the year for you to tap into throughout the winter months.
Continue reading
You need to be a premium member to view this. Subscribe from just 99p per week.