Nokx Majozi has taken the reigns from Calum Franklin for her dream job – leading the Pie Room at the Rosewood London, taking ownership of the famed ornate pie tins
Holborn Dining Room's pie room glistens from the light reflected off the ornate copper moulds that adorn its walls. It is a temple to the art of pastry and the intricate, golden-crusted pies produced within have become legendary.
Head pie maker Nokx Majozi worked to develop the project at the five-red-AA-star Rosewood London hotel in Holborn under executive head chef Calum Franklin and, following his departure this summer, she has stepped up to lead the team, producing sumptuous delights such as the dauphinoise potato pie, which when sliced oozes with Winterdale cheese and caramelised onions, and the signature beef Wellington adorned with a beautiful pastry lattice studded with thyme.
"This for me is a hobby," she says. "Having been here since day one, this is like my palace – this is where I feel joy. Every time I come inside it feels sparkling, I'm like a kid at Disney. You come here and the room, the atmosphere, the music – in the morning we have jazz – it's so nice."
Majozi's journey to the pie room began in South Africa, where she was inspired by watching her dad cook at home. But it wasn't a simple path to the stove, with her family sceptical about her ambitions.
"In my culture you have to know how to cook as a woman, but nobody knew about studying to cook. My dad would say, 'I don't think this is a job – something that I need to pay for, for you to study to cook'. But I followed my dreams and after that my dad loved it. It was just a lack of knowledge – not that they did not wish me well.
"I was the first one to go abroad. That was a huge thing, and at the time I think my dad felt 'wow'. From then, he loved what I was doing."
After three years of study and three more working in the industry, the call overseas came from Disney World Resorts, and Majozi travelled to the US to cook South African food in Florida. She later moved to London, where she worked at five-star hotels including the Landmark in Marylebone and Brown's in Mayfair before arriving at the Rosewood.
"I came as a chef in the kitchen looking to learn and the atmosphere was amazing. It was a family kitchen and there was so much respect. Every time I came in we all greeted each other, so it becomes like a culture to us, it was the best thing. [Back] then we had one pie on the menu, but we were selling a lot, and after that we introduced others. Chef Calum said, 'let's make this room a pie room and we can have more ideas and be more creative', and that's how we started. It's been four-and-a-half years.
"It's a joy [to create something that surprises people]. Even now I say to people I'm a pie maker and they're like 'oh, you make pies', but I like that because it's all in the detail and I'm proud of it. You see someone make a potato, cheese and onion pie but it's the details, it's making it even better, that's the joy. We usually take a classic pie, for example, the pot pie, and then think 'how do I make it better?' We use wholemeal flour and instead of using normal lard we use leaf lard, which is softer and taken from the kidneys, so the pastry stays soft. It's the small things."
Taste of home
Having worked alongside Franklin through the development of the Pie Room, Majozi is now looking at how she continues its success. She says: "Working with Calum was amazing and I learned so much from him, but now I'm looking at how I put my stamp on what we do. That's why I want to introduce some African flavours, that is my thing for next year."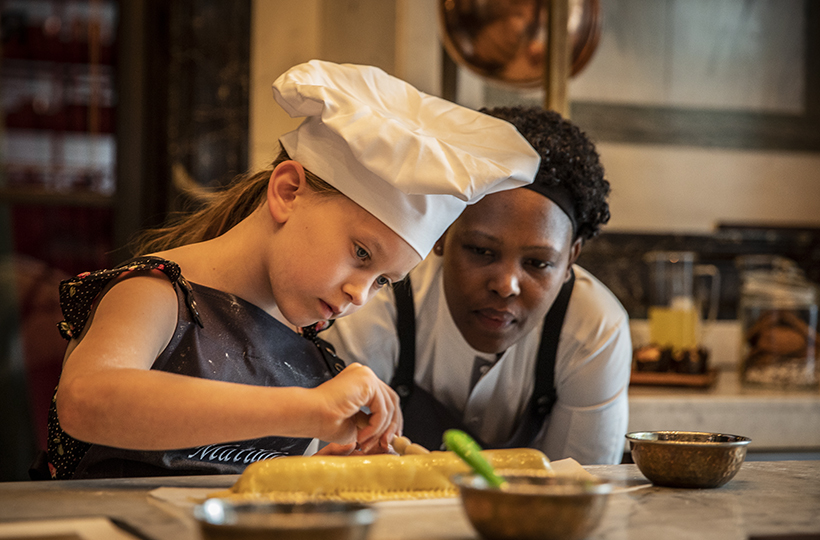 The chef is remaining fairly tight-lipped about the pies under development, which will be tested on the public via the room's 'pie hatch', which allows customers to be served takeaway offerings. But she did reveal that she would be giving a South African twist to an oyster pie, as well as working on a variation of the South African dish bobotie, which traditionally sees spiced lamb mince and fruit served under a creamy topping.
She says: "It's been eaten for years in South Africa and I saw that they had something similar here in the old days. Mine will be a combination, with a modern twist, but that dish is in my head at the moment."
The journey of a pie from the imagination to the plates of the guests at Holborn Dining Room is often a long one. The chef explains: "Usually I make it for the first time and it won't even be near to what I want. That's the time you can give up, but I feel, 'no ,I'm going to prove you wrong'. If I'm determined to do something, I never give up. That's how we do everything here – we think how can this be better? Can it be the pastry, can it be the mix – it can be so many small things."
One of those things is the decoration. The dishes made in the pie room are all adorned with elaborate pastry decorations, the inspiration for which can come from anything from architecture to nature. Majozi says: "You look at something and you see the design and think I want to create something like that. I get so fascinated by things like the windows in Westminster Abbey."
Rare talent
In January Majozi was picked as one of The Observer food critic Jay Rayner's rising stars, her image on the cover of The Observer Food Monthly magazine.
"I had goosebumps," she says. "I never thought in a million years I would be on the cover. I pinched myself because I was like 'Nokx, is it you?' I remember my husband running to buy it and my daughter was screaming and he was saying 'this is your mum!'. I felt so emotional. That was a moment I'll never forget. I have it framed."
The Observer's article highlighted that there are not many women in such senior positions in London restaurant kitchens, let alone Black African women, and Majozi is frank that rising through the ranks has presented real challenges, not least juggling her family life with the demands of a busy kitchen.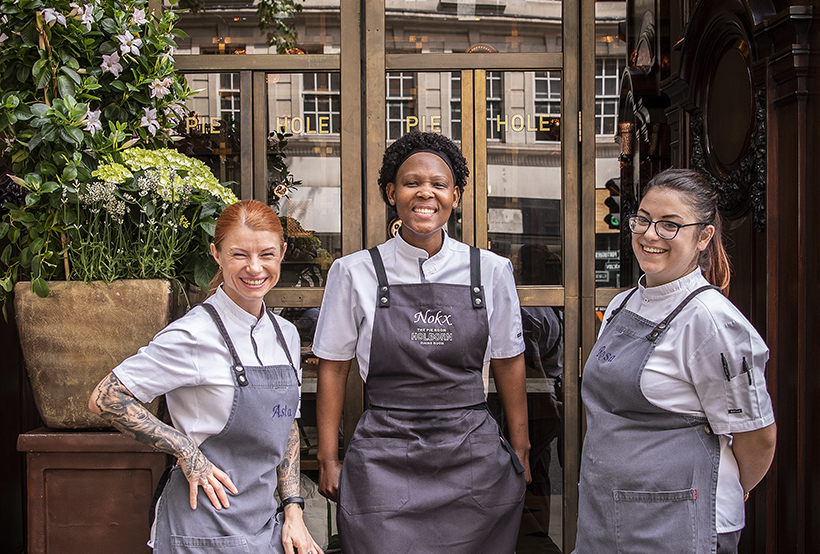 "It was very hard. Sometimes, if I had to leave, I felt I was letting the team down, and because of the hours I was working I never had much time to spend with my daughter. I paid so much for someone to look after my kid while I was working – the amount I was spending on a childminder was more than the money I was earning. I saw other people who left because they were asking themselves 'why?'. There was a time when I doubted myself, and when I came to Rosewood I thought I'd give it one more shot. I was looking for a place where I could have the time [for both work and family] and I've found it here."
The chef does believe the industry is changing for the better, not least because of an increased number of female chefs making themselves available to help others progress.
"Things are getting better, which is amazing. I have a more balanced life, I have time for my family and I have time for my work as well, and I see more women now coming into the industry," she says. "We have more female role models: we have Asma Khan, Clare Smyth and Angela Hartnett, and they're trying their best. We have these moments as women where we can talk to and help each other. You see people at the top thinking in different ways. We just need to make sure we make people aware because we need a lot of people coming into the industry, especially female chefs."
Majozi is also clear on the importance of representation in demonstrating to those entering hospitality that there is a place for them among senior ranks. She says: "To be honest, I used to ask myself 'where are the other Black chefs?'. Now I want to be one of them, so people can say 'hey, Knox is there', because there's not many of us. Sometimes people tell me that it's so good to see me, and I'm glad, you know, because I fulfilled my dream."
Another way the chef inspires the generations below her is through the cookery classes hosted in the Pie Room, with the children's class a particular favourite. She says: "It's one of the classes I love the most. When they come in, they light up; you can see their eyes opening. It always brings me joy."
Passing on knowledge
In the future she has ambitions to return to Durban to open a restaurant and cookery school to introduce more young people to the industry. She says: "I would love to do it in the town where I was born, I want to give people opportunities. I'd like people to learn [to cook] African cuisine and then have opportunity to come to Europe. They can be there two years and then travel abroad and learn. So this is my idea of my future: a cookery school with a South African restaurant."
But, for now, Majozi will continue to feel joy working within this small temple to pie-making nestled to the side of one of London's most prestigious hotels. Following Franklin's departure she has cemented a team, with which she plans to continue delighting diners with their beautiful creations.
After reminiscing about the pies she ate as a child and young woman in Durban, from those made by her grandmother ("not nice – I never liked the pastry and used to throw it away") to those she grabbed after nights out with friends ("usually mutton curry or chicken peri peri"), she adds: "Yeah, I used to look at my grandma making the pies and now it's me doing the pies. You know, it's nice."
Continue reading
You need to be a premium member to view this. Subscribe from just 99p per week.