Best friends and business partners Gordy McIntyre and Pip Lacey have opened the type of pub they would like to go to: friendly, low-key and serving excellent food and drink. Caroline Baldwin meets the pair
The first question many may have for double act Pip Lacey and Gordy McIntyre is how exactly do you pronounce 'Hicce'?
"You can pronounce it how you want, because we don't even know," says Lacey. "Any pronunciation kind of works except 'Itchy' – that's the only one I don't want it to be. Even 'Hickey' is fine. A love bite, you bite into food and you love food, so that kind of relates."
McIntyre was the one who stumbled across the Latin word, which loosely means 'of the moment', while sat at his kitchen table doing some research, aided by a bottle of wine.
"I still to this day can't find the translation anywhere. "Maybe it was the wine," says McIntyre through a thick Scottish accent and with a nonchalant shrug.
For the rest of the interview, the pair refer to their business as 'eech-ay', the pronunciation they have agreed on since launching their first site back in November 2018. Fresh off the back of her Great British Menu win, and following six years working under chef Angela Hartnett at Murano, Lacey opened Hicce with McIntyre at Coals Drop Yard in Kings Cross, with its open kitchen focused on sharing plates and seasonal dishes.
Now the doors have opened on their second business, Hicce Hart, a pub located a brisk 15-minute stroll down the canal. Lacey and McIntyre are keen to turn it into a hub of the community, reminiscent of a traditional London boozer.
McIntyre, whose expertise lies in front of house and drinks, says: "We want people to be sat in a place that does amazing food, but if you just want to come in for a simple pint and stare out of the window watching the world go by, then so be it."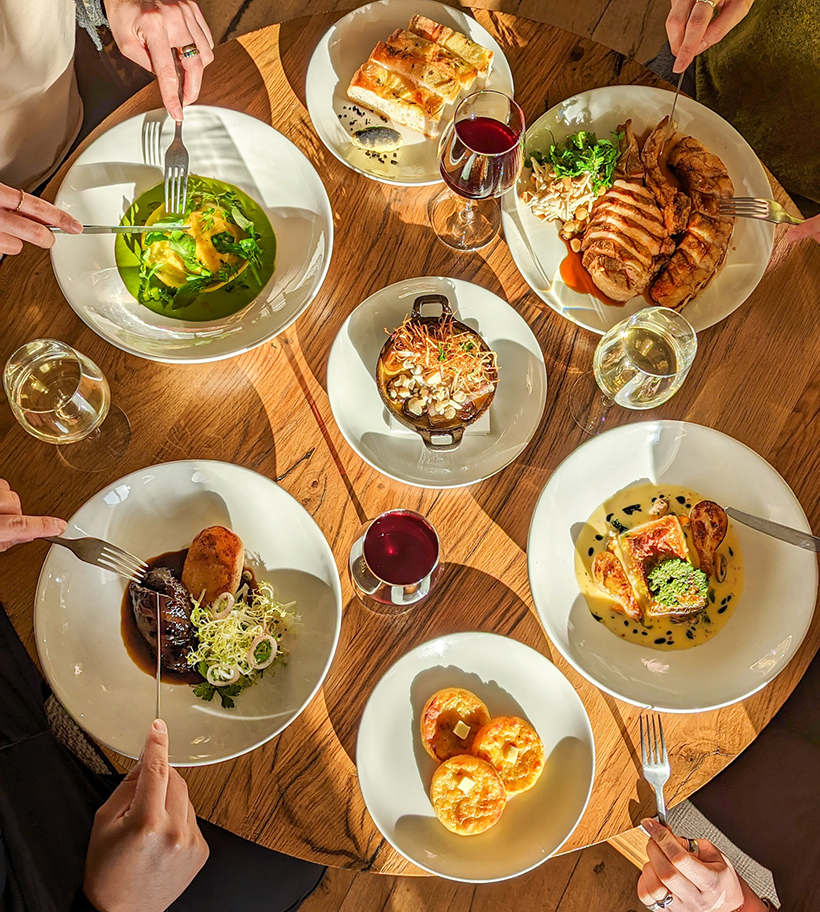 Hicce Hart has 32 covers upstairs in a more traditional dining setting, while downstairs is the heart of the pub, with 52 seated covers offering a mix of drinking and dining and an open kitchen and bar, where guests can sit or stand as they wish.
"We don't want to be one of those pubs where half the pub is set and the other half is not," says McIntyre. Lacey agrees: "I remember when we went to the pub the other week in between lunch and dinner and there was nowhere to sit apart from tables in the dining room and they wouldn't let us sit there at 3 o'clock in the afternoon. It's off-putting."
The upstairs space gives Hicce Hart the luxury of not having to segregate the traditional pub downstairs, which the pair believe will make the entrance welcoming to all. As will, they hope, the price point. They are working with the independent the Goodness Brewing Company to offer lager, Hicce IPA, stout and a low ABV option for a set price of £5.75 per pint, which they hope will make the pub as accessible as possible, for London (see panel).
"We want to be busy," says Lacey. "For people that have been coming to this pub over the years, I can naturally see them saying 'it's going to be an expensive, fancy restaurant now'."
Dispelling this perception will be key to the pub's success, they believe. And of course, food will be integral to the offering. There won't be the sharing plates from the menu down the road at Hicce. "It's different from Hicce, which we want to make a point of," she says. The menu will offer a bar snack of sourdough bread and fennel tapenade or saucisson coated in Parmesan, which McIntyre is concerned will be his "downfall" – "they're that good", he says.
Mains will range from £16-£24, while a lunch deal of a dish and a drink will be available for £12. This intention to keep prices as reasonable as possible is all part of the plan to make Hicce Hart a cornerstone of the local community.
The pair had been looking for a pub for eight months when they walked into the corner site off Penton Street. They immediately knew it was right and signed a 10-year lease from the family who own the building.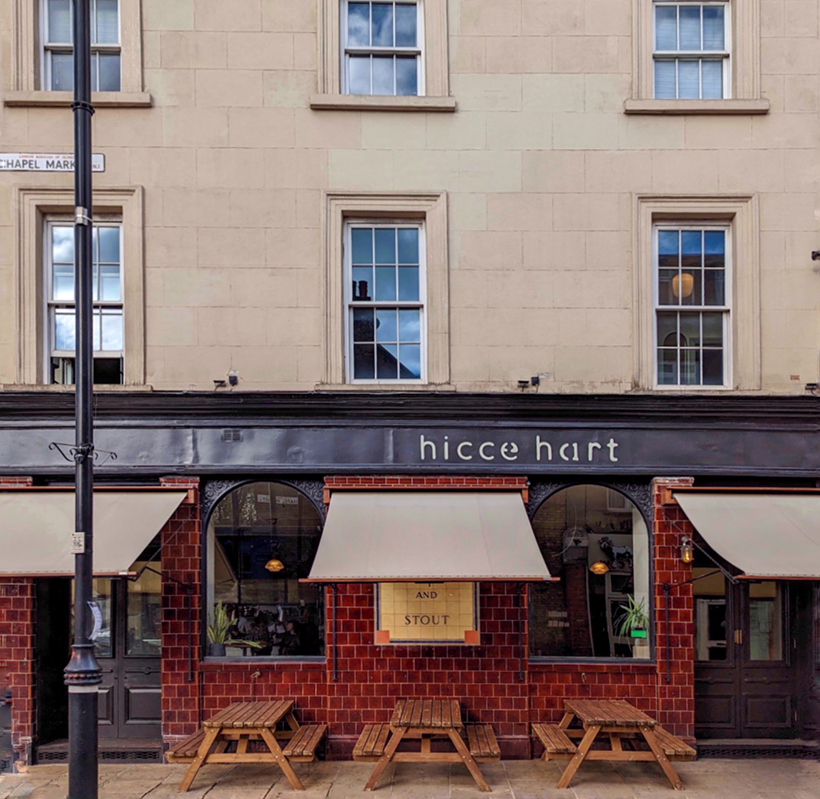 "We obviously wanted to grow our business, but we never wanted to just be one-trick ponies and just do restaurants," explains McIntyre. "We've got really diverse skills and together, as a team, there isn't anything that really scares us."
"And if we were 10 years younger, we'd probably have opened a club," says Lacey, to which McIntyre's eyes widen as he says "not a chance, man", and mimes falling asleep in his chair.
Lacey and McIntyre first met 22 years ago on a ski season in Alpe d'Huez. "Pip moved into the room next door to me in the staff chalet and we just hit it off."
"He was running the hotel bar downstairs and I was maître d' of the restaurant," says Lacey. "We worked hard, played very hard – I remember doing a deep clean and falling asleep in the fridge – and snowboarded a lot."
Rising through the ranks
Even then, at the back of her mind, Lacey wondered whether a job in hospitality was for her. Her other passion was snowboarding, but fulfilling a promise to her parents, she returned to the UK and went to university to do a graphic design course. Her passion for design never emerged and her evenings were spent as systems manager of a restaurant and a nightclub. "Even then it was screaming out to me to [pursue hospitality], but I was doing it while I 'waited-to-get-a-proper-job-bollocks'." After university she moved into a tiny flat in London with McIntyre and the friends worked in various hospitality businesses together before Lacey decided to take another stab at becoming a pro-snowboarder.
"It didn't happen – I broke my back," she says, matter of factly. "But I was fine!" she adds quickly, with a laugh.
On returning to London for the second time, age 27, with encouragement from friends, she decided to apply for a job at Gordon Ramsay's York & Albany and become a chef. "I thought I'd aim high! I went into that kitchen and absolutely loved it, and the rest is history." She started as commis chef and worked there for three years alongside Angela Hartnett, before following Hartnett to Murano where within three years she was head chef of the Michelin-starred kitchen. Her speedy rise through the ranks instilled a dream to run her own business and she dabbled in a few pop-ups with McIntyre, pairing food with craft ales on the side. "Even when Gordy and I first met, we said we'd have a wicked bar in the Alps one day. And that's still the dream," she says. "It's the last bit of the jigsaw," agrees McIntyre.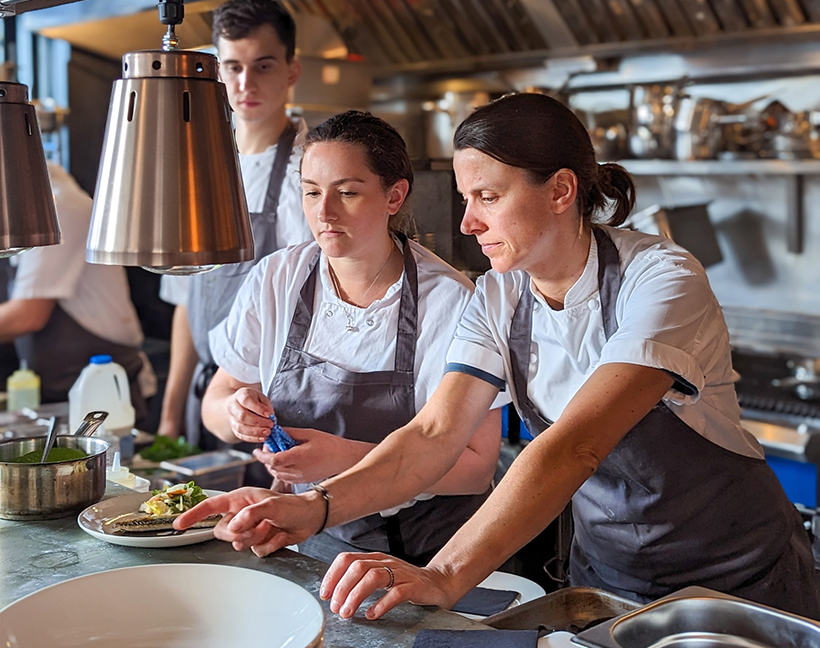 Hartnett nurtured Lacey's talent, and as she grew more confident, she confided in her boss about her dreams to own her own restaurant, and Hartnett agreed to back an opening when she was ready.
"Pip and I had made a pact that if one of us quit our job, then the other had to quit theirs too," explains McIntyre, who had spent his career working his way up in various pub ventures during the craft ale peak. "I'd just got a mortgage and had kids, and Pip rings me one day to tell me she's quit and it was time. I was like 'oh god'."
Holding her hand up to the side of her face, thumb and pinky finger resembling a phone, Lacey recalls the urgency: "I was like, 'we've got to do it, yeah?!'"
"That was an interesting chat with [my partner]," says McIntyre. "But I did it."
This call was the first step to setting up Hicce, where Lacey and McIntyre have a 40% stake each, and Hartnett, as an investor, owns 20%.
A scoot down the road
Hicce Hart is a very different offering from that first Coal Drops Yard restaurant a mile down the road. While things get up and running, Lacey and McIntyre will split themselves between the two sites. "I don't want to become one of those scooter people," says Lacey, noting how the walk between the two is getting tedious, especially as the nights draw in. "We might get a jetski!" she adds, her eyes lighting up.
"I love cooking, don't get me wrong, absolutely love it, but the reason why I wanted to leave Angela is because I didn't want to be behind the pass every single day at 45. Even at 40 it's physically quite brutal. It's nice to do it in spurts, but I think we need younger talent to have that desire and passion."
Nurturing talent is something the pair are keen to continue doing, creating a culture where their staff can learn, grow and progress. "It's an industry you can get involved with, you can learn really quick and progress really quickly, but it's a lot about attitude and personality," says McIntyre.
The general manager of the pub, Augustino Basilico, started as a waitress in the opening week of Hicce, while assistant manager Paulina Czerska has been with the business three years. In the kitchen, Charlotte Harris has been cooking at Hicce for over a year, moving over to the pub as head chef. With around 55 staff during the peak season over at Hicce and an additional 10-12 at the pub, Lacey and McIntyre understand the need for talent within the business to help drive Hicce into further sites, potentially up to six, if dreams permit.
"We're on a good financial footing from Hicce, it's been kind to us," says McIntyre. "We managed to stick to our guns and we didn't veer from anything, and through the whole crazy Covid time we managed to get Hicce to a point where it's a debt-free business and we could focus on the next phase."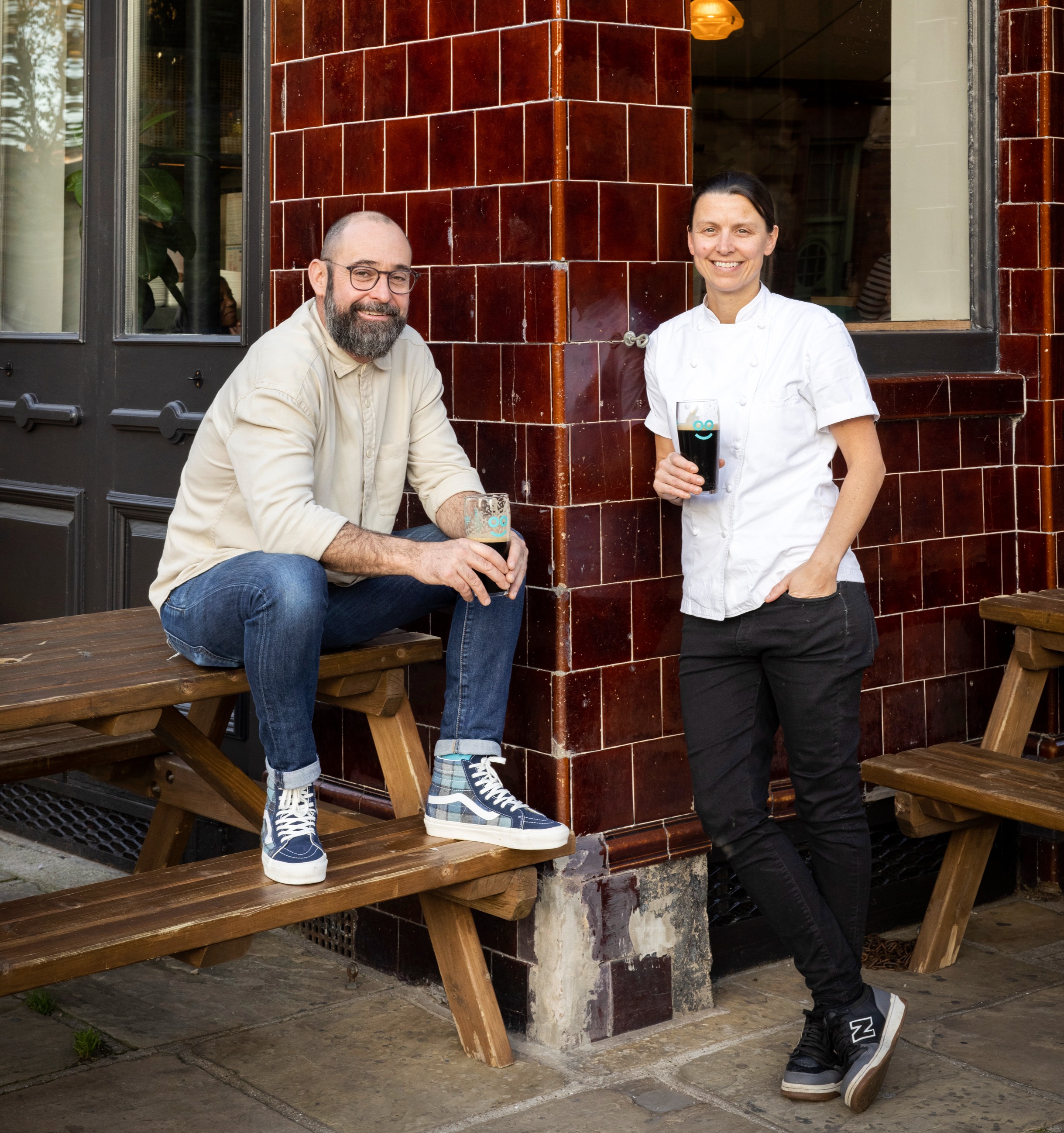 "We're quite cautious," adds McIntyre, turning to Lacey, "sometimes I think you're the more Scottish one, you can be tighter than me!"
So what could the next offering in the Hicce portfolio be? "The next one probably won't be a pub," muses McIntyre. "Or maybe it might be, or it could be something completely different – we've got ideas…" "Definitely a nightclub," chips in Lacey with a smile, as McIntyre rolls his eyes.
"We've always had these aspirations," adds Lacey, more seriously. "But I think how we navigate it will be probably a little more carefully than we would have done."
McIntyre adds: "It's probably why we've waited this long to get site number two, because we've been very close and we've had our worries. But take the cost of living crisis, we've been talking about it so long, but I think it's only now that it's actually really starting to come into effect. That's why we're really keen to be accessible to people."
"We want to support the local community," says Lacey. "Give them somewhere they can come, where they can enjoy themselves, and it won't cost them an arm and a leg."
"I get very proud and emotional because pubs have been a big part of my life," says McIntyre. "This building has been a pub since 1775 and I'm really proud to be the custodian of it and to be the heart and soul of someone's community. Especially for someone not coming from London as well…"
Before McIntyre can finish, Lacey lightens the mood and jokingly digs him in the ribs, saying: "He's lived here longer than he's lived in Scotland."
To which McIntyre replies playfully: "Aye, you're right there, man."
And who knows, perhaps one day the two friends will be living it up in the Alps, having opened that dream bar in the mountains, and snowboarding inbetween services. "Hopefully before I need a hip replacement," laughs Lacey.
The menu
Cheese gougères, date jam £7.05
Beef spare ribs £8
Cabbage, cashew, beets, squash £8.20
Sprout tops, anchovy, macadamia £8.50
Pork croquettes, brown sauce £9.20
Sprout tops, anchovy, macadamia £8.50
Orecchiette , chili, garlic, Jerusalem artichokes £9
White fish, squid ink, capers £10.80
Oyster mushroom, pearl barley, spinach, pine nuts £18
Hake, Jerusalem artichokes, mussels, green sauce £21
Beef cheek, turnip, celery £24
Chocolate nemesis, coffee cream, malt crisp £8
Sponge cake, crème fraîche, clementines £7
The drinks
"The Hicce ethos has always been about great relationships with smaller suppliers and we're continuing to work with the wonderful Goodness Brewing Company because its beers echo our values on quality," says McIntyre. "When the opportunity to open Hicce Hart presented itself, the chance to work solely with a local fellow independent, and as an added bonus co-brew our very own beer, was really a no-brainer."
"On the wine side, we offer a range of sustainable, organic and biodynamic wines made by small producers with minimal intervention and a selection of 'classic' wines that reflect the best combination of place, grape, history and tradition. Augustina and myself try to engage our guests' wine curiosity by presenting a list that encourages them to be adventurous, while also being lovingly created to combine the familiar with the unique and sometimes unusual.
"We also offer a red and a white pulled wine on tap, which will feature small batch producers as a way to serve their wines while ensuring that they make 100% profit from their harvest without waste."
Photography: John Carey
Continue reading
You need to be a premium member to view this. Subscribe from just 99p per week.