Stress-free compliance? Check!
We interviewed David Bashford, managing director of Food Alert, about its new app – Check65 – which offers rapid 'due diligence' in the palm of your hand. Now available to download in the App Store.
David has worked in quality assurance and compliance for more than 30 years and is managing director for Food Alert, the UK's leading food safety and health and safety specialists for the food and hospitality industry.
Tell us about Check65, what inspired it?
The hospitality sector has seen an enormous shift into digital with a real acceleration over the last few years due to the pandemic. Consumers now expect to interact with brands digitally, whether that's accessing menus with QR codes, confirming bookings or making contactless payments. Similarly, our clients expect and deserve the same seamless experience when it comes to managing their compliance. We had already developed a solution within our Alert65 compliance platform. Based on client feedback we created a purpose-built 'native' app for teams to remove complexity from compliance and make their day easier.
Something I'm particularly proud of is the relationships we have with our clients. We help support hospitality businesses to take care of their food safety and health and safety compliance. We're always listening to their feedback on how we can make their lives better, simpler and remove the hassle from managing the ever-changing regulations and legislation that affect compliance.
Any new products and services we build are always created with our client needs at the heart of their design and development. That is exactly what inspired Check65.
How does the app work and how long did it take to create?
Check65 is driven by Alert65, our safety compliance platform. Owners and operators can create checklists and schedule temperature checks then push these out to their teams quickly and easily. Team members complete daily 'due diligence' and operational checks via a slick, clean interface on Check65.
Of course, these checks are only one part of the compliance puzzle. Check65 also provides training guidance to team members as they're completing checks so they understand their importance as well as capturing corrective actions when there are problems.
During the build we worked closely with our technical experts, taking all their knowledge and experience, to ensure Check65 met the latest legal and best practice requirements. We've been testing the new app rigorously with the support some of our key clients over the last three months. The feedback has been fantastic, and I'm excited to make this available to everyone.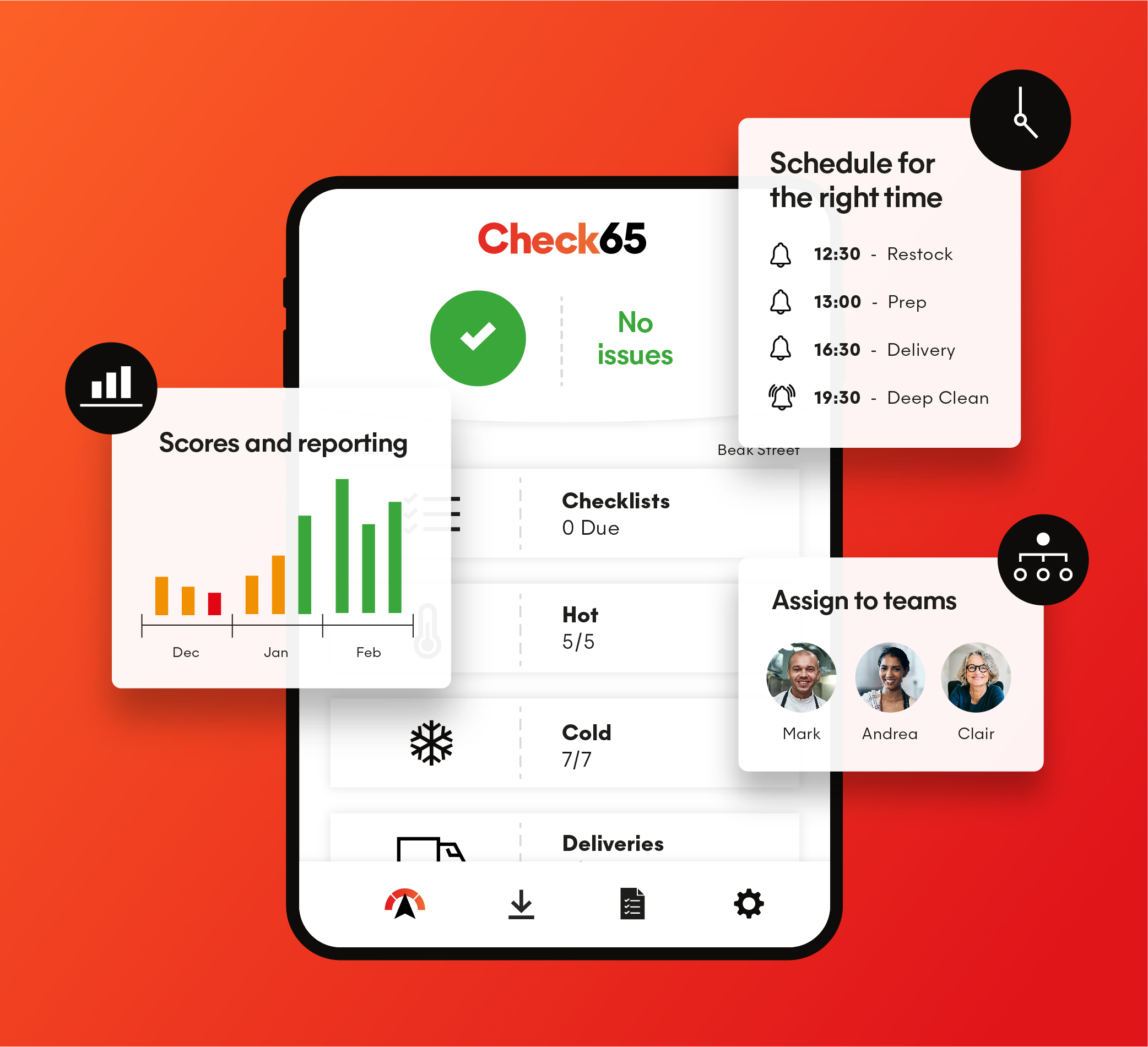 Check65 is all about guiding you and your teams through their day. Key features within the app include:
Managing your daily tasks – everything from opening and team briefings to one-off or seasonal events like special menus or promotions, you can plan the perfect working day. Tasks can be assigned by department or site and are displayed by status and chronological order making sure nothing is missed.
Visibility, tailored to you – with a smart dashboard so you can get live performance insights and notifications so you and your team can focus your attention where it's needed most.
Easy digital recording – record and maintain all key information in one place – much more reliable than paper logs – including everything from delivery checks, temperature checks and visitor details.
Stay in the know with live notifications – push notifications will ensure things don't get missed
Why do you think Check65 will help businesses?
We already know that technology is pretty much changing everything when it comes to the food and hospitality sector and we don't see why compliance can't keep pace with that rate of change. It just makes those added safety tasks that much easier to complete or assign to the right people, even if you're having a busy day or you're on the go.
In addition to the app being easy to use it gives multi-site operators visibility of risk across the entire business. It empowers the user by flagging issues and providing advice along with removing the reliance on pre-existing knowledge. This is very helpful when considering the challenges of employee retention.
Before we begin building new digital tools we always start with client feedback. What can we do to make their lives easier? We innovate to remove the hassle and stress of staying on top of their compliance to-do list, so they can focus on what they do best.
Environmental sustainability is a central concern when it comes to developing innovative products for our clients – so an app was an obvious choice for us. It eliminates that reliance on paper-trails and helps clients to make a more positive environmental impact too!
Ultimately, with Check65, we wanted to create a companion app to Alert65, enabling food and hospitality business owners that comes good on the promise of getting you set for the future. Due Diligence Diaries are a thing of the past, so making sure you can keep high standards whether you are just in one or two locations or perhaps a larger multi-site hospitality business is crucial. This is the app you simply cannot live without, and I'm incredibly proud of what the team have built.
For more information or to receive a demo of Check65, contact the Food Alert team on enquiries@foodalert.com or call 020 3918 7510.