Eleven sommeliers took shelter from the heatwave in the Savoy hotel to battle it out at the final of the prestigious Taittinger UK Sommelier of the Year 2022 award
Temperatures soared on the streets of Britain, but in the (admittedly fiercely air-conditioned) Savoy hotel in London, 11 sommeliers were keeping their cool while being put through their paces. It had been a hard slog to the finals and here they were, having been whittled down from more than 50 hopefuls in the regional heats held in April and having survived the preliminary semi-finals in June, including a written questionnaire.
Only one contender can be crowned Taittinger UK Sommelier each year, but the talents of all semi-finalists shone out.
"Some 55 candidates applied, so to get through to the 11 today in this room you have to have huge talent. To get to the last six you have to be at the top of your game, and by the final three you are talking about tiny points of difference," points out 1998 winner Ronan Sayburn MS, chief executive at the Court of Master Sommeliers Europe.
Nigel Wilkinson MS, brand ambassador and senior wine educator at Boutinot, underlines the award's importance: "The person who wins is the best person on the day. It comes with a lot of prestige – you are the sommelier for 2022."
If that isn't pressure enough, the day had started early with a series of rounds designed to chip the numbers down to three finalists. Just before lunchtime, the 11-strong shortlist had been reduced to six, who faced a deciding task: the competitors were asked to decant a magnum of red wine into 15 equal glasses. The devil was in the detail as there were 16 glasses on the table, and not everyone noticed that.
"Part of the challenge is paying attention to what you are being asked to do," says Sayburn, "The standards are always high, but some of the competitors have nerves. It depends on their experience." And no wonder there were nerves in the room, with 19 heavyweight judges floating around, including head judges such as 2007 winner Nicolas Clerc, president of the UK Sommelier Academy (UKSA) and the 2014 winner Kathrine Larsen, head of UKSA technical committee, all watching proceedings carefully.
So, by the end of the lunch break, we had our three finalists – Vincenzo Arnese, head sommelier at Alain Ducasse at the Dorchester, Agnieszka Swiecka of the Five Fields restaurant and Gareth Ferreira of Core by Clare Smyth, who had been 2019 runner-up.
For the afternoon session, we moved onto the live element of the competition, which Clerc hosted on stage in the Lancaster Ballroom. By now some 200 people had arrived to watch, mainly the great and good of the hospitality industry and cutting-edge sommeliers.
"We have the coolest, most unflappable sommeliers in this room," quipped The Caterer editor James Stagg, as temperatures outside hit the high 30s and the country went on red alert.
The tension was palpable. The final three were required to think on their feet in a restaurant scenario, where the diners comprised three tables of rather serious-looking judges. Tasks came thick and fast: to identify errors on a wine list, undergo blind tastings of wines and spirits, to offer food and fortified wine pairing options, and to decant and serve wine.
It is tough to take an exam on stage, but all three showed incredible sang froid. At Nina Bassett's table the sommeliers were each asked to give a full organoleptic description of a glass of wine. They were tasting Zede de Labegorce, Margaux, Bordeaux, France, 2017, and each one swirled and spat and came up with beautiful descriptions. Perhaps Vincenzo stood out, not only describing "currant leaves and cloves" and a "ripe sultana note," but going on to suggest it would go with a Jura cheese. "I would love this wine in my cellar", he adds cheekily, while the judges crack a smile.
His ability to engage came through early on. Take the tricky task at the second table, where a group of 18 "guests" celebrating winning a Michelin star wanted a recommendation of fortified wine of a different variety for each course. For the lamb main course, Arnese says: "You are in for a treat. I have a 100-year-old vintage from Australia" before confidently describing Seppeltsfield Estate's Old Para Liqueur. For the orange cake, he tantalised them with an orange muscat from California, but went for a marsala. He then suggested they may like bottled water, maybe a digestive later and then a cigar on the terrace. The audience laughed and even the judges chuckled. "This stage was made for him," says Clerc.
At one table, the contestants were faced with a dilemma. "We are a table of five friends, all wine lovers, and we would like to order two bottles of Chambertin Grand Cru Jean Louis Trapet 1995. Could you decant and serve these bottles?" asks one of the judges.
As they each discovered in turn, however, only two single bottles were available: one Chapelle Chambertin Grand Cru Jean Louis Trapet 1992 and one Amarone della Valpolicella Romano dal Forno 1998. Or a magnum labelled Barolo Monprivato Giuseppe Mascarello 1989. They were all expected to choose to serve the magnum of Barolo due to the quantity and style of wine required by the guests and to show knowledge of aging related to size and vintage quality as well as an understanding of the regions. They each sailed through.
"Magnums age more slowly, so they are a great choice for wine lovers," says Swiecka to the table. "And as Pinot Noir lovers you would appreciate that style of wine."
Ferreira acquitted himself well, too, and because he couldn't provide their first choice he offered a complementary glass of Champagne and canapé while decanting the magnum.
Vincenzo similarly convinced his guests about the magnum, though later he explains: "Initially, I was confused... I thought I would give them a chance to try the bottle, but there were only five glasses. It was an indication I should offer the magnum, otherwise I would only be able to sell the one bottle. As a sommelier you have to upsell and give something similar and justify why you are offering that." Swiecka and Ferreira shone, too, but in different ways. In the blind tasting challenge, both identified a bourbon, with one describing how they would use it in a Manhattan cocktail and the other an Old Fashioned. All three had different views on what the first glass was, suggesting pisco, gin and vodka.
But it still wasn't over. There followed a short break while judges, contestants and the audience caught their breath and prepared for a quick-fire quiz. Then, with nerves strained further, the competition ended on its famously dramatic note with the three hopefuls tasked with pouring a magnum of Taittinger Rosé equally between 19 flutes in six minutes. All three checked the glasses were shiny, opened the corks gently, but didn't in all cases fill the glasses evenly.
In the end it was Arnese who swept to victory, taking the Taittinger UK Sommelier of the Year 2022 title. He impressed the judges with his knowledge as well as his interaction skills, confidently making jokes as he upsold during his role-play tasks.
Reflecting on the final, Clerc says: "I've been running the competition since 2017 and for the first time, within a few seconds of seeing him, I thought: "Oh, that guy will surprise us… Personality has always been important and a sommelier needs to be a good storyteller."
What did he think about the day? "It is always a magical day," Clerc adds. "It is bigger than a competition. It is a community of sommeliers and wine-lovers and it has always been like that. And long may it last."
What the three finalists said
Gareth Ferreira MS, head sommelier, Core by Clare Smyth, London: "It is my sixth time here. I want to do better every time. It's addictive. You meet new people and face a new challenge every year. I learn something every time. They always come up with new tasks. The hardest part is keeping your nerves under control. You can be your own worst enemy."
Vincenzo Arnese, head sommelier, Alain Ducasse at the Dorchester, London: "The tasks I enjoyed most in the competition were the wine and food pairing and the blind tasting – oh and also the wine list correction where you can challenge your memory."
Agnieszka Swiecka, head sommelier, Five Fields Restaurant, London: "It was great fun, and to participate in front of so many industry legends was a humbling experience. It was also great to see the three ladies in the final six. Competitions push you out of your comfort zone. You learn to handle stressful situations and you can apply them in your work life, such as shortcomings with deliveries or staff shortages. I'd definitely like to come back next year."
What the judges said
Nicolas Clerc MS (2007 winner)
"The final marks were quite close between the three, but Vincenzo was the more stable. He was professional, with precision and personality. It was Vincenzo's day. He had done his preparation and everything came together for him."
Xavier Rousset MS (2002 winner)
"Vincenzo [was] pretty relaxed on stage, approachable and knowledgeable. As a customer, I would have been very happy to have him recommending and serving my table – criteria I consider to be very important."
Kathrine Larsen MS (2014 winner)
"Vincenzo showed a consistently high level throughout the competition from the early stages and regional finals through to the final. He demonstrated very good knowledge, tasting and service skills, and was confident throughout while making everyone feel at ease."
Gearoid Devaney (2008 winner)
"We are looking for a high level of standards in decanting. We are looking for detailed service."
Nina Basset, judge
"I am looking at whether I want to be served by this person in a restaurant. I want them to be as natural as possible, so as judges we need to put them at their ease because it is frightening up there. But it is a great competition for showcasing talent and building confidence to be a great sommelier."
The finalists and judges
The finalists
Vincenzo Arnese, Alain Ducasse at the Dorchester
Stefano Barbarino, Coravin Wine & Bubbles Bar
Melania Battiston, Medlar
Biagio Castaldo, Maison Estelle
Emma Denney, the Clove Club
Gareth Ferreira, Core by Clare Smyth
Philipp Reinstaller, Trivet
Agnieszka Swiecka, Five Fields
Lorenzo Tonelli, Maison Estelle
Dion Wai, 67 Pall Mall
Elvis Ziakos, TILA
The judges
Head judge: Nicolas Clerc
Head judge: Katherine Larsen MS
Nina Basset
Romané Basset
Romain Bourger
Salvatore Castano, ASI Best Sommelier of Europe 2021
Christopher Delalonde MS
Gearoid Devaney MS
Terry Kandilys
Jan Konetzki
Olivier Marie
Tanguy Martin
Dimitri Mesnard MS
Laura Rhys MS
Xavier Rousset MS
Claire Thevenot MS
Matt Wilkins MS
Nigel Wilkinson MS
Eric Zweibel MS
The UK Sommelier of the Year competition
The Taittinger UK Sommelier of the Year 2022 is organised by The Caterer in partnership with the UK Sommelier Academy and recognised by the Association de la Sommellerie Internationale.
Since launching in 1980, the competition has recognised some of the UK's most prominent sommeliers, including the late Gérard Basset, Ronan Sayburn, Gearoid Devaney and Xavier Rousset.
As well as headline sponsor Taittinger, the sponsors were Berkmann Wine Cellars, Meiko, Reidel and FM&V.
UK director for Taittinger Kevin McKee summed up the importance of the competition: "Watching the finals is a masterclass in what it means to be obsessive about a career."
Introducing the 2022 Taittinger UK Sommelier of the Year, Vincenzo Arnese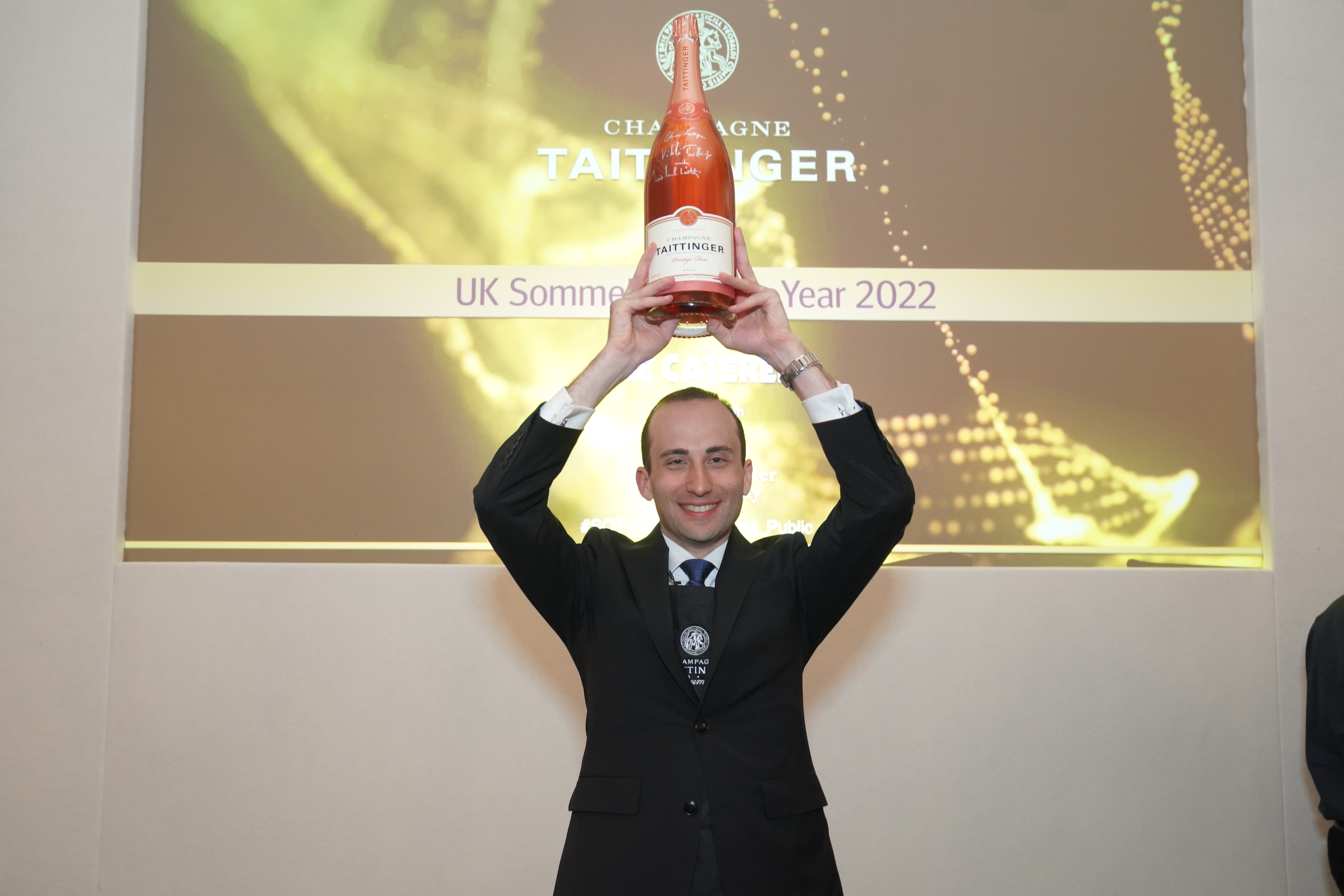 Vincenzo Arnese, 35, credits his grandfather for igniting his curiosity about wine while he was growing up in Naples.
"My grandfather made his own wine. He had a little basket press and made red and white. In all honesty it was not a great wine – but he knew that because he drank it with a lot of ice," recalls Arnese. "He was the first person to give me a little glass of wine to try when I was seven years old. And when they were doing the pressing, I would sit on his shoulders. They are really good memories."
It inspired him to go to hospitality school in Stresa, specialising in sommellerie, and from there he took stages at prestigious restaurants in Switzerland, England and Australia.
In 2008, at the three-Michelin-starred Waterside Inn at Bray, Berkshire, he joined the sommelier team. "The sommelier would ask me lots of questions so I would do research in the library. I saw how big the world of wine is and it pushed me to learn more," says Arnese.
By 2012 he was in Melbourne, working at the fine-dining Vue de Monde restaurant. "It was amazing. I learned a lot about Australian wine and that was how I chose the fortified wine for the main course in the food and wine pairing task," he says, referring to Seppeltsfield Estate's Old Para Liqueur. It's the only winery in the world to release a 100-year-old single vintage wine each year – a canny bit of knowledge on his part.
Back in the UK in 2013, Arnese became head sommelier and wine buyer at the two-Michelin-starred Dinner by Heston Blumenthal. In 2021, retaining his high standards, he moved to his current role of head sommelier at three-Michelin-star Alain Ducasse at the Dorchester.
"Mr Ducasse gave me a lot of support during the competition and I really appreciate that. We offer amazing wine and the team is fabulous and executive chef Jean Philippe Blondet is supportive," says Arnese.
To progress his career, Arnese has rigorously refined his knowledge, gaining the Advanced examination in the Court of Master Sommelier and attending Associazione Italiana Sommelier.
No stranger to awards, he scooped the Bellvita/UKSA Best Sommelier UK in 2015 and was runner-up at the 2019 UK Ruinart Sommelier Challenge. He is also a judge at the London Wine Competition.
The judges were impressed with Arnese's natural ability to interact and he admits he always makes a point of trying to understand the guests to discover their preferences and buying patterns. He also loves working with the chefs to see how the cuisine and wine complement each other and where opportunities might lie for upselling. And like any good modern sommelier, he has a strong business head, always checking the sales data to analyse trends.
So, what would be his advice to a young sommelier? "I think you have to be as humble as possible and not expect knowledge to come all at one time. A lot of skill comes from experience, so you need to take your time and commit."