The Alan in Manchester is a hotel of contrasting ideas
The Alan in Manchester is a medley of contrasts, from the ornate exterior to the work-of-art bar inspired by a car crash
Understated is the word of the day at the Alan. It's not obviously a hotel from the outside. There's no big sign. No awning to draw you in. Just a simple, black-and-white minimalist A-frame board telling you there are rooms, co-working spaces and dinners to be had inside.
Even when you enter, it's not immediately obvious you're inside a hotel, with no reception desk or concierge and instead a smattering of tables where young creatives sit with laptops and coffees or cocktails, with a bar to your left and an open-kitchen restaurant to the right. It feels more like you've walked into a trendy co-working space rather than the lobby of one of Manchester's newest accommodation offerings – and that's the point.
It's all about subverting expectations here, and that's what the Alan's owner, Amardeep Chima, has been trying to do all his life. He confesses that his mother doesn't "get" him, and his father has largely failed at trying to convince him to stick within the family business of mainstream fashion retail – Gurchait Singh Chima started up high-street brand Bonmarché in 1982. Chima's background was formed in hotels, including the Sofitel Heathrow and Sofitel Gatwick, across all areas from front of house, conference and banqueting to housekeeping, ultimately finding himself as a yield manager at the Renaissance Heathrow.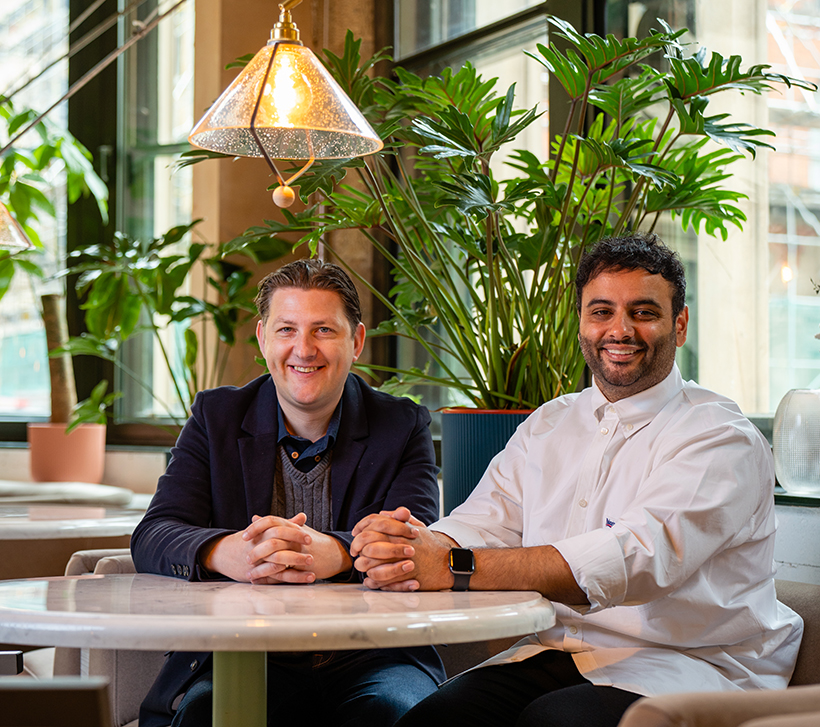 "I wanted to bring something cool and fresh to the city. I think there's something lacking in the north – it's either driven by core brands or lifestyle brands sitting within big groups like Marriott or Hilton. There isn't much individuality on a larger scale," he says.
And individuality really does shine through here. Not least because so much of the design and aesthetic is unique to the Alan. In teaming up with Shoreditch-based Red Deer architects and the branding experts at 0120, Chima has created a hotel that absolutely exudes style without trying too hard.
Before he got his hands on it, this Grade II-listed building on Princess Street was a very traditional hotel. It was all "boxed in" with "overdone plasterwork" inside, he says. Now, its overall vibe is understated, with pared back brick walls and ceilings laying bare the inner workings of the hotel's plumbing and air-conditioning systems, but elevated by touches of luxury – a little marble here, a sleek piece of handmade furniture there. There are neutral colours and textures throughout – to help guests feel relaxed and inspired, says Chima – and its wide, open lobby area with the spectacular glass-roofed atrium is a welcoming focal point.
"The way fashions and trends work is that you have to have contrast," he says. "So even the way I dress: I'll wear a formal shirt and jacket, but with my trousers rolled up and trainers on my feet. It's having that contrast of casual versus smart. I think it works, and I think you can apply that to everything – even with this building. On the outside you have this beautiful, ornate building and you can envisage what it could look inside, but when you actually walk in, you think, 'OK, wow, this is a complete contrast, this is something special'."
The Alan bar – inspired by a car accident
Care and thought have gone into every single piece of furniture and design. There's the handmade lighting by Mika Kaski, the hand-painted bedside lampshades in each of the bedrooms, an enormous tassel pendant light over a large dining table in the restaurant and the unusual, hand-cast concrete spheres that appear to have the waiting staff desk teetering on top.
The terrazzo-style flooring is made up of giant fragments of discarded marble, acquired from builder's merchants around Manchester and laid within a polished concrete setting, blending an industrial, functional material with a symbol of sumptuous luxury – a concept that's echoed throughout the hotel. The design highlight, though, is the magnificent bar that skirts the restaurant's open kitchen, with polished concrete on top, but beneath an artwork with an intriguing back story.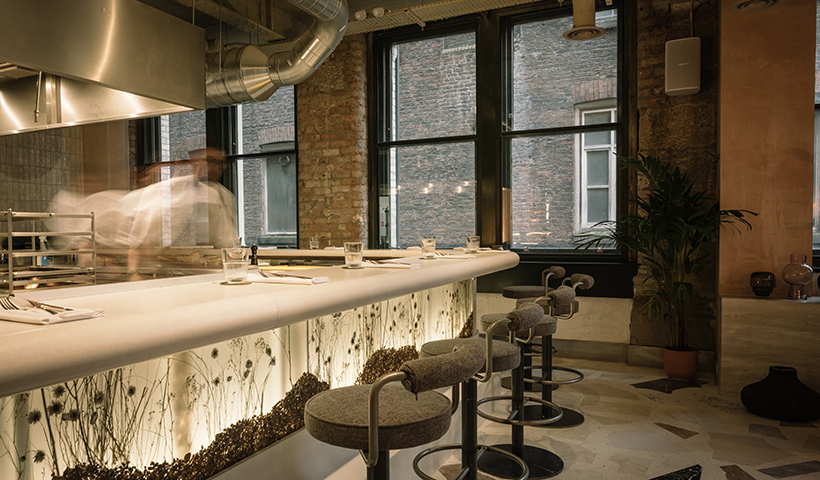 "I was in a car crash on the M62," explains Chima, "And it was a bit daunting. The following week, I went to meet Red Deer and we talked about it a bit before discussing this bar and they said, 'well, there's your inspiration'." What came from it is a striking frontage that at first glance looks like wildflowers behind frosted glass. Look a little closer, though, and you'll also find cigarette butts, gravel and litter – all found on the side of the road – set within a hazy resin and backlit to create a work of art. The idea was to create something new and beautiful from old, discarded and unused items, and this has been done throughout the hotel. Take the desks in some of the larger rooms: floor tiles found in the original hotel's lobby were taken up and cast into resin to create long workstations where guests can get creative on their laptops.
But where they have had to buy new, Chima is meticulous with his design vision and sourcing, to the point where even the bathroom bin gets his blood pressure up. He and general manager Andrew Creese talk in hushed, frustrated tones about how the supplier they wanted to use has no stock and that they'll have to go back to the drawing board to find the perfect piece. Chima says almost every item you see in the hotel, be it the in-room designer coffee cups or the striking pink bathroom sinks, has been acquired after much discussion and deliberation among his team. He's more hands-on than most hotel owners, says Creese, who has worked for big brands like Malmaison and helped open Dakota's Leeds property, but the hotel is all the better for it. Nothing goes unnoticed.
Work at the Alan
Of course, all this care and consideration means nothing if they can't bring in the guests, but they've got a pretty grand plan for that, too. In the heart of the lobby is what is rather grandly called the 'maker's table', and around here local creatives from all manner of industries will share their skills and knowledge with workshop participants.
"It's a case of having a sense of community within the building," says Chima. "When people look for a hotel now, they generally look a little deeper and there's almost that feeling of wanting to be included in something more, having a taste of what's within the city and not having to look too hard for it." Once their downstairs space, to be called Situ, opens later this year, there will be local creative writers, DJs and photographers sharing their craft with the Alan's guests.
Local artists also feature on the hotel's walls – sort of. Instead of physical artworks that are expensive to frame and tricky to maintain, they're using projectors to cast digital pieces. All of this is part of Chima's desire to bring more of Manchester out into his hotel: "I know the city quite well – I used to put on nights and events here, and I know there was this scene within the culture that never gets shouted about, it gets lost among the obvious things, whether it's LS Lowry or Oasis or the Stone Roses. But there's a lot more to Manchester that lies underneath and I just wanted to bring something that is going to extract all of that."
When people look for a hotel now, they generally look a little deeper
It's not all smooth sailing for the Alan, mind. There have been challenges and teething problems as with any new hotel – never mind the pandemic. The open lobby concept, for example, has been a sticking point for the guest experience. "Most guests are used to traditional hotels and traditional reception desks," says Creese. "We've obviously got an open lobby, trying to do something different, so we've got to try and help the guests understand that when they come in. We've also got to look at our peak times and get our team to understand each guest that comes in, too, as they might be staying, arriving for an event or just dining."
Naturally, with the Alan open and welcoming more guests, diners and drinkers each month and gaining acclaim from reviewers such as Jay Rayner, Chima is thinking about next steps. He says he's not in a rush to open a new property under the Alan brand – the building and the location has to be "100% perfect" to warrant new investment – but he'd love to see the concept spread out across the north before it potentially opens in London. But for now, they'll keep refining their Manchester concept, and remain on the hunt for the perfect bathroom bin.
The designers behind the Alan
Intmarble The spectacular marble and concrete flooring that greets you as you step into the Alan was a collaboration with Intmarble, a family-owned business from Northern Ireland that specialises in sourcing quality stone tiles. Instead of buying brand new, pristine slabs of marble, the company provided Red Deer with offcuts and discarded chunks from all over the world, which were laid in a meticulous but seemingly random pattern to create an eye-catching feature on the floor in the lobby and F&B areas.
Robin Grasby London-based furniture maker and contemporary terrazzo expert Robin Grasby brought his vision to the Alan through its tables, worktops and its kitchen bar. Using reclaimed and recycled marble set within concrete, he created several terrazzo-style desks for the bedrooms and the multi-level 'maker's table' in the central lobby, while his work on the bar that encircles the kitchen has flowers, weeds, gravel and cigarette butts set within a frosty resin – inspired by the M62 which surrounds Manchester.
Mika Kaski With his vision for mood-setting vintage and industrial lighting, Mika Kaski has brought his simple yet elegant design into the Alan's bedrooms and public spaces. Using industrial metals mixed with natural textures such as marble, stone and wood, he's created pieces that are exclusive to the Alan.
Nicola Morland Each of the bedside lampshades in the Alan's 137 bedrooms have been hand-painted in-situ by artist Nicola Morland. Her abstract use of colour pops in an otherwise neutral environment and makes a functional piece of furniture a distinctive piece of art.
Food at the Alan
The Alan's restaurant has recently welcomed new head chef Iain Thomas, who trained with David Aspin and whose passion for produce shines through on the menu thanks to his clever sourcing. He grows his own herbs in the kitchen under ultraviolet lights, and brings in vegetables from his own allotment to star in small-plate dishes such as the SK14 brassicas or rhubarb and custard.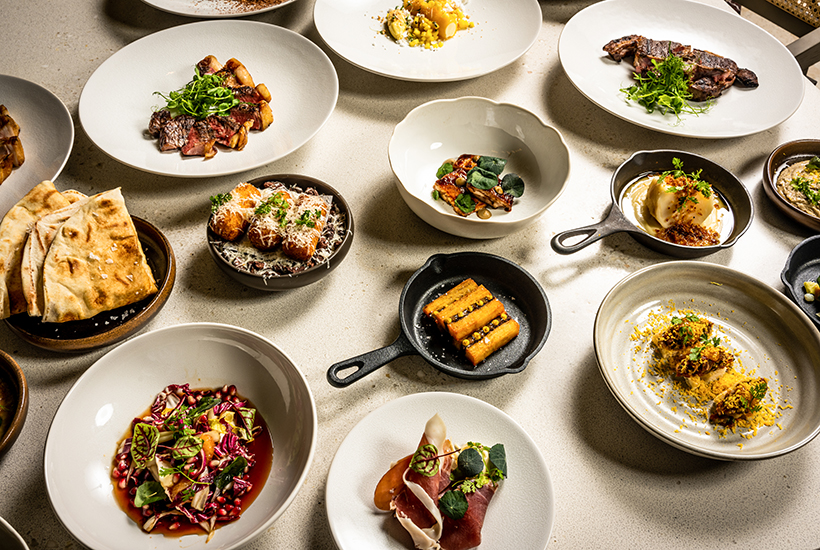 He has visited almost all of his local producers in person, and is looking for new ways to partner with Manchester's food champions. These are some of the small-scale local suppliers on the menu:
Polyspore The main event in a barbecued mushroom dish is the fungi grown by low-waste, urban farmers in Altrincham, eight miles from the city centre. This duo of spore enthusiasts started their mushroom cultivation business during lockdown after being made redundant, and now they supply all the fungi to the Alan's kitchens.
Ancoats Gin This spirit was born out of the former industrial area of Manchester, inspired by a blackberry bush that was reclaiming an old, abandoned warehouse. Ancoats Distillery crafts classic and flavoured gins, rum and beer in what is now one of Manchester's coolest neighbourhoods.
Butcher's Quarter Meat provenance is important to Thomas and so partnering with this local artisanal butcher was a no-brainer. Their beef comes from a pair of Cheshire farms just 30 miles from the city centre, while the lamb is from Great House Farm,18 miles from Manchester.
*Images: Natural Selection Design
Continue reading
You need to be a premium member to view this. Subscribe from just 99p per week.