Whether you're on the app or not, TikTok could be having an effect on your business. Here's how to harness the platform to reach a huge audience
Scrolling through TikTok on a random Tuesday night you may see a video about a play that went hilariously wrong, a golden retriever puppy meeting its big brother, and a baby learning how to eat by herself.
As you scroll a precise algorithm analyses your responses and serves up videos to keep you engaged. Then, three men appear on the screen, dancing chaotically to the song Happiness by Alexis Jordan, with text that reads: "Things that our diners have actually said to us, heatwave edition."
The scene changes. Now, one man is dancing under the text "I only came in today because you have air con." The next says: "I'll be the same colour as you soon with all this sun." This tongue-in-cheek video is from Urban Tandoor, an Indian restaurant in Bristol, and to date has been viewed 1.8 million times. And it isn't the restaurant's only viral hit.
TikTok can be a tidal wave of a resource, pushing your content onto screens across the globe if you find a way to appeal to audiences. It's something Urban Tandoor has certainly done, with two of its videos clocking up millions of views in a fortnight.
"When a video goes viral, many people book a table straight away," says owner Sujith d'Almeida, who estimates Urban Tandoor's TikTok and Instagram accounts contribute up to 35-40% of bookings. "If you see the comments we get on videos, they say: 'I'm from Cornwall and I'll be travelling to Bristol in September and I've already booked a table.'"
How to use TikTok
TikTok is expected to reach 1.8 billion monthly active users by the end of 2022, with 23 million of them in the UK. The average user spends 95 minutes on the app every day – even more than YouTube and Instagram, according to consumer intelligence company Sensor Tower. Combine this with the fact that video is more engaging than any other type of content – 80% of people are able to remember a video ad they have watched in the past 30 days, according to HubSpot research – and it is clear TikTok is a social channel that would be unwise to ignore.
There are three stances a TikTok user can take: viewer, commenter and creator. A viewer doesn't need an account to start scrolling or searching, so it is simple to see what people are saying about your brand on the app. If you create an account, you can 'like' and comment on videos. And finally, you can take the plunge into creating, and craft your own narrative by making videos yourself.
The Big Mamma restaurant group – its London venues include Gloria in Shoreditch, Ave Mario in Covent Garden and Fitzrovia's Circolo Popolare – started making TikTok videos in spring 2022 as a way to show behind-the-scenes content and interact with customers.
Big Mamma uses the aesthetic from its restaurants to paint a picture of the brand. Chief executive Victor Lugger says it's great to be able to show off the crazy Italian team in all their glory. "TikTok ties in so well with Big Mamma, as it's about humour, not taking yourself too seriously and being very authentic," he says. "We love to twist trends, but also to share recipes, show good cuisine tricks and behind the scenes."
The brand had been gaining fame on the app even before it had its own account, as consumers shared videos of the restaurants' decadent designs, such as the red booths of Ave Mario or the bottle-covered walls of Circolo Popolare, which one TikTok creator called "one of the most beautiful restaurants in London".
And it isn't just restaurants and hotels that are benefitting from TikTok. Caterer BM, formerly Bartlett Mitchell, has had increasing success with its videos, which mainly feature chefs sharing tips such as why sifting flour is a waste of time, how to use broccoli stems to avoid waste, or how to make parathas at home.
"We spend most of our time creating original content as opposed to trying to follow trends," says Michaela Mulvey, digital marketing manager at BM, which has reached six million video views and 37,000 followers since launching its TikTok account six months ago, not to mention a 900% increase in visits to its recruitment website.
Following trends and using trending sounds can be a good way to get on a TikTok user's For You page (the app's landing page, which lists videos you may like, based on your interests and previous choices). But Mulvey has found that more evergreen content will keep a video's momentum going. "One of the greatest things about the TikTok algorithm is that older videos are still shown to users," she says. "It's not just the new content that they see."
TikTok is not just about the hard sell, says Iñigo Rivero, managing director of TikTok marketing agency House of Marketers, but is a useful tool for brand awareness when providing value to the audience. He suggests that businesses should aim to entertain or educate as a way of grabbing an audience's attention and keep them coming back.
"If you try to hard-sell something, you're not really bringing value to anyone," he points out. "But if you put yourself out there, people will say: 'Who are these guys? I love the content they make. I should check them out.'"
Let there be content
Making content may not be for everyone – it requires time, effort and an understanding of the platform to make it work. But businesses can utilise those who are more experienced.
"There's a lot of companies that don't have a TikTok account but still have influencers promoting them," says Rivero. "If you don't have the resources to run an account and have enough content, what's the point of having an empty channel?"
One of these TikTok influencer accounts is @foodngemsglasgow, run by friends Sarah and Lana, who started the channel to showcase the places they had visited following the pandemic lockdowns.
"Me and Sarah ate out so much regardless, so it was just natural to document it at some point," says Lana. They have since grown their channel to 94,000 followers and are often invited to venues to help promote them.
"Businesses let us create content in our own style," says Sarah. "We always prompt businesses to showcase best sellers or new items they're trying to highlight."
Whether you deliberately utilise them or not, TikTok influencers can potentially broadcast to millions of people, so it can be helpful to be aware of what is being said on the app.
One of the pioneers of TikTok reviews is the anonymous creator of @foodguidelondon, whose brutally honest voiceovers assess the capital's eateries. She has built up 115,800 followers and gained more than 2.2 million likes.
"You need to give your honest opinion because that's what people are looking for," the creator says. In a recent video she visited what she dubbed "London's shittest bottomless brunch", which charged £75 for what she said was "dog shit" food and not enough drinks. "It was embarrassing," she says. "I videoed every­thing that was on my plate and showed everyone what you get for your £75."
In contrast, Blacklock, a chophouse with locations across London, has featured multiple times on Food Guide London's channel and has noticed the impact from such videos. Lucy Simmonds, who manages Blacklock's marketing, says: "Our guests will come in and show examples of dishes they have seen on TikTok."
As with all social media platforms, operators cannot have total oversight, let alone control, of the content, but by joining the conversation you could bring your brand to the attention of millions for the right reasons.
What is TikTok?
TikTok is a social media platform for short videos (up to 10 minutes long, but typically much shorter) that is disrupting traditional content marketing.
The TikTok algorithm collects data on each user as they scroll through the feed on the For You page. Even if you don't follow anyone, videos will appear on an infinite scroll on the page, one after another until you choose to exit the app; the algorithm will use the way you interact with each one to decide what to show you next. For example, clicking the Like button, commenting or even watching a video for a certain amount of time will contribute to creating an overall picture of what you like. If you swipe past a video, the app will conclude you're not interested in that kind of content.
Though TikTok has a reputation for dance videos and teenagers, the content is wide-ranging and the audience large. "It's a social media platform where a lot of different generations live together. TikTok has done a very good job of separating for each person, driving content to each person depending on their age and what they like," says Iñigo Rivero of House of Marketers.
Loos of London
TikTok eatery reviewers are looking at more than just your food and service: your bathrooms are under scrutiny as well.
The account @loos_of_london visits establishments across the capital, taking requests from viewers to spend a penny at top hotels and Michelin-star restaurants.
"It's a look behind the velvet rope," says the account's founder, who chooses to remain anonymous and adopts a voice reminiscent of a Marks & Spencer advert to describe the pros and cons of each rest stop they visit. "People think they can't ever go to these loos unless you're staying there and that's just not the case."
The video that saw Loos of London rocket to fame – achieving 225,900 views and 18,900 likes at the time of writing – was the Dorchester hotel on Park Lane, while one of the most requested videos was of Sketch in Mayfair, famous for its space-disco loos.
Loos of London takes several aspects into account when reviewing a bathroom: whether or not there's a seating area, nice handwash and lotion, hand towels or a good hand drier, and decor. But first and foremost comes cleanliness – and Loos of London's visits come unannounced and uninvited.
"We like the fact that we can just pop in and we're having the same experience as everyone else. We don't want to go in after the cleaners have been in if that's not a realistic thing that's going to happen for everybody," they say.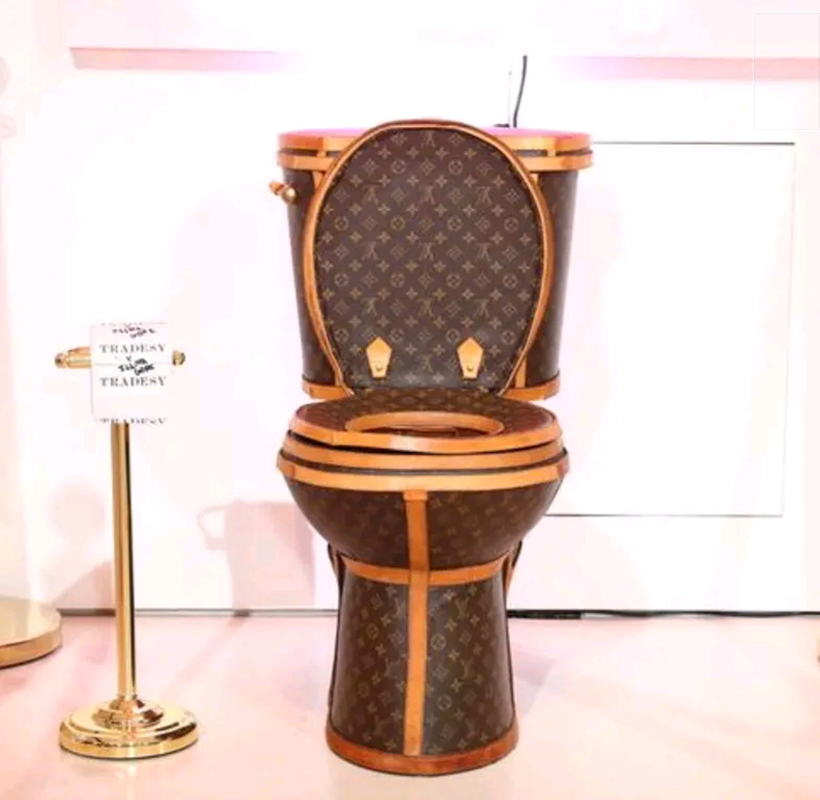 Tips from TikTokkers
"Get on board as soon as you can and start engaging with creators who are already making content about you." - @loos_of_london
"People don't care about Instagrammable pictures. They don't care if it's got a flower wall. They want good food. They want cheap food. They want food that other people haven't had yet." - @foodguidelondon
"Your talk has to match your walk. TikTok works but you have to be funny and genuine. It will be an anti-climax if you hear a lot from the video and then you go and see grumpy staff." - Sujith d'Almeida, Urban Tandoor
"The ones that are more willing to show the personality behind the business, the fan-base grows like crazy. People prefer to support people than big businesses." - Lana, @foodngemsglasgow
"You need to have someone who's running the TikTok that is very quick-witted. Once a trend starts, you have to jump on it straight away and think of how you can connect it to your business." - Sarah, @foodngemsglasgow
"Learn from other creators because you can get ideas from them." - Iñigo Rivero, House of Marketers
"Post whatever you can, whenever you can. The comments we receive on videos can be a really useful pointer to guide future content." - Michaela Mulvey, BM