Cost control is now down to the nitty-gritty: examining menus, opening hours and interrogating spend. The Business Leaders Report by CGA and The Caterer looks at how operators are planning for future price rises
As the hospitality industry contemplates a seismic shift in input costs, with the tremors set to be felt long into the future, business leaders are grappling with priorities that vary in magnitude daily.
When the survey for the 2022 Business Leaders Report, powered by CGA, was undertaken in August, the climate was certainly calmer, but the main trends remain familiar, with 82% of the bosses surveyed concerned about the cost of living for their customers and 87% concerned about food and drink inflation. Those anxieties have certainly not eased in the past two weeks.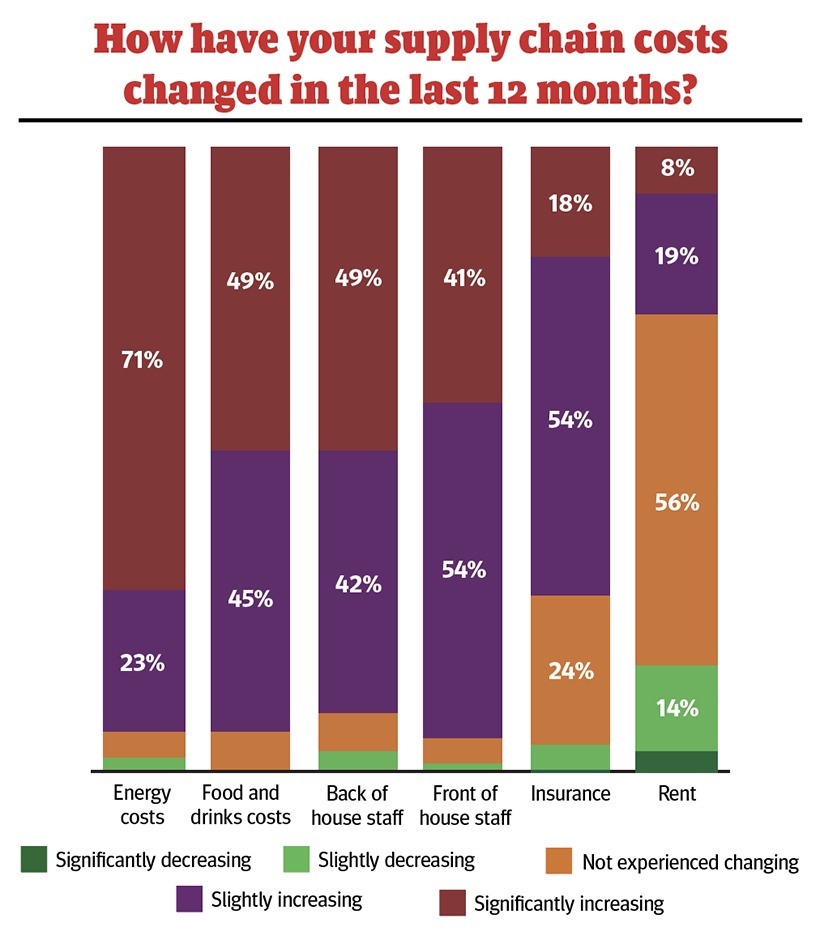 According to David Reid, founder and chairman of Prestige Purchasing, the concerns of operators are being borne out already. "We speak to operators every day across hospitality, and while the hotel sector is living off the cocaine of fantastic room rates, those totally food reliant are definitely seeing lower attendance," he said. "Though there seems to be a consensus that when people are coming out they are spending more."
Unsurprisingly 73% were concerned, of which a third were very concerned, about VAT having returned to 20% – but with the tax barely mentioned in the recent mini-budget, there seems little short-term chance of any movement. But VAT worries have been superseded by the less predictable pressures of food price rises and rapidly rising energy costs.
Zero Procure founder John Stevenson said the whole supply chain continues to be distracted by sometimes unsustainable cost increases.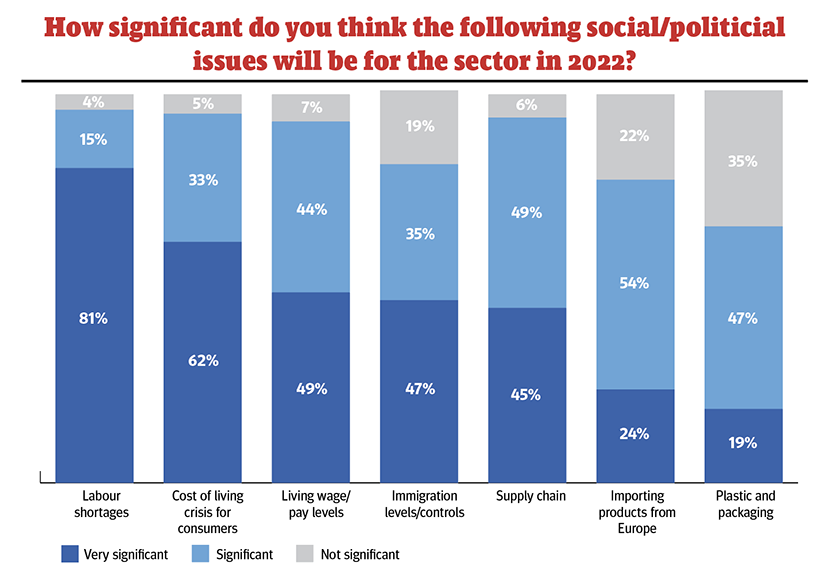 "While fuel has come down from its peak you can't be sure that's where it's going to stay," he added. "There is no magic bullet that will turn things around. This is a permanent shift. That creates a problem for some businesses as there's only so much you can charge for an English breakfast."
That point is certainly born out by the business leaders who reported that energy costs were their greatest concern, with 71% of respondents saying they were significantly increasing and 49% seeing significant rises in food and drink. The quandary for operators is how to pass on this cost without pricing their offer out of the market.
"This is the ultimate catch 22," added Reid. "You have consumers pinched for income and the retail market is feeling the pinch already, so they are being very sensitive of price. They can afford to be. The difference is that retail wasn't decimated like hospitality in the pandemic.
"Many operators are carrying weak balance sheets with large amounts of debt and low cash, and eroding profit margins will be really tough for them. They need to put up price but are afraid to do it because of the impact on precious consumer spend."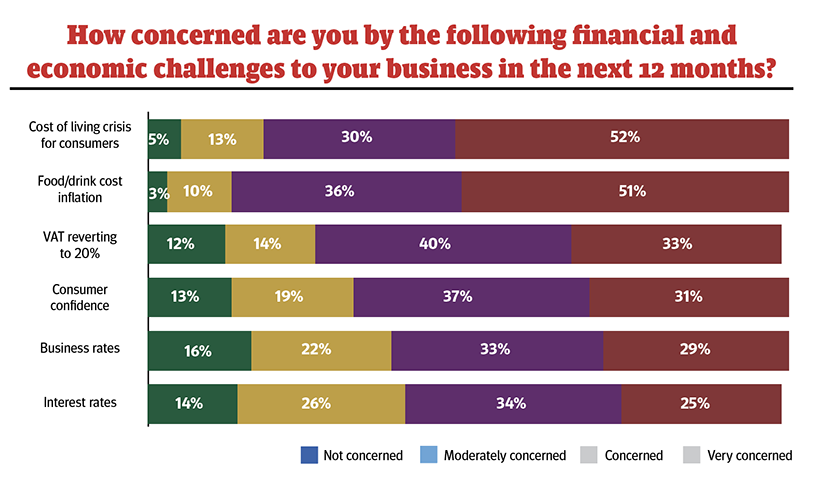 So while operators will continue to make regular and small increases to menu items, they must also work hard on the efficiency of their menu. Reid added that the most recent Foodservice Price Index (FPI) reported that inflation was 15.2% in August. He said: "I think we're approaching the peak, but our prediction is that FPI will continue to rise between September and October before we see a gradual decline throughout 2023. But just because inflation will come down the price won't come down. It just means prices will go up less quickly."
As a result, operators are interrogating spend across all areas of their business and, where necessary, changing operational procedures. "A good example is a normal lunch service," added Stevenson. "Typically it is 12-3pm, but operators might consider 12:30pm-2:30pm to save the amount of time the ovens are on." Meanwhile, menus are being tweaked to substitute items such as lamb and salmon, which have shot up in price. The report found that operators were increasing menu prices by 15% on average, which tallies with the FPI figure.
Reid said: "There is only one category going down in the FPI and that's sugars and jams. What we are seeing is people also realising they can make better margins on vegetarian and vegan dishes. We're working with a client who's biggest selling line is a beefburger and has introduced three sliders to accompany it: one with beef, one half and half beef and vegetable and one vegetarian. The trio is priced lower than the beefburger and it is now a bigger selling line. So we're seeing lots of creativity."
Stevenson added that operators should also consolidate their supply chain so they specify more volume and can negotiate better deals.
"Some operators will need to adjust the menu so that the resource they need to support it is not as high," he said. "Reducing the number of dishes while still giving reasonable choice to the customer is important. Labour costs are in your control, while energy prices tend not to be and we're still not clear on the support package."
Despite all the pressures, there are some rays of light according to Stevenson.
"Hospitality is nothing if not resilient," he said. "They have to find a way to fight through it. People will pay a bit more – their wages have gone up too. You have to think the country is a more attractive tourist destination because of the weak pound. There is the hope that demand may balance things."
The Hospitality Business Leaders Report
The Caterer's Hospitality Business Leaders Report, powered by CGA, surveyed more than 500 top bosses from across the restaurant, hotel, foodservice and pub and bar sectors. They were quizzed on how confident they are about their markets, how their business is performing, what their priorities are for the year ahead, the trends they are experiencing, and what they think are the biggest challenges and opportunities for their businesses.
Go to www.thecaterer.com/insight to download your copy
Continue reading
You need to be a premium member to view this. Subscribe from just 99p per week.