The key findings of a study by Umbrella Training, in association with the University of Greenwich and BusinessLDN, into young adults' perception of hospitality as a career choice
"Young people's expectations of employers have changed exponentially since the pandemic," says Adele Oxberry, founder and chief executive of Umbrella Training. "As well as the misconceptions about salaries, there is a lot to be said about the culture of our sector, and the perceptions young people have around how difficult and unsociable it can be in terms of the hours they work."
While there are lots of anecdotal explanations for the difficulties in recruiting young people to the sector, Umbrella Training's aim in commissioning this research, which surveyed more than 2,000 people between the ages of 14 and 21 across the UK, was to try and truly understand what perceptions of hospitality are. The study sought to collect some hard evidence and data, and to "get under the skin" of young people, to understand why they might not see the sector as an employer of choice, to identify their career aspirations, and what it is that they want from employers.
Straight talking
The research highlights the fact that Gen Z have very clear expectations of their current and future employers. They expect employers to provide clear and useful information about the job and the organisation, including salary range, opportunities for flexible working and career development.
They also expect to be given clear guidance on all the steps required by an inclusive recruitment process. Stable and secure jobs, remote or hybrid working, and flexible working conditions are desirable too.
This presents an opportunity and a challenge for hospitality. The industry can offer the flexibility being sought and needs to be able to demonstrate the breadth of careers, the work-life balance and the dependability that young people want.
The unprecedented circumstances of the past two years have impacted Gen Z's views of careers in the hospitality industry in both positive and negative ways. A total of 32% of respondents agreed that their opinion about a career in hospitality has changed since the pandemic. Only one in 10 were willing to choose a career in hospitality. Reasons for avoiding the sector included the perception of low pay, lack of knowledge of hospitality roles, insufficient skills, lack of respect, and unsociable working hours.
However, many young adults felt that the pandemic has highlighted how important hospitality is to the economy and society at large. The sector was seen as making people feel happy, and offering a fast-paced and fun working environment, with opportunities to travel and work abroad. For this generation, training opportunities, skills development and clear, consistent messages about promotion and pay rises are also very important.
Young people want to feel challenged and be heard, whether in their commitment to tackling climate change or their desire for sustainable, diverse, equitable and accessible workplaces. Businesses offering mental health support and that encourage and support teamwork are also sought after. If these qualities can be capitalised on, then the future of the hospitality sector looks bright.
Perception shift
The key findings of the report show the changing perceptions of an industry that has been heavily impacted by job losses, business closures, loss of talent, recruitment challenges and cost increases. The sector received both positive and negative coverage during the pandemic, highlighting its role in supporting communities on the one hand, but also showing that many businesses have been put at risk. Consequently, only one in 10 of those surveyed said that hospitality was their career of choice (see Figure 7).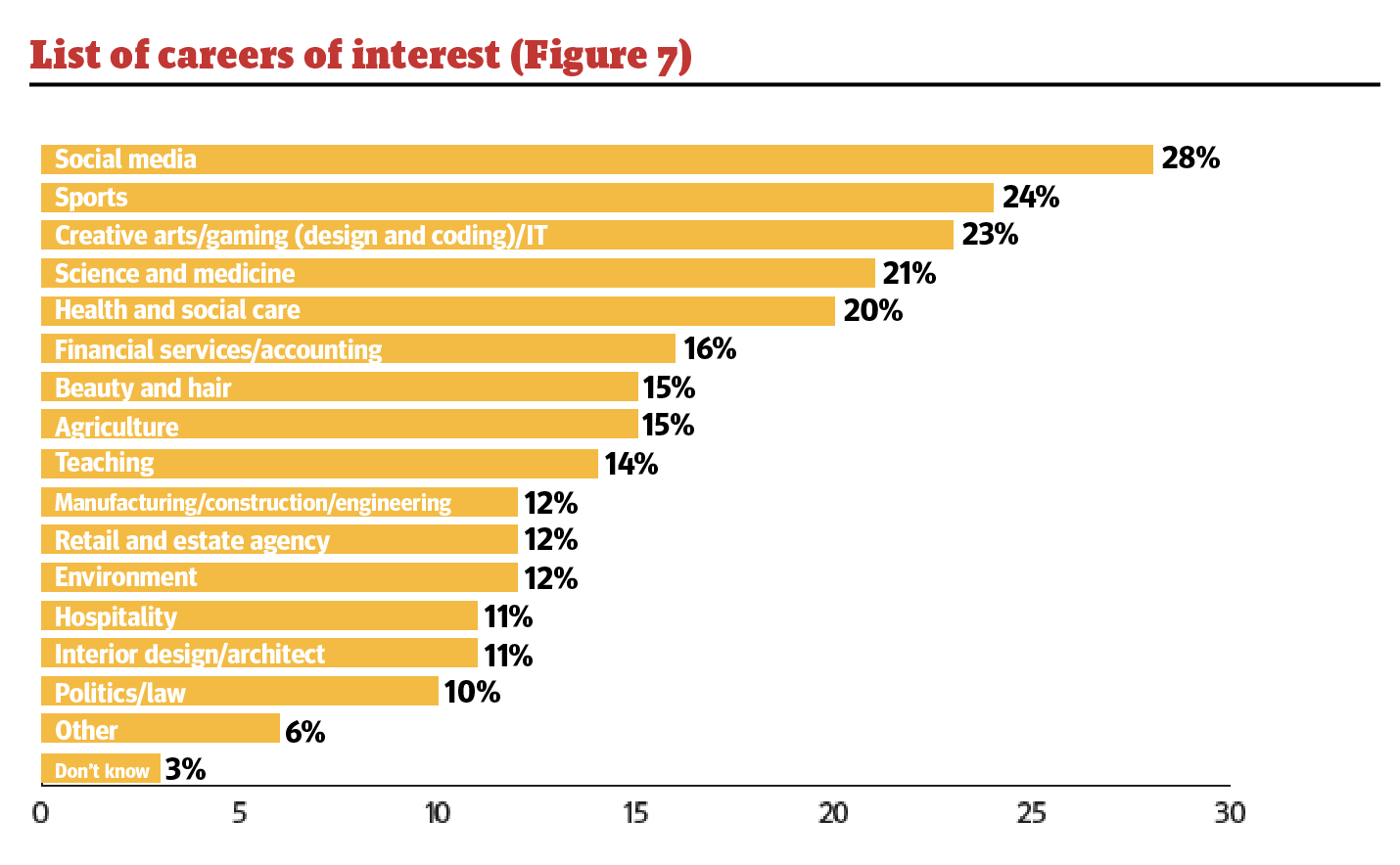 However, there were also positive comments about a career in hospitality. One respondent said: "I have become more positive about hospitality as a career path due to all the hard work they put in through the pandemic." Another said: "Hospitality careers would be safer on average, as they would have more rigorous hygiene standards." And another pointed out: "I think it has a lot of opportunities and variety." Reflecting on Gen Z's choice of career, Simon Drake, general manager of hotel in South Kensington the Other House, said: "Seeing that young people aspire to work in the social media and gaming industries well before any kind of service industry, we must fight to ensure that we are up to date and using the latest technology at every level including via our recruitment, onboarding and retention platforms.
"With over a third of those surveyed stating that they do not know enough about hospitality to consider it [see Figure 4] and a third stating it would not be an industry for them due to perceived low pay, there is clearly a significant amount of educational work to be done by local government in synergy with our industry."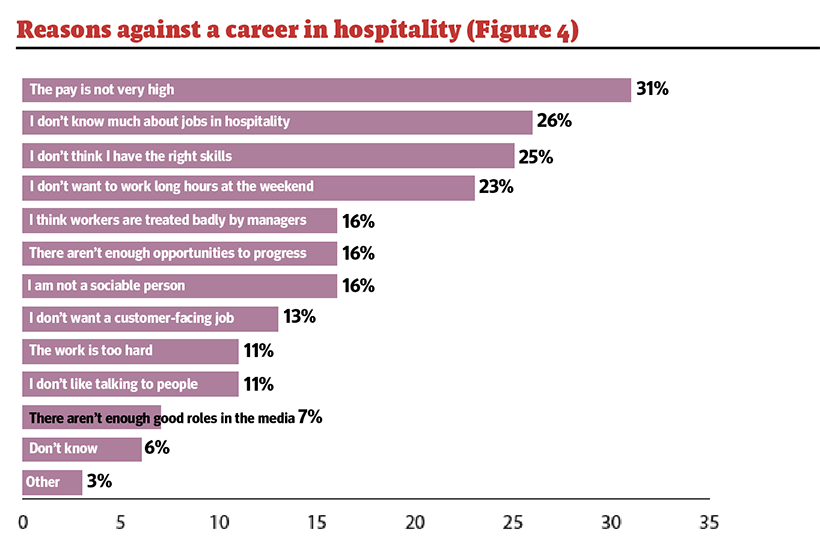 A foreign land
A staggering 21% of respondents had no work experience at the time of completing the survey, implying that the world of work – including the work environment, day-to-day duties, organisational culture, and workplace challenges such as working with people from diverse backgrounds to name but a few – is an unknown territory to them.
When asked which job roles they associated with hospitality (see Figure 2), respondents most frequently chose waiter/waitress (63%), followed by barista, chef, receptionist, housekeeper, and concierge/porter (50%, 47%, 45%, 43% and 32% respectively). These results suggest the respondents have limited understanding of the different types of hospitality jobs available.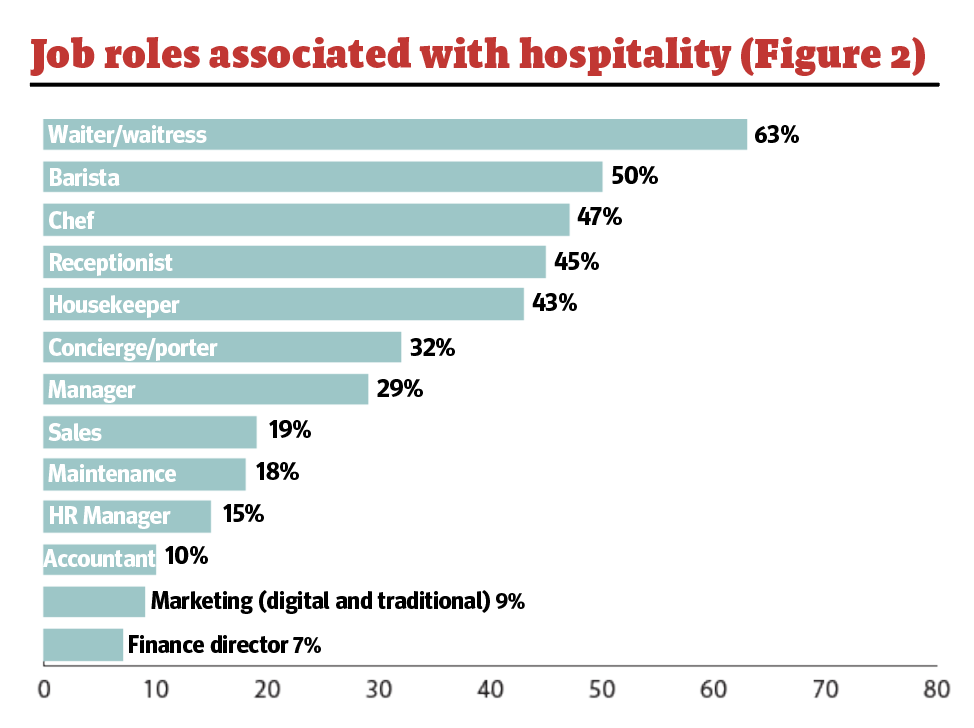 The main reasons for not choosing a career in hospitality (see Figure 4) were perceptions of low pay (31%), lack of knowledge of jobs in hospitality (26%), insufficient skills (25%), and often working long hours during weekends (23%). Employers can tackle some of these objections by being explicit about the salary ranges or rate per hour when recruiting staff, adding details about non-financial benefits such as on-the-job training, skills development and mental health and wellbeing support, which was an important issue for the Gen Z cohort surveyed for this report.
Sharing the company vision in the job advert will also help to attract candidates whose personal values align with those of the business, ensuring a better employee-employer match from the start.
It is also worth noting that young adults expect to be treated with respect by managers, want ample opportunities to progress and develop their careers, and may not feel comfortable in a role that requires social interaction with customers.
One way to mitigate this and improve the overall image of the sector is by seeking a diverse pool of role models or influencers from within the industry who can share their own experiences to help attract young people to hospitality.
Apprenticeships and placements or shorter work experience opportunities during university or college can aid in changing negative perceptions about the industry, and ensure young adults are supported and nurtured in their endeavours to find the most suitable career.
Clear expectations
Gen Z have very clear expectations of employers. They put equal value on a good starting salary and flexible working hours (see Figure 6). Their salary expectations at the start of their careers begin at £300 a week and rise to £600 a week within the first five years.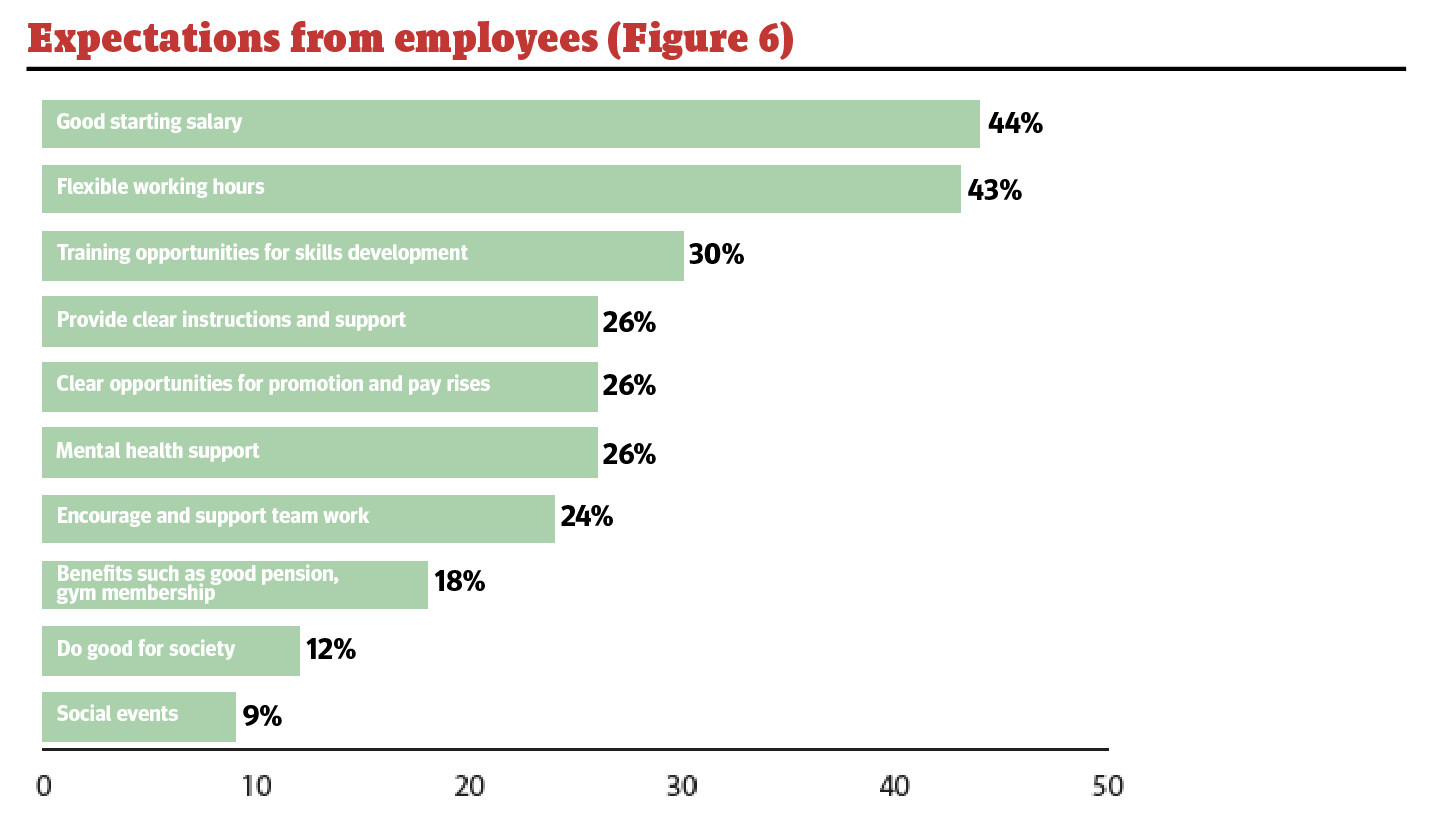 Gen Z have equally clear expectations of the recruitment processes. Since Gen Z are the first generation to have grown up with advanced technology and social media, it is no surprise that when job hunting, 73% of respondents used online channels, including job sites, recruitment agencies, and social media/influencer pages (see Figure 3). For Gen Z respondents, job stability, security and safety are critical when considering their future careers. Over half of the respondents, 59%, would consider working between one and three years before applying for a new job.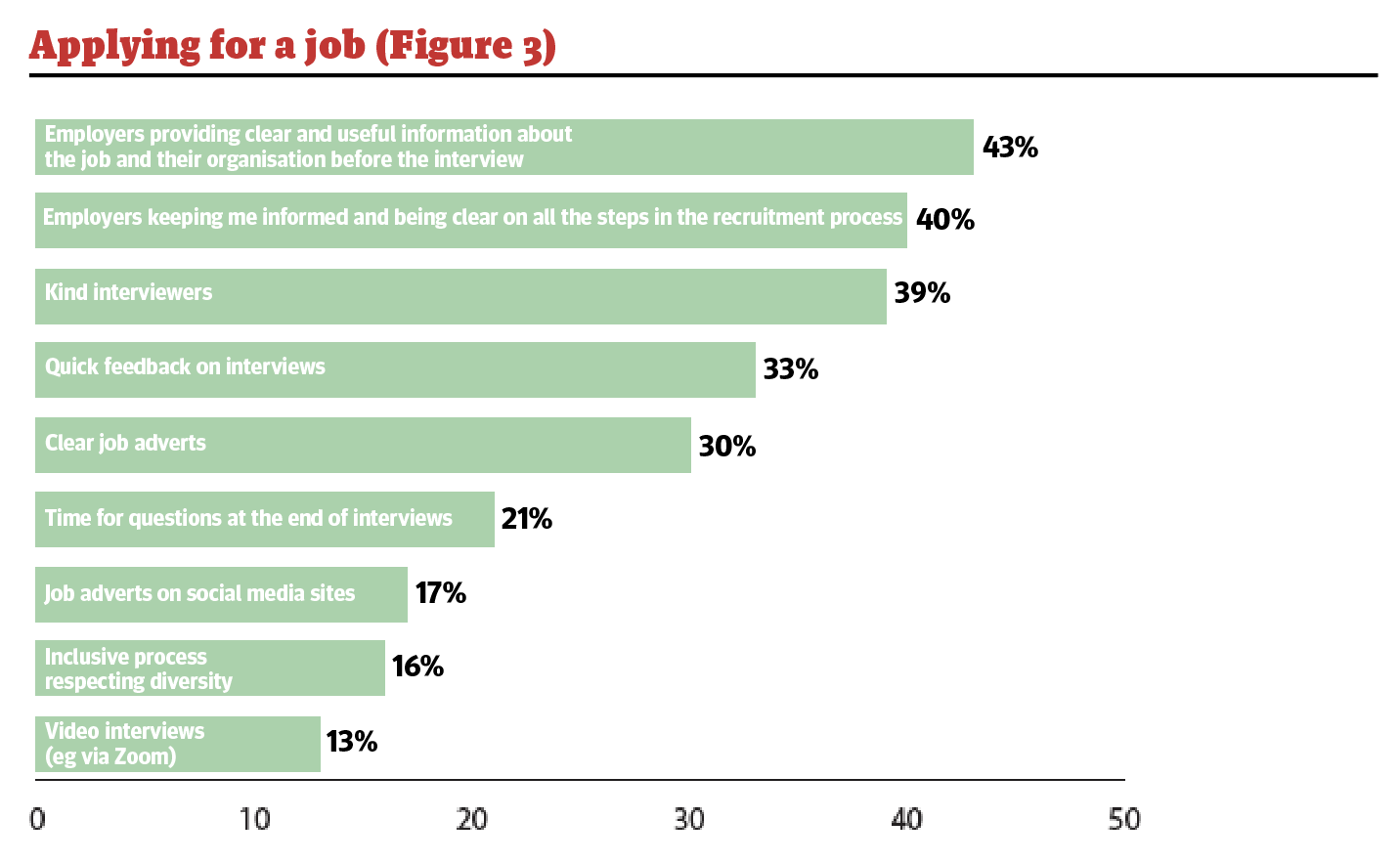 The lessons
Oxberry said: "A major learning is that we must all display more empathy with the next generation of employees. It is a vital ingredient that this generation needs to thrive – and stay. Organisational development strategies must include the analysis of individual needs of this generation and create career pathways based on their own values.
"We need to look at the characteristics of individuals instead and not just traditional business roles. Individual skills and values need to be at the heart of future employment and personalised.
"The next generation show they are more active when it comes to wider societal issues than any other before. People want to work for businesses that share their beliefs and values.
"Salary is so important in this too, as it equates to what is perceived as the monetary/fiscal value of our time and skills."
Low pay won't work
Steve Rockey, people director of Home Grown Hotels, added: "Based on the feedback from this survey (see Figure 1), the current apprentice rate will do little to attract or retain the talent we need for the future of our industry. £4.81 an hour, equating to an annual salary of £10,000, falls well short of expectations, and employers should take this into account when planning their apprentice programmes.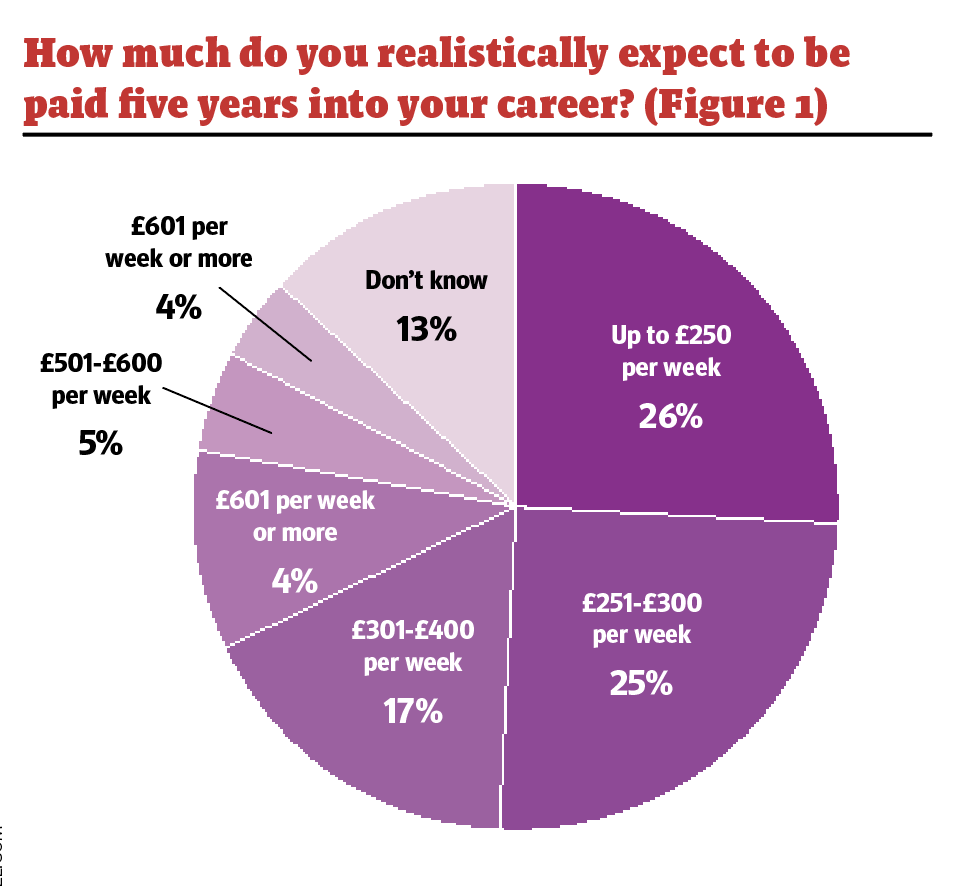 "More broadly, 31% of respondents believed sector pay was low, and yet more than a quarter didn't really know much about hospitality, showing that this perception isn't based on knowledge or facts. It's our job to educate how incredibly lucrative hospitality careers can be.
"The expectation of earning over £600 per week or £31,000 per annum within five years seems achievable when you look at the full benefits packages available across the industry and with more employers committing to the Living Wage.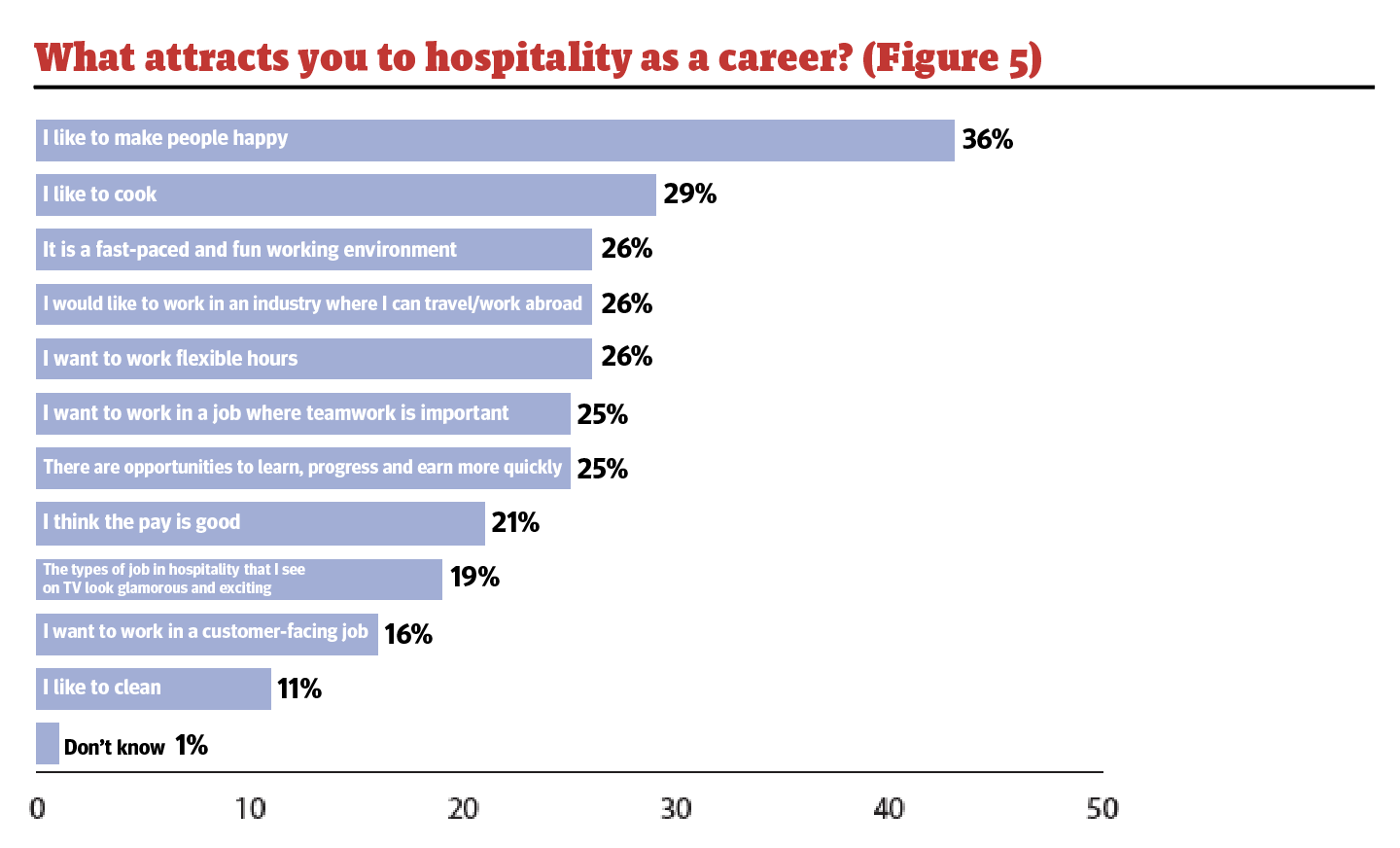 "Reading this report, I feel reassured that the hospitality industry remains well placed to develop its people, give them skills for the future, pay them well, and provide opportunities and a lifestyle that very few industries can match."
Continue reading
You need to be a premium member to view this. Subscribe from just 99p per week.