American brands have found UK success, with more openings in the pipeline. Here's why they're igniting cravings country-wide
Despite the onslaught of business closures, rising food price inflation and spiralling energy costs, North American QSRs (quick-service restaurants) have managed to stay surprisingly bullish in a ruthless UK market.
Over the past five years, Texan chicken wing brand Wingstop, Canadian coffee and pastries chain Tim Hortons and, more recently, Louisiana fried-chicken concept Popeyes have been accelerating their UK expansion plans.
Last March, Popeyes announced that it aims to open 350 locations in the UK, including in Liverpool, Cambridge and Brighton. Wingstop has opened 25 stores since it entered the British fast-food scene in October 2018. Meanwhile, Tim Hortons unveiled its plans to open nine more restaurants in the run-up to Christmas.
The new wave of North American brands have achieved cult status among British residents, following the likes of Five Guys and Shake Shack, both of which crossed the Atlantic in 2013, as well as the 'OG' 1974 entrants, McDonald's and Burger King.
For example, when Popeyes debuted in London's Stratford last November, it became the highest-grossing Popeyes restaurant globally out of 3,600 sites. It has since opened more than 10 restaurants in the UK. Tom Crowley, chief executive of Popeyes UK, said: "In Oxford, we sold 2,000 chicken sandwiches in the first day, and we'd have done a similar number in Nottingham as well. People were literally camping outside of the Nottingham doors at midnight."
Constant craving
What is causing this nationwide craving for Popeyes' spicy chicken sandwiches, Wingstop's Brazilian citrus pepper chicken tenders and Tim Horton's chocolate brownie doughnuts, especially when consumer confidence is at a record low, having hit -44 this August according to GfK's Consumer Confidence Index? Simon Chaplin, senior director of corporate pubs and restaurants at commercial real estate agency Christie & Co, said: "US brands in QSR seem to be very much in demand. People are downgrading in some respects to just going out for a burger or whatever it might be, and if you make that slightly less than what it was before, then they'll be treating a trip to McDonald's the same as a trip to a Toby Carvery."
When times are tight, people do want to treat themselves to good value offerings
This is echoed by Kevin Hydes, chief commercial officer of Tim Hortons UK & Ireland, who explains that the brand, which currently operates 65 UK sites, has been able to tackle financial pressures by being "really creative on costs".
He explained: "We're an affordable dining experience. We can cater for great breakfast options and we have things like a breakfast meal deal, which in some locations is as cheap as £2.99."
Chaplin also highlights the importance of the franchising model, which "was not looked on in the same way that it is now" in the UK.
It is no coincidence that these chains started emerging in 2017, the year that private equity firm Bridgepoint signed a 20-year deal to become UK master franchisee of Burger King, an affiliate of Restaurant Brands International, which owns Tim Hortons and Popeyes.
Tried and tested
The appetite for franchising continues to grow, with a spokesperson from Wingstop revealing that the huge potential with the UK market stemming from "GDP, protein preferences around chicken, perceived ease of business, and calibre of franchise operators" convinced the brand to take a minority stake in the UK franchise business Lemon Pepper Holdings last year.
Chaplin added: "Franchising has been taken on by big players; they see that their investment is safer in a franchise model because you know you've got brand support, you know you've got worldwide marketing, and you know the customer's got brand awareness before you've even opened the door.
"Nine times out of 10, it's going to be tried and tested. That's the big advantage of franchising; it's something that we are getting more and more involved in. We can see the market growing."
But operators themselves still need to test the format after they open – be it the menu or the mode of dining – to understand the unique demands of the British customer. For example, Popeyes has put a greater emphasis on its vegan sandwiches for the UK, while it almost didn't launch the biscuit, essentially a scone served with chicken.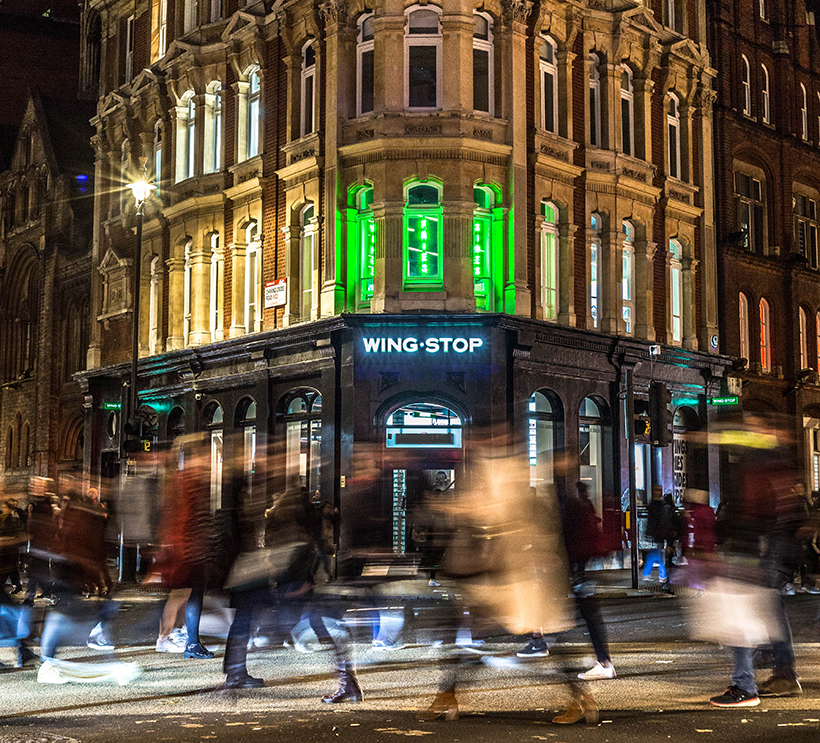 Crowley explained: "The initial research said don't do this [because] this is just going to be too weird for the UK. And then we said it's authentic, that's what we're being asked to do, so we put it in, and we're selling thousands. We brought shakes into the business – they don't do shakes in the US – and shakes are now going back into some of the other markets."
Similarly, Tim Hortons provides broader meal options in the afternoons and evenings, such as its crispy chicken sandwich, while Wingstop UK says it "has been built with a Gen-Z audience in mind with contemporary environments, music lifestyle associations and exciting dessert ranges like churros".
Drivers licence
Tim Hortons has 65 restaurants, 49 of which are drive-thrus, the first having launched in Manchester in 2018. Popeyes also sees drive-thru as a big opportunity as it is "not a very mature market compared to other places like the US", says Crowley. The brand has plans to open between five and 10 drive-thrus in the next year as a result.
It's not just a trend for the new wave. Alasdair Murdoch, chief executive of Burger King UK, which now has direct ownership of 278 of the 536 Burger Kings in the UK, added: "We expect that two-thirds of our openings will be drive-thru or drive-to restaurants over the coming years." He is keen to implement more digital developments, such as self-ordering kiosks, click-and-collect and loyalty schemes.
As a long-time front-runner of the North American QSR sector, Burger King has seen "huge changes" in the UK market. Customers have greater awareness of "quality, convenience and environmental issues", which has required the brand to offer a "range of menu options, from meat to plant-based, providing transparency of ingredients and nutritional information," says Murdoch.
The next challenge, of course, is inflation. For Burger King, this isn't new. Murdoch said: "QSR is a resilient sector, and we've seen previously that when times are tight, people do want to treat themselves to good value offerings. If we look at our performance versus 2019, we are in good double-digit like-for-like growth, which we intend to continue."
Continue reading
You need to be a premium member to view this. Subscribe from just 99p per week.