The Nightjar cocktail bar has opened a second venue in Kingly Court, in London's West End, moving away from the prohibition aesthetic towards the rich history of music venues and art deco glamour.
The space has been designed by Emily Potter and Iwan Halstead, founders and directors of Daytrip Studio, who were tasked with maintaining the DNA of the original east London bar while moving it on to a new iteration.
The West End location, just off Carnaby Street, has formerly been a music hall but essentially posed the designers the challenge of injecting a 1930s aesthetic into a concrete bunker.
Potter says: "We knew we wanted it to have that beautiful elegance of a historic space and so we have borrowed from art deco, but only took the elements that feel relevant. We looked at original music hall venues and there are so many stunning examples from the 1930s."
The intricate patterns of Jean Dunand's smoking room 'Les Palmiers', designed for a Parisian apartment in the 1930s, also provided inspiration, along with the lacquering effects and colours of Katsu Hamanaka's furniture.
The designers set about creating an architectural rigour for the space around a central stage, which is the first thing a guest sees when entering. Coffered ceilings and columns were created to "reinject a feeling of geometry" and provide a framework for materials and lighting.
Potter says: "We picked textured materials that take the light beautifully because it's a dark space. We went for a cork wallpaper, which we sourced in Belgium and it's tobacco dark, but it's got these little shiny elements and it's so special."
The palette of chocolatey brown and reds was inherited from the east London bar but softened with the injection of rust colours and rose pinks. The lighting takes inspiration from 1930s glass cast Holophane lights, with half globe wall lights mounted around the space and little round discs set above the bar itself.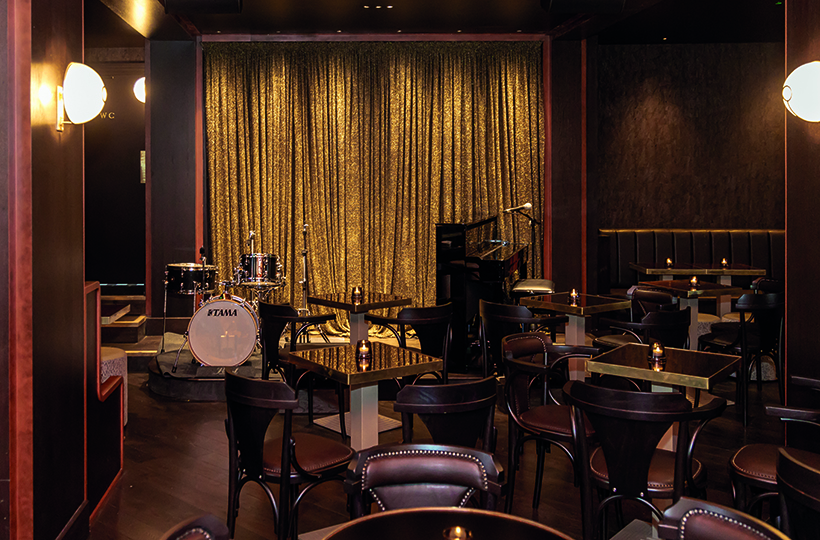 The venue also features three etched mirror panels, created with illustrator Henry Thorold, featuring birds in flight. Potter says: "We looked at Murano glass and Venetian designs and created these lovely scenes with birds. They radiate light but are quite subtle and calm".
Banquette seating snakes its way around the space, creating intimate pockets with tables and chairs in the centre. Potter says the designers took particular care to build 3D models and use mirrors to ensure that all seats would have a view of the stage, so no one would feel they were in a second-rate spot.
The space has two bars. Potter says: "The back bar is set under the stairs, so we needed the staircase itself to lend a bit of glamour and interest. We created a fret metal design, which has the double impact of being decorative when seen from the bar but also reflecting the light on entry and piquing interest. The client loves the American bar at the Savoy so there is a little nod to that as well, it's a beautifully lit space that glows and really showcases the spirits and drink-making."
She adds: "It all comes together to create this overall ambiance; the spirit of the bar is suddenly created when the first people arrive. On opening night we had a moment of 'oh yes, it's taking on a life of its own'."
Imagery: Ersah Hancer
Continue reading
You need to be a premium member to view this. Subscribe from just 99p per week.