Drinks interview: Hebe Richardson, Soda & Friends, Canning Town, London
London's Canning Town has a new bar in the shape of Soda & Friends, a highball-focused joint from the team behind Nebula. Millie Milliken catches up with co-owner Hebe Richardson
What was the idea behind Soda & Friends?
It started three years ago. There are three of us, Nate [Brown], Imie [Auger] and myself – we have always loved drinking highballs and thought there weren't enough of them out there. They're a great way to showcase spirits – not everyone wants to sip spirits neat to get their nuances – and highballs can really highlight those flavours in an accessible way.
The decision to serve non-highball cocktails too was because we wanted people to have other options, as your drinking journey can change throughout the night. They're inspired by classic cocktails or flavours we've come across – like the Sesame Street, which is all about sesame oil, as it works so well in a Martini-esque drink. We also love sustainable practices and supporting under-appreciated businesses to give them a chance to shine.
Why do you think highballs are gaining more traction?
They are refreshing and easy. Not a lot of people want that really boozy hit – they enjoy having an alcoholic drink but don't want to be slapped in the face with alcohol. It's such a nice way to drink and it works with everything, agave spirits, whiskies, gins, vodkas and more.
How did you decide on the residential location of the bar?
One of our business partners owns a company which finds venues and connects them with landlords and people like us, so it was him who discovered it and put us in touch with [property developers] Ballymore. At that time nothing was there so it was a chance to bring something to the area for people moving in. I'm a big fan of neighbourhood bars and we're meeting a lot of the local residents who live right above us.
What did you want to achieve with the design?
We wanted it to feel like home. W've seen the flats that Ballymore had built, so we know what the homes on London City Island look like, so we wanted to make sure the local people felt they were coming to their second home. The walls are light, there's a really neutral colour palate to let the drinks pop, it's not too busy or overwhelming and it gives people a sense of calm. There are little details like the bar top, which is made from recycled glass and plastic that has been fished out of the ocean, and we've done a custom room spray – there are loads of little touch points across the venue to elevate it.
How do you use social media and marketing to bring people to the bar?
We had a concept that was born three years ago. We had a long build up and we were conscious of not saying too much before we were ready. We spent time building mood boards, decks and a social media strategy and held off until the last minute.
It was really about making sure we didn't announce anything until we knew there was a short enough time to keep the momentum and the flow. Social media and word of mouth are our main strategy and we are very conscious that we are speaking to a local audience and we can do very targeted marketing using social media.
You've just opened, but any learnings so far?
We've found people are visiting a lot more regularly than we were anticipating. We knew we wouldn't do long-term menus, but we're going to change up the menu sooner than anticipated so guests have something new to try. We're already working on the next edition – there are so many different things you can do with highballs.
Seasonal food and drink pairing: Billecart-Salmon Brut SAB NV Champagne + roast lamb
With lamb being the choice of meat around this time, many think of a red wine to pair with a roasted joint. But something a little bit different and refreshing is a rosé – and Billecart-Salmon Brut SAB NV Champagne works wonderfully with lamb – bright strawberry and cherry notes with a smooth and full body make this fizz a lovely accompaniment.
Cocktail of the week: the Blue Boy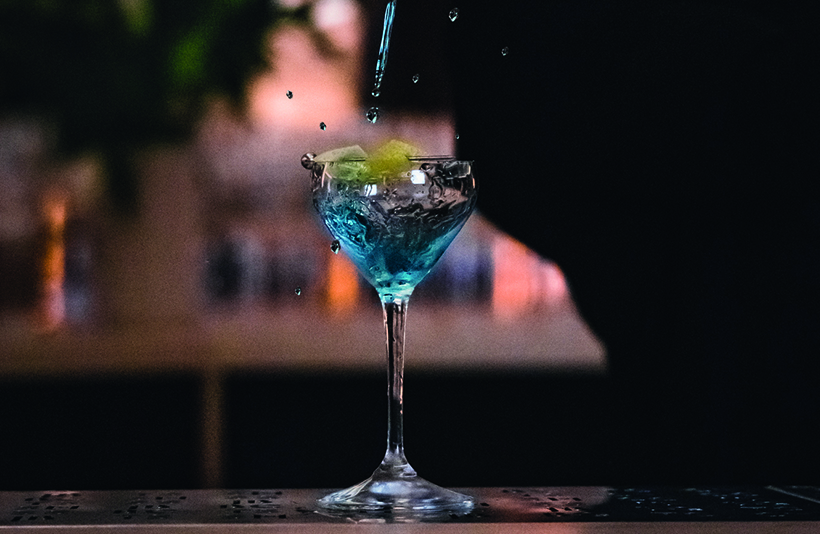 Park Row, London. Head of bars: Dimitrios Gryparis
Lychee liqueur
30-50 lychees
100ml Bombay Sapphire
200g caster sugar
The Blue Boy
30ml Bombay Sapphire
30ml lychee liqueur
30ml Blue Curaçao
1ml absinthe
Lemon peel
To make the lychee liqueur, add the lychees to a vac-pack bag with the Bombay Sapphire and caster sugar. Seal and sous vide for eight hours at 45°C. To make the Blue Boy, add the Bombay Sapphire, lychee liqueur, blue Curaçao and absinthe to a Nick and Nora glass. Stir until chilled and garnish with lemon peel.
Continue reading
You need to create an account to read this article. It's free and only requires a few basic details.