UK hotel transactions surpass £1.5b in first quarter of 2022
UK hotel transaction volumes have exceeded £1.5b in the first four months of 2022, property consultancy Knight Frank has said.
This is over the 40% of the value recorded in H1 in 2021, indicating the sector's recovery from the pandemic.
Transactional activity bounced back in all areas of the UK, with London accounting for £750m of hotel transactions and other UK regions over £800m.
It comes after Knight Frank revealed in March this year that Edinburgh saw the highest level of investment after London.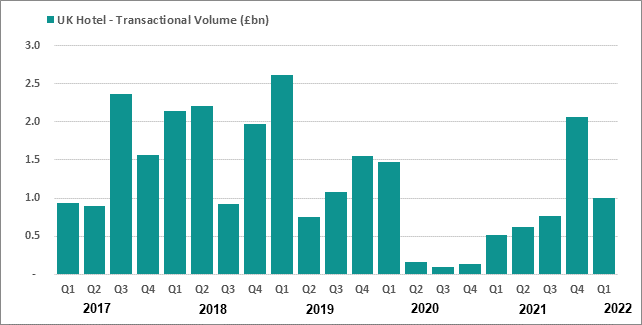 Portfolio hotel transactions have increased significantly from last year, taking up almost 65% of the sector's investment activity, which equates to more than 4,200 rooms.
Figures for London were boosted by the £420m sale of Point A Hotels, as well as Frogmore and C1 Capital's joint venture which saw them acquire three hotels for £150m, including the Hilton London Olympia.
Meanwhile, the sale of the Pig hotel group, the Inn Collection Group and Chardon Hotels all contributed to strengthening regional UK investment activity.
Private equity investors have continued to spend over £1b on UK hotels, with deals structured to encourage former owners or management teams to maintain an interest in the day-to-day operations of the businesses.
Philippa Goldstein, senior analyst – hotels & leisure at Knight Frank, said: "The latest available trading data for the period to the end of March 2022, confirms that the sector continues to make a robust recovery.
"With investors taking a long-term view, buoyed by the upturn in the cycle, investment levels are expected to remain strong throughout 2022, despite quality, sizeable single asset hotel stock remaining in short supply."
Henry Jackson, head of hotel agency and partner at Knight Frank, added: "A wealth of capital continues to be deployed for assets in prime destinations, and those which offer value-add plays remain highly sought after. With sterling having depreciated to US $1.26, its lowest level since June 2020, UK hotel real estate is set to become notably cheaper for some overseas capital.
"In particular, US investors are likely to remain for a second consecutive year, the greatest source of overseas hotel investment into the UK, having invested over £850 million in 2021."
Image Credit: Dragon Images / Shutterstock