Decoration and sauces can transform plain desserts into star performers fit for an Instagram grid. Here are the latest flavours
The explosion of dessert houses in the UK is a lesson for operators: desserts are big business. Creams Cafe, which was founded in 2008, now has 100 franchise outlets across the UK, and says it wants "to deliver wow with every interaction or interface." It's also game on for rival chains Kaspas, Treatz and Heavenly Desserts, to name a few, all of which serve up flamboyant sweets.
So how do you get in on the action and make sure your dessert offer is the best on this increasingly crowded block? Well, everyone agrees that in the age of Instagram, low-key is not the way to go.
Desserts that offer a wow factor or an element of theatre appeal to consumers, comments Anna Sentance, gourmet marketing manager at Callebaut UK and Ireland. For operators looking for a simple way to elevate a dessert, decorations can be an effective way to add a touch of luxury, she suggests.
Macphie's insights and marketing manager Kirsty Matthews advises: "Craft over-the-top, hyper-visual concepts that are worthy of a place on an Instagram grid. Use colour, decoration and statement serveware to make daring desserts.
With the rise of social media sharing, consumers are looking for dishes that are worth showing off. The notion of indulgence lends itself well to the desserts category so there's plenty of room for creativity." Consumers are looking for originality and novelty, and dishes they can share with friends, says Jenny Baillie, business development and marketing manager at Bling Ingredients, supplier of frozen cookie dough chunks.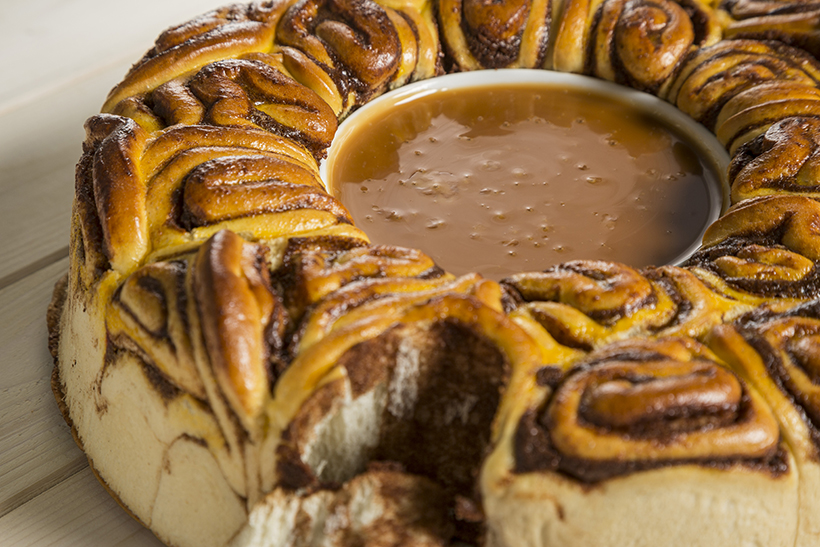 Demand for hot cookie dough-based desserts is booming, she says. Desserts consisting of warm, part-baked cookie dough, such as a pizookies (pizza cookies) can be served with ice-cream, sweet sauce and toppings.
Caffeine kick
Aside from appearance, desserts also have to sound the part on the menu, and exciting or on-trend flavour combinations and ingredients will get tastebuds buzzing.
Kevin Hughes, country manager UK and Ireland at La Lorraine Bakery Group, says coffee continues to be a trending dessert flavour, and the Callebaut Dessert Report (CGA data, 2021) suggests that chocolate is the number one dessert flavour, with 35% of consumers finding chocolate with Belgian providence most appealing, Sentance reveals.
While chocolate may reign supreme, Josh Laurier, operations director at the English Cheesecake Company, identifies a trend for twists on classic flavour combinations. "Customers are often torn between traditional treats they know and love and the ones that they might not have seen elsewhere. As such, providing tradition with an innovative twist is often the best of both worlds," he suggests.
For example, the company's best-selling red velvet cheesecake is a cake and cheesecake combo. Red velvet sponge is sandwiched between two layers of vanilla cheesecake, with a layer of fudge on a crunchy chocolate biscuit base.
Happy hybrids
Alongside these hybrid products, on-trend flavour riffs are also pleasing to customers: "An amazing flavour combination we're using a lot at the moment is miso caramel," says Rob Owen, executive business development chef at Creed Foodservice. "This is a great example of a trending ingredient being used with something familiar to create something that feels nostalgic but with an element of excitement and novelty."
Tapping into key flavour trends is easy with crème brûlée, says Matthews. Add matcha, miso, sake or yuzu to cater to the demand for Japanese cuisine or pair it with Persian flavours, such as orange blossom, cardamom, saffron or rosewater. And the same applies for panna cotta, another dessert menu staple.
Owen says Creed recommends operators always have a chocolate option, a fruity choice, a nostalgic dish and then something more unusual. Indeed, one piece of advice operators should bear in mind when putting together their desserts menu is this should not be a stressful part of the meal for chefs.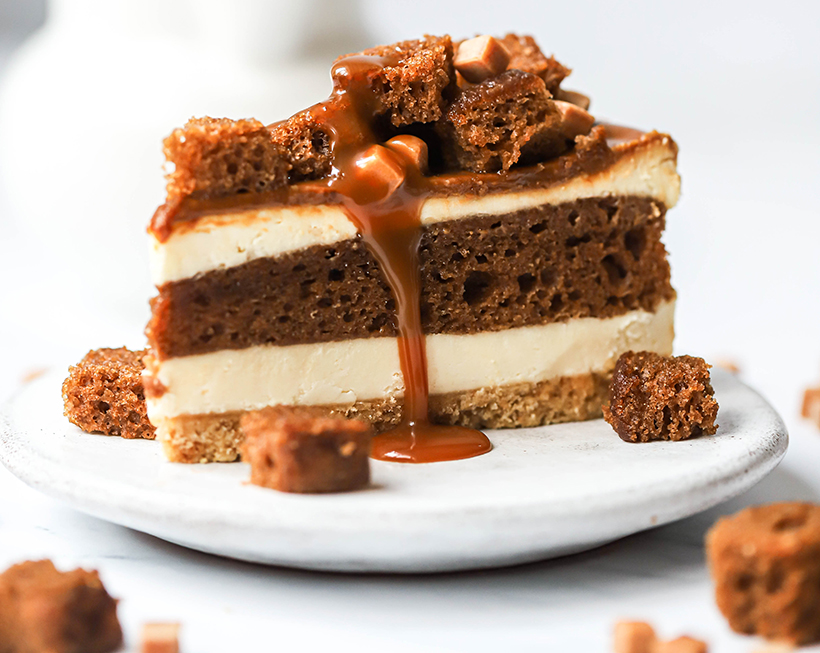 "Choose versatile desserts that can be served at different occasions and different day parts to make things easier," Marie-Emmanuelle Chessé, international development project manager at French pâtisserie supplier Tipiak suggests: "Opt for frozen pâtisserie products to help ensure a constant supply of 'fresh' desserts and sweet items. It makes things easier for kitchen teams and allows them to concentrate on other parts of a meal."
Matthew Grenter, sales manager at Brioche Pasquier, suggests the best way to avoid stress in the desserts section is to buy in first-class readymades. "Products like fashionable pâtisserie are really demanding and time-consuming to make from scratch. Few establishments have the luxury of a dedicated pastry chef, and skilled pâtissiers take years to train, so buying in complex desserts like pâtisserie can be a great choice." Pastry items freeze beautifully and can help chefs manage stock and minimise preparation time, he says.
"Make life easier by using 'thaw and serve' desserts, which will allow kitchen staff to spend more time prepping and cooking the main course," says Gordon Lauder, managing director of frozen food distributor Central Foods. Using frozen desserts also helps with portion control, cost control and reduces unnecessary waste, he recommends.
Shake it up
Meanwhile, dessert shakes are another on-trend option for caterers who want to create appealing and indulgent dessert options that not only taste amazing, but are easy to make, Karen Green, marketing manager at Aimia Foods suggests.
Many venues are operating a more streamlined menu and to reduce pressure on the kitchen, and it helps to avoid menu proliferation if you opt for desserts that will suit a range of dietary requirements, Lauder says. "There are some fantastic sweet products that are suitable for free-from customers. And they taste great and are sure to go down well with all diners," he adds.
Sentence agrees that the growth of inclusive menus remains an important consideration for caterers, and dietary concerns continue to influence consumer dining habits. Some 51% of typical dessert consumers think vegan dessert options deserve a place on menus, the Callebaut Dessert Report 2022 indicates.
"With this in mind, operators can reach a wider consumer base and increase menu spend by only adding one inclusive option to their menu," Sentence advises.
On a more general note, desserts offering ingredients that are associated with healthy living are being embraced by diners, comments Hughes. This "better for you" consumer interest ties in with a trend towards using local ingredients to create a point of difference and also justifies a higher price point.
"Clean-label, organic, free-from, vegan and plant-based options are all set to be big players in the desserts channel," he says.
The lighter desserts delivered by Mini Pâtisserie are attracting diners who are looking for a sweet treat but with less guilt, says Grenter. These dishes cannot be described as guilt-free, but with the option of choosing bite-sized bakes in the form of macarons or petit fours, they offer diners a sweet choice that delivers all the flavour, just in smaller portions.
The La Lorraine Donut Worry Be Happy brand has launched Bites, filled mini doughnuts, including Speculicious Bite with speculoos paste, on a similar theme. La Lorraine's doughnut dough is 20% lighter than competitors, Hughes claims.
Colour is also a talking point when it comes to ingredients in desserts, Sentance says. Following the European Union decision to ban titanium dioxide (E171) from August 2022, there's been a shift towards using natural colours in desserts, although the colour enhancer has not been banned in the UK.
Another wider food trend to consider on desserts is portability, Sentence suggests. "Operators can maximise sales by incorporating a to-go dessert on their menu. During the pandemic, operators made a shift to adapt to delivery and takeaway. Today this market continues to offer the opportunity to uplift profits."
Suppliers
Aimia Foods www.aimiafoods.com
Bling Ingredients www.blingIngredients.com
Brioche Pasquier www.briochepasquier.co.uk/foodservice
Callebaut www.fortheloveofchoc.com
Central Foods www.centralfoods.co.uk
Creed Foodservice www.creedfoodservice.co.uk
English Cheesecake Company www.englishcheesecake.com
La Lorraine www.lalorraine.com/gb-en/professional
Macphie www.macphie.com
Tipiak www.tipiakfoodservice.co.uk