The future of fast food is properly produced meat, left to mature naturally, and then spiced with global flavours, from Korean to jerk seasoning
Spring has a unique potency in London this year. After two years of Covid, the streets are once again alive with traffic, blinding sunlight glints off the City's glassy walls, ancient trees slouch under the weight of opulent pink blossom, birds skitter and chirp and the aroma of fried chicken fills the air.
If fish and chips was the food of 20th-century London, then fried chicken has surely supplanted it in the 21st. From the most humble establishments upwards, it is now found in every corner of the capital. Every day, new places open, from Pelicana, Korea's favourite fried chicken brand, which arrived last year, to iconic south London brand Morley's, rapidly expanding into the rest of the city. Even rapper Tinie Tempah is getting in on the act, launching his own fried chicken delivery service with a four-month pop-up at John Lewis in Oxford Street earlier this year.
Few restaurants have thrived over the past two years like Coqfighter, which serves its own take on Korean-style fried chicken. The brand now has seven sites in London and Bristol, including delivery kitchens, with more to come in the year ahead. "[The events of the past two years] allowed us to grow in a way we didn't see ourselves growing," says Troy Sawyer, co-founder along with Deacon Rose and Tristan Clough. "We've jumped on serving in pubs or friends' restaurants, where their offering didn't work as a takeaway."
Rose agrees. The difficulties and opportunities of the pandemic have transformed not only their business, but that of restaurants in the capital and further afield. "Delivery is a much bigger part of the business than it was pre-pandemic," he says. "We were already on that road, but the pandemic really sped it up."
Exploding chicken at Coqfighter
The newest Coqfighter in King's Cross, which opened mid-March, is simply decorated except for a few flamboyant touches: a disco ball, a red ceiling. The three founders designed it themselves, says Rose, and it's a reflection of their commitment to maintaining control over the operation, from the sourcing of ingredients to the choice of sites.
The three met in their native Melbourne, where they used to enjoy Korean fried chicken at a restaurant called Gami during nights out in the city centre. Having moved to London, where entry-level fried chicken has long been ubiquitous but where something a little fancier was hard to find, they decided to exploit that gap in the market. Coqfighter opened in 2014.
Just because you're not putting food on a white plate doesn't mean you have to use cheap ingredients
"Why has chicken exploded like it has?" asks Sawyer. "I think people are eating less beef. There was a gap in the market, too – you've got amazing burgers, you've got high-end kebabs – high-end anything – but no-one was doing chicken."
"It was an obvious one for us," adds Rose, "because there is so much fried chicken at a basic level in this city. It really took us by surprise when we got here, but no-one really seemed to be doing it to an elevated standard. That's what we went for."
The Coqfighter menu varies slightly from restaurant to restaurant, but the model is straightforward: crispy chicken thigh with assorted Korean-leaning flavours, served in a bun (there are vegan options, too). It's simple but delicious, and punchy. This is what customers want, they say. "Someone from a well-known burger brand once told me that their special is always a twist on a bacon cheeseburger, because that's what people want," says Rose.
"I remember thinking that's a real shame. We see the special as a chance to push the boat out. 'This would be cool, why don't we do this?' More often than not, we hit the mark and people really respond to it. We've never been the play-it-safe types."
That applies to where they open Coqfighters too, although in that case experience has taught them that better-known neighbourhoods – like Notting Hill, for example – are not necessarily a better bet than more humble postcodes, from Brockley to Finsbury Park.
Their customers are focused on quality, Sawyer says. "Just because you're not putting food on a white plate doesn't mean you have to use cheap ingredients," he says. "That's changed across the whole of London in the past five years, there's loads more focus on where food comes from. Our burger bun costs us a fortune – some people might say it's just a bun, but for me, it's the second most important part of the burger. We're willing to pay the money for it."
Make beef better on your menu
They're not alone, which is why producers like Hill House Farm, based on a 17-hectare farm in Dorking, Surrey, are increasingly common. Hill House Farm, which supplies a host of restaurants and hotels in the south-east, including Pennyhill Park, the White Horse hotel in Dorking High Street and the Livelyhood pub chain in south London, prides itself on slow-reared animals, a short-as-possible supply chain, and a focus on regenerative farming.
All this is not just good for the environment, says owner Ian Jones, but it makes for better-quality meat too. "We tend to go for traditional breeds," he says. "For example, we've got about 200 Belted Galloway cattle, and they're perfectly suited to grazing on the Surrey Hills. They're brilliant machines at converting grazing and foraging into calories. The flavour is absolutely exceptional and the meat has amazing marbling."
Regenerative farming means working with the land rather than against it, says Jones. "If you look at conventional farming, there's a lot of what farmers would call inputs – things like petrochemical fertilisers. There are better ways to do it, though. You can buy a nitrogen-based fertiliser, but chickens put nitrogen down into the soil, and [chickens are] omnivores, which means they eat the grubs and worms that are harmful parasites for sheep. You're rotating the land, not overgrazing it; you're moving the livestock frequently – you get much better results."
Quality is king. Chef Mark Greenaway, who has restaurants in Edinburgh and London, swears by Campbell Brothers' Scotch beef. "One of the most important things that we can assure our guests of is consistency," he says. "The quality of the Scotch beef we buy from Campbell Brothers is never in question, so it's never a guessing game.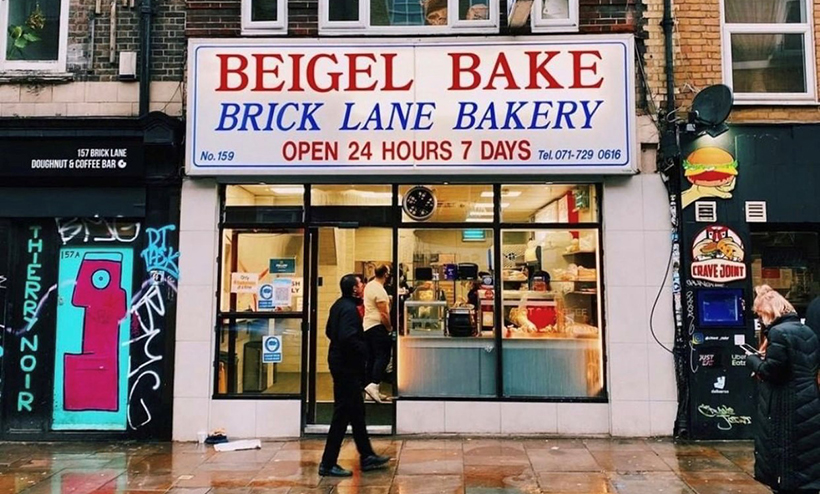 "It's always been our ethos, but I think now more than ever customers are looking for quality for their money. Not necessarily more food, but a higher-quality experience, especially after all we've been through in the past two years."
That might explain the resurgent popularity of Brick Lane's Beigel Bake, where there is always a queue. The shop, which opened in 1974, has never been more fashionable than it is today. Its most iconic item is a salt beef beigel, with Henson Meats in Smithfield Market supplying the salt beef. "We've partnered with Henson Meats for around 40 years, and the standard of the product has always been very high. The salt beef we serve has played a big part in our popularity," says Beigel Bake director Elias Cohen.
Chicken is everywhere
Chicken is everywhere. Like fried chicken, Caribbean flavours are increasingly popular around the UK; Funnybones Foodservice offers jerk-seasoned wings from its 'Irie Eats' range of Caribbean cuisine. "With their Caribbean flavours, these are very different from the standard American-style barbecue wings," says Tom Styman-Heighton, development chef. "They are flavoured with a jerk sauce made with traditional spices and scotch bonnet chilli peppers, which give a warmth and heat without being overpowering."
Creative Foods has launched a range of breaded chicken breast products, says marketing manager Rachel Shoosmith. "This includes three new varieties of Harvest Farms breaded chicken goujons, in golden, southern fried, and hot and spicy flavours, and new bite-sized 'Pop In' chicken pieces, all of which are perfect as a starter, side, snack, or main course, and great for sharing."
The Golden Valley Foods range, owned by frozen food distributor Central Foods, has introduced a 140g gluten-free breaded chicken kiev. "Chicken is such a versatile product that it remains a big favourite," says Gordon Lauder, managing director. "It fits with so many different dishes – sit-down, street food, bento boxes and takeaway – and with so many different cuisines too. Whatever the latest food trend, there's a chicken product that fits."
And then there's game. Ian Nottage, head of food development at Sysco, says we don't eat enough of this sustainable, low-fat native treasure. "We get very excited about Gloucestershire Old Spot pig and Dexter beef, but we eat very little game, with much of it going abroad and a significant amount going to waste or landfill. Why can't we be making pigeon bolognaise, rabbit pie instead of chicken pie, or offering kids a venison burger instead of a regular beef burger?"
There's no game available at Coqfighter, but more sites are definitely on the menu, starting with East Dulwich. The next challenge, says Rose, is getting people to switch from delivery to coming into restaurants. "We won't be opening any more delivery kitchens, it will just be bricks and mortar from now on," he says. "How do you get people to come down? It's an experience, it's fun. It's got to be more fun than eating a burger in your pants on the sofa."
Continue reading
You need to be a premium member to view this. Subscribe from just 99p per week.