No-meat magic – the latest vegan and vegetarian products
Plant-based food is not just massively on trend, it also allows catering businesses to cut waste and streamline operations. Angela Frewin reports
Fifty per cent of people are actively reducing their consumption of animal-derived foods at home, in restaurants and on the go, according to the Good Sense Research IFE Future Food tracker. It is this group (especially the 18-24 age range) that is driving the plant-based eating boom rather than the nation's full-time vegetarians and vegans, who account for 7% and 3% of the population respectively.
Motivated by the desire to improve their health, the environment and animal welfare, flexitarians are largely aligning with the more stringent vegan diet. Lumina Intelligence reports that 92% of plant-based meals are eaten by non-vegans.
"The vegan diet has gone way beyond being trendy and is now a permanent and ever- growing global trend. Interest in veganism consistently outstrips interest in vegetarianism, and every caterer should know that it is the vegan in the group who will decide where everyone eats. Fail to attract that person, and you'll lose the whole party," says Matthew Glover, co-founder of VFC Foods.
Lone danger
A token vegetable lasagne will no longer cut the mustard for potential customers, says Phil Thornborrow, foodservice director at Quorn Foods. "With flexitarianism gathering momentum and leading to widespread innovation in the food industry, meat-free dishes on some menus can still be limited. This lack of variety is the top thing that puts these diners – and importantly, the whole group they are with – off eating at a particular restaurant."
Expanding the meat-free menu options is not the easiest ask in the current cash-strapped, high-cost climate but it can be done, according to Gordon Lauder, managing director of frozen food distributor Central Foods. He says: "Many food­service operators have simplified their menus as a result of the Covid pandemic due to staff shortages, supply chain issues or uncertainties over demand, and offering tasty plant-based options that appeal to all, not just those with dietary requirements, is a way of streamlining operations and reducing wastage."
Glover advises: "Caterers should conduct a menu audit and see which of the existing dishes can be made vegan with minimal fuss and no loss of flavour. This could be as simple as tweaking pastry, sauces, stocks and breads."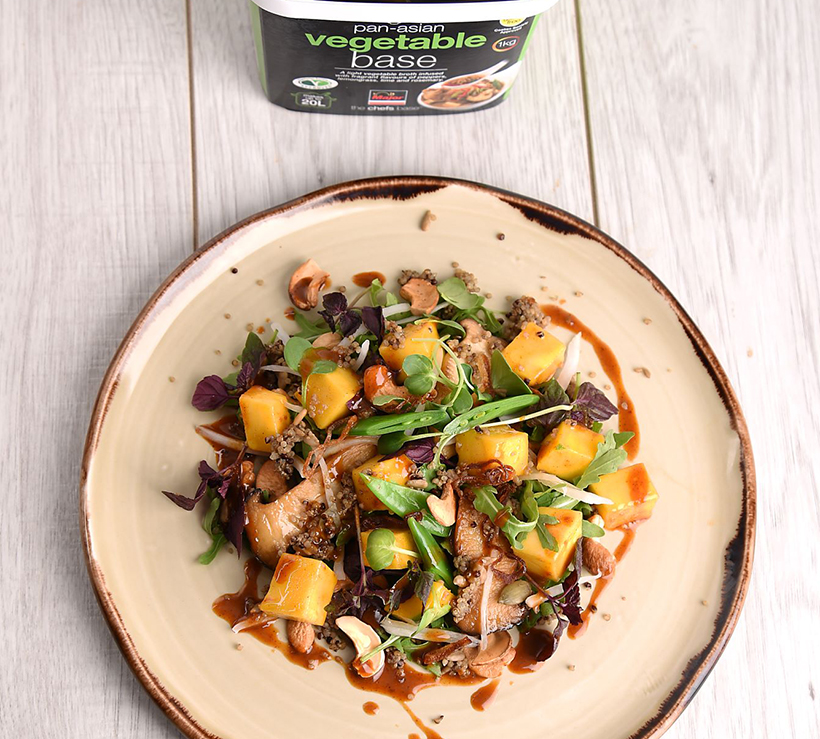 More than half of Major International's stocks and sauces are recognised by vegan and/or vegetarian societies, says its marketing manager Paul Saunders. Its inclusive options range from allergen-free vegan beef, chicken and vegetable bouillon and mushroom and roast onion stocks to its global mari base marinades such as oak-smoked, sweet, tangy barbecue and spicy, fruity Caribbean jerk.
Faves first
"The easiest way for restaurants to cater for vegetarian, vegan and flexitarian diners without supersizing their current menu is to offer meat-free variations of already popular dishes," says Morten Toft Bech, founder of Meatless Farm, which reports high demand for meat-free bangers and mash, burgers, lasagne and spaghetti bolognese.
Pie and pastry veteran Wrights Food Group has responded to the behavioural shift with the summer launch of plant-based equivalents of its top-selling meat lines. They include a vegan steak pie, peppered steak slice, and chicken and mushroom pie (all of which incorporate pea and pea-wheat proteins rather than meat) plus a soya-based pasty and sausage roll. Wrights has also expanded its ready-meal line-up with a vegetarian mac and cheese, vegetable lasagne and three-bean chilli.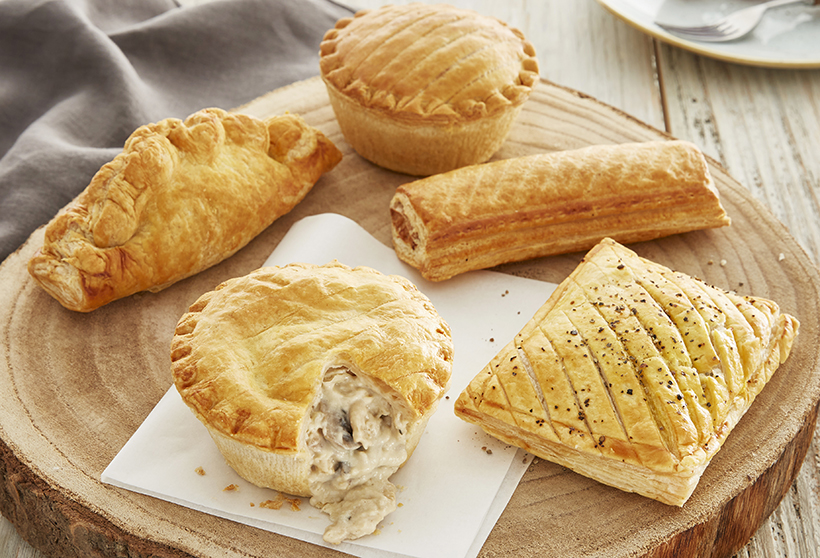 Research by meat-free pioneer Quorn and the Sustainable Restaurant Association has found that while meat-free burgers remain the top menu choice for flexitarians, there is a "huge growing desire" for more chicken-like dishes such as wings, strips and tenders. Quorn's answer – the hospitality-exclusive ChiQin concept – teams up its first mycoprotein-based wing products (in buffalo, southern-fried and crispy variants) with its buttermilk-style chicken burger.
Among the proliferating chicken choices are malleable Tindle faux chicken, VFC's wheat protein-based Vegan Fried Chick*n in a crispy southern-fried cornflake coating, and the first fillet-shaped (rather than circular) chicken burger, which Andy Shovel, co-founder of vegan protein company This, says works across diverse cuisines from burgers to katsus.
Squeaky Bean's vegan duck (used in three Yo! Sushi dishes) offers a "slightly more exotic" meat swap that, like its chicken pieces and salt beef, is based on wheat and pea protein. Its plant business unit director Caroline Jary says: "It's a great vessel for Asian flavours. For example, it can be used in dishes like sushi, and because it shreds, it's brilliant for duck pancakes with hoisin sauce."
Designed to offer a sliding scale of personalised heat and spice on real or faux chicken or cauliflower wings, Santa Maria's new Chicken Shack range of rubs and sauces offers 12 flavours from the Caribbean, Americas, Asia and India – everything from a classic lemon and pepper to a hot, smoky chipotle.
Pick and mix
Nick Minchin, marketing manager UK and Ireland at Santa Maria UK, says: "In order to simplify your menu, consider adopting a modular approach. This allows diners to assemble and order their meal their way. As well as helping streamline your inventory, this is perfect for satisfying the growing consumer interest in meal personalisation.
"Mexican cuisine works well with the modular approach, giving vegans, vegetarians and meat eaters the chance to dine together with self-serve fajitas or tacos, personalising according to their dietary needs."
Lauder at Central Food says: "There's a big appetite currently for small plates, bite-sized menu items and sharing platters." Central has a range of plant-based tapas options designed to give customers a fun, sociable way to sample different dishes throughout the day. They include Moroccan-style cauliflower bites, Indian snacks, soya meatballs, beetroot and sweet potato falafels, five-vegetable green gyoza and the KaterVeg dipping tempura vegetable mix of lightly battered baby corn, carrots, green beans, and red and green peppers.
Detecting significant demand for meat-free Japanese and Korean-inspired meals, Meatless Farm has launched an Asian snacking range based on wheat, soy and pea protein. The products include duckless spring rolls, porkless gyoza and wontons, beefless samosas and a katsu curry pastry slice.
Thai rice sticks (flat, rice-based noodles) are the newest addition to Lucky Boat's range of egg-free noodles after its research pinpointed Thai as the third most popular Asian cuisine. Thai food's vibrant flavours are derived from lemongrass, galangal, lime and sweet Thai basil leaves, and "provide plenty of layers of interest for noodle, rice, tofu and vegetable options", explains brand manager Greta Strolyte. Noodles aren't just for Oriental dishes, she adds, citing a client chef's creation of a modern take on crêpes suzette and an Italian-style dish of noodles, vegetables and cavolo nero pesto using its thick and wholemeal variants.
Eggs cracked
With more than 50% of consumers eating breakfast out of home, according to Mintel, Oggs' new Scrambled Oggs gives caterers the missing element for a full English vegan breakfast. They can infuse further interest into breakfasts and brunch by tapping into key trends such as spice, Middle Eastern flavours and street food, advises marketing consultant Claire Roper. She suggests serving scrambled Oggs on toast with avocado and spicy chilli jam and in Indian-inspired bhurji rolls or breakfast wraps with spinach, vegan sausages and sriracha mayo.
Made from chickpea protein and sunflower oil to bind and gel like egg, Scrambled Oggs can be used for omelettes, frittatas, quiches and even crème brûlée. Oggs' chickpea-water aquafaba also replaces eggs in baking, meringues, pancakes and cocktail foams.
A survey by Belgian chocolate specialist Callebaut found that 51% of dessert consumers wanted vegan options on menus. Caterers can add that favourite flavour to dishes such as baked doughnuts, chocolate chip carrot cake, blondies and chocolate cardamom cake with Callebaut's new NXT dairy-free milk and dark chocolate, says the company's gourmet marketing manager Anna Sentence. NXT milk chocolate harnesses creamy, fibre-rich dried and ground tiger nuts, traditionally used for the milk-like Spanish horchata de chufa drink.
Just the ticket
It pays to highlight carbon labelling and seasonal ingredients on menus, advises Roper, as Good Sense Research found sustainability and seasonal foods were important to 73% and 67% of consumers respectively. It's the basis for Quorn's global roll-out of Carbono Cero carbon-neutral solutions for foodservice, in partnership with foodservice and facilities management specialist Sodexo. Based on a range of 10 recipes (calculated using the globally accredited Klimato tool), Carbono Cero combines Quorn's buttermilk-style burger, no-beef pieces, fillets and wings with seasonal and local ingredients.
Operators promoting meatless meals on menus and specials boards may need to reconsider the terminology they use, suggests Toft Bech at Meatless Farm. "Our research with Brakes also showed that 52% of UK diners want more vegan food on the menu but are more likely to order it if it is labelled as 'plant-based' instead, so caterers should bear this in mind to appeal to vegans and flexitarians alike."
Meat mimickers move upmarket
Quick-service restaurants account for 40% of vegan occasions compared with 22% for total food, according to Kantar, but the brisk uptake of two newcomers suggests a move upmarket.
Tindle, a chicken substitute from Next Gen Foods, has found a home in 200 UK restaurants since its April launch. Its 50 UK sites include celebrated London restaurants Aqua Shard, BrewDog, City Spice, Get Plucked, Let's Do Maki, Neyba, Other Side Fried, Paternoster Chop House, Refuel Your Soul, Sketch London, and Unity Diner.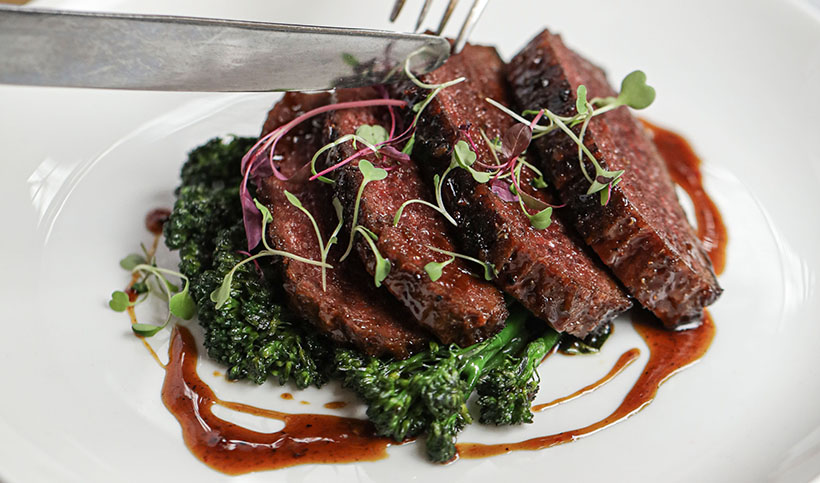 Designed to replicate the taste, texture and versatility of chicken, Tindle has nine ingredients – including soy and wheat protein, oat fibre and Lipi (an emulsion of sunflower oil and flavours that mimics the aroma of chicken).
It is being deployed across everything from fine dining to street food. Tindle can be found in drumsticks, burgers, kebabs, katsu, curries, tacos, sushi, satays, Wellingtons, Kyivs, and French-style chicken forestière, basquaise and rillette dishes.
Israeli group Redefine Meat has launched the first plant-based whole cuts of beef and lamb flank. Like its burgers, beef mince, sausage and lamb kebabs, they are 3D-printed from soy and pea protein, chickpeas, beetroot and nutritional yeasts.
Early London adopters include German Gymnasium, Chotto Matte, Gillray's Steakhouse & Bar, Mr White's, and PowerPlant at Selina Camden (where it appears in a burger with smashed avocado, Korean-style pulled beef brisket taco and shakshuka with spicy merguez sausage).
Established player This has achieved two Michelin-star listings for its soya-and-pea-based bacon and bacon lardons, in the Harwood Arms' vegetarian Scotch egg and Pied a Terre's vegan carbonara respectively.
Pull of the plant: workplace catering's vegan turn-on
"45% of our menu at the Vox is suitable for vegans," says Aaron Johnson-Waters, executive chef for Amadeus at Birmingham's Vox Conference Centre. "It cuts down on food waste, making sure we don't overproduce to suit different dietary requirements."
Fresh and colourful vegan foods also attract meat-eaters and vegetarians, he says. "Our research shows vegetarians tend to choose vegan options, even when there are vegetarian alternatives."
Contract caterer BaxterStorey sees the rise of plant-based diets and flexitarianism as an opportunity to champion UK fresh seasonal produce via its Food EQ initiative (which seeks to unleash creative ideas from its chefs), pop-ups with street food traders at its sites, and strategic partnerships with the likes of Waste Knot, Produce Warriors and Rubies in the Rubble.
The company also focuses on seasonal British produce at Oxford University's Said Business School and Cambridge University's Babraham Research Campus. BaxterStorey's head of food Dan Wilson says: "From courgette to beetroot, the rotation of produce results in exciting dishes featuring on the menu such as roasted harissa and lime courgettes with dukkah, roasted garlic and tahini yogurt, and jackfruit and beetroot burgers with avocado and sriracha."
Popular dishes at Warner Music in London, where 45% of customers choose vegan options daily, include pulled jackfruit bao buns, crispy chilli tofu with flat rice noodles and charred broccoli, and Indian thali with yellow dhal, pea and spinach curry, and soya raita.
"Incorporating plant-based options into our existing concepts means there's no need for super-sized menus," explains Jason Trotman, culinary lead at workplace caterer Eurest. "48% of our menu is now plant-based, and we're aiming for 50% by the end of the year."
Eurest's chimichurri cauliflower steak is particularly popular with meat-eaters, Trotman says, as are vibrant, flavoursome pan-Asian and street food-inspired dishes such as breaded-tofu katsu curry and tacos. Folk House, a new Eastern European concept, puts plant-based hero ingredients at the centre of the plate in popular dishes such as beetroot soup and Hungarian babgulyas bean stew.
Suppliers
Callebaut UK and Irelandwww.callebaut.com/en-GB
Central Foodswww.centralfoods.co.uk
Lucky Boatwww.luckyboatnoodles.co.uk
Major Internationalwww.majorint.com
Meatless Farmwww.meatlessfarm.com
Oggswww.loveoggs.com
Quorn Foodservicewww.quornfoodservice.co.uk
Redefine Meatwww.redefinemeat.com
Santa Mariawww.santamariaworld.com/uk/foodservice
Squeaky Beanwww.squeakybean.co.uk
Tindlewww.tindle.com
VFC Foodshttps://vfcfoods.com
Wrights Food Groupwww.wrights-foods.co.uk
Continue reading
You need to create an account to read this article. It's free and only requires a few basic details.