Revered chef Shaun Hill is still at the stove at the age of 75, creating modern British dishes with a side of wit, just as he has been doing since the 1970s
As one of the architects of the Modern British movement of the mid-to-late 1980s, alongside the likes of Simon Hopkinson, Alastair Little and a young Gary Rhodes, you could forgive Shaun Hill for taking it easy these days. But he is still in kitchen, and personally cooked a recent and profoundly satisfying meal that I enjoyed at the Walnut Tree in Abergavenny, which has held a Michelin star since 2010. It featured red mullet with octopus, ras el hanout and chickpeas, a combination that wouldn't look out of place on the menu of the hippest London restaurant, followed by rack and shoulder of Welsh lamb.
"I am here every day we're open; I occasionally take a day off if it's quiet," says Hill, who commutes from his home in Worcester to head up a kitchen brigade of seven, including himself. "I'm the last in and the first out, so I arrive at 11am and I work through until about 10pm, which means that I do both services. I've been trying to retire since I was 70 and I turned 75 in April, so it's not been very successful so far.
"I very rarely work the pass. I work two steps away from it doing the cooking. I cook most of the first courses and main courses. Everything has to go past me to get to the pass, so I've looked at it, and if I see a problem I step in. I'd rather be sure the meat's cooked right and the fish isn't dried up than twiddle around on the plate any more than is necessary."
Shaun Hill's awards
Hill has collected major accolades during his career, including three Cateys – most recently the Lifetime Achievement Award in 2019 – and the AA Guide's Chef's Chef award, while heading up no less than four Michelin-starred kitchens, for which he has received rave reviews. Writing in The Times, Jonathan Meads called him "a truly great chef". He is also a respected food writer with five cookbooks as well as recipe and restaurant review columns to his name. That's not bad for someone who started their career in the café at London Zoo and was told he had no future in the trade. "You were expected to go to the Dorchester or the Savoy and wash spinach for five years before you got another job, so a lot of things have changed and they've got better," he says.
Hill joined the kitchen of American-born celebrity chef Robert Carrier's eponymous restaurant in Islington in 1966, where he says the kitchen would get through a five-gallon churn of double cream a day. There he served gratin dauphinoise with lamb in Greek pastry (cutlets, mushroom duxelles and foie gras wrapped in filo and baked to order) and it was also where he first encountered Moroccan food.
While he's complimentary about the current crop of culinary talent ("There are loads of really talented chefs coming up and I can't wait to make room for them"), he's dismissive of some industry trends. On the chef as scientist, Hill says: "I actually went to give the opening speech at the molecular gastronomy conference in Sicily long before Heston Blumenthal, but I wasn't as fascinated as him. He harnessed it to make interesting new dishes, I really just wanted to know why gravy worked."
He describes foraging as "a hoot", saying that "a lot of foraged food doesn't taste very nice". He also admits to being "only partially interested" if food is local, saying that using, for example, French or Dutch. sweetbreads, "doesn't bother me in the slightest".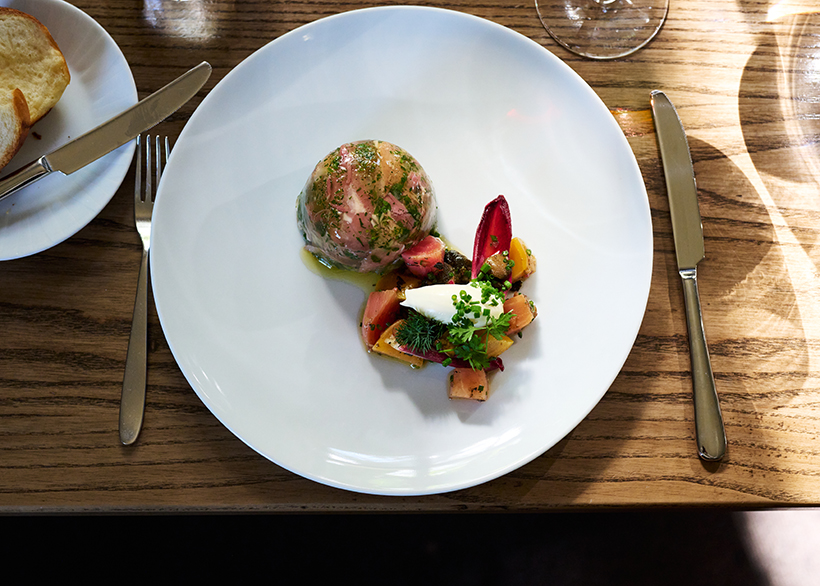 He despairs of the increasing bureaucracy around restaurants, saying that environmental health officers "will have us wearing space suits and walking through sheep dip to get to the kitchen". He doesn't believe that calories on menus will be beneficial, as "only an idiot would order a load of fried stuff and think it's low-calorie". His greatest ire, however, is reserved for food allergies: "I feel like I'm working in the food section of a lunatic asylum with the amount of people who can't eat anything. It may well be that there's been something in the atmosphere that has changed and people have become more sensitive, but bugger me, it makes it hard on a Saturday night."
Movement maker
On a more positive note, Hill says the biggest change he's noticed during his career was the arrival in the 1970s of nouvelle cuisine. "That shifted the emphasis from the front of house and the theatre of eating out to the chef, who suddenly became more important. When I started, there was Le Répertoire de la Cuisine, which was a small book full of words to define dishes: 'sole veronique – grapes, fish velouté' or whatever. Novelle cuisine moved away from the repertoire, which meant you had whatever the chef thought was good."
As head chef of Gidleigh Park in the mid-1980s, what Hill thought was good helped define a renewal of British restaurant food that was dubbed "modern British cooking" by The Good Food Guide editor Drew Smith, who identified regionality, market-led menus, the use of relishes and spices and an abundance of vegetables as its defining characteristics. It perfectly described Hill's dishes, such as scallops with lentil and coriander sauce, steamed sea bass with baby vegetables and salad of lettuces with warm lobster and sesame dressing. But not everyone agreed with Hill's viewpoint.
"I'd been to California to cook, and Michelin thought that there was a little bit too much of San Francisco's input in my stuff and they politely told me. I didn't take kindly to it and was enormously rude to the editor and chief inspector, Derek Bulmer and Derek Brown. I was quite crappy to everybody."
Following the incident, Gidleigh Park went without a star for three editions of the guide until it was finally reinstated in 1993. Although Hill doesn't suggest there is a direct correlation between the two events, he admits he wasn't expecting anything from Michelin when he opened the Merchant House in Ludlow in late 1994, but says he "got lucky" with a star awarded in the 1996 edition of the guide.
"I bought this lovely, listed building with no money because I hadn't got any. I hadn't sold my house in Dartmoor, so I hadn't even got enough for a deposit. I bought it with a conniving bank manager, who helped me along, but I had no planning consent for change of use for the building. I was 40-odd when I did that and it's the sort of thing that would give me sleepless nights now, but I just thought nothing of it at the time."
Zero overheads
From today's perspective, with soaring food costs forcing chefs to think long and hard about every single ingredient they put on the plate, Hill's Merchant House dishes seem almost profligate, with the likes of a whole lobster tail served with chickpea, coriander and olive oil sauce as a starter on a £25, three-course à la carte menu.
"To be honest, it's the only time I've ever made any bloody money," he says. "The tax office couldn't get over it. I had three enquiries to see how many other tables I had hidden away that I wasn't telling them about. But the truth was I had no other overheads and the staff bill was one waiting person and a part-time cleaner in the morning. It was my house, so there were no expenses there, so that gave me the possibility of spending more on the food while still making a profit."
With higher overheads at the Walnut Tree, Hill is conscious of balancing costs while keeping the local audience, which he says the restaurant is mainly aimed at, happy. "This is the countryside; people don't expect to see something the size of a canapé," he says.
Hill's compromise is to use a lower-priced cut alongside a more premium cut, such as medium-rare lamb cutlets or fillet steak alongside slow-cooked shoulder of lamb or oxtails or a suet pudding with some steak and kidney in it. He adds: "The trick is to buy the best of what you can for the money and then try and make a profit on it. That way you're still in business the next year."
He says when he does finally step away from the day-to-day running of the Walnut Tree, he may return to writing. "There's no money in it but there is a certain amount of satisfaction in passing off opinion as fact. I think I have one last book in me, maybe to reflect on aspects of the changes over the years and some of the people that I've worked with."
When that might be, however, is anyone's guess. "I'm waiting for nature to take a hand. I do feel the energy levels aren't quite what they were when I was 40.
"Unfortunately, with the shortages of crew, I still have to come and do the cooking. I can see that I will be able to move away from the kitchen to a certain extent, but I'm also fussy about how it's all done while I'm still connected. So 'I don't know' is the answer."
What the chefs say about Shaun Hill
"A true original, has done his own thing for decades. He doesn't follow culinary fashions, occasionally categorising some of the sillier ones as 'demented'. The only standards he follows are his own and they have always been ridiculously high. Long may he continue."
Alastair Little
"Ever since I have known Shaun he has quite rightly been known as the thinking chef. His knowledge of provenance and balance of taste is perfect. It's always a privilege to share food with him and listen to his thoughts."
Brian Turner
"One of the nicest people you'll meet, chef or otherwise. He is such a good cook and down to earth. He helped a great deal with words of wisdom when I was opening up my restaurant Priory House in Yeovil. When I left Gidleigh Park and went to work for Nico Ladenis, he wrote me a reference. It was a reassurance that I was stable of mind as I 'didn't have the usual psychopathic tendencies required to be a chef'. It was very typical of Shaun."
Martin Hadden, executive chef, Historic Sussex Hotels
"For me Shaun has always been just about the very best chef in the country. This is because he combines enormous technical ability with the understanding that food is to be eaten and above all else enjoyed. He is the exact opposite of a chef playing to the Instagram gallery. 'Wow factor' and deliciousness are rarely the same thing, and Shaun knows this better than anyone. The chef's chef is an overused phrase, but Shaun is truly it."
Bruce Poole
"Shaun is a wonderful clog dancer of a chef, knows every Al Jolson song off by heart, and was always very kind and patient with me as a young chef. He is a top banana, with an encyclopaedic knowledge on most subjects, languages and even food (and red wine), and has curly hair like me."
Paul Kitching, chef-proprietor, 21212, Edinburgh, and former Gidleigh Park head chef
Recipe: Scallops with lentil and coriander sauce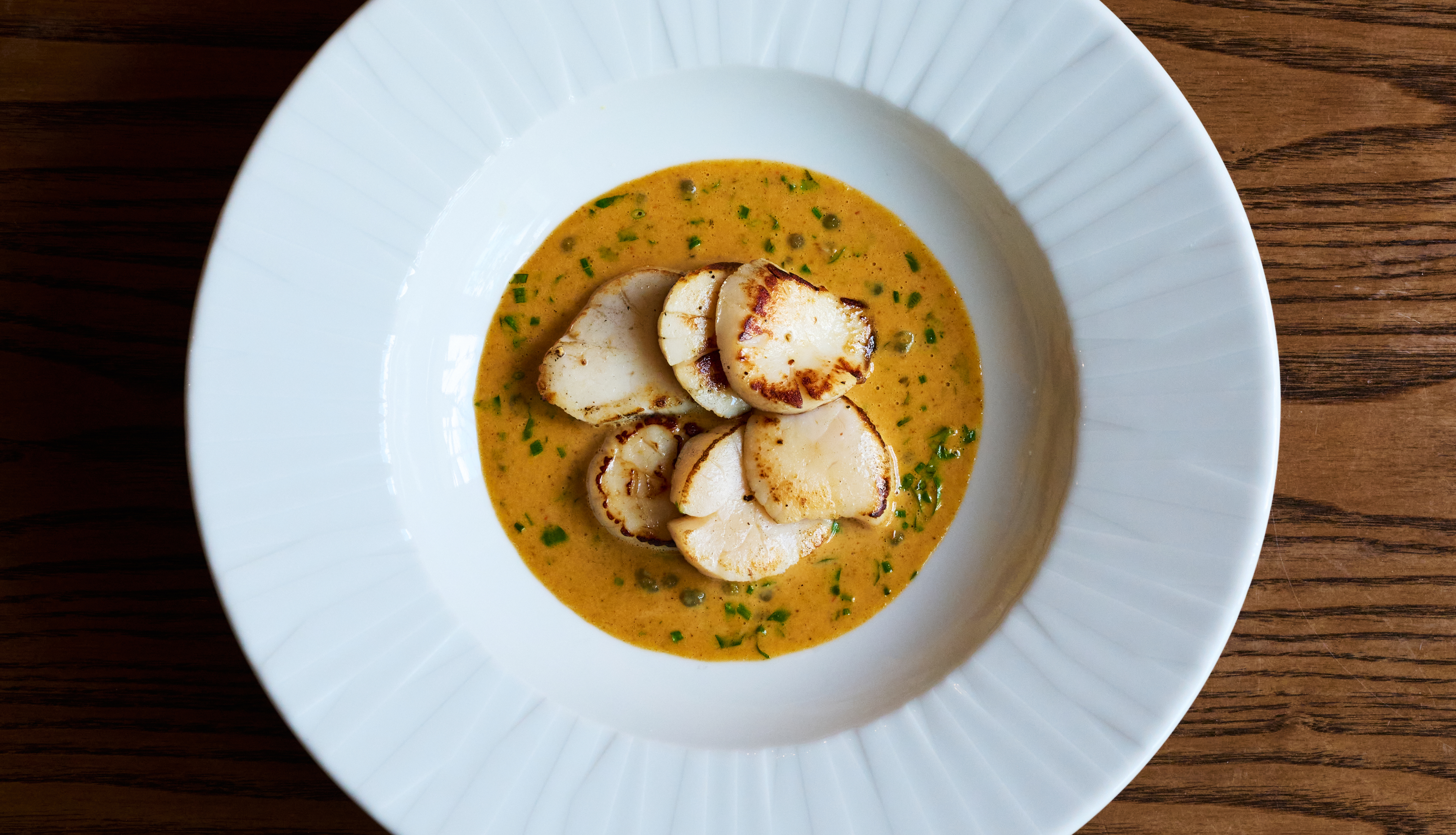 12 large diver scallops, white part only
1 shallot, peeled and chopped
Small knob ginger, peeled and chopped
2 cloves garlic, peeled and chopped
½ red pepper, chopped
2 ripe tomatoes or 1tbs quality passata
½tsp each ground coriander, cinnamon, cumin, cardamom
50g brown lentils, boiled until tender
200ml chicken stock
50g unsalted butter
1tbs crème fraîche
Juice of ½ lemon
Salt
Tabasco
1tbs fresh coriander leaves, coarsely chopped
1tbs parsley, coarsely chopped
Fry the shallot, ginger and garlic until coloured.
Add the pepper and tomato, then the spices, and continue to cook for a moment before adding most of the cooked lentils, then the stock.
Liquidise in a blender along with the butter and crème fraîche, then scrape into a saucepan. Adjust the consistency by adding more stock or more butter so that it is the texture of a cream sauce rather than a dhal, then season with lemon, salt and Tabasco.
Stir in the coriander and parsley leaves at the last moment.
Cut the scallops into coin-sized discs, brush lightly with oil, then sear briefly in a hot dry frying pan.
Serve the scallops on top of a pool of sauce.