This year has seen evolution for the once-Michelin-starred Cotswold inn under a new head chef.
You have to search long and hard to find a more quintessentially English inn than the Wild Rabbit, set in an idyllic spot between the church and the green of a chocolate box Cotswold village. Since being taken over by the Bamfords in 2013 the pub, part of the family's Daylesford estate and organic farm, has become a foodie destination and home to a succession of top-flight chefs, including Adam Caisley, Tim Allen and Nathan Eades.
In December 2021 Sam Bowser took the reins. Previously head chef at Llangoed Hall in Powys, Bowser's career includes head chef roles at Dormy House hotel and Whatley Manor (with Martin Burge) as well as positions at the Square and Belmond Le Manoir aux Quat'Saisons.
Bowser heads a brigade of 15 chefs and five kitchen porters that work from an open kitchen in the main contemporary dining room. From Wednesday to Sunday, Bowser offers an à la carte menu at lunch and dinner as well as an evening-only five-course tasting menu (£75). The Sunday lunch menu features three roasts, such as Daylesford Organic beef sirloin with horseradish sauce and Yorkshire pudding, all priced at £25 including seasonal vegetables and roast potatoes.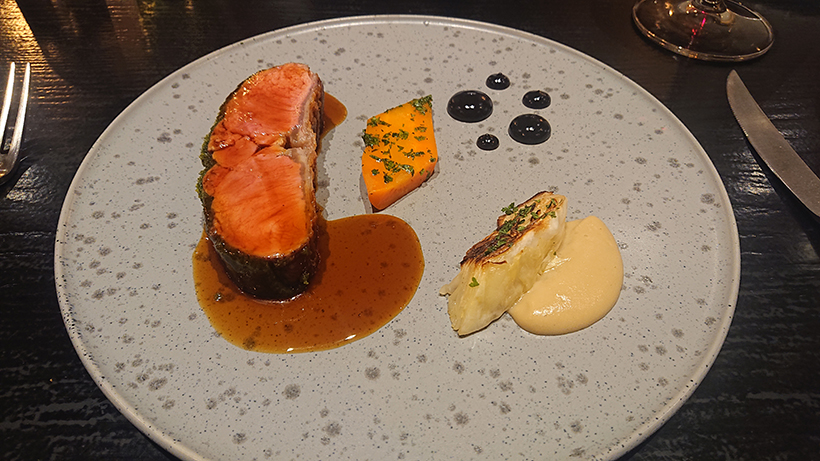 "We fill the restaurant once, we do 42 covers and we do tend to be full and have a waiting list. We've got 13 rooms here and then we've got 10 cottages in the village as well, so the kitchen is open in some form or other over the seven days. We have breakfast and a limited bar menu, which is based around charcuterie and bits and pieces that the bar guys deliver," says Bowser. "Then we've got the guys who do the terrace menu through the summer. They'll do anything up to 60 to 80 covers off the barbecue... which leaves us in the kitchen to just focus on the one restaurant."
Bowser uses a number of suppliers for his menus, which he says constantly evolve. Favourites include London-based the Wild Room for everything from mushrooms and dandelion root powder to wild cherries and heather and Wild Harbour in Cornwall and New Wave in Gloucestershire for fish.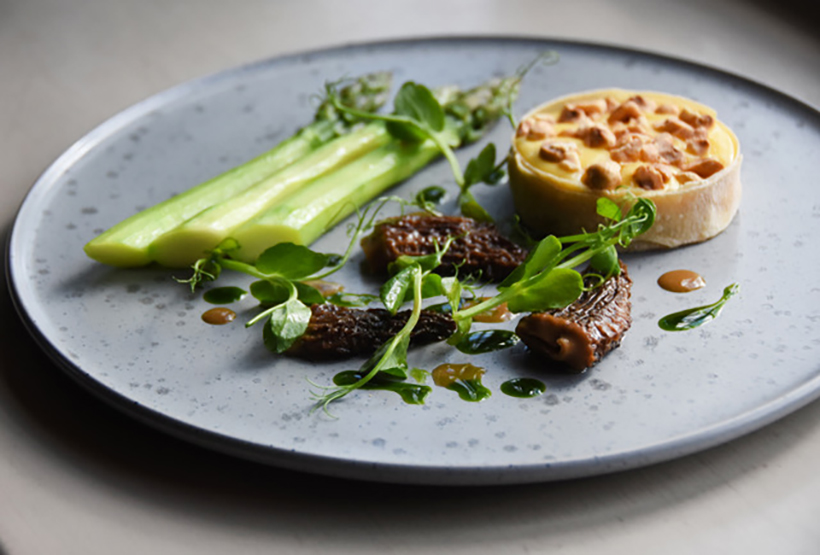 Bowser estimates that about a quarter of the restaurant's ingredients come from the surrounding Daylesford estate, including the best-selling, herb-crusted Daylesford Organic lamb saddle (£33.50) and is also currently featured on the tasting menu.
"We buy a whole short saddle of lamb which we get seven to eight portions out of. We take the pencil fillets off and trim the joint, and the trim goes into the sauces and stocks. We keep the saddle as one piece of meat and place one pencil fillet down the middle, make a mousse from the other fillet, and pipe it on. We vac pack it so that it compresses the meat together then we render it down for 10 to 15 minutes and just keep draining the fat off. We then roast it through the oven and finish it under the salamander, and then it's rested. Then there's the herb crust on top. It's sliced to order."
Bowser uses the rendered fat to cook the carrots and completes the dish with a purée of triple-blanched wet garlic, slow-cooked onions and cream and hispi cabbage that's cooked whole sous vide and then cut into wedges, seared on the plancha and brushed with garlic butter. The dish is finished with dots of red wine and balsamic fluid gel.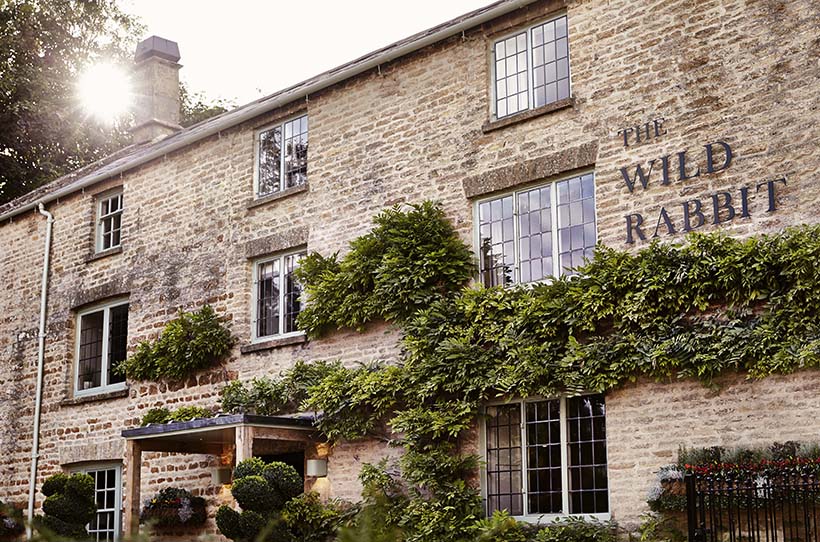 Bowser says the dish harks back to his time with Phil Howard at the Square and is also happy to admit to using Raymond Blanc's labour-intensive bouillabaisse recipe for a dish of stone bass, squid and confit cod's cheek wrapped in kataifi pastry that he serves with a saffron-poached onion, an idea he picked up from Martin Burge.
"I like the classics and doing something different with them. Every now and again, I get the urge to cook something I cooked before. It's nice to have that repertoire and just pick bits that I like from different places," he says.
On the evidence of a recent tasting menu, the strategy is working, with a succession of intricately prepared, deeply flavourful dishes that included a beautifully balanced smoked Adlestrop dumpling dish (based on the Sardinian filled pasta culurgiones) with hen of the woods, grelot onion, grilled sweetcorn and a stunning onion broth. It's cooking that arguably should regain the Wild Rabbit Michelin-star status.
The Wild Rabbit, Church Street, Kingham, Oxfordshire OX7 6YA
Continue reading
You need to be a premium member to view this. Subscribe from just 99p per week.