Yurii Kovryzhenko is using culinary diplomacy to help the war effort in Ukraine. He talks about how the nation is a distinctive state with dishes that are historically its own
With the UK hospitality industry consumed by rising energy and food prices as well as staff shortages, it is easy to push all thoughts of the war in Ukraine to the back of the mind. But for chef Yurii Kovryzhenko, it is vital that the suffering in his home nation is not forgotten.
Having been in London at the time of the Russian invasion of Ukraine on 24 February, when he was promoting his national cuisine as a guest of the Ukrainian embassy, Kovryzhenko decided to stay put and dedicate himself to helping his fellow citizens back home through culinary diplomacy and fundraising. He strongly believes that through food he will help to keep the struggles of his fellow country men and women at the forefront of people's minds.
While Kovryzhenko recognises how hard it is for the British public to be constantly reminded of the terrible atrocities of the war, he insists that it is more important than ever that the UK and the world do not forget what is happening. "This is a war against all democratic countries being undertaken by one of the last dictators," he says.
Ukraine's identity theft
Kovryzhenko, who trained at Le Cordon Bleu and Ferrandi cookery schools in Paris, has spent recent years promoting the national cuisine of his homeland on behalf of the Ukrainian government and frequently appeared on television and radio back home. He has also worked with private individuals on supporting the opening of Ukrainian restaurants in Seoul, South Korea, and Tbilisi, Georgia. He is therefore well used to extolling the virtues of a cuisine which throughout history has been hijacked by Russia.
Take borsch, for example. Frequently misappropriated by Russians as their own, the beetroot soup with its signature reddish-purple jewel colour, in fact, originates from Ukraine. The late distinguished food author Alan Davidson wrote in The Oxford Companion to Food that Ukrainians are almost certainly right in claiming that borsch originated in their country "especially if one can properly apply to such questions the principle followed by botanists: that the place where the largest number of natural variations is recorded is probably the place of the origin of the species. There are more kinds of borsch in Ukraine than anywhere else".
Kovryzhenko is also on a mission to convey to the world that honey cake is Ukrainian in origin, in opposition to Russia having "brazenly imposed" it as its own invention. "It reflects the oldest Ukrainian traditions," he says. "Ukrainians were engaged in beekeeping and traded honey with Europe at a time when Moscow was only a swamp." After a successful campaign by Kovryzhenko, Harrods agreed to remove the Russian tag by the honey cake it sells in its food hall.
Kovryzhenko explains why it is important to campaign against Russian myths around food. "Russia has been trying for centuries to destroy the Ukrainian identity, stealing our cuisine, culture and territory," he says. "Our goal is to counteract this."
Kovryzhenko has also been involved in urging international gastronomic communities to boycott Russia. In particular, he campaigned to the Michelin Guide and the World's 50 Best Restaurants list to exclude Russian restaurants and chefs. "It wasn't easy, especially with Michelin," he says. "Like all French organisations, it didn't hurry to react, but later responded by suspending activities in Russia."
On a mission
The primary aim of Kovryzhenko's culinary diplomacy is to save human lives and this, of course, means raising money to support victims of the war who are suffering from what he describes as "a humanitarian catastrophe". To this end, he was instrumental in raising nearly £200,000 for the Disaster Emergency Committee Ukraine Appeal at the Lunch4Ukraine event, held at JW Marriott Grosvenor House London in April. He, together with the hotel's chef Nigel Boschetti and Richard Corrigan of Corrigan's Mayfair oversaw a three-course Ukranian-inspired menu which featured chicken Kyiv.
Kovryzhenko has also been involved in organising and participating in a further 20 events, including one with Jamie Oliver. Throughout he has been overwhelmed by the support shown by the UK hospitality industry and in particular highlighted the Royal Academy of Culinary Arts, which has introduced him to many useful contacts. In total, he has contributed in raising more than £400,000 for the Ukrainian cause.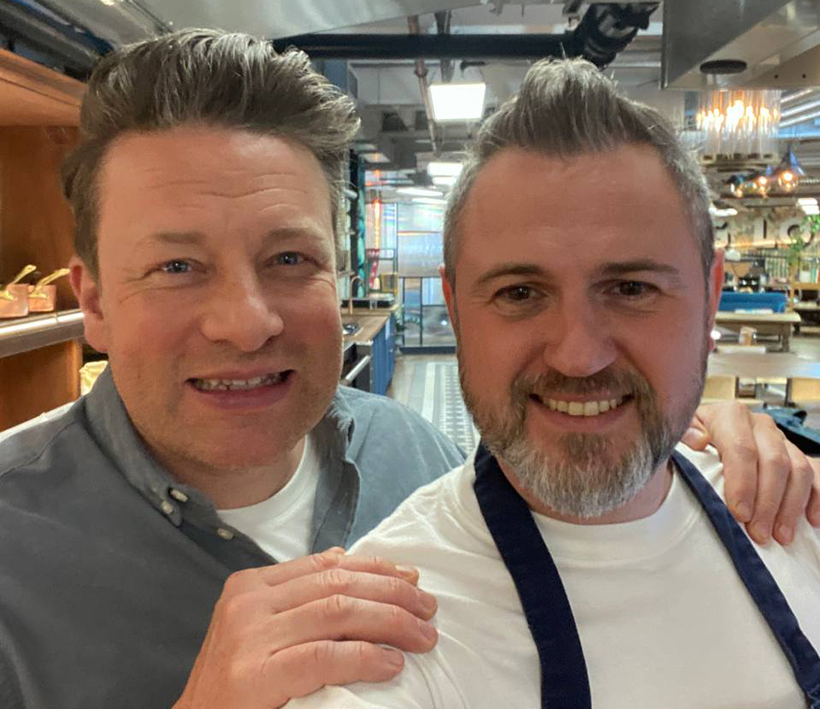 Other events include a residency at London's Carousel restaurant from 14-18 June in which £10 from the £75 per head set menu was donated to First Aid Ukraine. Dishes included courgette pancake with smoked chalk stream trout and courgette flower stuffed with sour cheese and herbs, duck borsch with pampushki (soft garlic bread rolls), and poppyseed cake with condensed milk and black sesame ice-cream.
On 17 June Kovryzhenko was joined by Michelin-starred chefs Jason Atherton, Tom Kitchin, Tom Sellers and Tom Brown at City Social, London, where a five-course dinner and charity auction raised money for Stand with Ukraine and USYK Foundation. On 21-24 July Kovryzhenko will host a Ukrainian food court at Latitude Festival at Henham Park, Suffolk.
Meanwhile, he will continue to promote Ukrainian cuisine via media interviews (he has conducted more than 20 since arriving in the UK) and continue his search for a location where he hopes to open his own restaurant, funded by Ukrainian friends and his own savings. He is currently awaiting the outcome of his application for a job permit to enable him to work in the UK. "The restaurant will not just be about business," explains Kovryzhenko. "It will also be a social restaurant where I will be able to offer jobs to Ukrainian refuges and help victims of the war."
Continue reading
You need to be a premium member to view this. Subscribe from just 99p per week.