What was once a duke's estate is now a 337-bedroom luxury hotel in the Cotswolds. We take a look inside the 300-year-old property that takes its design inspiration from a grand tour of Italy and a railway baron.
Heythrop Park hotel, a palatial Grade II*-listed property in the Cotswolds, will reopen this summer following a £40m refurbishment by Warner Leisure Hotels.
The design of all front of house and F&B spaces has been led by DesignLSM, taking inspiration from the Baroque building's history and its illustrious former occupants. The scope of the project was huge, with three restaurants, six lounges and two theatres.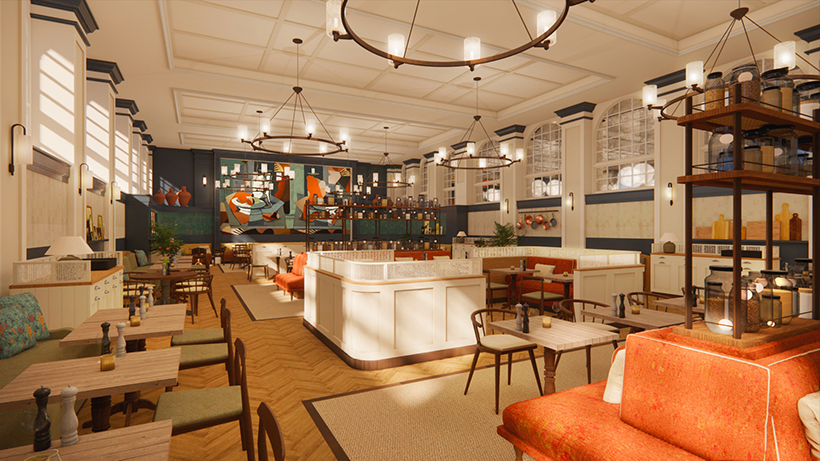 Heythrop Park was built for the first Duke of Shrewsbury, Charles Talbot, between 1706 and 1711, and sits in 440 acres of grounds, which include the Bainbridge Championship golf course. Inspired by his grand tour of Italy, the duke commissioned the architect Thomas Archer to design what was one of the first Baroque-style buildings in England. In the 1970s, when the building was used as a training and conference centre, an extension was added, connected to the main house via a long corridor with vistas of the surrounding parkland.
Holly Hallam, managing director of DesignLSM, says Talbot's Italian travels and another former owner, Thomas Brassey, an engineer responsible for building a third of Britain's 19th-century railway network, provided a narrative around journeys for the design of the space, which has been applied across both the original building and the newer annexe.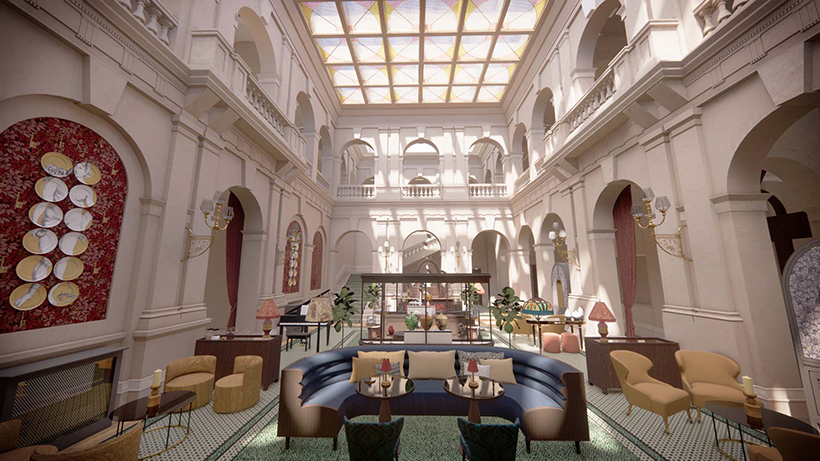 She says: "This is a vast property, and we wanted to make sure that while each space feels independent there is an overarching aesthetic that goes through both buildings, one being very old and listed and the other very modern.
"To do that we looked at how we could bring some modernity to the old house, and some touches of grandeur and nods to the Baroque architecture to the more modern part. We did this through the furniture we chose and the colour palette, so they felt balanced. I think if you look at the entrance foyer in the more modern part, we've really changed that – we've given it more personality, and tried to create the start of the story there as it will be the start of most people's experience of Heythrop Park."
In the atrium a palette of heritage colours and the installation of a grander staircase both point to the aesthetic of the original building while retaining an element of modernity so as not to clash with the surroundings.
Behind the reception desk sits a beautiful display of old-fashioned hotel keys. Additional sculptures and artwork are planned for the space, and will take their inspiration from Talbot's letters home and his correspondence with his Italian wife-to-be Adelhida Paleotti.
Adelhida herself has inspired the interiors of the Wedgwood Room, which houses the Brasserie 32 restaurant. The walls are adorned with a wallpaper of citrus fruits, and a light palette of soft blues and creams opens up the space, which is dominated by large windows providing beautiful views.
Hallam says: "It has this amazing listed, gilded ceiling painted in the original Wedgwood colours and a beautiful fireplace. We've taken inspiration from Adelhida, so we're bringing in some really light, fresh, citrus colours in the planting and furniture and dressing. We also have this beautiful artwork, inspired around Italian lace which she herself would have brought to Heythrop. It's quite a masculine property, but we've imagined this room around Adelhida's influence.
"It's reminiscent of sun-dappled afternoons and that sense of a continental journey, the essence of being on holiday."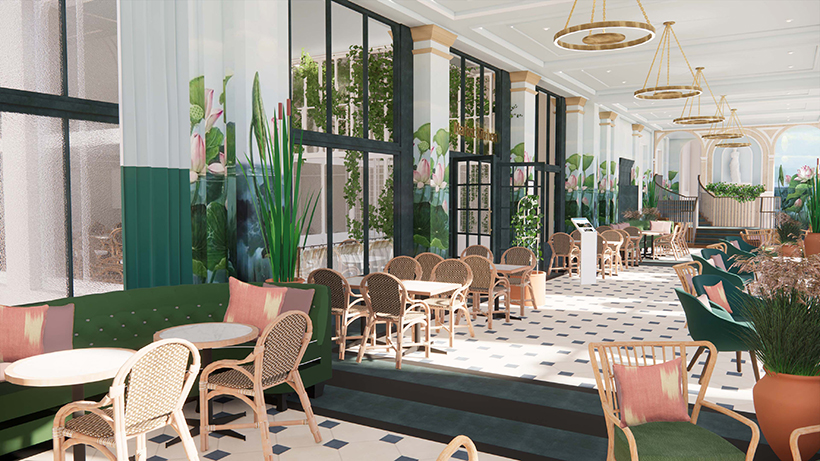 Another area highlighted by Hallam is the corridor connecting the original building with the modern extension, known as the Orangery.
Hallam says: "It's a transitional corridor but it really is this beautiful space, a long gallery, with these amazing windows looking across the parkland. We've played with this internal/external feeling and the connection to the water and the landscape, and created a design that will be painted onto the columns of a lily pond; the mural will be half-submerged and half above water, so again it's playing around with that idea of immersing yourself into the landscape.
"We've got some lovely furniture there, so it's all about relaxation and taking a moment to sit and look out of a window, have afternoon tea or meet new friends."
Continue reading
You need to be a premium member to view this. Subscribe from just 99p per week.