A guide to all the Michelin star restaurants in Scotland
Here is the full list of Scottish restaurants in the 2023 Michelin guide
From the remote isles to city centres, Scotland has a wealth of high-quality cuisine. And that quality has been rewarded. Some restaurants, such as Martin Wishart, have held their stars for decades, while Timberyard was added to the list in 2023.
Find out all about the Scottish Michelin star-holders here.
Heron, Leith
A new Michelin-star holder for 2023, Heron serves relaxed fine modern food in Scotland's Leith. It was opened in 2021 by chefs Tomás Gormley and Sam Yorke, after their successful lockdown food business Bad Seeds. Michelin said: "Two elements shine through from the two very focused chef-owners in the kitchen: they have all the techniques, but they also understand flavour – it's how a dish tastes that counts."
Address 87-91a Henderson Street, Leith, EH6 6ED, United Kingdom
Website www.heron.scot
Timberyard, Edinburgh
Set in a 19th century warehouse, Timberyard is also a new star holder for 2023. It's a family-run restaurant in Edinburgh serving ingredient-focused food, sourced from local and artisan suppliers, where each dish focuses on letting the produce shine. Timberyard opened in 2012, celebrating its 10th year with the Michelin star win. Dishes include turbot, white asparagus & fermented asparagus butter, and rhubarb, yoghurt & flowering currant – served in a four-course menu at dinner or a la carte at lunch.
Address 10 Lady Lawson Street, Edinburgh, EH3 9DS
Website www.timberyard.co
Loch Bay, Isle of Skye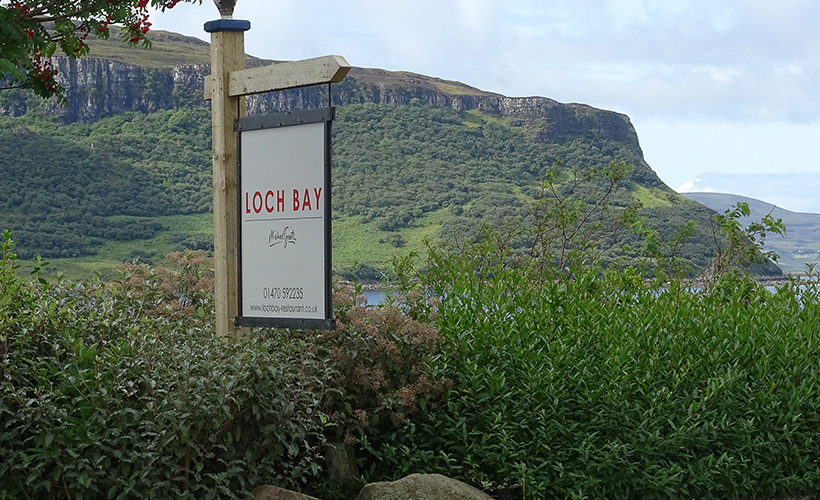 Situated on the Waternish Peninsula on the Isle of Skye, Loch Bay is an 18-cover restaurant serving seafood caught in the loch and the waters around Skye. It was opened in 2016 by chef patron Michael Smith, who has represented Scotland three times on Great British Menu, and his wife Lawrence, and was awarded a Michelin star 18 months later in 2018. Scottish cuisine is given a French twist, with a Skye Fruits de Mer menu priced at £120 per person. Dishes such as hake with razor clams, brassicas and roots, and buttered bay prawn 'pot au feu' emphasise simple flavours and high-quality ingredients.
Address 1-2 Macleods Terrace, Isle of Skye, IV55 8GA
Website www.lochbay-restaurant.co.uk
Kitchin, Edinburgh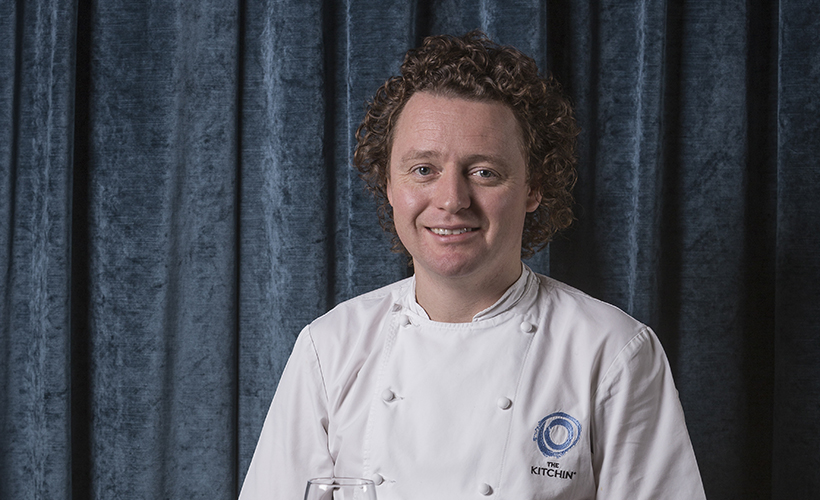 Michelin-starred Kitchin in Leith is the flagship restaurant of chef Tom Kitchin, who trained under chefs including Pierre Koffman, Guy Savoy and Alain Ducasse. The restaurant, which sits in a converted whisky warehouse serves dishes showcasing the best of Scottish produce. It opened in 2006, earning its Michelin star seven months later. The Michelin Guide says: "Tom is a passionate ambassador for all things Scottish and this, combined with his nature-to-plate philosophy and classical French training, results in dishes that hit the mark every time."
Address 78 Commercial Quay, Leith, EH6 6LX
Website thekitchin.com
The Peat Inn, Fife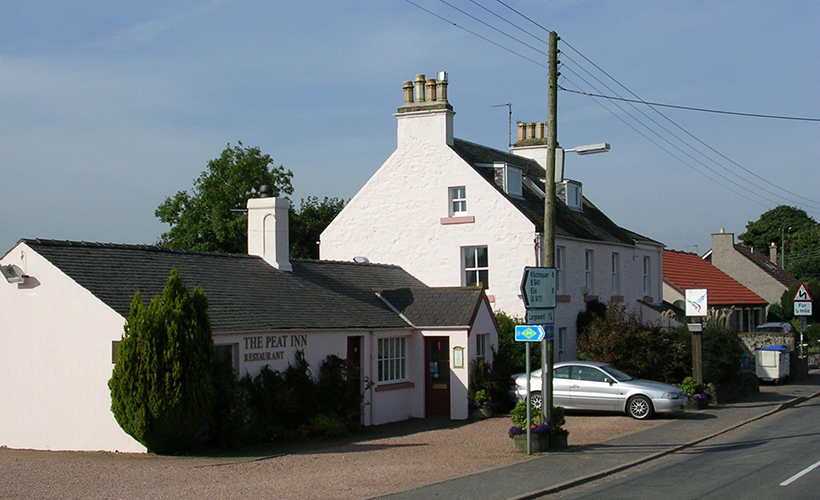 The Peat Inn restaurant with rooms in Fife has been under the stewardship of Geoffrey and Katherine Smeddle since 2006.
The restaurant was the first in Scotland to win a coveted Michelin star when chef David Wilson was at the helm in the 1980s. The Smeddles returned the restaurant to the pages of the red book in 2010 and have held their star ever since.
The Michelin Guide says: "[Geoffrey's] accomplished cooking is underpinned by classical French techniques. Flavours are bold and harmonious and although some subtle modern touches are in evidence, cooking is free from frippery. Dishes use the finest produce from the region, be that vegetables from the garden or seafood from Anstruther"
Address Peat Inn, KY15 5LH
Website www.thepeatinn.co.uk
The Cellar, Anstruther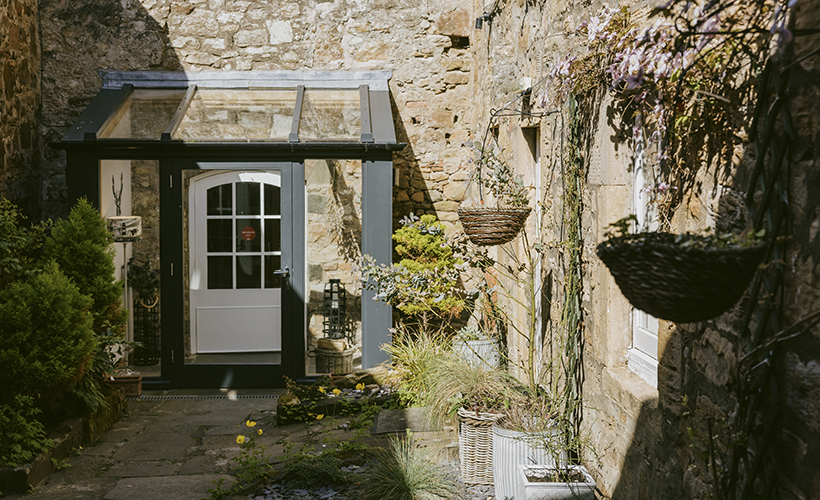 Billy Boyter took over The Cellar, previously run by Peter Jukes, in 2014 retaining the name and achieving a Michelin star a year later.
Boyter had previously been head chef at Michelin-starred Number One in Edinburgh and serves tasting menus showcasing seasonal Scottish produce and locally foraged ingredients from the region's coastline and countryside.
The Michelin Guide says: "The room itself might be relaxed and homely but the cooking is contrastingly modern. The multi-course set menus are nicely balanced in terms of both variation and portion size, and the chef's strength is his great understanding of flavours: he likes to blend numerous layers of flavour and while each one stands out by itself, it also complements the others and brings the dish together as a whole."
Address 24 East Green, Anstruther, KY10 3AA
Website www.thecellaranstruther.co.uk
Glenturret Lalique, Crieff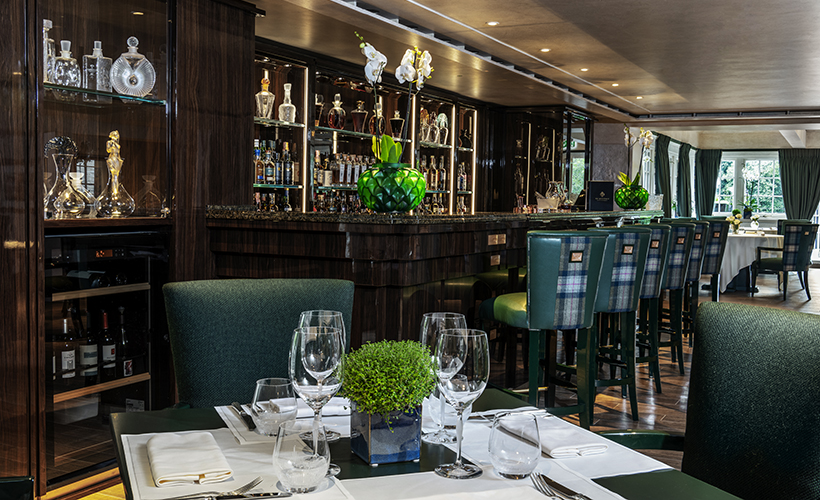 The Glenturret Lalique restaurant combines on-trend contemporary cuisine with centuries of whisky-making tradition. It sits close to the banks of the Barvick Burn next to the Glenturret distillery and dates back more than 250 years making it Scotland's oldest working distillery.
Head chef Mark Donald started his cooking career in Glasgow and during his career has worked at Restaurant Andrew Fairlie, for Claude Bosi at Hibiscus, at Bentley in Sydney, Australia and the Balmoral in Edinburgh where he earned his first Michelin star in 2018
Donald claimed his second Michelin-star for the Glenturret in 2022 and the Michelin Guide says: "Dinner is a multi-course tasting menu of precisely crafted modern dishes with a clean, delicate look and great depth of flavour and Donald perfectly balances local and global influences with contrasting textures. Detailed service sees many dishes finished at the table and the 'Sweetie Box' of petit fours is a talking point."
Address The Glenturret Distillery, The Hosh, Torreglen, Crieff, PH7 4HA
Website www.theglenturret.com/restaurant
Andrew Fairlie at Gleneagles, Auchterarder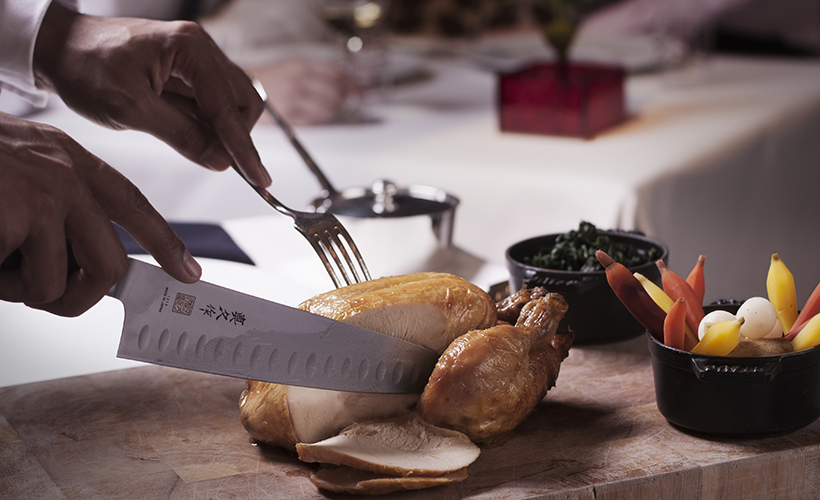 The only restaurant in Scotland to hold two Michelin Stars is in the sumptuous setting of Gleneagles in Perthshire and provides a meal experience that will linger long in the memory. Guests receive a warm welcome from a passionate, award-winning professional team into an opulent, dramatic dining room hidden at the heart of the hotel.
The Michelin Guide says: "An oil painting of the late Andrew Fairlie takes pride of place on one wall and head chef Stephen McLaughlin and his team work to continue Andrew's philosophy and keep his spirit alive.
"Refined cooking has a French heart and a Scottish soul and, while techniques are rooted in the classics, there are also touches of modernity. Superb quality produce guides the menu, with 95% of the vegetables coming from their walled Victorian garden and each dish focusing on one main ingredient which is then skilfully enhanced by its accompaniments. Service is formal but comes with plenty of personality.
Address Auchterarder, PH3 1NF
Website gleneagles.com/eat-drink/andrew-fairlie
Condita, Edinburgh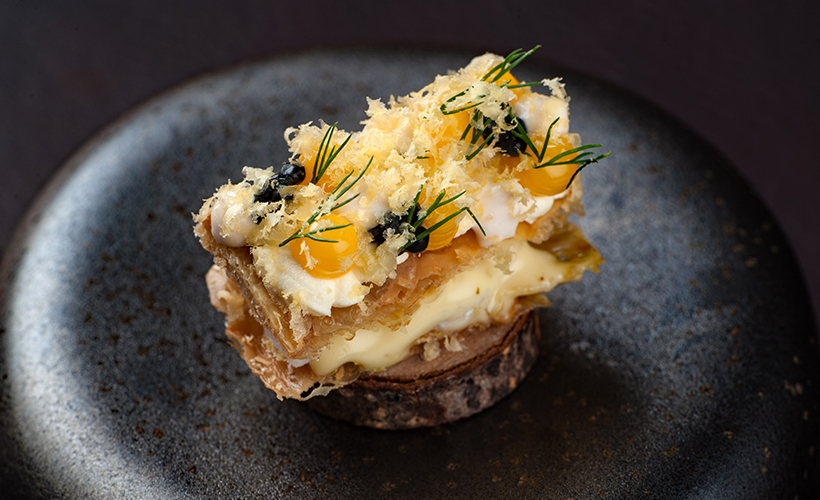 Run by Conor Toomey, this little restaurant opened in 2018 and quickly gained a Michelin star. It is based in a converted shop, making for a humble setting with interiors that are adapted to suit the time of year. Toomey serves a surprise tasing menu with modern seasonal dishes with ingredients which often have been foraged or grown in the restaurant's walled kitchen garden.
The Michelin Guide says: "Flavours are honest yet delicate and are carefully thought-through to enhance one another. The team deliver the dishes with pride and, if you have any questions, Conor is more than willing to find time to talk."
Address 15 Salisbury Place, Edinburgh, EH9 1SL
Website www.condita.co.uk
Cail Bruich, Glasgow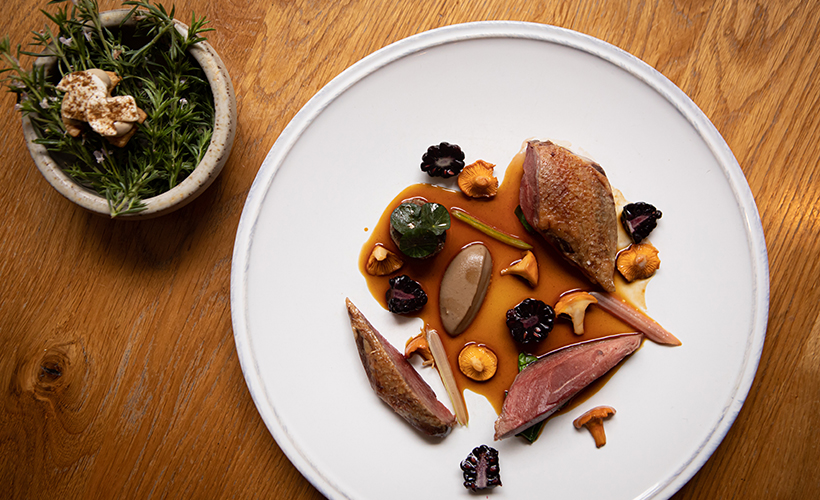 Cail Bruich is the only Michelin-starred restaurant in Scotland headed up by a female chef – Lorna McNee, a protégé of the Andrew Fairlie. Menus respond to the seasons and usually feature seven or eight courses which highlight British and Scottish produce. The name means "to eat well", and guests certainly do. After just five months with McNee at the helm, Cail Bruich won its Michelin star in 2021, becoming the first Glasgow restaurant in 18 years to win the accolade.
The Michelin guide says: "Passion and precision lead the way but she also has restraint, with her focus on just a few ingredients combined in perfect harmony".
Address 725 Great Western Road, Glasgow City, G12 8QX
Website www.theglenturret.com/restaurant
Unalome by Graeme Cheevers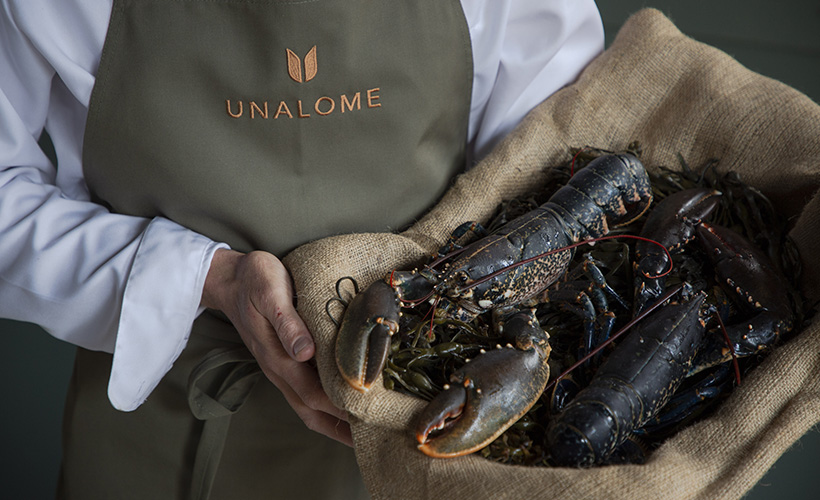 Just 8 months after opening to the Glaswegian public, Unalome won its first Michelin star. Graeme Cheevers, the chef patron, has worked across the world from Singapore to New York, but decided to return to his hometown to open his first solo venture. The food takes inspiration from Japanese and French, but remains true to Cheevers' roots with respect paid to Scottish produce. Both tasting and à la carte menus are available, alongside vegetarian options.
The Michelin guide says: "it's well worth going for the full tasting menu and the thoughtfully considered wine pairings."
Address 36 Kelvingrove Street, Glasgow, G3 7RZ
Website www.unalomebygc.com
Martin Wishart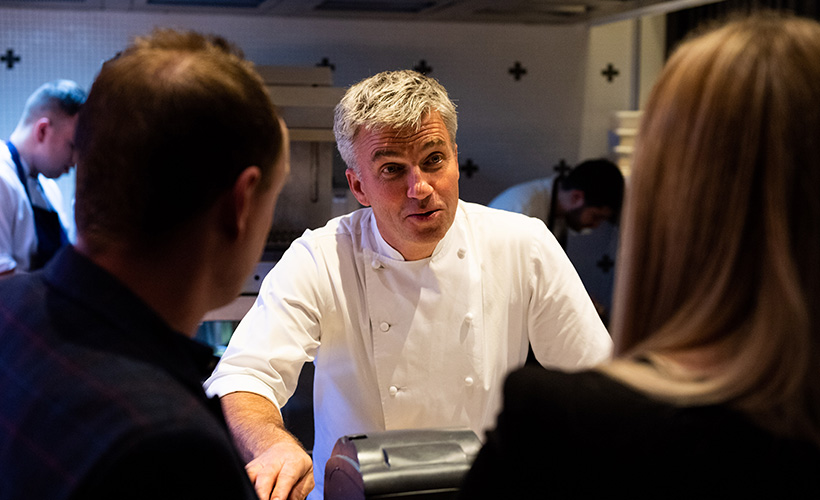 The self-titled restaurant has been an institution in the Port of Leith for over 20 years, with many great chefs passing through its kitchens. Chef patron Martin Wishart himself worked his way up under incredible tutelage, with the likes of Albert Roux and Marco Pierre White. The backbone of his cooking comes from classical French cuisine, with fresh Scottish seafood across the menu.
The Michelin guide says: "it's warmly decorated and comfortable, without being overly formal, and it suits all occasions, whether that's a business lunch or an extended evening celebration."
Address 54 The Shore, Leith, EH6 6RA
Website restaurantmartinwishart.co.uk
Read more
One-Michelin-starred restaurants in London >>
One-Michelin-starred restaurants in England & the Channel Islands >>
One-Michelin-starred restaurants in Scotland, Wales, Ireland & Northern Ireland >>
Two-Michelin-starred restaurants in England & the Channel Islands >>
Three-Michelin-starred restaurants in the UK & Ireland >>