Atmosphere is at the top of Beckford group's list when it comes to creating a pub. Its co-owners meet for a fireside chat to talk loyal staff, design and creating an empire
"If you are asked why you favour a particular public house, it would seem natural to put the beer first, but the thing that most appeals to me about the Moon Under Water is what people call its 'atmosphere'," goes the famous 1946 essay by George Orwell.
"Barmaids know[ing] most customers by name", "the pleasure of lunch" and "a good fire burning" are traits identified by Orwell, which are ticked off at Beckford's four country pubs with rooms dotted across the south-west, where co-owners Dan Brod, Charlie Luxton and Matt Greenlees chase that elusive, compelling atmosphere.
"We made a pub that we wanted to go to," says Brod, sinking into one of the reclaimed armchairs at the Bath Arms in Wiltshire, a fire crackling in the hearth next to him. "It's our modus operandi for everything we do. Because, otherwise, what's the point? It's bloody hard work."
For the three business partners, inspiration was drawn from their personal love for a pub, having all propped up the occasional bar, nursing a pint, from time to time. Luxton spent 10 years working alongside Soho House founder Nick Jones in operations and property before creating Beckford in 2009 at the height of the credit crunch with business partner Brod. He bought brand and marketing experience to the business after a spell in the film industry in LA, a number of years in the tech start-up world and a short stint as a chef with the Conran group. Greenlees joined the business four years later. A hospitality man through and through, he moved from his native Australia to London after completing a hospitality business degree and worked at one of the capital's original 1990s gastropubs, the Engineer. He then took up posts at a number of Soho House establishments, including Electric House in Notting Hill and High Road House in Chiswick before running Babington House in Somerset for seven years.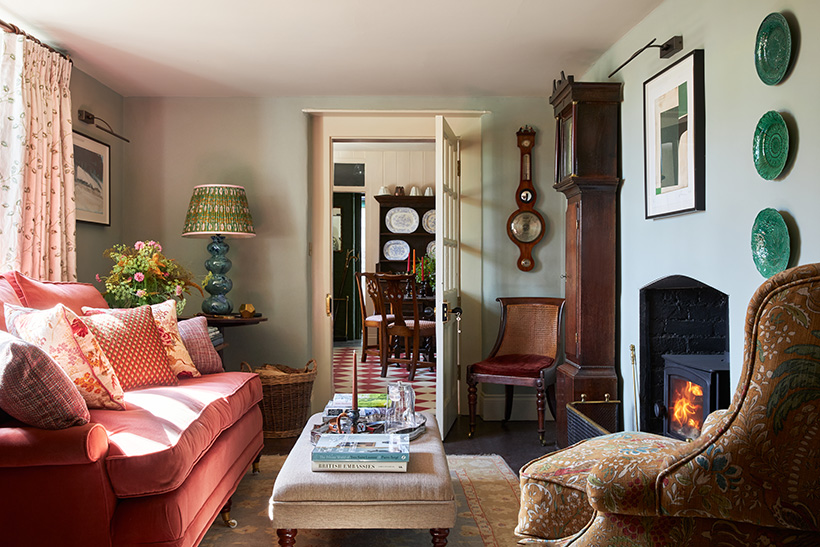 Greenlees now oversees F&B across the group, while Luxton looks after the guest experience, design and detail. "The look and feel of the business is his primary hat," says Brod. "It is a really important part of why people come here. A lot of things come under that, from which toilet paper we use…"
"Glam it up, why don't you?" chips in Luxton, who had arrived for our interview brandishing an antique standard lamp, proudly proclaiming that he'd managed to change the fuse.
"But I think this is what we do well, we do the detail!" insists Brod. "That's why people have a good time, and that's why they come."
And Brod's role? "I hoover up whatever's left," he laughs, which includes business strategy, marketing and people, using his varied experience to take a wider view of the business.
"He's the brains, we're the brawn," jokes Luxton, as his Labrador-Collie cross, Pepper, bounds through the door and jumps up beside him to sit in the warm glow of the fire.
Over the past 13 years, the trio have been quietly building the beginnings of a hospitality empire in the south-west, with a Bottle Shop in Bath about to be joined by a new restaurant headed by ex-Kitty Fisher's chef George Barsonas, well as a successful cosmetics products business.
"Before we set up our first pub – the Beckford Arms – there were plenty of pubs with nice food, drink and atmosphere, but upstairs they had little bedrooms with pine furniture, which you didn't really care about because you were going to a wedding and you came back drunk and fell asleep," says Brod.
"But we took that sort of Soho House sense of style and applied it to a pub. Good-value rooms, done nicely, more of a hotel experience in a pub. And that is now an industry sector that didn't really exist back then. I would like to say it was by design, but it's just what we built – we made a pub that we wanted to go to."
Pub hub
Expansion is front and centre of the group's business plan, with a lease on a boutique hotel in the Nadder Valley near Salisbury about to be signed ready for a speedy refurbishment and launch next year, while further pub sites and Bottle Shops are being looked at.
Brod says: "As we've expanded we're very conscious of not becoming a chain. We don't just want to copy this, plonk that there, paint the four walls with a bit of Farrow & Ball and find the same furniture, because it doesn't work like that. Pubs are a product of their locality, which means they must have locals and different foods from nearby suppliers. And, most importantly, the staff want to feel like they are doing something genuine."
"Pubs are the hub of the community," adds Greenlees. "Pubs are forever – all you have to do is keep the staff on top, keep the look and feel perfect, serve a great plate of food and it'll be there for another 300 years."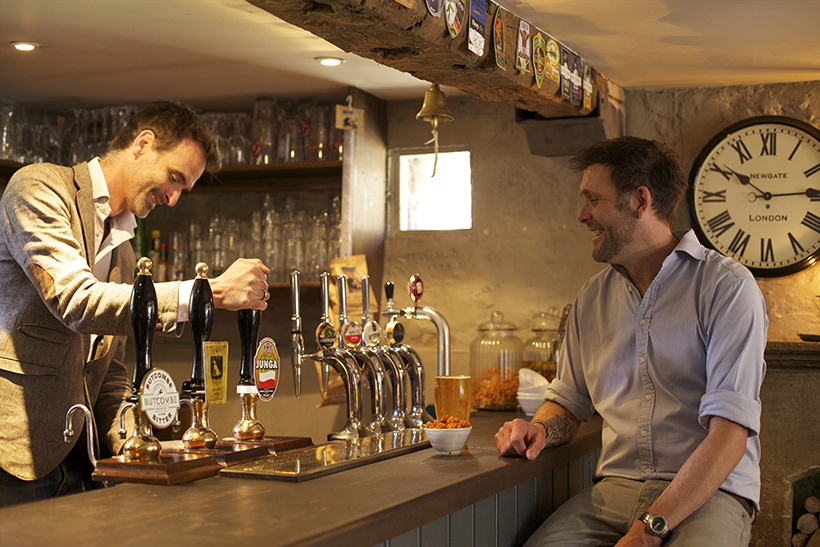 "Unlike pubs, most restaurants have a shelf life," agrees Luxton. "A restaurant such as St John in London might be here for another 20 years, and there are a few other iconic restaurants that will remain, but many will not."
Brod points out that most of the Beckford pubs have been pubs for over 500 years. "And the difference isn't huge," says Luxton. "Maybe better food…?"
"We've got Wi-Fi now!" suggests Brod, to which Luxton acknowledges: "But you're serving a pint, which is no different."
"What hasn't changed is the hospitality," agrees Brod. "People come here they want food, shelter and something to drink."
Adapt to survive
Over the centuries previous proprietors have battled through many challenges and 2022 has presented more than its fair share, including spiralling energy costs, which for one site have increased from £30,000 a year to £125,000.
Brod believes the current landscape is a huge threat to pubs up and down the country. "If you're a food cart or a restaurant you can shut for a certain amount of time or concentrate down into a few days and make it work. This is a much more complicated business. We have 160 staff at the moment, going up to 200 next year, so there's a lot of people who live around here to look after.
"Food costs are going up, as are staff costs, and we can't really put up our prices by much – I wouldn't be happy paying £25 for a burger, for example," he says, adding that the business is no longer competing with other pubs, but with people staying at home and not going out.
Greenlees adds: "Six months ago, Dan said a burger will cost £20 by the end of the year, and I thought he'd lost his grip."
"It'll be that in Wetherspoons soon," says Brod. "We're pessimistic – anybody in hospitality with half a brain is pessimistic at the moment. We used to say we'll give every guest a good time and everything else will work out, but it's not as simple as that any more and there's no real answer."
Brod explains that they and their two investors – one being Nick Jones – prefer to focus on long-term sustainability rather than maximising revenue and profits. He admits it is unlikely, due to the current climate, that the business will make a profit this year, but the trio are determined to continue growing carefully and steadily, while looking after their guests, staff and suppliers to position the business to continue into less turbulent times.
Luxton believes the group's relatively small size means it can adapt quickly, taking moves such as simplifying menus to offer pub classics rather than à la carte options, and introducing more offal and less fillet steak. And with so many new projects coming down the line, it will be the diversification of the business that could help it weather the storm, such as the Bramley product arm, as well as their city centre sites in Bath.
"We're very nitty gritty, hands-on owners. We know all our staff's names and we feel it," Brod says, noting how they want to open new operations, not to simply make money but to also give their employees a career path.
A thoughtfully written and hand-illustrated handbook is given to all new starters in their welcome pack, with humorous scenarios and details on how to serve customers. Staff perks include generous holiday, Christmas Day off, meals on shift and 50% off food, drinks, rooms and products. Greenlees says: "Our general manager has been with us for 10 years and we've had a waitress who's been with us for 18. The turnover is absolutely minimal because we invest and look out for our staff."
While the outlook my look bleak, the three can still take a moment and appreciate when when things run smoothly. "In the pubs, there is a moment when you can just feel that everything is good," says Brod. "You can see the staff are happy, the guests are happy, and the kitchens are less screamy than normal. It's just like a jigsaw – everything falls into place. We're very conscious it's tough right now, but in this industry, you sort of start again every single day."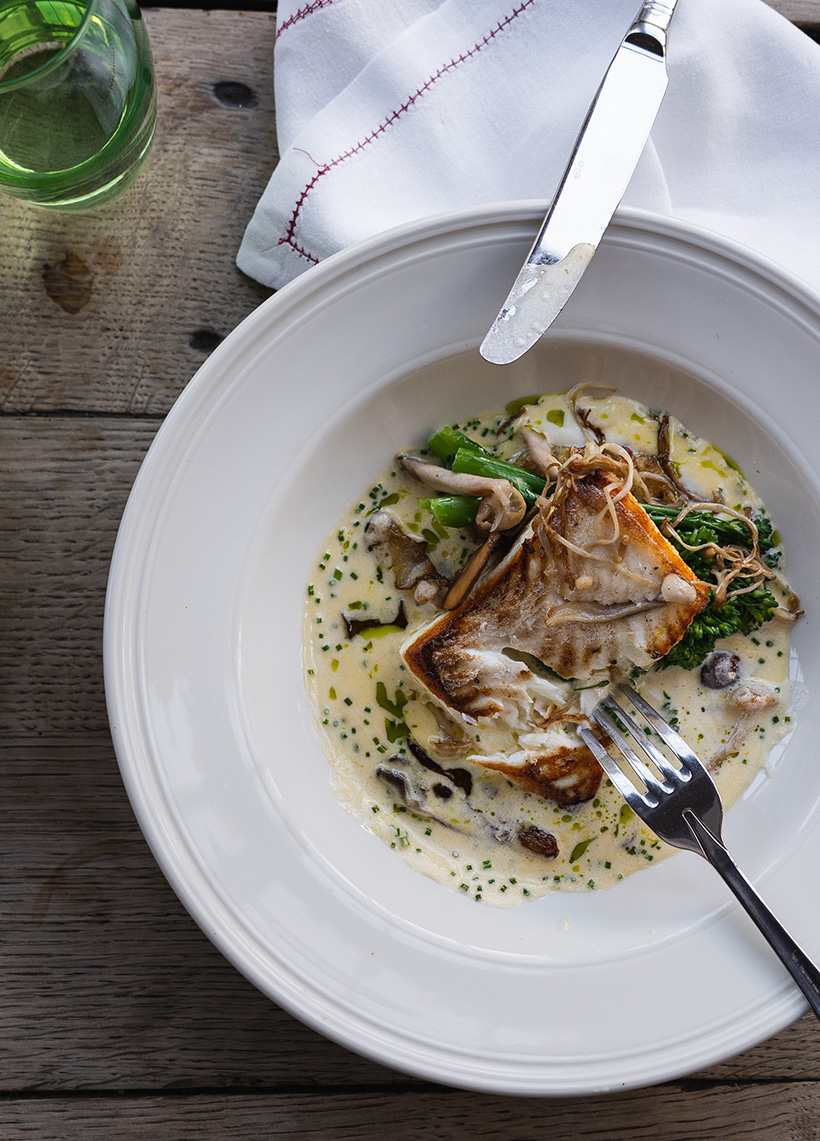 And, ultimately, it's the staff that are the most important part of creating that homely feeling any country pub wants to provide. No one in the industry knows what 2023 will bring, but if Beckford can keep hold of that all-important atmosphere, then Brod, Luxton and Greenlees hope their pubs will be standing for a few hundred years to come.
Quick fire design tips with Charlie Luxton
How do you design the Beckford properties?
"When it comes to our bar and restaurant spaces, comfort is the primary driver. We try to make the colours warming and easy, not clever and modern (we will never use purple or grey, for example), while seats are large and spacing is generous. Lighting is always muted – we avoid ceiling spotlights – and lampshades are a single colour, often dark red or green.
"The look is respectful of the history of the spaces, both in how they are used and how they are detailed. Brass as a material is historical, robust, warm and reflective, so we use it widely; plastic is harsh, modern and often brittle, so we avoid it."
Where do you find your antique pieces?
"I am permanently on www.the-saleroom.com, which is where I buy a huge amount of furniture for the ground floor of the pubs – the chase for something good at a great price can sadly keep me scrolling for hours!
"I also have two particularly good local antique shops, Kingsettle Antiques and Dairy House Antiques, which I trawl through on a monthly basis for anything new, while Semley Auctioneers and Clarke's Auctioneers have monthly sales where I have found some wonderful, unique bits and pieces which add to the history of the pubs."
What considerations do you keep in mind?
"Pubs have always been filled with the history of the building, the area and the local activities – the more local the better – so I make sure the pub spaces have character and tell people something about the pub they are in and the area they are visiting. It takes time to find these sorts of things, but this represents the owner's keenness to position the pub within the community. At the end of the day, a pub is only ever on loan and will no doubt will be about for another few hundreds of years in someone else's caring hands."
Where do you get your inspiration from?
"As well as two designers who I have learnt a lot from – Ilse Crawford and Susie Atkinson – my daily inspiration comes from listening to guests and staying at well-designed hotels and pubs (and that does not mean expensive places). I also read The World of Interiors and Elle Decoration, as well as following designers and photographers on Instagram, including Jack Laver Brister (@tradchap), Patrick O'Donnell, Carlos Garcia, Jake Eastham and Boz Gagovski."
What's your top tip?
"Quality will always win in the end. It may cost slightly more in the first place, but the investment is worth it. Anything guests touch needs to be quality, so spend extra on door handles, bedside lamps and tables."
Bramley: from Beckford to the Dorchester
Bramley is a range of bath and body products inspired by the countryside using fair trade and sustainably-grown essential oils. The brand was founded by Chloë Luxton, who originally created the range for the group's first pub, the Beckford Arms. Since then, the company has grown tenfold and the products are now available online as well as being found in restaurants and hotel bathrooms all over the UK, supplying the likes of the Pig, Artist Residence, the Dorchester and Gleneagles. Retail prices start at £16 for a 250ml product, while wholesale prices depend on quantities, but can be supplied to operators in refillable bottles (made from biopolymer or glass) to ensure cost efficiency and aid in the phasing out of single-use plastics.
A taste of the Beckford group
Matt Greenlees shares his favourite dishes from the group's pubs and restaurants:
The Beckford Arms (opened 2009) Fonthill Gifford, Tisbury, Wiltshire SP3 6PX)
Ricotta gnudi, smoked butternut squash purée, crispy chilli oil
The Talbot Inn (2013) Mells, Somerset, BA11 3PN
Game suet pudding, mash, pickled red onion, gravy
Lord Poulett Arms (2018) High Street, Hinton Saint George, Somerset TA17 8SE
West Country pheasant, drunken potatoes, celeriac purée, cep sauce
The Beckford Bottle Shop (2018) 5-8 Saville Row, Bath BA1 2QP
Grilled Devonshire lobster, veal sweatbread
The Bath Arms (2020) Horningsham, Wiltshire, BA12 7LY
Salted caramel tart, coffee gel, caramel popcorn, Cornish clotted cream
Beckford Canteen (2022) 11 & 12 Bartlett Street, Bath BA1 2QZ
Veal cheek, Jerusalem artichoke, onion
Continue reading
You need to be a premium member to view this. Subscribe from just 99p per week.