The new restaurant at art centre Messums Wiltshire uses rustic colours and handmade crockery to pay homage to its artists
Messums Wiltshire gallery's new evening restaurant concept, the Mess, is a mix of creamy whites, rustic beige and pale cerulean. The final palette comes as a surprise, considering the venue's initial orange and indigo colour scheme. "I don't really know why, we just love orange", Emily Pinsent, project manager and artistic director, confesses. Now, the only noticeably orange feature of the restaurant is a velvet marmalade curtain tucked away in a corner, which was introduced to "soften the space".
Contrasting textures are integral to the Mess. One side of the wall features a Coade stone carving by Stephen Pettifer, which is layered on top of exposed brickwork, with colours reminiscent of the 13th-century Tithe barn exhibition venue located next door. The other is adorned with a collection of floral prints by Makoto Kagoshima, the Kyushu-based artist and ceramicist, who is represented by the gallery. He had previously produced a mural for the same space, which burnt down in a fire two years ago. The cosy sophistication of the restaurant can be felt even in the heart-shaped leaves and the round-edged flowers of the centrepiece artwork, spotted with malted pinks, mustard yellows and muted teals. Pinsent says: "We just felt that it was only fitting that we used one of Makoto's fabrics. We both really fell in love with this particular one. The colours in it are so strong. It sang in the space."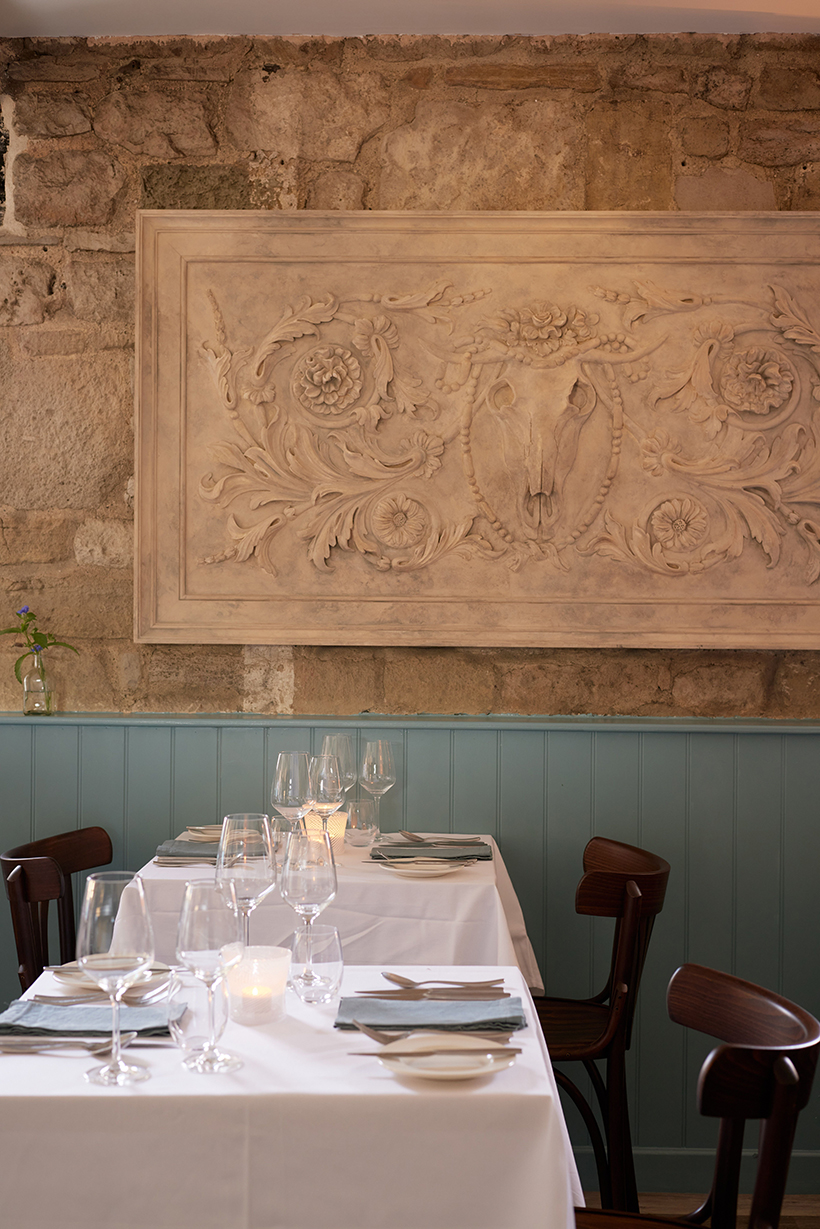 Pinsent and Johnny Messum, founder and director of Messums Wiltshire, were keen to emphasise the community feel of their restaurant, which pays homage to their artists, the wider Messums Creative pottery-making collective, and the artisanal condiment range produced on site, Mess Provisions. Messum describes it as "more than just a fit-out – it's an ethos". Each of the ceramics on display and the crockery used by the diners have "a direct connection to its maker in some way, shape or form. It is art that we know intimately".
John Julian, an old friend and neighbour of the Messums Wiltshire team, has created a series of classic, off-white porcelain bowls with what Pinsent describes as a "slightly art-deco feel". She adds: "We work with Chris [Warwick, head chef] because it's important that he was happy with the crockery and how his food was going to look on it. We went over to the studio, which is about 20 minutes away from the barn, and immediately Chris knew and I knew that this was the way that we had to go."
Messum is particularly fond of the hand-crafted nature of these items, which give every-thing a "slight wonk". "When you see something that is too perfect, you know it's from a machine. Food to our eye needs to be perfect but it also needs to be human. It's the same thing with the ceramics: they're beautiful, they're perfect, but you know they're handmade." One of Pinsent's favourite pieces is a ceramic disc by sculptor Jørgen Haugen Sørensen, which encapsulates "the act of the artist" through its finger-printed texture.
Even the labelling for the jam and spice jars, such as the pineapple and pink peppercorn preserve, is decorated with watercolour designs by Italian artist Francesco Poiana, another member of Messums. Messum adds: "Everything's got a story that connects back to the space. There's lots of parts, and while no one thing is that strong itself, when you put it together, it becomes something else. That sets up the food well, because there's a lot of saucing, so the narrative that sits across the two is very good."
Behind this personalised attention to design is a desire to make Warwick's food the main exhibit. His menu is conscious of heritage, provenance and seasonality, featuring dishes such as roast Castlemead chicken flavoured with lovage braised barley, English peas and broad beans, Wiltshire truffle and roasting juices vinaigrette; and burnt Cambridge cream with Ansty Farm strawberries, iced elderflower and vanilla olive oil. Messum describes Warwick, who was previously head chef at the Barn in Coworth Park and chef director of the Marco Pierre White group of restaurants, as another "artist" at the gallery, which "sits very closely with the sort of thing that we do".
Pinsent adds: "It was really important for the food to be able to take a centre stage. We didn't want anything too fussy. It's quite pared back, but it's also very welcoming. We just wanted to work together to make a space that everyone would feel comfortable in."
It is no wonder, then, that the name of the restaurant comes, in part, from the informal term used by the British army to describe the place "where everybody goes to come together, eat and socialise": the Mess.
Johnny Messum's favourite item
In each window alcove lined with Volga linen is a Little Hintock light. Messum says: "It's just wood – just one thin veneer of beautiful, beautiful wood that you would otherwise put on top of veneer for a tabletop. They finish it off with brass and it couldn't be simpler, but it does everything you want a lamp to do, which is to hold and emanate light. You can see the grains of the wood coming through."
Continue reading
You need to be a premium member to view this. Subscribe from just 99p per week.