Although the British pub is rooted in tradition, going with the flow in consumer habits can help you stay afloat. Here are the current trends behind the bar and on the table
Reports of the death of the Great British Pub are nothing new. The sector has been in decline, in terms of the total number of outlets, for a couple of decades at least. Figures compiled by the British Beer & Pub Association show a fall from 60,800 pubs at the turn of the millennium to 48,800 by the end of 2020.
However, the trend for smaller community pubs to close, while larger town centre venues have opened across the period, means that in terms of actual trading space, the pub and bar sector was roughly breaking even when the pandemic hit.
However, the loss of trade through lockdown restrictions has now taken its toll, with sector analyst CGA recording around 3,100 net closures of pubs and bars between March 2020 and August 2021.
Pubs also now face the same challenges as the rest of the hospitality sector, including higher input costs, the labour shortage, and cautious consumers concerned about household bills and disposable income.
In this context, some pubs are recognising the value of re-emphasising their community roots. Sarah Wall, owner of the eight-strong Livelyhood Pubs group, trading across London, says: "There's a real appetite from consumers, particularly after the last couple of years, for local, community-led pubs that support other brands and businesses within the area. We take tremendous pride in making our food and drink offering as strong and as sustainable as possible. We source high-quality produce from across southern England, but there's a particular emphasis on keeping it London-local."
Chef Chris Mapp built his reputation in some of the country's top restaurants and now owns the Tickled Trout pub in his home village of Barlow, Derbyshire. As well as creating a destination food trade spotlighting local produce, the offer includes everything from a great range of cask beers to charity raffles and a weekly pub quiz. "We're community focused, and very inclusive," says Mapp.
Premium for provenance at the pub
Suppliers stepping up to support pubs weather the storm include Bidfood, which has put together advice and guidance on menu flexibility, staff efficiencies and managing costs under the Unlock Your Menu banner.
Joe Angliss, Bidfood's customer marketing manager for the hospitality sector, says: "Consumers will factor in locality when choosing an eatery and see a sense of premiumisation with a product sourced or created just down the road. There has also been a growth in UK distilleries, breweries and wineries, so there are more British options to choose from than ever."
He adds: "There's scope for pubs to push provenance," citing research undertaken by CGA for Bidfood which shows that 46% of consumers want to support local producers and farmers when eating out, while 54% are willing to pay more for food featuring local ingredients. "Pubs should therefore highlight their contribution to the local economy by writing it on menus, putting up posters or via social media," he says.
With chips core to pub menus both as an accompaniment and snacking option in their own right, Lamb Weston is advising pubs to use its Stealth fries range to promote loaded sharing dishes, with choices such the BLTA (bacon, lettuce, tomato, avocado) Fry Stack; and Masala Loaded Fries, made with tandoori chicken, masala sauce, broken poppadoms and fresh coriander.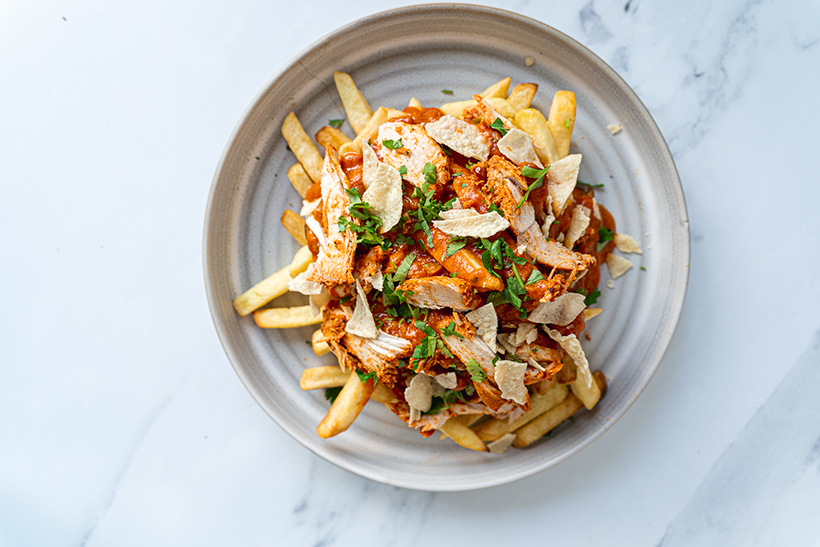 Scott Oakes, commercial manager for bakery supplier St Pierre, suggests using burger buns, hot dog rolls and baguettes to premiumise sandwich and barbecue offerings. "Pubs are having to compete with independent cafés, street vendors and casual restaurants more than ever before on the food front, and premiumisation offers the double benefit of attracting customers while driving margins."
Hand-held food also helps to meet the increased demand for takeaway and delivery services, a lifeline for pubs during the lockdown, and now a core part of the offer for many operators.
Samantha Winsor, brand manager for Lantmännen Unibake's Americana range, urges pubs to ensure takeaway options meet quality expectations. "While chefs can be confident of the presentation of a dish on-site, it can be more challenging to ensure the gourmet-level presentation of a takeaway meal. That's why it is vital to use quality ingredients when creating a burger menu. Of course, patties, toppings and relishes are all important elements of a burger, but the bun must be both high-quality and robust to house all the components."
Charlotte Kilduff, trade marketing manager at Pan'Artisan, says: "Pizza represents one of the most reliable foods and is a huge best seller; its versatility can easily address specific dietary needs and pub operators can benefit from a quick to prepare, cost effective menu choice, which transports well for delivery or takeout."
Pub plant power
One clear trend emphasised by suppliers is the need to include plant-based dishes on pub menus. Gordon Lauder, managing director of frozen food distributor Central Foods, says: "Meat Free Mondays have become a popular concept, and they're the ideal way to introduce new and exciting plant-based alternatives to your menu. Choose traditional favourites such as shepherd's pie, with vegan mince as the main ingredient, and also include more adventurous meat-free options."
Building on this trend, Phil Thornborrow, foodservice director at Quorn Foods, says: "We're making it as easy as we can for our customers to implement delicious meat free alternatives on the menu. The brand's ChiQin range, launched in 2021, includes Buffalo Wings, Southern Fried Wings and Crispy Wings as well as Buttermilk Style Chicken Burger. The ChiQin concept is designed specifically to highlight how Quorn can cater to those diners looking for comforting, messy, on-trend builds on the menu and meeting demand from the increasing number of vegan and veggie consumers," says Thornborrow.
Behind the bar trends
On the drinks side, shifts in consumer habits during lockdown played a part in a decline in sales of both cask beer and draught cider, neither to which has returned to pre-lockdown levels. Heineken UK on-trade category and commercial strategy director Charlie Fryday suggests a focus on premium brands to help pubs rebuild customer interest.
"Many regular pub and bar customers added premium drinks to their drinking repertoires at home during the lockdowns and plan to continue consuming from the category when visiting the on-trade. While volume sales of mainstream brands continue to slow, premium drinks are driving on-trade value sales."
Emma Gilleland, director of brewing, Carlsberg Marston's Brewing Company, adds: "Any beer range should try and provide balance and an option for all. Bookending the premium lager category are two styles of beer that offer real sales potential.
"The growth of alcohol-free beer has been huge in recent years, with the pandemic having accelerated consumer consciousness about health. Elsewhere, the appeal of cask ale in pubs remains a unique proposition, with cask-conditioned ale not something that can be easily replicated for consumption in households.
"Interestingly, cask ale drinkers also typically bring others to hospitality venues with them, so it's not just the money they them themselves spend but they also help drive up the sales of other drinks too."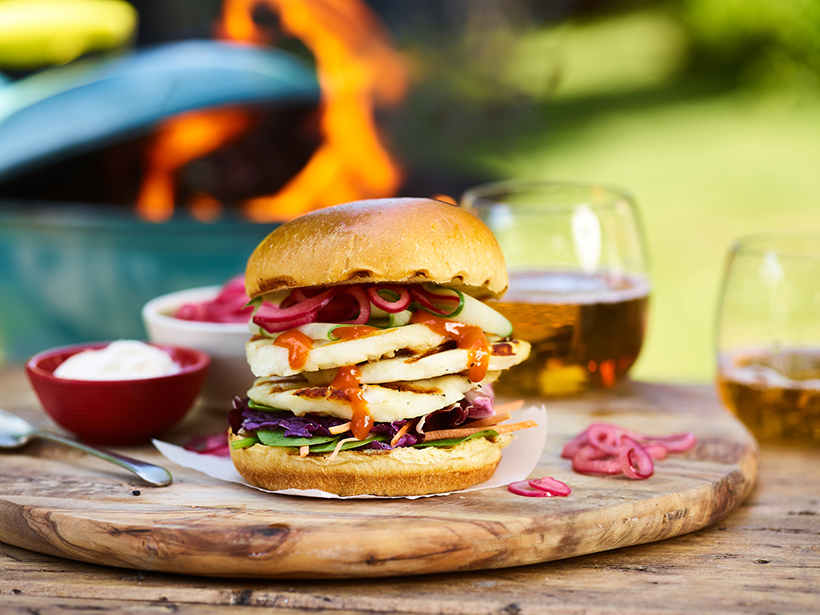 To appeal to customers who broadened their cocktail repertoire during the pandemic, Becky Davies, head of commercial at spirits supplier Ten Locks, suggests: "Premium spirits with high-quality mixers, great glassware, plenty of ice and fresh garnishes are enough to satisfy what consumers expect from their local. They don't tend to come to the pub for high level mixology or adventurous cocktails – but they do need to be engaged and understand that they're buying a quality offering operating at a higher level than your typical pour.
"Venues can show a real point of difference by simply showcasing that they use top quality mixers and excellent spirits on the drinks menus, and then delivering this beautifully."
A focus on hot drinks helps pubs drive daytime sales, with many of those still working from home willing to fire up their laptop in the local for a change of scene. Louise Cheadle, Teapigs co-founder, says: "A younger demographic of tea drinkers are turning towards drinks that offer health benefits so look at green teas, herbals and other infusions that have a wellbeing function. Matcha, for example, is a super-versatile green tea powder full of antioxidants that can be served in all manner of ways and will certainly offer the highest cash margin of any tea on the menu."
Pub quiz
With quizzing also shifting away from Zoom and back to the pub, Alan Leach, co-founder of quiz tech company SpeedQuizzing, reports: "We're finding that pubs and bars are increasingly turning to quizzes rather than live sport to drive footfall and sales on traditionally quieter nights of the week. From conversations with publicans, we're hearing that people typically drink more during a well-run quiz than they would if they were watching a game of football."
Licensee Mark Pinckney from the Deramore Arms in York, adds: "From taking the faff out of preparing for and hosting quizzes, through to driving some of our biggest crowds of the week, SpeedQuizzing has transformed our pub quiz night. The footfall makes a massive difference to our business, driving sales and generating a brilliant atmosphere."
Suppliers
Bidfood www.bidfood.co.uk
Carlsberg Marston's Brewing Company www.carlsbergmarstons.co.uk
Central Foods www.centralfoods.co.uk
Euroboozer www.euroboozer.co.uk
Heineken UK www.heineken.co.uk
Lamb Weston www.lambweston.eu/uk
Lantmännen Unibake www.lantmannen-unibake.co.uk
London Essence Co www.londonessenceco.com/en
Pan'Artisan www.panartisan.com
Quorn www.quornfoodservice.co.uk
SpeedQuizzing www.speedquizzing.com
St Pierre www.stpierrebakery.co.uk
Teapigs www.teapigs.co.uk
Ten Locks www.ten-locks.com
Continue reading
You need to create an account to read this article. It's free and only requires a few basic details.