As a back of house workhorse or for front of house display, refrigeration might be the most adaptable appliance in your kitchen. We look at the latest models
Whether it is back of house storage and cooling equipment or front of house chilled display cabinets, refrigeration is a linchpin of any caterer's health and safety regime, keeping food fresh and safe for customers, regulators happy and costly food spoilage to a minimum. These high-hygiene demands make refrigeration perhaps the hardest working appliances in commercial kitchens and restaurants – and one of their greatest energy guzzlers.
"Used continuously 24 hours a day, seven days a week, refrigeration appliances are required to maintain precise temperatures [and humidity] in demanding environments and under the strain of constant use," explains Jack Stockley, cold sector specialist at First Choice Group, a leading stockist of original equipment manufacturer (OEM) spare parts, accessories and consumables.
Skyrocketing energy prices will only supercharge the existing demand for ever-more efficient machines, he adds: "In recent years, this has seen many of the leading manufacturers take advantage of the latest EC fan motors, energy-optimised compressors, smart controllers and the widespread use of naturally-occurring, hydrocarbon refrigerants."
The ability to tailor refrigeration products to the specific needs of the site is increasingly important
When choosing new storage equipment, it's worth checking its Energy Classification, which shows annual energy consumption, suggests Julie Croker, managing director at Angel Refrigeration, which supplies high-end European brands such as Everlasting and Coreco. "Very often the more expensive equipment to buy will work out the least expensive to run and last longer," she notes.
Croker's shopping list of desirable features also encompasses the latest energy-efficient and eco-friendly R290 refrigerant, integral WiFi-enabled temperature monitoring, high temperature and dirty condenser alarms, and fan-assisted evaporators to cover temperature quickly and efficiently.
Choose the right location for your refrigeration
"Choosing the right site for your refrigeration is essential and can result in dramatic energy savings and considerably less wear and tear on the refrigeration system," observes Malcolm Harling, sales and marketing director at Williams Refrigeration. The heat generated by refrigeration can become excessive in small, unventilated spaces which will, he warns, increase energy consumption and put pressure on condenser and components.
"A common constraint for many caterers is the available space in the kitchen, and an increasing number of operators are now looking to purchase space-saving units," notes Roz Scourfield, national sales manager at Hoshizaki. Its energy-efficient Gram Compact refrigeration cabinets are offered in a variety of different heights and widths to fit spaces where others are too big or too small.
"Another essential for many kitchens is a coldroom, or a suite of coldrooms, for high- volume refrigerated storage," adds Harling. "One space-saving option is a dual-temperature model, offering both chilled and frozen storage."
"The ability to tailor refrigeration products to the specific needs of the site is increasingly important," agrees David Rees, marketing manager at Hubbard Systems. Bespoke refrigeration is expensive but Rees believes the sheer choice of off-the-shelf products can cater for customers' individual needs.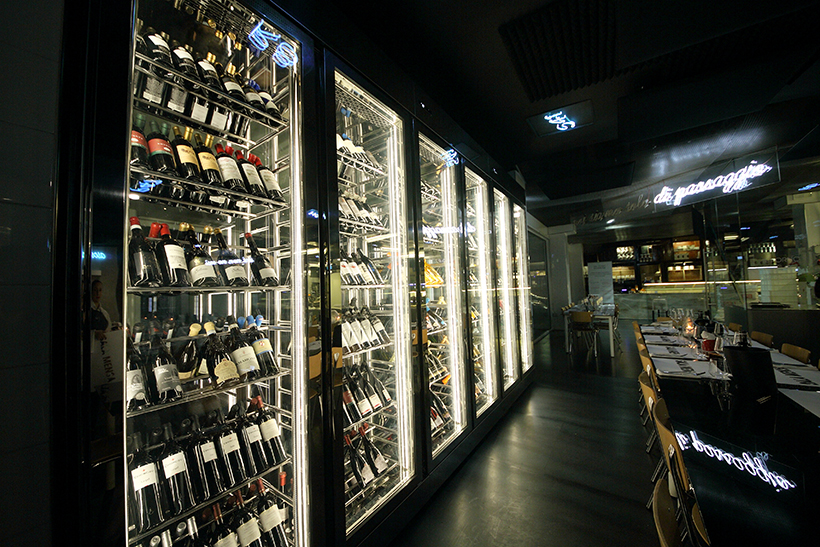 Hubbard's range of Friulinox Quick-box cold rooms comes in 22 sizes with customisation options. The powerful compact refrigeration blocks that maintain temperature electronically can be mounted left or right on the sidewall – or even on the ceiling - for greater flexibility and a connectivity option allows remote management of data, including HACCP reports.
"A big part of food safety is not just ensuring the right temperature in your product – it's also how easy it is for the equipment to be cleaned, to avoid the build-up of dirt traps and potential bacteria around food being stored," explains Rebecca Vincent, UK commercial director for Foster and Gamko.
She describes the new EcoPro G3 – the third generation of Foster's award-winning EcoPro range – as its best-performing, most food-safe line to date. "As part of Foster Shield, our focus on food safety started early in the design of G3, meaning we redesigned the G3 inside and out to make it our easiest to clean yet," she adds.
Along with a highly-visible LED temperature display, the single- and double-door cabinets feature Foster's improved and energy-saving +stayclear low-maintenance condenser along with intelligent airflow to distribute the cooled air efficiently, even when shelves are fully loaded. Options include a fish cabinet, a dual-temperature model and a pass-through version that can be accessed from front or back. Improved efficiency and space utilisation is the focus of Hoshizaki's upgraded Snowflake GII range, according to Scourfield, and the new GII+ models carry a top Climate Class 5 rating and an improved C energy rating.
Blast off with a great freezer
While Snowflake GII+ cabinets are shorter to accommodate the lower ceilings found in many UK kitchens, they are roomier inside thanks to the new monoblock refrigeration system. Self-contained, insulated and removable, it sits on top of the unit (not inside) to provide easy access for servicing and maintenance. A self-cleaning condenser negates the need for an evaporator, leaving even more storage space inside, "Production processes like cook-chill and cook-freeze have been increasing in popularity in foodservice in recent years," observes Rees at Hubbard. "They make it simple to prepare large batches by providing an easy way of processing food for storage until required, with no loss of quality compared to traditional freezing methods."
"It is very tempting to use a general purpose fridge or freezer for cooling, especially where space and budget isn't available," notes Croker, warning that this can compromise the steady temperatures they are designed to maintain and shorten their life span. The better option, she suggests, is to invest in more affordable tabletop or under-counter blast models that are specifically designed to rapidly reduce the temperature of cooked, ambient and chilled foods.
The newest addition to Williams Refrigeration's line-up of blast chillers and freezers (which range from compact under-counter to large, roll-in units) is the WTBC70 roll-in blast chiller freezer. Designed to accept 20 rack GN1/1 combi oven trolleys, it is the first on the market that can accept three different types of combi oven trolley (Lainox, Rational iCombi Pro and Rational 201). Compared with many competitors, it can also chill more food in a single batch – up to 70kg in 90 minutes or less – at higher temperatures up to 900°C (against 700°C).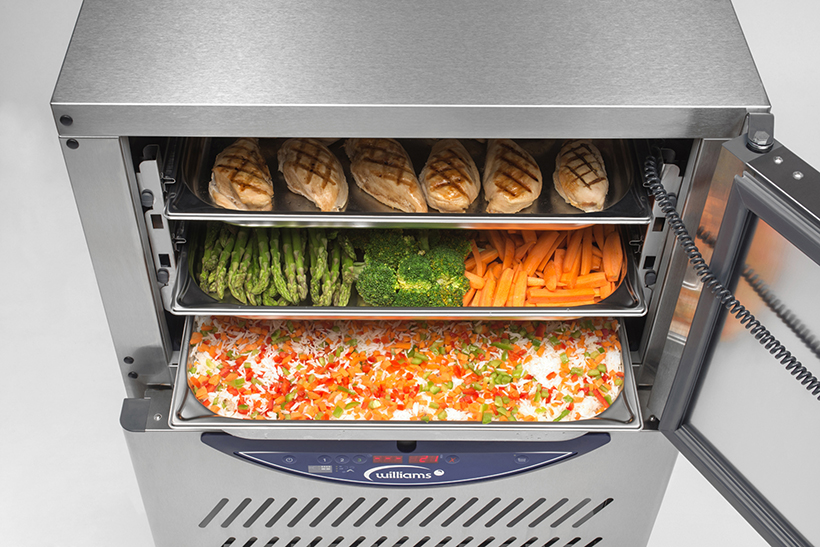 Made you look
Looks can be as important as efficiency on the shop floor, especially in the grab-and-go sector, points out Fri-Jado sales director Gary Thacker: "A crucial element to tempting a purchase in a front of house setting is to make your food look irresistible."
Fri-Jado's ultra-slim Modular Convenience Counter (MCC) chilled display cabinets offer a 360° view of the food – providing up to 75% more visibility – and the high total display area is amplified by slim, transparent, adjustable shelves that appear to be floating.
Their use of the eco-friendly R290 refrigerant and Fri-Jado's patented OmniCold low-velocity air flow, which blankets food from all sides, deliver precise holding temperatures to keep food fresher for longer with minimal energy consumption.
Everlasting's new Meatico Dry Agers, which allow chefs to mature and display dry-aged meat to their specific needs, are designed to look more like a piece of furniture, says Croker at Angel, providing an element of 'theatre and display' that can influence 'customer purchases at higher profit margins'.
Adande Refrigeration – renowned for its 'hold-the-cold' insulated fridge and freezer drawers – has just launched Bora, the first open-display refrigerated cabinet to carry a B-class energy rating. It is claimed to save operators up to £1,000 a year in electricity compared with other chilled display units without glass doors.
Bora's patented Aircell technology replaces the single air curtain found in traditional cabinets with several short horizontal air curtains (or air cells) that stop cold air from falling out, while a reversing fan keeps the condenser clean. Losing the doors also removes 'potential viral touchpoints as well as the cost of door maintenance and cleaning' explains global sales director Karl Hodgson.
"It will undoubtedly save money for customers, in electricity, food waste and maintenance costs, plus help increase revenue with its large display areas and open-access for shoppers and buyers," adds Hodgson. He sees it benefiting hotels and traditional eat-in restaurants that took advantage of the rise of the takeaway during the pandemic. "The Bora delivers a low-cost revenue stream for visionary brands that can see how they can leverage an impulse purchase," he explains. "You might go and collect a hot takeaway and then have an impulse buy of drinks and cold sides."
Bora's availability in a range of colours on top of the standard black, stainless steel or white is a sign of the growing provision of customised style across refrigeration.
Williams' Chameleon service, for instance, uses high-performance, long-lasting and food-safe vinyl to wrap its refrigerator cabinets and front-of-house Multideck chilled merchandisers in whatever design the specifier wants, from a simple colour to sophisticated artwork.
Leibherr – known for its robust, energy-efficient German-engineered appliances offering helpful features such as pedal-operated doors for full hands and strong shelves that can bear 60kg of produce – is also now offering personalised style on selected fridges and fridge-freezers via its new MyStyle option.
An online configurator allows operators to choose from a vast choice of stock or self-supplied colours, patterns, prints or photographs for the cabinet exterior as well designing their own interior layout.
"The new MyStyle range is perfect for catching the eye of your customers at front of house and proudly showcasing your establishment's logo in high-definition UV printing on the exterior of an appliance," says national account manager Andy Clarke.
Customised aesthetics and options, in harness with the on-going advances in refrigeration technologies, efficiency, hygiene and choice are, it seems, fast transforming these rugged kitchen workhorses into show-stopping thoroughbreds.
Adande has published a guide to refrigeration energy labelling
Continue reading
You need to be a premium member to view this. Subscribe from just 99p per week.