The former managing director of Deliveroo and founder of Sessions, which supports founder-led brands and has two sites and a network of delivery kitchens, speaks about its work
What inspired you to develop and launch Sessions?
It's overstated, but the high street is dying, and in part that's because no one's really looked at it and thought 'how do consumers want to engage with the high street now?'. The high street needs to do a couple of things it didn't do before, and one is it needs to be more about discovery. When you go out, you want to see something you haven't seen before.
The second thing is to reposition it so that it is much more dynamic, so things can float through the high street faster. People are so impatient now and we know that things that are too static die off.
Sessions is both a platform for start-ups and an operator of physical food markets in Islington and Brighton – how did your time at Deliveroo influence this duality?
On a few different levels. Firstly, the business's mission, which is about bringing more interesting food to more consumers, was inspired by Deliveroo. The chains sometimes dominate the high street and there was a need to bring consumers more of a discovery experience with brands at an earlier stage in their life cycle.
At Deliveroo, we were certainly doing that, but sometimes I felt it was hard for those smaller brands to come through alongside those bigger brands. So, having been with Deliveroo for five years, I thought it was time for me to throw my hat in the ring and help those independents, and there was an opportunity to do that with the Sessions model.
This is perhaps less our core mission, but I also saw an opportunity to build physical environments that better reflected what the modern consumer wanted. Deliveroo embodies the on-demand generation that wants something now – lots of choice, flexibility, lots of dynamism, obviously all tech-enabled. I felt that the high street has been lacking that; it hasn't necessarily reconfigured itself to fit that new consumer, and rather than just having digital platforms that can offer that choice, that flexibility and fluidity, could you not do that in physical spaces?
That's what for me the Sessions launch in Islington is all about: recreating that dynamism you get with an online platform in the physical world, because people still want to go out and socialise. To get the best of both worlds – that's what we're trying to do there.
Sessions' Shelter Hall in Brighton was recently described by Grace Dent as a 'pleasurable food-hall experience'. How have you balanced guest experience with the demands of the format?
The really nice thing about that article was that most of the stuff that she referenced were quite deliberate decisions for us. For example, should we run table service? We thought absolutely, we were at the more premium end of the market, why was that not something offered elsewhere.
I think there is something in not just food halls but many more modern environments that are trying to engage with this consumer I've just been describing, who are guilty of abandoning things that people fundamentally still want. For example, yes, you want flexibility and you want to be able to choose between lots of different cuisine types, but that doesn't necessarily mean you don't want your food served to you at the table.
Shelter Hall has had lots of different iterations and we measured the customer sentiment relentlessly. It was very clear that customers wanted to get served the food, but they also really wanted the digital ordering experience and I think sometimes there's a view that everything has to be digital or it has to be full service, whereas actually the sweet spot is in between those things.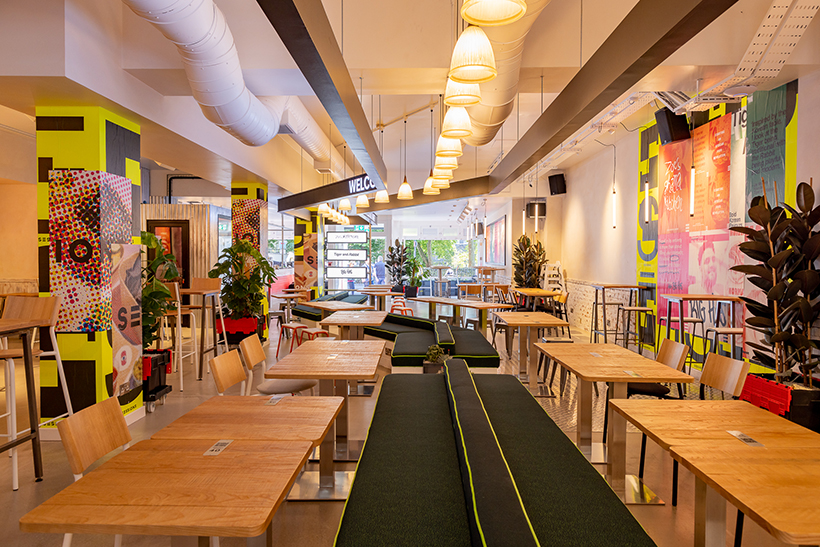 So clearly technology is really important – what makes an effective system?
There was a big move during Covid to the adoption of web-ordering platforms. Just to explain the difference, a web-ordering platform doesn't require a diner to download an app, which is less of a pain, but it's more of a pain to actually use. A platform doesn't always remember who you are and it doesn't have a history of your transactions. It's not as clean and personalised as the experience you can get using an app.
Our bet was that our kind of venue, which will always have different types of cuisine types in one space, actually does warrant the downloading of an app because it makes the experience so much better. You can have multiple cuisine types in one order. We have the only app that does that – none of the other food halls do – so we feel that needs to play a pivotal role at venue. We're also going to have home delivery through the app over time.
The second piece we think is integral is deploying the right technology in the kitchen, so we're using a company called Satis.AI which, as the name suggests, is an artificial intelligence company. It teaches its cameras to learn how different dishes should look and from that the end product should be much more consistent.
There's also KDS, a kitchen management platform, specifically a kitchen display system that allows us, through our app, to make sure we process the different component parts of an order into the right part of the kitchen. At Sessions we have four different brands that are all handled from one kitchen, so we have to make sure the kitchen is efficient. The kitchen display system plus the camera should deliver an efficient and consistent experience for the consumer, and in so doing we should be able to allow for more brands in one space. We wouldn't be able to do the things that we want to do without technology.
How do you select which partners you bring into the venues?
We worked hard to build the brand up in Shelter Hall. We have a team that is responsible for sourcing the food brands and making sure the menus are on point and configured for both on-site and delivery. There's no point fighting against delivery, so the best thing to do is to try and carve it out as a core part of the proposition and ensure it doesn't get in the way of the consumers on-site.
There'll be a back entrance for riders with coffee machines, a seating area, toilets – all the stuff they frankly don't get with a traditional restaurant, which we think is important.
You say you only work with founder-led brands?
As I said earlier, consumers are looking for more of a discovery experience. For an independent, founder-led brand, it's a fight to build that up from scratch, whereas if you're part of a collective, you've got power in numbers, and that's in part what we're trying to do on that side of the industry. It's not to say we wouldn't want to work with Nando's, but Nando's doesn't need us. For us it's about enabling the smaller guys to have a collective voice and building them up through some of the channels we have and some of the distribution opportunities we have for them.
We've been quite deliberate in choosing founders who have quite elevated social media presences and don't yet have physical sites. Three of the four concepts we have there don't have restaurants, so they are not readily available to the consumer right now.
How do you promote the entrepreneurism you need?
I think the key for us is that the brands and founders we work with can stay entrepreneurial so long as the platform can enable it. This may be four or five years down the line, but it's never going to be the same when a business is doing hundreds of millions of pounds in revenue versus when it first started out. This is how we can bring that early-stage operator the tools and give them the autonomy to build the brand the way they want.
Where we could become unstuck and what we don't intend to do is to try and create brands ourselves. That's where I think we can lose our essence. Our brand is merely the enabler for all of these early-stage brands to hopefully thrive in the environment we have set up.
When you're a platform, I think it becomes less concerning as long as you're still enabling the entrepreneurship of those who work with you.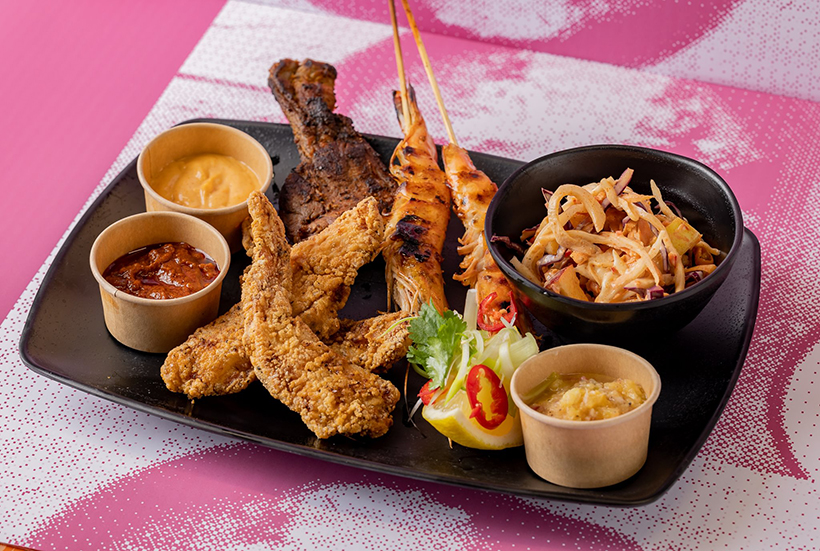 What are the differences between Brighton venue Shelter Hall and Sessions London?
The one in Brighton is a food hall, so it's a 15,000 sq ft, old Victorian building on the beach front. Getting a building like that in a space like that is once in a blue moon, so if you want to scale this model, you need to find a way that you can fit it in any high street up and down the country. Islington is our first foray into a much smaller format of 4,500 sq ft.
A traditional casual dining restaurant would be about that size, so how can you recreate the food hall experience in a much smaller space? If you can do that, then suddenly you've got something that you can take elsewhere.
What are your expansion plans beyond Sessions London?
If it works well, the plan will be to progressively expand it. Hopefully it will never feel like a modular chain experience. It will be a different set of brands every time, so Sessions is the curator platform to enable these other brands.
Are you affected by staffing shortages and how do you think the industry can tackle them?
I think with staffing we've got to look at it from a position of first principles. Strip the problem back to its constituent parts and rebuild it.
I think hospitality is such a wonderful industry, and so much can be learned from it, but it needs a wholesale change. Perhaps we market it to a wider audience, beyond those who have done hospitality all their lives. We had this challenge at Deliveroo around riders. A traditional delivery driver then was a motorcyclist who had done that kind of work for Domino's or a takeaway. We had to open that market to students, people with full-time jobs that wanted to make an additional couple of quid in the evenings, and that transformed the business.
Bringing in a different type of person allowed for a much bigger market. We need to widen that pool, but how to do that is easier said than done.
We try and keep our career path quite malleable. You don't have to work as a chef and then an area manager and then an ops director – it's not necessarily that classic hospitality hierarchy. You could come and work on the analytics team or as an account manager or on product development.
How are you mindful of sustainability?
With our smaller format models, we have deliberately picked sites where we reconfigure the whole thing: we reuse the kitchen, the extraction system and the bar. That's deliberate, in order to minimise wastage, but also there's comment around us just giving a lick of paint to the way things were rather than necessarily trying to build a brand-new brand.
We want to offer a space where we can bring new concepts in, and there's quite a bit of sustainability in our concept more generally. We have four brands from one kitchen – that in itself is quite an efficient way of minimising wastage.
About Sessions
Brands
Sobe, Little Bao Boy; Chick Chick Crew; Patty Guy; Tiger and Rabbit; Norman's; Halo Burger; Chunky Buddha; Sear; Farmstand; Big Has; Zoe's Ghana Kitchen
Locations
Sessions, 77 Upper Street, London N1 0NU
Shelter Hall, 152-54 Kings Road Arches,Brighton BN1 1NB
Continue reading
You need to be a premium member to view this. Subscribe from just 99p per week.