In April, JKS restaurants launched Arcade Food Hall at London's Centre Point. Tom Vaughan caught up with serial restaurateurs and siblings, Jyotin, Karam and Sunaina Sethi, to discuss the relentless growth of their group
The Sethis don't like food halls. Or at least, they didn't use to. "My guest experience has always been horrendous. I'd go once and I'd never want to go back," says Jyotin, the eldest of the three siblings and the financial acumen behind JKS Restaurants.
Karam, his younger brother and the trio's creative force, jumps in to explain why: "The traditional model is you walk in, find a table, then you explore the kitchens, work out which one you want to eat at, queue up, order, sit down, get buzzed, go pick up the food, sit down again. It could be 20 minutes for a group of four to be eating together."
So when the opportunity arose for JKS to take over their own food hall – London's Arcade Centre Point – they knew they faced a mean task reinventing it to fit their brand values. "The model is very different from what we've done in the past," says Sunaina, the youngest sister and JKS's operational and beverage brains. "At our restaurants, the level of service we give our guests is very different from a food hall environment. So we had to make sure the experience is still what we'd consider great hospitality."
When we meet the Sethis are T-minus two weeks from Arcade's launch (it is now open), the trio are in the refurbished food hall; a 12,500 sq ft former bus depot on the ground floor of the Centre Point tower. We're upstairs in what will be Arcade's flagship restaurant, Plaza Khao Gaeng by chef Luke Farrell. Getting all three siblings together in one space has been a months-long endeavour, and they are taking the opportunity to regret shirt choices for the forthcoming photoshoot. "You're wearing blue?" says Jyotin in the trio's clipped north London accent. "I was told you were both wearing white so I wore blue to contrast," replies Karam. "That's what I did!" exclaims Jyotin, looking down at his near-identical shirt.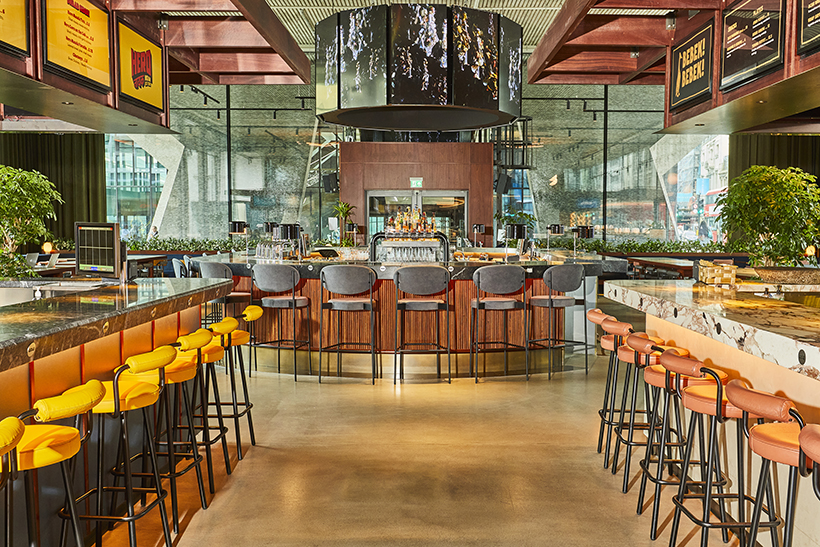 Karam, Jyotin and Sunaina first saw Arcade back in 2018 when it was a shell and the owners were trying to work out what food offerings they wanted. "We proposed that we'd take it on and curate all eight kitchens," says Jyotin. Karam pulls a face. "'Curate'," he says. "I hate the word curate." Jyotin – his natural politeness clashing with sibling backchat – rolls his eyes. "Alright. Whatever. We'd install and manage eight kitchens."
The owners decided to go in a different direction. But when Covid hit and the Arcade closed, the Sethis got a second bite of the cherry. "At the end of lockdown one, they approached us and said: 'That conversation we had back in July 2018, about you running the kitchens, can we start that again?'"
The result is a food hall run entirely by JKS, with eight new food-hall concepts spread out in the open-plan space below us – each one with its own punchy branding and signage –plus the upstairs restaurant.
What was the attraction to the site? "We'd been looking for a food hall since, I think, 2015," says Karam. "We actually pitched on a site in Kings Cross. We've got so many different brands across the group and so many different strengths that we felt that we could showcase global cuisine in a best-in-class food hall."
Fixing the food hall
When the deal was struck, first on their to-do list was fix the "disjointed" (Jyotin's words) feel of the traditional food hall. And it was a challenge they relished.
"If we wanted to run a straightforward restaurant group, we might have stuck with Indian restaurants," says Jyotin. "The nature of our group is that we've always put our hand up and stepped outside of our niche. So applying the same kind of philosophy – obsession with food, attention to detail, hospitality – to different verticals within the industry is something we back ourselves to do."
When it came to redesigning the food hall, full table service was a non-starter because of its size. So, if humans couldn't solve the problems, it was up to machines and the trio went in search of the best tech to deliver their vision.
"Vita Mojo was by far superior to any other order-at-table system out there," says Sunaina. "But then we had to work out things like: how does it speak to our kitchen management systems? There were a lot of connections that we had to make if we wanted this to be a success." Customers at Arcade will be handed a menu on arrival, order on their smartphones via a QR code, and have their food and drink brought to the table, before paying online.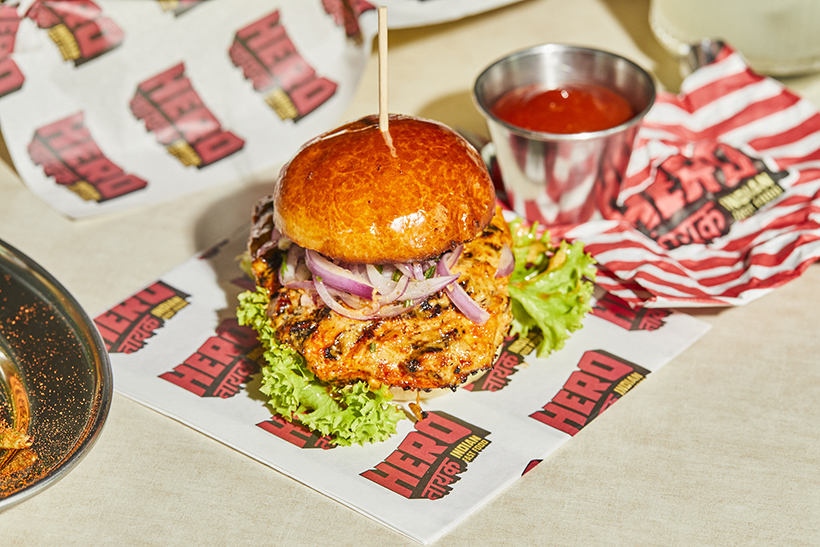 To handle the 400 covers and expected 10,000 weekly customers, they have had to recruit 140 new staff – not an easy ask in the middle of a staffing crisis. But the greatest challenge has been designing the different brands to sit inside Arcade. The siblings were adamant they wanted the IP – "to use a technical term," says Karam – to be unique to Centre Point, so that meant nine new concepts.
For a group that has already launched 18 restaurants and pub sites, it has represented by far the biggest challenge to date.
"Nine different menus, nine brand identities, nine kitchen teams, nine lots of social media," reflects Karam. "Then on top of that you've got the Arcade brand to build. And you've got to make sure it all works together, it's cohesive and it feels holistic. And I'm completely hands-on: from multiple tastings to shaping the brand's look and feel and identity." Backing them up is a not inconsiderable central office equipped with an established senior team as well as in-house graphics team and interior designers.
In addition to the Arcade partners, Karam reckons he must have talked to at least 10 others. What do they look for in prospective partners, both at Arcade and across the group? "They have to have an obsession with food and cook food that is personal to them," says Karam. "And they have to have the ability to create an overall brand. Some people cook great food, but the restaurant still shuts down. And it's because they don't have that overall brand identity."
Brand identity can be an ephemeral term. I ask for an example of what he means and Karam doesn't draw breath before answering: "Take Gymkhana and Brigadiers. They're very personal to ourselves and to our eating experiences growing up, to the food we'd eat in Delhi when we go on our summer holidays, to the club style of hospitality you'd get out there."
The new Arcade Food Hall
You could argue that it was the trio's successful rebranding of Indian food that put them where they are today. All of which started 14 years ago with Karam, then in his early twenties, actively resisting the banking career that his parents had mapped out for him. With minimal hospitality experience, he struck a brand partnership with the owner of Mumbai seafood restaurant Trishna to bring a branch to London, which Jyotin – working in venture capital at the time – helped negotiate.
The restaurant launched in London's Fitzrovia in 2008. Two years later, Karam parted ways with his head chef and stepped into the kitchen himself, with Sunaina joining fresh out of university as manager and sommelier. "Six months later we gained a Bib Gourmand, and then the year after that a Michelin star, which laid the platform to launch Gymkhana, which put us on the global map."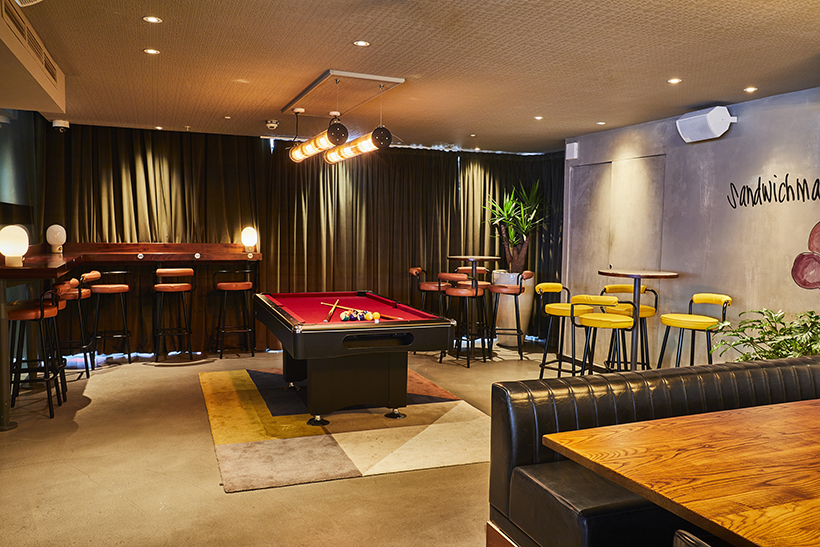 To say that Gymkhana put the trio on the global map isn't hyperbole. Few restaurants in the last decade have opened to such fanfare. Critics and public alike went gaga when it launched in 2013. "At the time, Indian food in Mayfair was dominated by the kind of big Michelin-starred restaurants like Tamarind and Benares," says Karam. "Nobody dared touch Mayfair with other Indian restaurants. But we knew our approach to Indian food and restaurants was a whole was a lot younger and fresher and more in line with what the likes of Meatliquor and Polpo were doing."
By now, all three siblings were full-time at the nascent restaurant group, with Jyotin having left his job at Barclays to join Karam and Sunaina. And it was their next move that would go on to define JKS as arguably the capital's most influential restaurant group of the past 10 years. "At the start, we said: OK, let's survive and make sure Trishna works and then maybe we will build an Indian restaurant group," says Jyotin. "But after a chance meeting with our neighbours Sandia [Chang] and James [Knappett], we were like: hang on, there's actually a bigger play here where it's not Indian, there's not a single concept, but a portfolio of restaurants showcasing different cuisines."
The trio partnered with husband-and-wife team Knappett and Chang to launch Bubbledogs and Kitchen Table in London's Fitzrovia. Not only did it prove a huge breakout success – with queues around the block – it provided the model with which JKS has gone on to conquer the London restaurant scene. Now, the group has two main sides of the business: on the one hand they launch their own innovative Indian restaurants – from Gymkhana to Brigadiers to Hoppers; and on the other, they back up-and-coming kitchen talent and provide them with the platform and infrastructure to succeed – from HR to finance to operations to marketing.
Growing the JKS brand
The list of partners has grown organically year-on-year, through all types of avenues. Luke Farrell, Chet Sharma (Bibi) and Kian Samyani (Berenjak) all worked in JKS kitchens. They met James Lowe (Lyle's) at Kitchen Table's soft launch. Nieves Barragán Mohacho and José Etura reached out to them. The Bao team they contacted through an email on their website, having eaten at their street food stall.
On top of the existing partnerships, Karam says there must have been over 100 other conservations with prospective partners that have gone nowhere. They stress that they are under no obligation to open a certain number of sites but look for the right opportunities.
"It has to fit with the philosophy of JKS," says Jyotin. "We've got an ambition to grow. But we don't define it by a number of sites. We don't have a blank chequebook, we're not backed by a sovereign wealth fund or anything. We ask: is it the right type of restaurant and is it the right type of challenge?"
At the centre of that challenge is making sure each restaurant has that brand identity that Karam references, and the JKS team are very hands-on in the design and concept stage. "But once the restaurant's established, we then take a backseat and have very little creative involvement, so long as those brands are growing," says Jyotin. "That's why we're partnering with these guys – to back their creative vision."
As a business model, it is a rare breed – why do they think that is so? "It adds complexity, right? Because you're working with other creative people," says Jyotin. "It's definitely not the simplest way to approach building a restaurant group. It's already a tough business, and then you add layers of complexity on top." We don't have an allotted time for the interview, but Karam's fidgeting tells me we're nearing the end – the trio's creative force wants to get back to the shop floor, with a third Arcade soft launch pending.
For a group as restless and challenge-hungry as JKS, what's next after a food hall? "There's obviously other cuisines we'd like to do," says Jyotin. "And international seems like the next challenge for us, as well as outside of London."
There's no hint of what those might be, but as we pack up and wander around the food hall, Karam comes alive standing by the kitchen of Hero Indian Fast Food – a concept he says has been gestating for a long time.
"I've had it in my brain for ages that I really want to launch an Indian fast-food McDonald's. Gymkhana had been in my head for years before it launched. Brigadiers I thought of before we launched Gymkhana. They're all in there. They've just to get the time and space to come out." Nineteen sites and 21 concepts in, no one's doubting there's plenty more to come.
The food stalls at Arcade Centre Point
Arcade Centre Point, 103-105 New Oxford Street, London WC1A 1DB
Hero Indian Fast Food A North Indian fast-food kitchen from JKS. Showcases the chatpatta flavours of Indian street food with particular focus on Punjabi makhani sauce.
Shatta & Toum A shawarma kitchen from Berenjak founder Kian Samyani. The menu also features a range of Middle Eastern mezze.
Manna A burger and fried-chicken kitchen inspired by diner culture in the US, developed by JKS Restaurants and Bake Street's Feroz Gajia.
Sushi Kamon A sushi bar developed by the founders of Yashin Sushi alongside JKS, offering a weekly changing sushi menu and bookable eight-seat counter for a traditional omakase experience.
Plaza Khao Gaeng Arcade's flagship
Bebek! Bebek! The second kitchen from Luke Farrell: street food from the night markets of Indonesia.
Arcade Provisions A sandwich shop and bakery serving Margot's Pride, an exclusive range of sandwiches from Margot Henderson and Melanie Arnold of Shoreditch's Rochelle Canteen. In the evening the space becomes Provisions Lates, serving negronis and hot sandwiches.
Benham & Froud Jelladrome by Bompas & Parr Desserts at Arcade come from the Jelladrome, by Bompas & Parr and JKS, serving shareable trifles, boozy jelly shots and ice-cream 'penny licks'.
Tipin Tapan A Nepalese street food concept developed by JKS and former Berenjak chef Arjun Guruny, serving the likes of Nepalese momo dumplings.
Arcade Bar Serving cocktails and an extensive wine list featuring Arcade's new 'sessionable' own-label white, rosé and prosecco.
Continue reading
You need to be a premium member to view this. Subscribe from just 99p per week.