The Caterer's survey on how hospitality businesses are being impacted by rising energy prices has shown the industry is in dire need of long-term help.
More than half of hospitality operators have feared they may have to permanently close their business within the next year without substantial and sustained help to deal with rising energy costs.
That was the message from a survey by The Caterer of restaurateurs, hoteliers, contract caterers and publicans over the last two weeks, which laid bare the scale of the crisis facing the industry.
The data was collected ahead of the government's announcement of a price cap on non-domestic energy bills, which is set to take effect from October. Industry groups have welcomed the scheme but warned operators need further support to survive the winter.
Some 80% of respondents to the survey said rising energy prices had wiped out their profits, while 60% feared their business may not survive the next 12 months without sufficient government support.
The majority of operators said their bills had risen by more than 100%, while 22% had seen a rise of over 300%, and 22% said their costs had increased by over 400%.
One wrote: "If there is no reduction [in energy bills] or financial support we will close by next summer as reserves are low. We will be homeless and jobless; government should act now before it's too late for so many."
Another added: "Some of us survived the lockdowns, but this will finish us." One comment simply read: "No business. No job. Bankruptcy."
Supply struggles
The survey revealed the difficulties some hospitality businesses have faced in trying to secure new energy contracts. Over a third (41%) said they have had issues securing a new contract or struggled to find an energy company willing to supply them. Others have been asked to pay security deposits of thousands of pounds despite being long-standing customers of energy firms.

One wrote: "We renewed in March with our gas bill multiplying by 4.5 and electricity bill multiplying by 2.5. Our existing supplier demanded a £3,000 security deposit to renew despite us being a model existing customer! These energy suppliers are monsters."
The survey also painted a stark picture of the steps hospitality venues were taking to try and survive in the face of rising bills. Nearly three-quarters (72%) of operators expected to reduce opening hours to cope or have already done so, while 80% had already cut staff numbers or expected to do so.
"I worry about the future of the business and the people employed in it," wrote one operator.
"If we need to close over winter and can't retain our staff, it will be even more of a problem staffing the hotel when we reopen than it was [last year]."
Another added: "Too many jobs will be lost, [and] it's been difficult to recruit in hospitality since the pandemic."
One operator expected to increase prices by 15% to cover the rise in energy bills and wage costs but was worried customers would spend less over the winter when household bills rose.
The survey also showed the toll the situation was having on hospitality business owners. 86% of those who responded said concerns about energy bills were having a negative impact on their mental health.
"I am extremely anxious for the future and don't see a way out," an operator wrote. "[I'm] afraid to express my fears as this could lead to the collapse of our business and support from the staff."
Another commentator said they were "finding it difficult to sleep" while one simply said: "God help us all".
Responding to the survey's findings, Kate Nicholls, chief executive of UKHospitality, said: "According to the latest ONS employment statistics, one in six new jobs in the last year were generated by hospitality. If we are to continue to create jobs and invest in local communities we need targeted support on top of the energy price cap, including VAT cut to 10% and a business rates holiday, to sustain businesses big and small and protect jobs this winter and beyond."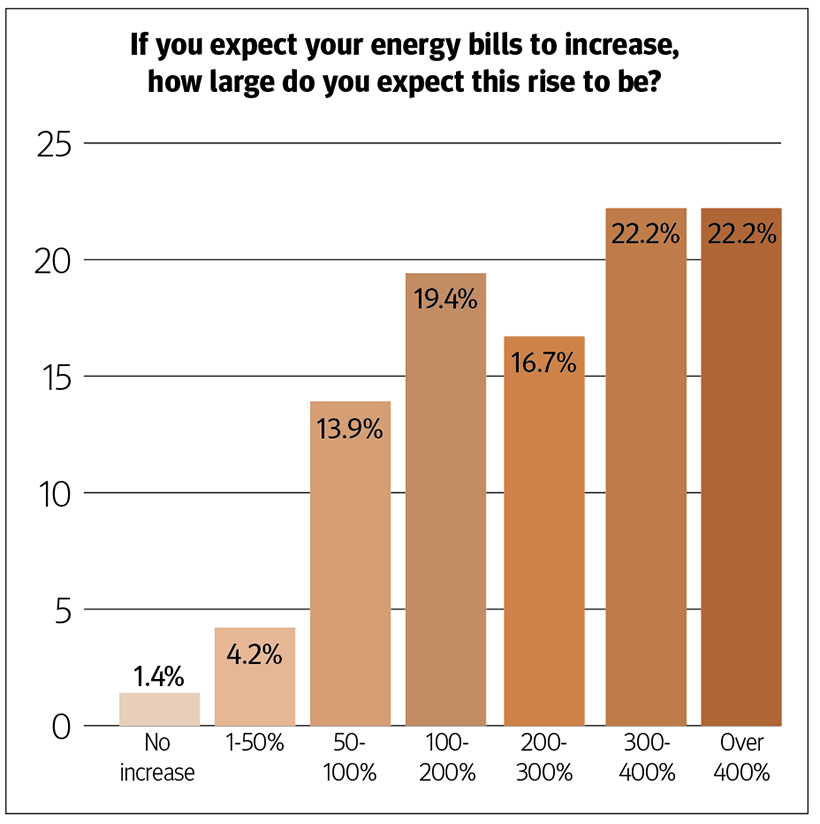 What about the support?
The government's Energy Bill Relief Scheme will apply to all non-domestic energy bills from 1 October until 31 March 2023.
It will set a discounted price per unit of gas and electricity of £211 per MWh for electricity and £75 per MWh for gas – less than half the wholesale prices expected this winter.
Further targeted support will be offered to "vulnerable" industries such as hospitality after March 2023, with the government set to review the measures three months.
Chancellor Kwasi Kwarteng is to hold an emergency budget on 23 September and hospitality trade bodies have urged him to include additional help for businesses.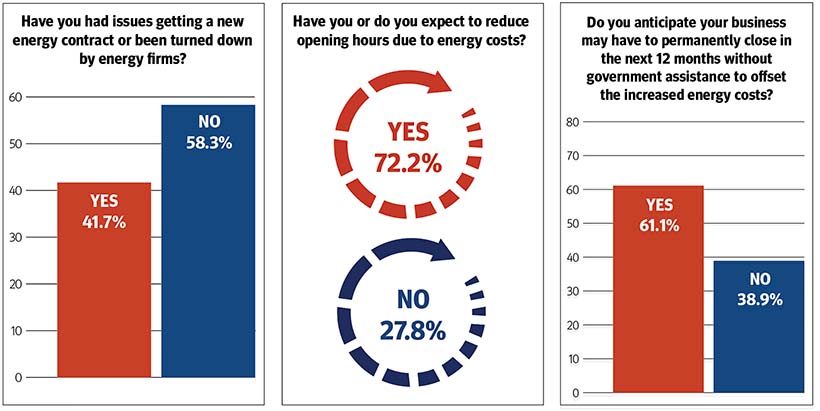 The Caterer's survey revealed significant anger at the government over its failure to act sooner. One commentator wrote: "[The] government needs to get a move on before too many more businesses and livelihoods are destroyed. [There are] four closed restaurants within 100 metres of my restaurant, including a Michelin-starred one next door. How many jobs is that gone in a small seaside town? Devastating."
Another said: "Many including myself have seen this crisis coming for months, yet the government just messed about and went on their summer holidays when small businesses are folding at an alarming rate, absolutely shocking."
Operators said they were keen to see a range of support measures introduced, including a cut in VAT, cuts or waivers on business rates, and grants to businesses. Others suggested rent reductions, subsidised solar panels, and the reintroduction of a part-time furlough scheme to help protect jobs.
One commentator said they wanted to see extra help for isolated rural communities. They wrote: "We are on a Scottish island, so costs of delivery and ingredients are way higher. Also, there is no chance of turning off the heating or even reducing it through autumn and winter."
Why are energy prices so high?
The rise in UK energy costs has been driven by a squeeze on wholesale gas prices which began in 2021. Global energy usage was historically low in 2020 as the coronavirus pandemic shut down businesses and travel, but the reopening of economies sparked a surge in demand.
Last year, countries in Asia and Europe used significant amounts of gas stocks during a long winter, and the higher energy usage helped drive up prices. Russia is Europe's largest provider of natural gas and has historically supplied around 35% of gas used across the continent. The country's invasion of Ukraine earlier this year led to a restriction of Russian gas, which has pushed costs even higher.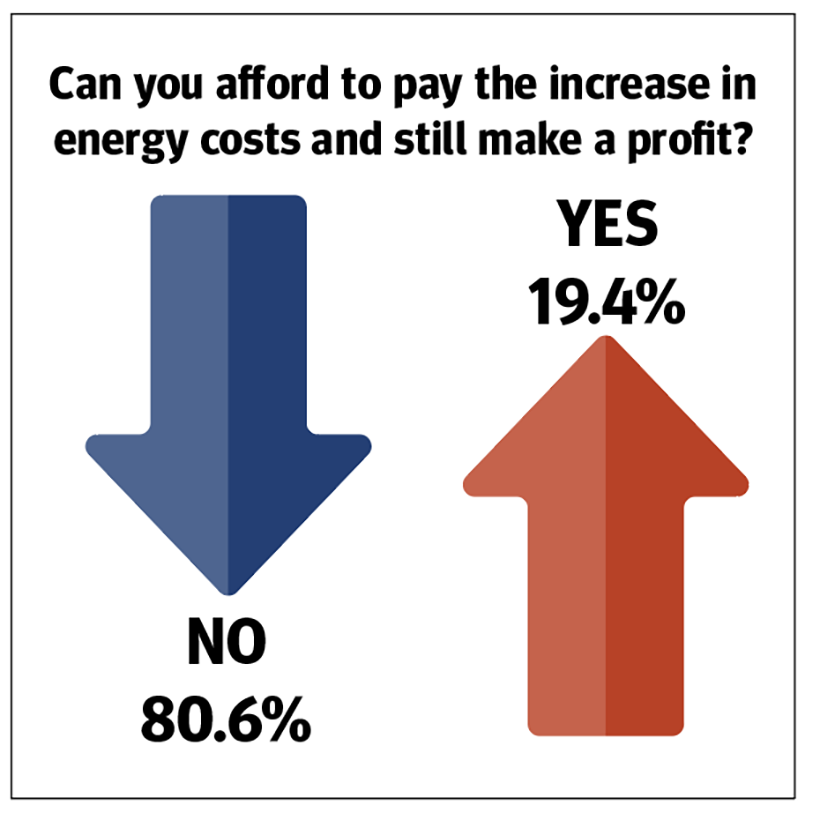 Imports from Russia made up less than 4% of the UK's gas supply in 2021, but suppliers are not shielded from the rise in prices across the rest of Europe. These increases have been passed on to customers.
How are businesses trying to save energy?
Hospitality operators are buying their staff body warmers, closing whole floors of hotel rooms, and putting curtains over doors and windows to save energy.
The Caterer survey asked respondents how they are trying to cut consumption in the face of rising bills. Some of the responses are as follows:
"We are closing the spa two days a week"
"We are reducing winter opening days to three or four and reducing the number of public areas during open days."
"[We have] invested £80,000 in new windows and installed £270,000 of solar panels across the hotels."
"We close out a floor of rooms if business is low and turn down radiators. We have installed more LED light fittings and [motion sensor lights] to help reduce usage."
"We are reducing the size of the menu to save on refrigeration and freezer running costs."
"Turned off extra freezers and fridges and take deliveries daily instead. Removed menu items that used too much energy."
"Introduced low voltage lighting, replaced old inefficient equipment, trained staff and checked use of equipment. Internal lift is now only used for goods."
"We have done just about everything we can in recent years. We are continually investigating ways to become more self-sufficient but face potential opposition from planning authorities due to green belt location"
"The impact of what we can do is negligible at the levels our bills have increased by. We are always careful and will remain so."
"Every possible step has been taken but none can offset the astronomical increase in gas and electric that will fall on to us."
Main image: NTRdesign / Shutterstock