With their restaurant with rooms set in a lovingly restored 17th-century mansion in rural Kent, Kristie and Brad Lomas have brought Boys Hall back to life. We get a sneak preview.
"When you really stop and think about it, isn't it amazing that this was built at a time when people were setting sail on wooden ships to travel the world?"
Kristie Lomas's face lights up with excitement as she picks up a venerable hardback book and recites a passage that refers to the beautifully restored 400-year-old fireplace she is stood in front of, with its emerald tiling featuring birds and intricate flowers flanking a dancing horse in the centre.
It's all part of a sneak-peek tour of Boys Hall in Ashford, Kent, a few weeks before it opens its doors for the first time after nearly three years of refurbishment by owners, husband and wife team, Kristie and Brad Lomas. "I'm very passionate about the history of the building, I find it absolutely fascinating," says Kristie. She points out original features such as the carved panelling around the master bedroom fireplace, believed to have been gifted by Charles I from Windsor Castle, or the secret tunnels out of the basement once used by smugglers to illicitly take wool over to France.
"You end up feeling very much like a custodian when you buy a property like this," she says. "You don't have an egotistical lord and lady of the manor vibe at all. It feels like it's our mission to bring it back to life."
When the couple got hold of the keys to the 11,000sq ft Jacobean manor set in three acres of land in November 2019, they wondered if they had bitten off more than they could chew. The dream of a restaurant with rooms in keeping with the original early 17th-century home built by Thomas Boys was a long way off the reality of the property they bought for £1.55m.
At a push, says Kristie, it could have been described as "granny chic" but it came with a never-ending list of problems. Brad, former operations director of East London Pub Co turned "glorified DIYer", describes how the building desperately needed emergency repairs. "The chimney was about to fall down, there were 10 or 12 holes in the roof causing rot everywhere, and the plumbing didn't work," he recalls. "We were like – what have we done?"
They got straight to work, and with the help of Kristie's parents who live down the road, and contractors for the specialist items such as electrics and plumbing, Boys Hall has been lovingly restored to its 17th-century glory. Thoughtfully sourced Kent peg tiles, Kentish ragstone walls and local English oak timbers are balanced by modern touches and the comforts expected from a boutique hotel and restaurant.
The 66-cover restaurant opened in early September, headed up by chef Robbie Lorraine, who represented London and the South East on this year's series of Great British Menu. His dishes are inspired by classic British comfort food, such as his lobster doughnut, a favourite from his time as chef-owner of Only Food and Courses in Brixton.
"Dwell time is really important to us," explains Brad. "The biggest thing for us is, even though it will be about quality ingredients and local produce, we don't want it to be a stuffy manor house that's not accessible." Boys Hall is just a 35-minute train ride from the capital, and Kristie and Brad will soon discover whether it will attract Londoners looking to escape the city for the weekend. But they hope Boys Hall will become a "home from home" for locals too, whether it's for a special occasion dinner, popping in for lunch, or just enjoying a coffee in the front room.
Make me over
The restaurant is set in a single-story extension of the property. It is a double-vaulted English oak-framed structure with magnificent wraparound glazing, crowned with a traditional Kent peg roof. Beneath the original building lies a premium wine cellar that can hold around 4,000 bottles and will stock speciality vintages from English wineries and unique producers from around the world. A stylish wood-clad pub in the manor will open in the coming weeks, followed by the nine ensuite luxury hotel rooms upstairs in December.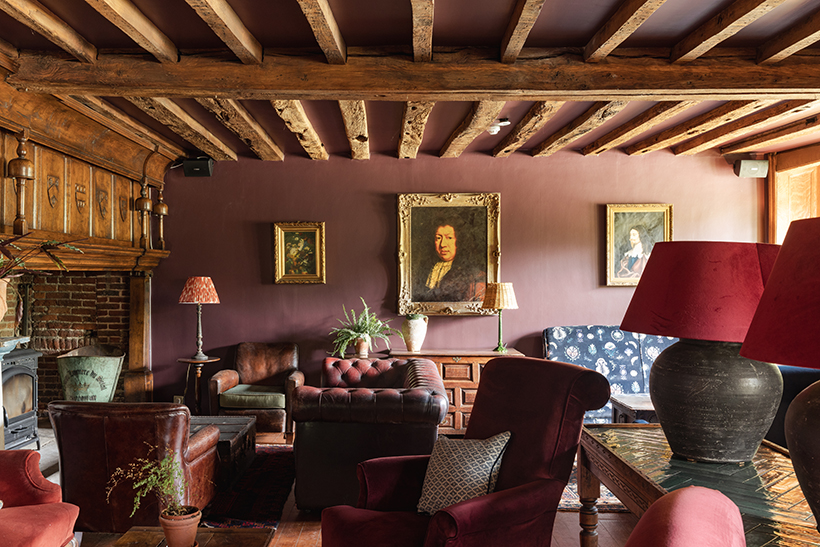 "Because we've done the whole thing ourselves, we know the building inside-out, so then you feel completely connected with the whole thing, because there isn't a crevice we haven't crawled into," says Kristie, who led the design of the project. Brad kept an eye on the numbers at the same time as developing his DIY skills.
"It's all been self-funded," he says. "We've had to spend a lot of money, it's a big investment. We had to spend another £2m [on repair and refurbishment], and because our vision for the building grew once we got to know it, we're probably double where we needed to be."
The restaurant's wraparound glazing, which also forms part of the roof, is the perfect example of vision growing beyond the original design plans, and making a large dent in the original budget. But once this focal point had been dreamed up by an architect friend, Kristie and Brad couldn't stop thinking of the natural light pouring into the restaurant by day, with stars visible overhead by night, and agreed to the £95,000 price tag.
As well as unexpected design changes, they had to absorb hefty construction cost inflation. Brad estimates the costs shot up 40-50% over the course of the build. "You can't forecast for that," he says with a shrug. Energy costs and wages have also risen much more than the couple had anticipated back in 2019. "We're looking at paying CDPs what I'd be paying a sous chef," Brad says. But he knows the importance of looking after staff: "Everyone here has to be part of the family, because this is our third child."
Family matters
Staffing the project is moving in the right direction, with 15 recruits signed up so far. They hope that figure will rise to 20 and potentially double when they open the hotel and word gets around. Chef Robbie approached Boys Hall after reading about the project online, and Brad and Kristie knew immediately he would fit right in with the "family".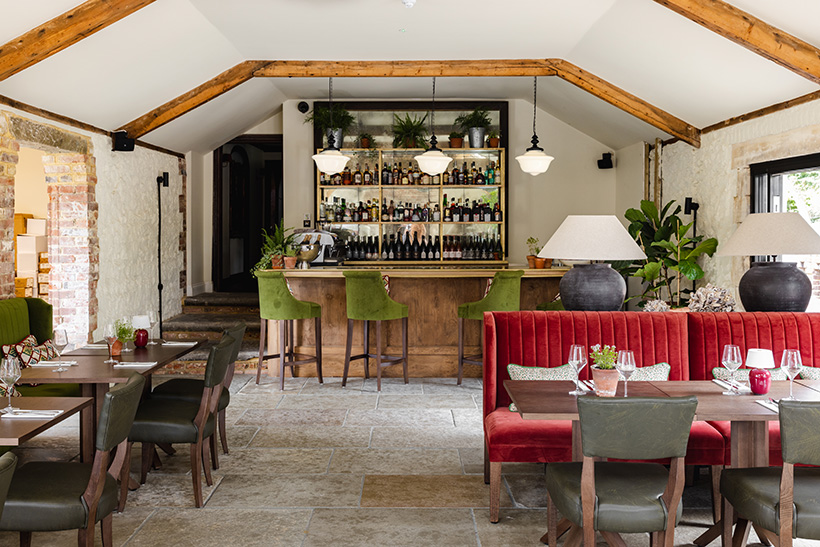 It's not been easy, especially with two young children, who were one of the reasons the London-based couple finally moved out of the capital for the countryside. "I was walking up and down Northcote Road, heavily pregnant with a pram, just wanting to get out. I needed space and air," says Kristie, who during her time in London co-founded Drink, Shop & Do as well as Keystone Crescent members' club, selling her shares before the pandemic hit.
She switched battling toddlers on the tube for weeks on her hands and knees sanding the wooden floors in each of the Boys Hall rooms, or precariously hanging out of a makeshift basket six metres in the air. "Yes, technically I'm pruning the wisteria on a manor house, but then you have that husband-and-wife moment where you think this is bonkers but we're nailing it!"
While building work was paused during the pandemic, 2020 gave Kristie plenty of time to work on the grounds, becoming an accomplished gardener in the process. The manor now has a rose garden, herbaceous border and a formal front lawn for garden games in the summer months.
Brad freely admits to frequent differences of opinion with Kristie, but the couple have achieved a considerable amount. They plan to have one night to celebrate the restaurant opening before picking up tools once more to finish the rooms in time for December's staggered launch. And perhaps a slightly longer break over Christmas to regain their energy before starting on their two-year plan of creating an additional nine outdoor cabins, a garden bar and pizza oven, and possibly another five rooms in the stable block.
"The highs have been when we've celebrated our wins," says Kristie. "We've been non-stop for three years, grafting every day, all day, even the weekends. And there are moments when we just stop."
She describes another "husband-and-wife moment" when they successfully wrestled a bath into one of the bedrooms. "It was such a bloody difficult day to get this bath in and we'd finally got it plumbed with hot water. And we ran a bath. I'd never had a bath that big, and I felt like a giddy kid. It felt really naughty because it was really deep, and we both sat in it and had a bottle of vintage port."
Brad chips in: "It was very rare port, like 600 or whatever years old," he says with a smile. "Well, it was very rare. And we sat in this bath and just did the whole bottle, and we were like, yeah, go us!"
Robbie Lorraine on swapping the concrete jungle for deepest Kent
For chef Robbie Lorraine, the move to Boys Hall was a "no-brainer". "Boys Hall kept popping up on my [social] feeds, and I connected with them on LinkedIn and reached out. I thought it was really exciting and what a great project to be involved in."
Like the Lomases, he has swapped city life for the calming Kent countryside, after recently ending his Only Food and Courses cheffing stint in Brixton. The nostalgic nod to comfort dishes from the 1980s and 1990s stated off as a pop-up and continued for 18 months until June 2022.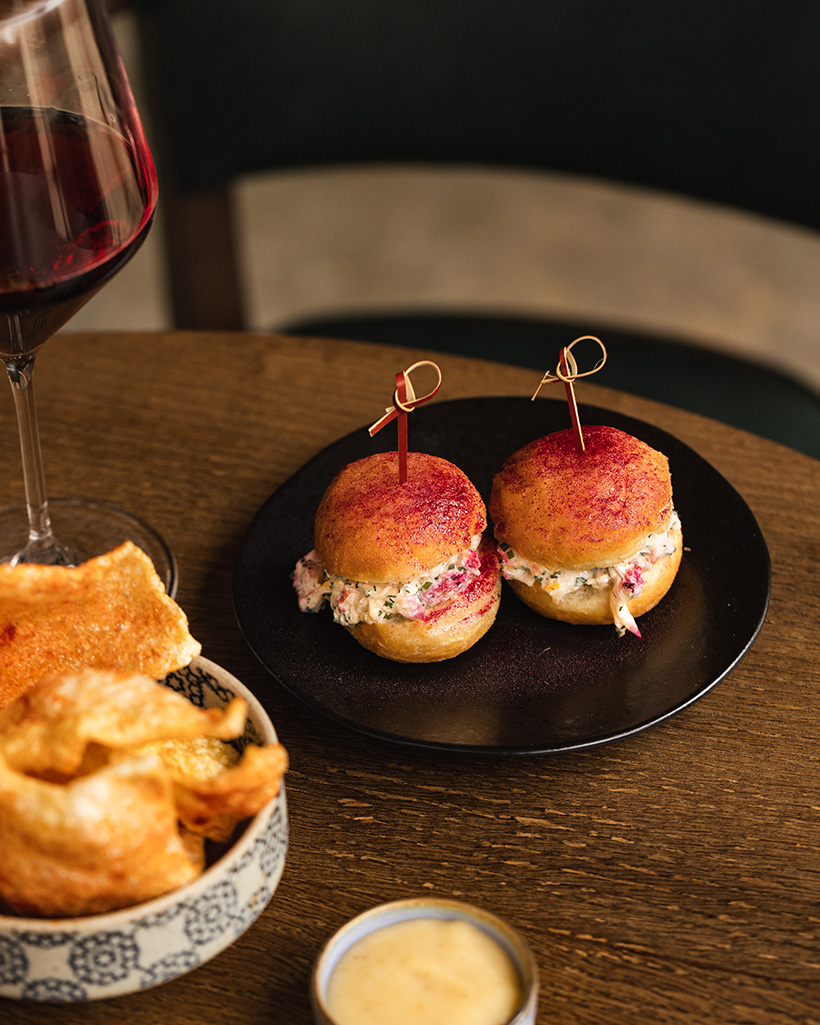 He still owns the business and his team are looking after various pop-ups and a potential future permanent site. Now, though, his complete focus is on Boys Hall and launching with a modern British à la carte menu with a "sense of fun and playfulness", and hopes for a blind six-course tasting option to soon follow.
"It's taken a bit of an adjustment," he says. "Life is a lot slower down here after being born and bred in south London. It wasn't until I moved to Boys Hall that I realised the response time is just a lot slower. In London if you're after a certain product in the morning, you'll have it sorted by the afternoon, because it's such a competitive marketplace, suppliers are hungry for business, or you could literally just go to Borough Market and get it.
"Down here, I'm still negotiating with suppliers and finding the farmers' markets – not that that's a bad thing, as it's encouraging me to explore more."
Having the bounty of the garden of England on his doorstep is a completely different experience to Brixton, with its "melting pot of cultural influences", which Lorraine has previously drawn on for inspiration.
"Now I get to work with local suppliers and look and touch meat, poultry and incredible fruit and vegetables that I haven't seen in a long time. And it takes centre-stage in my cooking." He says he was captivated by watching the ancient process of dry plucking during a visit to a local free-range duck farm.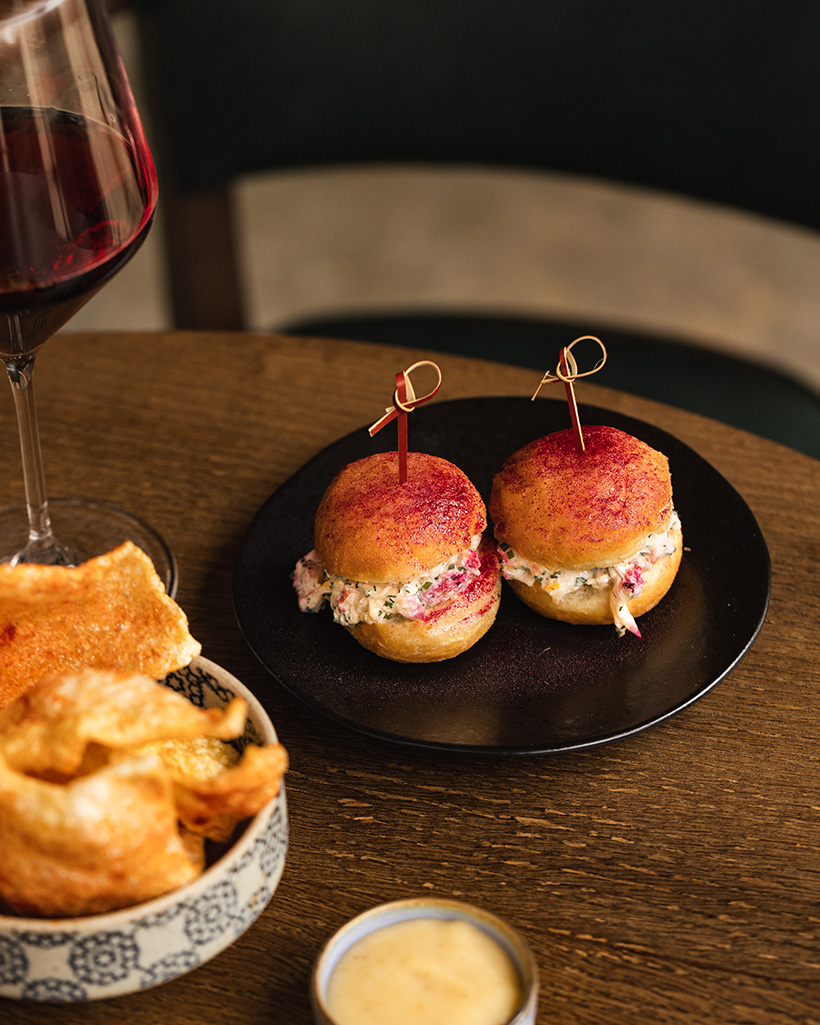 "Seasons are the driver here, and I love having a relationship with the local supplier. They will look at the menu and tell me to take something off because it's been a bad season for it and suggest something that could work better.
"It's just such a fantastic and beautiful environment to be in. It's much easier to find inspiration here than surrounded by concrete, whether it's the roses in the garden or ingredients we can forage."
He believes getting physically closer to the produce will be reflected in the menu, which includes the likes of butternut squash tortellini with creamed spinach, baby onions, cobnuts and garden sage; or rare roasted sirloin of Longhorn beef with an ox cheek cottage pie and salt-baked turnip, beef dripping roast carrots, spinach and port gravy.
"The menu at Boys Hall will be driven more by the seasons than anything in London. Yes, you can get strawberries out of season, but the flavour isn't there, so why bother? Instead, here we're fermenting and pickling to capture that flavour profile.
"I'm not as green-fingered as I'd like to be but I'm learning a lot from Kristie. I didn't realise there was a mulberry tree out in the grounds, and she got me picking the berries, which only have a short two-week window. We've preserve them and we can bring out that lovely flavour in the autumn when guests are craving something cosy."
From the menu
Snacks
Scooped Pink Fir potatoes, creamed leek £5.50
Lobster doughnuts £12
Starters
Cured blackened salmon, cultured cream, balsamic pearls, puffed spelt, dill oil £13
Slow-braised short rib of Longhorn beef, crushed potatoes, watercress, puffed barley, pickled onions £16
Mains
Pan-roasted fillet of wild sea bass, carrot ravioli, charred tender stem, apple and seaweed broth £26
Cider-braised belly of pork, porky 'quaver' bacon jam, black pudding, grilled leeks sour cabbage, apple purée £32
Food suppliers
Meat Chart Farm, SW Doughty
Fish Boat House
Fruit and veg Watts Farms
Dairy Hinxden Farm Dairy
Speciality Curd & Cure, Weald Smokery
Design suppliers
The design is a collaboration between Kristie Lomas and Ben Stokes of Kagu Interiors, based in Tenterden, Kent.
Antiques sourced from local auctions, antiques markets, salvage yards and eBay.
Fabrics from Linwood, Lewis & Wood, and GP & J Baker.
Upholstery from Russ Woodcock from Chair Repair Workshop, Susan Stock Designs, and Danny Weir from Oakleigh Manor Garden Joinery.
Wallpaper from GP & J Baker (Ramayana) and Lewis & Wood (Bosky).
Restaurant furniture handmade in Oxford by Bampton Design.
The large willow pendant domes in the restaurant were handmade in Worcestershire by mother and daughter duo Issy Wilkes and Jenny Crisp of Willow With Roots.
Bespoke Boys Hall scent created by Michael Beatt from Hunter Jones in Rye.
Handwash and lotion by Pelegrims made from a by-product of wine from Westwell Wines, which is stocked by the restaurant.
Continue reading
You need to be a premium member to view this. Subscribe from just 99p per week.